Best China Resorts
| | |
| --- | --- |
| Looking for some great China resorts? Take a look at our list of the best ones out there. As the country are varied, so are the resorts. There's something for everyone! | |
Hong Kong Resorts

Best Hong Kong Resorts
Although Hong Kong is not part of China anymore there is a good chance you will enter through here. 

VIDEO: Hong Kong Vacation Travel Guide

This hotel resort is waterfront overlooking Victoria Harbour. Has links to Hong Kong Station and Star Ferry.
Four Seasons Hong Kong


Another standout in a city of great hotels.

The Peninsula Hong Kong
VIDEO: Luxury Hotel by the Victoria Harbour - Four Seasons Hotel Hong Kong
More information on the top Hotels and resorts in Hong Kong.
---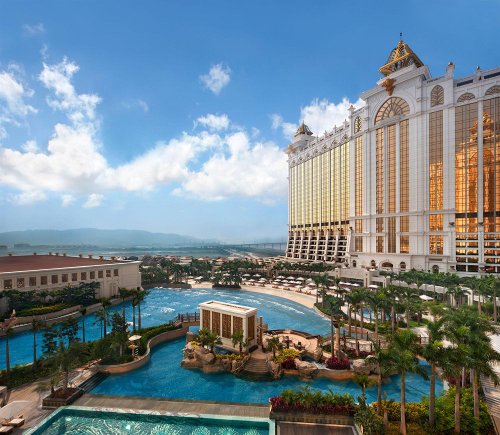 The Galaxy Macau - Review below
---
Shanghai Area Resorts
Amanyangyun Resort, Shanghai Area, China


Amanyangyun Resort
This great new resort is set in a tranquil woodland and on 25 acres. It is close to Shanghai but a great peaceful getaway from the big city.
This resort came about as a rescue operation - saving Ming and Qing-dynasty buildings and a camphor forest. It is new, peaceful, historical and modern. (Sounds a bit like China itself!)
It's a beautiful new resort. Check out our full review here.

Guilin China Resorts
Why not start in a place the Chinese themselves esteem as an ultimate vacation destination. Want to evoke envy while in China? Tell a local you are traveling here.

This is me in Guilin back in the summer of 2010.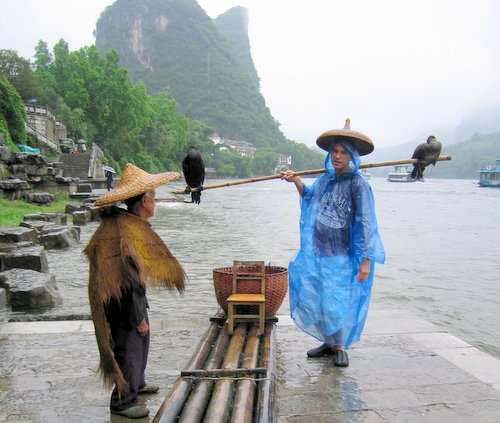 I probably would not get the same picture taken today but this seemed like a good idea at the time. 
He doesn't speak much English and I don't speak much Chinese. He simply has a sign of how much to put in his basket before you take your snapshot. Although it seemed a tad trite I could not resist and put in my $1 equivalent and took my snap. I thought the ingenuity of this guy somehow transforming his previous lifestyle to cater to the tourist industry somehow spoke of China's future and a little of the character of the place where he was standing.  
Shangri La Guilin
For top places to stay first see the Sheraton Guilin Hotel and the 
Shangri La Guilin featured in the video below.
The Guilin area is my top place to relax at a China resort. This is the area around those sharply rising mountain peaks that dot the terrain. You will see it on many an advertisement for China. You can find more specials here by following our specials links.

Top 25 Guilin Resort Deals with Reviews on TripAdvisor
VIDEO: The Natural Beauty of Guilin, China
---
Hainan, China, Beachfront Resorts
Hainan is one place that easily comes to mind if your looking for the beautiful beach thing. This is a place to escape to in the winter when it is cold everywhere else you can enjoy this place. 
This is what a lot of locals and visitors alike do. Take note however this place does have an unfortunate seedy side as the home of a significant sex industry.
Top 25 Hainan Resort Deals with Reviews
VIDEO: Visit Hainan - International Tourism Island
---
Top China Golf Resort in Hainan
Top China Golf Resort
Mission Hills Resort in Haikou, is known as a world-class sport resort and also has significant spa facilities including a natural hot-spring. 
---
China Beachfront Resorts
See more on Reclusive Life Phoenix Island

Here are a few more luxury beachfront resorts in China in the Sanya area.
InterContinental Sanya Resort
VIDEO: Discover Sanya, China, with the InterContinental Sanya Resort Concierge
A great beachfront China resort set on huge acreage with 343 modern rooms. The InterContinental Sanya Resort also has great access to the mountains and is a little more eco-friendly than other resorts. 
This is a classy five star resort and you can expect gourmet dining and concierge services. 
More information InterContinental Sanya Resort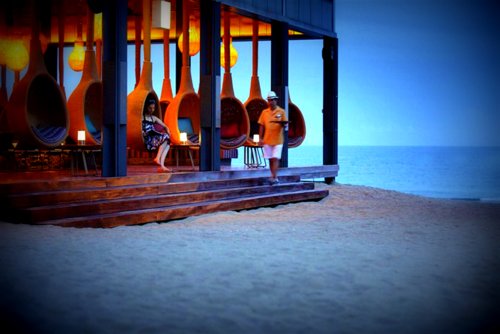 ---
Sanya Marriott Yalong Bay Resort
VIDEO: Sanya Marriott Yalong Bay
Sanya is known as a prime China resort destination with it's seven km long bay and the nearby rainforest covered mountains. This 10 hectare resort is set right on that clear water bay with 452 outstanding rooms.

More information on the Sanya Marriott Yalong Bay Resort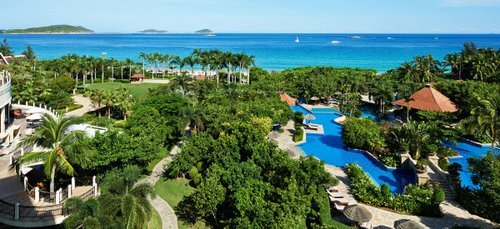 ---
Anantara Sanya Resort & Spa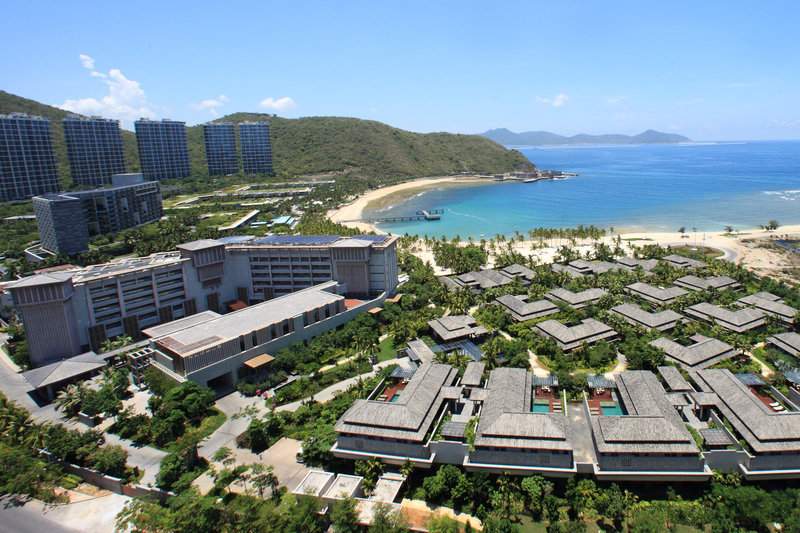 Anantara Sanya Resort
On the South China Sea by jungle, this is another of the outstanding Hainan resorts with luxurious extras like rain showers. From here you have good access to the village or even for a short trip up into the nearby hot springs . Enjoy Thai cuisine. Features: 122 rooms / Spa / Children's club / Western cuisines / Golf.
More information on Anantara Sanya Resort.
---
Galaxy Macau Cotai
A really amazing resort with wave pools and and immense outdoor water splash pool areas. The resort itself has over 1,500 rooms with five-star amenities.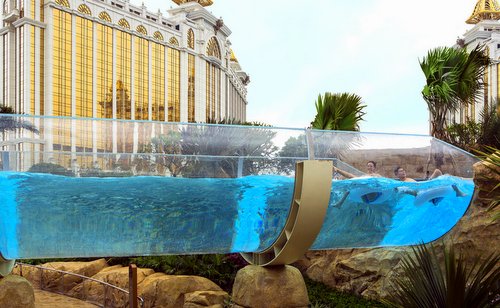 I'm not really sure how to describe this resort. Galaxy Macau presents a unique portfolio of entertainment and relaxation experiences.
There is a huge Grand Resort Deck which covers 75,000 square meters, where you can enjoy, a half mile River Ride, Wave Pool, watersides, lagoons rapids, and all types of other splash pools.
Click for more information.
---
For all the best deals to China I recommend following this link: China Deals at TripAdvisor
---
Aman at Summer Palace Beijing
VIDEO: Beijing City Guide - Lonely Planet
If you are going to visit Beijing than what more classier way to enjoy the capital than a luxury resort right at the East Gate? The Summer Palace is heritage, splendorous, simple, and elegant with 51 super rooms and suites.
In the spa enjoy herbal body treatments, Chinese massage and daily tai chi and a huge range of restaurants both in the resort and in the area.
VIDEO: Aman at Summer Palace, Beijing's most luxurious hotel: impressions & review
More information on Aman at Summer Palace Beijing.
---
Best China Family Resorts
Options like Disneyland in Hong Kong are a great way to begin a family vacation in China, but to really enjoy the unique culture and diversity it is best to spread out to some of the wider far flung corners where you are sure to enjoy a special kind of hospitality.
---
Best China Ski Resorts
Looking for a China Ski Resort. There are options for this also:
Club Med Yabuli is a well rated ski resort in China which has been recognized in prestigious China family resort awards.
Get more information and reviews here. 

---
Resources:

Top 25 China Resort Deals with Reviews on TripAdvisor
 Top China Resorts and Travel Deals

Here are the China resorts that stand out to us as well as some great China travel deals and flight specials.


ZUJI Hong Kong: Your Online Travel Guru

At Luxury Resort Bliss we recommend you use our affiliates to get the best deal possible in China


Travel Hong Kong Tourist Attractions
This site offers you an ultimate virtual guide on how to get there, to the Hong Kong attractions and where else you can go from there. Save your time and money to your Hong Kong journey, know before you go.
You may also like to consider a  Yangzte River Cruise

---