Best Resorts in Australia
Looking for the Best Resorts In Australia? Welcome to our review finding the Hidden Gems: Discovering Australia's Best Resort Destinations.
Australia, a land of stunning beauty, vibrant diversity, and wild, untamed frontiers, is home to some of the most exclusive and luxurious resorts. Beyond the bustling cityscapes, these resort destinations, nestled in serene corners of the country, offer extraordinary experiences that effortlessly blend luxury, relaxation, and adventure.
Many of the best Australia vacation resorts are close to the Great Barrier Reef or are located on spectacular coastal wilderness areas and are simply beautiful. 

---
Daintree Ecolodge
Tropical North Queensland resort vacations offer the chance to get far far away and removed from the everyday. Everything from the rain forest to the abundant marine life on the Great Barrier Reef scattered with island resorts. It all offers something a little different.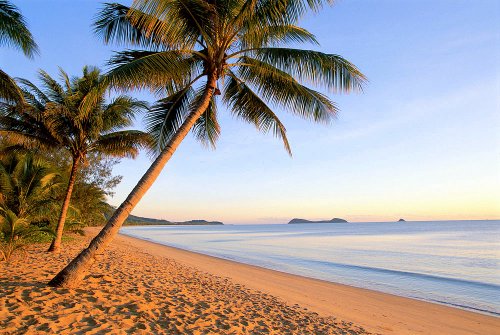 Palm Cove Resorts
Our journey begins in the tropical Far North Queensland, where the Daintree Ecolodge sits nestled within the heart of the ancient Daintree Rainforest. This boutique resort presents the ideal blend of nature and luxury, where guests can soak in the splendour of the rainforest from their eco-friendly bayans. Rainforest walks, invigorating spa treatments, and an exotic cuisine made from locally sourced ingredients define the Daintree experience.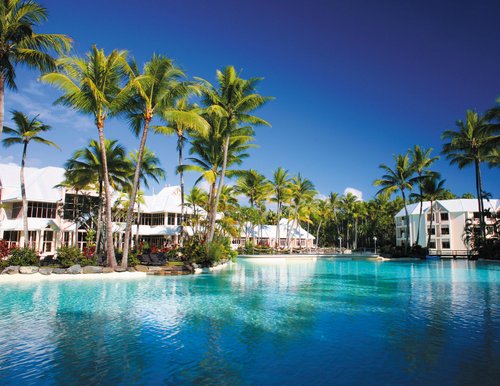 Port Douglas Resorts
Cairns Resorts, Palm Cove Resorts & Port Douglas Resorts are a good locations to locate yourself for visits to the World Heritage natural attractions of the far north. 
---
Tip: TripAdvisor also has a great review of all the best resorts and hotels in Australia and the top Holiday Rentals in Australia.
Island resorts on Queensland's Great Barrier Reef present a luxurious getaway into the heart of one of the world's natural wonders. These tropical paradises offer the perfect blend of relaxation, adventure, and marine exploration. One such example is the Orpheus Island Lodge, an exclusive hideaway nestled amidst the vibrant coral gardens of the Great Barrier Reef. This all-inclusive resort is a haven for those seeking to unwind, offering serene spa treatments, beachfront dining featuring local produce, and a range of water activities such as snorkeling, fishing, and paddleboarding.
VIDEO: Islands of the Great Barrier Reef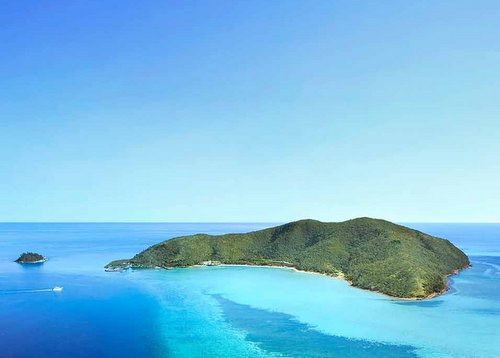 Haymen Island Great Barrier Reef
Some of the best Island resorts in the world are in Queensland, Australia. This is a preview of some of the best on our video playlist of the best Queensland Island Resorts. Many of these offer instant access to the Great Barrier Reef.
See the Queensland island resorts
---
Queensland is known for its stunning beaches, and what better way to experience them than by staying at one of the many beach resorts located in this beautiful part of Australia? From Port Douglas to the Great Barrier Reef, and from the Gold Coast to Cairns, Queensland has something for the sun and beach lover with a few rainforests thrown in. Whether you're looking for a romantic getaway in the mountains behind the Gold coast or an adventure-filled family vacation on the reef, there's a beach resort in Queensland that's perfect for you. So come explore the amazing beauty of Queensland's beaches and find your perfect beach resort today!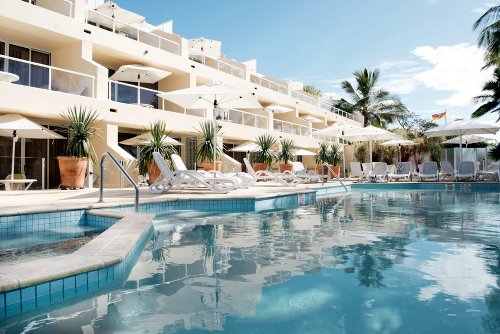 Noosa, Queensland Beach Holidays
Your time in the sun is getting ever closer with these Queensland Beach Holiday Resorts. Some of the best beach vacation spots are in Queensland Australia.
---
Sunshine Coast Resorts in Queensland, Australia offer an idyllic blend of relaxation and adventure amidst a backdrop of stunning beaches, lush hinterland, and vibrant coastal towns. The Noosa Springs Golf & Spa Resort is a prime example, providing luxury accommodation with a world-class golf course, tennis courts, and a state-of-the-art spa. However, as a premium resort, it can be pricier than other options, and its focus on golf may not appeal to non-golfers.
For family-friendly options, the Novotel Twin Waters Resort features a private lagoon, kids' club, and various water sports, but its vast size may mean a less personalized experience. The Ramada Resort by Wyndham Golden Beach is another great option with its excellent location, stunning views, and well-equipped apartments, though its facilities might not match the scale of larger resorts.
If you're looking to get away from it all and soak up some sun, come to the Sunshine Coast! From Caloundra in the south to Noosa Heads in the north, this stretch of Queensland coastline offers plenty of amazing beach hotels.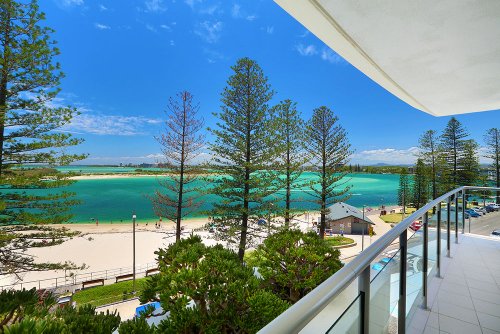 Rumba Beach Resort
Meanwhile, the Spicers Tamarind Retreat offers an exclusive, boutique experience with Asian-inspired villinaas, an award-winning restaurant, and a serene rainforest setting. Its seclusion and tranquility may not suit those seeking vibrant nightlife, though. Overall, Sunshine Coast Resorts offer a diverse range of experiences catering to different traveler preferences, each with its unique set of pros, cons, and features.
The Sunshine Coast combines beautiful nature including surf and peaceful bay beaches and a lush artsy hinterland. The coast remains a favorite for families and international tourists alike.
Sunshine Coast - Naturally Refreshing

---
Gold Coast, Australia, known for its glittering skyline meeting golden beaches, is also home to an array of luxury resorts that promise an unforgettable stay. One such resort is the Palazzo Versace, the world's first fashion-branded hotel, located on the Southport Spit. The resort exudes glamour and sophistication with its lavish interiors, a 65-meter lagoon-style pool, and award-winning restaurants, making every guest feel like an A-list celebrity.
Equally stunning, the opulent Star Grand at The Star Gold Coast resort features beautifully appointed rooms, a tropical pool, and an exquisite rooftop restaurant with panoramic views of the coast. However, its bustling casino location may not be to everyone's liking.
For those seeking peace and tranquility away from the lively city, Peppers Soul Surfers Paradise stands tall, offering luxurious apartments, a tiered outdoor pool, and a beachfront location that gives a feel of an exclusive sanctuary amidst the high-energy Gold Coast. Yet, this seclusion might feel a bit too detached for those who love the city's pulsating life.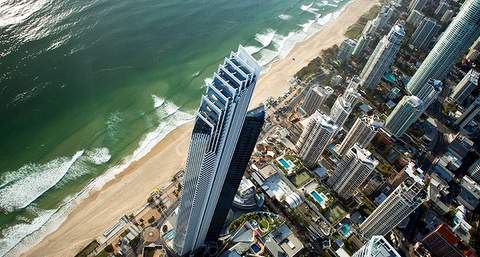 Soul Surfers Paradise
Regardless of the contrasting vibes, these luxury resorts on the Gold Coast share a common trait - they provide an unparalleled level of service and sophistication that leaves guests with a taste of Australia's opulence and charm.
Are you looking for luxury resorts in Gold Coast Australia? From Surfers Paradise to Coolungatta and the hinterland, there are plenty of options that offer the perfect combination of relaxation and adventure. Whether you're looking for a romantic getaway or an action-packed vacation, Gold Coast Australia has something for everyone. Come explore the beautiful beaches, lush rainforests in the hinterland.
We have recently updated and reviewed the top resorts on the fabulous Gold Coast. You will find many of the top resorts listed in Surfers Paradise Best Beaches in Australia.

Official Queensland Tourism Website
---
New South Wales Beach Resorts
New South Wales is a paradise for beach and ski lovers alike! From Byron to Coffs Harbour, to the Aussie Alps, there are endless possibilities for adventure and relaxation. Whether you're looking to surf the waves, ski down the slopes or simply relax in a hammock with a good book, New South Wales has something for everyone. So take some time out of your busy schedule and explore the amazing beach or ski resorts of New South Wales.
Luxury Resort Bliss recently completed a two month journey exploring the New South Wales Coastline and were impressed with the quality of the beaches from the North to the south. We have covered some of the best beaches in the world and these were certainly some of the best. Although New South Wales has less resorts than Queensland to the North, the locations are desirable.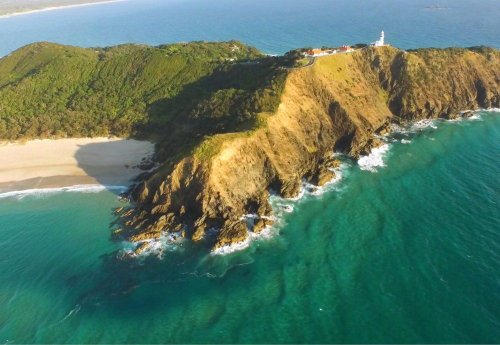 Embracing Serenity: A Byron Bay Retreat
Under the radiant Australian sun, with the soothing whispers of the Pacific Ocean in the background, Ava's eyes danced over the lush, undulating landscape of Byron Bay. Nestled on the easternmost tip of Australia, the town was a paradise woven with stunning beaches, sparkling blue waters, and the tranquil echoes of nature. Today, this serene panorama was a balm to her city-stressed senses.
As a high-powered lawyer based in the hustle and bustle of Sydney, Ava's life was a whirlwind of ceaseless arguments, relentless paperwork, and sleepless nights. Recently, her responsibilities had doubled with her young, energetic son, Ben, who had just started his first year of school. The juggle between being a single mother and a career-oriented woman had begun to wear her thin. The need for a peaceful retreat had turned from a desire to a necessity.
With a sigh of anticipation, Ava steered her car into the welcoming embrace of the 'Element of Byron,' a luxury resort famed for its commitment to environmental sustainability and its tranquil ambiance. A testament to architectural genius and innovative design, the resort had always been on her bucket list.
The first sight of their villa left Ava and Ben in silent awe. Surrounded by sprawling native rainforests and picturesque wetlands, it was a perfect example of luxurious eco-living. The contemporary interiors effortlessly blended with the outdoor landscape, promising a stay close to nature without compromising comfort and luxury.
Days turned into nights seamlessly as the mother-son duo immersed themselves in the resort's numerous offerings. Ava found herself enjoying sunrise yoga sessions, indulging in rejuvenating spa treatments, and exploring the unique biodiversity on nature trails. Meanwhile, Ben was thrilled with the outdoor adventures, particularly the kayak rides and beach expeditions. The resort's private stretch of beach was their favorite haunt, where they built sandcastles, hunted for seashells, and watched the sun setting into the ocean's embrace.
In the evenings, Ava savored delectable meals at the resort's restaurant, which showcased the local produce with a modern flair. The exquisite fusion of flavors, paired with the finest regional wines, was an unforgettable gastronomic adventure.
One particular day, a guided tour to the nearby Arakwal National Park made for a memorable excursion. The sight of the rare Byron Bay orchid, playful dolphins in the bay, and the stunning Tallow Beach left them entranced.
As the week unwound, Ava could feel a profound change within herself. The constant buzz in her mind had quieted, replaced by the harmonious notes of the surrounding nature. She felt rejuvenated, her energy restored, ready to dive back into her urban life. And as she watched Ben, fast asleep after a day full of adventure, she knew this retreat had provided them both with something invaluable - a deep, enriching connection with nature, with each other, and with themselves.
The journey back to Sydney was filled with shared laughter, exciting recollections, and a silent promise to return. Byron Bay and the 'Element of Byron' had given Ava more than a temporary escape - it had provided a blueprint of serenity she could carry back into her everyday life.
The famed and entirely chilled out beach town of Byron Bay holds a special place in the Australian Resort Scene. While there are really only a handful of outstanding resorts the location itself sums up a lot of what the better part of Australia is like. Check out the Resorts of Byron Bay and find out more about this amazing place.

Forster is an up and coming Beach Resort location which offers some exciting natural day trips. If you are looking for a beach resort location only a few hours from Sydney and yet relatively uncrowded this is a good, often underrated, option. 

Coffs Harbour, Australia is the perfect destination for a beach getaway. With its idyllic beaches and stunning scenery, one can easily forget the hustle and bustle of everyday life. The resorts in Coffs Harbour offer something unique - from luxurious spas to waterfront restaurants and bars, there is something special for families to enjoy! So if you're looking for a great beach holiday with the kids, or even an adults only getaway, look no further than Coffs Harbour - where you can relax with serenity and sun-filled days! And perhaps visit the big banana if you get hungry.

Opal Cove
Midway between Brisbane and Sydney lies the classic Aussie beach surf town of Coffs Harbour which has some of the East Coasts top resorts. While accommodation options are not as numerous and luxurious as some of the other options on this page, the beaches north of "Coffs" offer some great getaway resorts. 
Official Website: https://www.visitnsw.com/
---
In the heart of Australia's Red Centre, Longitude 131°, with its luxury pavilions, offers an unparalled view of the majestic Uluru. This eco-friendly resort allows guests to immerse themselves in the timeless landscape of the Outback. Day trips include guided tours of the Kata Tjuta National Park, cultural experiences with the traditional landowners, the Anangu people, and enchanting dinner experiences under the starlit desert sky.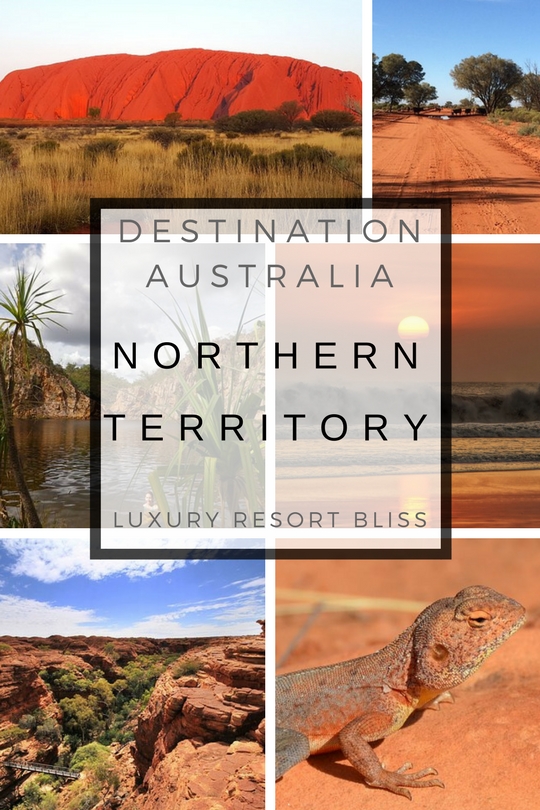 Uluru and the top end of the Northern Territory are two of Australia's most iconic and unique destinations. Uluru, (Ayers Rock), is a sacred site to the Aboriginal people who have lived in the area for thousands of years. The spectacular sandstone rock formation stands 348 metres abouve the surrounds (1141 feet)
Uluru is above sea level by 863 metres (2,831 ft)
 The Northern Territory is a land of ancient cultures, Aboriginal rock art, stunning landscapes, and unique wildlife. Whether you're looking for an adventure or some peace and quiet, its worth taking the big journey to come out here.
This eco-sensitive resort is in Uluru Kata Tjuta National Park. It offers private views of the sun rising and setting over Uluru. (Remember not to call it Ayers Rock).
Longitude 131° and it's dessert setting is a great place to get a handle on the Australian outback.

The Northern Territory iconic Australian outback at its best and home to the real Crocodile. 
Alice Springs -Gateway to the Red Centre
Uluru - Spiritual home of the nation in the centre of the country
Darwin - Biggest city and a great base to explore the Top End wet tropics.
Kakadu - Magnificent wildlife and wetlands
---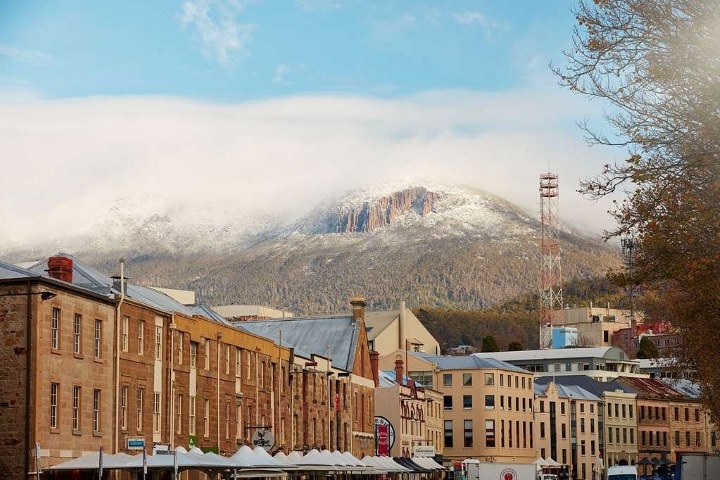 Tasmania boasts several exceptional resorts that offer unforgettable experiences amidst the island's natural beauty. From luxurious retreats nestled in wilderness to seaside havens, these resorts showcase the best of Tasmanian hospitality. Saffire Freycinet stands as a pinnacle of indulgence, offering breathtaking views of the Freycinet Peninsula, world-class dining, and an array of outdoor activities. The Henry Jones Art Hotel in Hobart combines art, history, and modern comforts, immersing guests in a unique cultural experience. Pumphouse Point, situated within the stunning Lake St Clair National Park, offers an exclusive retreat in a converted industrial relic, providing a serene escape surrounded by mountains and water.

Saffire Freycinet
Something very special in a state not particularly known for outstanding resorts. Tasmania is known as the wilderness state and this modern facility sure provides a stark contrast to roughing it in the wilderness.

Bay of Fires Lodge provides an eco-luxury experience on the pristine coast, where guests can explore the region's iconic beaches and enjoy the warm hospitality. Finally, Cradle Mountain Lodge offers a cozy sanctuary within Cradle Mountain-Lake St Clair National Park, with its log cabins, indulgent spa treatments, and close proximity to the stunning Cradle Mountain. These resorts showcase the finest accommodations, service, and amenities, ensuring that visitors to Tasmania can truly unwind and immerse themselves in the island's natural wonders.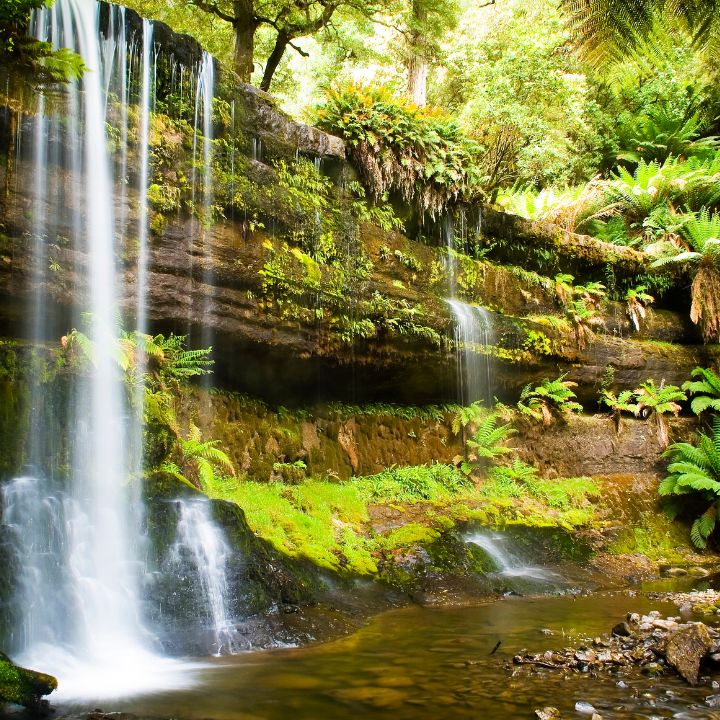 See more accommodation and vacation ideas in Tasmania.

More information and special offers on Saffire Freycinet and Tasmania Resorts.
---
Beachfront Resorts in Australia
Pretty well, most resorts in Australia are beachfront. Queensland has the highest number of beachfront resorts. Check out our review on the best Queensland beach resorts for options from the Gold Coast on the border to the tropical North Queensland resorts in places like Palm Cove. 
Byron Bay in NSW is also a classic location to enjoy a beach vacation in Australia.  
Adults Only Resort in Australia
Adults only is becoming a pretty common type of resort in destinations around the world, and the concept is gathering traction in Australia also. There are Adults Only Resorts from the far north to Western Australia. 
Port Douglas Peninsula Boutique Hotel Adult only resort is a good example of one of these. This boutique-style features an in house restaurant and a beachside location overlooking Four Mile Beach
Video: Port Douglas Peninsula Boutique Hotel
We also have a full review of the best Adult only resorts. 
Best Couple's Only Resort, Australia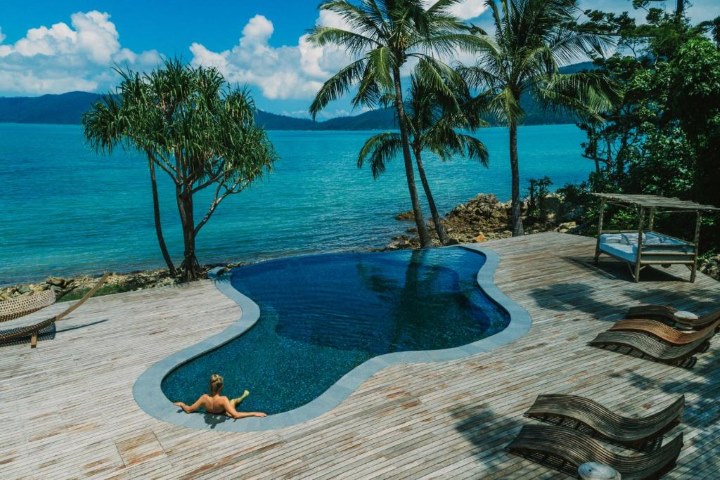 This is one of those perfect plunge pool resorts designed for couples. The difference between an adult only resort and a couples only resort is only in degrees. Both off a way to escape under 16-year-olds to provide the tranquility to nurture that special time away. 
The best Couples-only resort in Australia is Qualia on Hamilton Island. Even Oprah agrees and was flown there by Tourism Australia when she visited on her promotional trip. 
Qualia couple's only 5-star resort on the Great Barrier Reef, has 60 wonderful private rooms complete with infinity pool, private plunge pools, we and access to things like a private dining room, gourmet restaurants, the championship golf course, and Hamilton Island Golf Club. 
Video: Qualia - A Luxury Resort on Hamilton Island, Great Barrier Reef
When it comes to all-inclusive luxury, Australia has a spectacular array of resorts that elevate the holiday experience to an entirely new level. These resorts pride themselves on providing guests with the finest accommodations, gourmet dining options, and a broad array of amenities, activities, and experiences all included in the price.
One such gem is the Southern Ocean Lodge on Kangaroo Island, South Australia. This resort gives you an authentic encounter with Australia's wildlife and natural beauty in the midst of utmost luxury. Packages typically include all dining, an open bar with premium wines and spirits, guided adventures, and airport transfers. The only downside might be its isolation, but for most guests, this becomes the ultimate selling point.
In Queensland, the Lizard Island Resort in the Great Barrier Reef is another highly esteemed all-inclusive destination. With 24 private beaches, multiple dining options and a plethora of activities like diving, snorkelling, and fishing excursions included, it's a paradise for water enthusiasts.
The best Australian all-inclusive resorts are generally located on the better Queensland island resorts, but there are a few others. Check them out on our review of the best All Inclusive resorts in Australia.  
Video: TOP 10 BEST ALL INCLUSIVE RESORTS IN AUSTRALIA
Australia might be renowned for its stunning beaches and sun-soaked landscapes, but it also boasts some exceptional ski resorts that promise thrilling winter experiences. Nestled within the snowy peaks of the Snowy Mountains in New South Wales, Thredbo Resort stands as the largest ski resort in Australia. Known for its long runs and a variety of slopes that cater to both beginners and experienced skiers, Thredbo is a favourite among winter sports enthusiasts. The resort also offers a vibrant après-ski scene with numerous bars, restaurants, and live music events.
In Victoria, Falls Creek Ski Resort is another gem that entices with its picturesque Alpine village feel. Its ski-in, ski-out accommodation is a significant draw, as is the diversity of its trails, making it an ideal spot for families and groups with varying skill levels.

Mount Hotham, also in Victoria, delivers a unique "upside-down" layout where the village is at the top of the mountain. It offers challenging terrains that cater more to intermediate and advanced skiers, although beginners aren't left out.
While these resorts provide excellent skiing and snowboarding opportunities, they can be quite crowded during peak season. Moreover, Australia's ski season is shorter than in other countries, generally running from June to early October. Regardless, the blend of snow, adventure, and warm Australian hospitality makes these resorts a must-visit for ski enthusiasts.
When people mention ski resorts in Australia, the temptation is to check and see if it wasn't Austria getting talked about. Although the Australian Alps don't really come close to the European Alps or the American, Canadian Rockies in scale, there is an active and vibrant ski scene in Australia. 
Video: 10 Top Ski Resorts in Australia
In Western Australia, the Berkeley River Lodge, accessible only by air, is a sanctuary of luxury in the rugged Kimberley region. With majestic river and ocean views, the lodge offers guided treks, river cruises, and the chance to explore untouched beaches. Each day ends with gourmet meals prepared from the finest locally sourced produce.
Western Australia, renowned for its vast expanse of unspoiled landscapes, pristine coastlines, and unique biodiversity, also hosts a remarkable collection of luxury resorts that offer a different take on the classic resort experience.
Tucked away in the heart of the Kimberley region, you'll find the El Questro Wilderness Park and Emma Gorge Resort. It offers guests an exclusive chance to explore one of Australia's last true frontiers. Here, rugged landscapes, cascading waterfalls, and ancient gorges take centre stage against the backdrop of deluxe tented cabins. The resort is truly a unique convergence of luxury and wilderness, offering unforgettable adventures such as thermal spring bathing, hiking, and helicopter tours.
Moving towards the coastline, the eco-luxury Sal Salis Ningaloo Reef is a must-visit destination. Nestled in the dunes of the Cape Range National Park, this resort offers wilderness tents just footsteps away from the world's largest fringing coral reef. Guests have an exclusive opportunity to swim with whale sharks and explore the abundant marine life of the Indian Ocean.
Meanwhile, in the South West, the Empire Retreat and Spa in Yallingup offers a serene escape among the vineyards and forests of the Margaret River Wine Region. This adult-only retreat provides an idyllic setting for relaxation and rejuvenation, featuring luxury suites, a holistic spa, and a gourmet dining experience with the region's finest wines.

Although these resorts can be a bit off the beaten path, the journey to these locations is part of the experience itself. Each resort, uniquely immersed in Western Australia's distinct landscapes, offers a blend of luxury and adventure that caters to a variety of travel tastes and desires. Their remote locations might be seen as a con by some, but for those seeking solitude and an intimate connection with nature, they are a paradise.
Australia's resort destinations, away from the cities, offer more than just a luxurious retreat - they offer an unforgettable connection with the land's rich heritage, unique wildlife, and diverse natural beauty. Each of these resorts embodies a unique aspect of Australia, ensuring an unforgettable experience that leaves guests rejuvenated and deeply enriched.
Australian Resorts FAQ
What are some of the best luxury resorts in Australia? Some of the top luxury resorts in Australia include the Southern Ocean Lodge on Kangaroo Island, Lizard Island Resort in the Great Barrier Reef, Orpheus Island Lodge in Queensland, and Longitude 131 in the Australian Outback. Each offers unique experiences and stunning accommodations.
What is included in an all-inclusive resort package in Australia? All-inclusive resort packages typically include accommodations, all meals and beverages, and a variety of activities and amenities on the resort. Some resorts also offer guided tours and excursions, airport transfers, and spa services as part of their all-inclusive packages.
Do these luxury resorts cater to families? Many luxury resorts in Australia are family-friendly and offer activities and amenities catered to guests of all ages. However, some resorts, especially those that focus on providing a serene and tranquil environment, may have age restrictions. It is always best to check with the resort beforehand.
How can I book a stay at these luxury resorts? You can book directly through the resort's official website, where you can find the most up-to-date information, special packages, and availability. Alternatively, bookings can also be made through various online travel agencies.
What is the best time to visit these Australian luxury resorts? The best time to visit depends on the location of the resort and your preferred activities. For example, resorts in the Northern Territory and Queensland are great to visit in the dry season (May to October), while those in South Australia and Tasmania may be best enjoyed in the summer months (December to February).
Are these luxury resorts accessible for people with disabilities? Many luxury resorts in Australia are committed to providing accessible facilities and services for all guests. However, due to the unique locations of some resorts, not all areas may be accessible. It is recommended to contact the resort directly to discuss any specific needs or requirements.
Do these resorts offer any special packages or deals? Yes, most luxury resorts offer special packages and deals throughout the year. These can range from honeymoon packages to extended stay deals. It's best to check their official websites or contact them directly for the most accurate information.
What precautions are being taken at these resorts due to COVID-19? All resorts are following the latest health and safety guidelines provided by local and international health authorities. This may include enhanced cleaning protocols, social distancing measures, changes to food and beverage services, and flexible booking policies. It's recommended to check the resort's official website for the latest information.
Do these resorts have a cancellation policy? Yes, each resort has its own cancellation policy which can vary depending on the time of year, rate type, and how far in advance the booking is cancelled. It's advisable to review these policies before making a booking.
Is it possible to have a customized itinerary in these resorts? Yes, many luxury resorts offer customized itineraries to ensure guests have an exceptional and personalized experience. These can often be arranged by contacting the resort directly after booking.
Australian All Inclusive Resorts

---
Share Your All-Inclusive Adventures and Questions! 🌴 Have a memorable experience from a luxury all-inclusive vacation? We'd love to hear it at Luxury Resort Bliss. We're on the lookout for top-quality, insightful tales that'll inspire our community. Dive in and be a part of our sun-soaked stories! 🌊🍹✨
The story is a fictionalized account founded on travel expertise, research, and experience. Always refer to recent guest reviews and perform due diligence before booking.
💼 We cherish our independence! ✈️ Our travel recommendations are carefully researched, bias-free, and powered by human expertise by April and Ricky of LRB (we have personally researched and travelled to many of these destinations and researched others thoroughly through first-hand accounts). We also have put in the hard miles, and Ricky has worked for decades for resort and hotel chains  Hyatt, Hilton, Shangri-La and Radisson before starting Luxury Resort Bliss in 2007. 🌍✨ Unlike some other resort review websites we are concerned on the guest experience rather than mere corporate interest.