Resorts in the Daintree, North Queensland, Australia
Nestled in the heart of tropical North Queensland, the Daintree Rainforest presents an enchanting world of biodiversity and thrilling adventures, a place where nature and luxury intertwine to create an unforgettable experience.
The Daintree Rainforest, one of the world's oldest living rainforests estimated to be around 180 million years old, teems with an array of exotic wildlife and flora, including ancient plants, hundreds of bird species, and the enchanting Daintree Cassowary. While traversing this lush landscape, you might be lucky enough to spot animals that are unique to this region.
Daintree Beach at Caape Trib - Ecolodge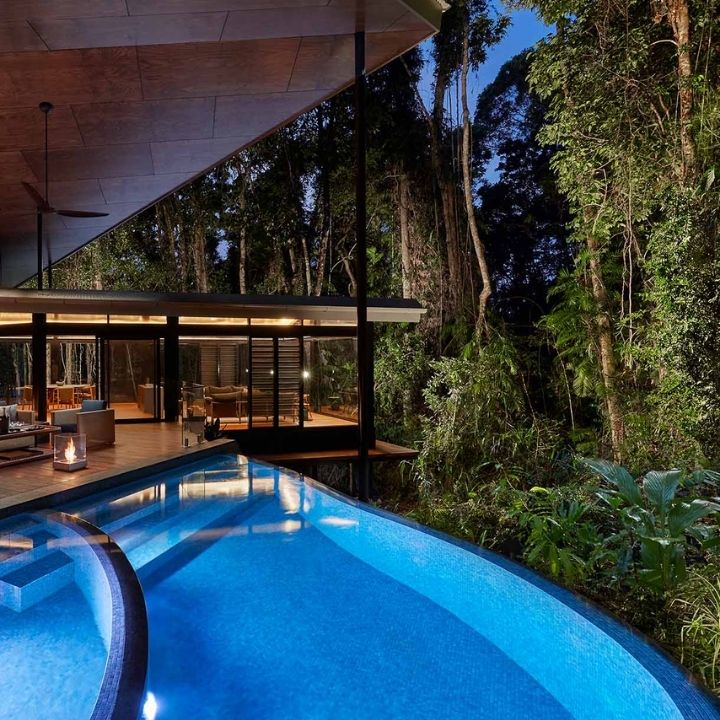 Silky Oaks Lodge
I was fortunate to experience this vibrant ecosystem from the luxurious comfort of the Silky Oaks Lodge, a tropical haven situated near the Mossman Gorge, a notable gateway to the Daintree. The lodge offers a spectacular blend of comfort and nature, where the guests reside in elegant treehouse-style suites surrounded by the rainforest's verdant canopy, fostering a deep sense of connection with the environment.
Silky Oaks Lodge: Score 9.5/10
Features: Luxury treehouse-style suites nestled in the heart of the Daintree Rainforest, Healing Waters Spa, yoga and snorkeling in the Mossman River, dining at the open-air Treehouse Restaurant.
The resort sits alongside the tranquil Mossman River, further enhancing the sense of immersion in nature. It offers numerous complimentary experiences such as yoga and snorkeling in the river, and also arranges optional experiences like driving safaris, indigenous guided walks, heli tours, and reef explorations.
Best For: Couples and nature enthusiasts seeking a luxurious retreat and wellness experiences amid a lush rainforest setting.
See the full review of SIlky Oaks Daintree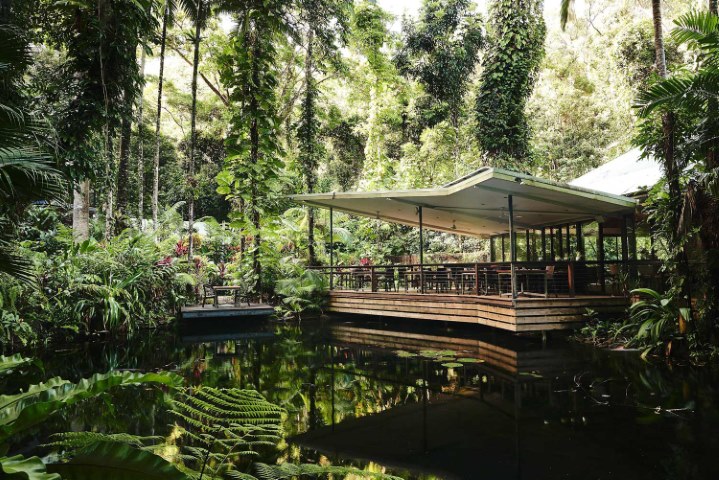 Nestled in the heart of the ancient Daintree Rainforest, a World Heritage-listed treasure, Daintree Ecolodge offers a captivating blend of nature, culture, and relaxation. With its eco-friendly bayans (treehouses) immersed in the lush rainforest canopy, this lodge provides a true rainforest experience.
Score: 
Location (4.9/5): Situated in the Daintree Rainforest, the lodge is perfectly positioned to explore the region's natural wonders, including the Daintree River and the Great Barrier Reef.
Accommodation (4.8/5): The 15 eco-friendly bayans offer a unique and immersive rainforest stay, allowing guests to connect with the sounds, scents, and sights of the tropical rainforest. Some guests have mentioned a desire for more modern amenities.
Amenities (4.7/5): The lodge features an acclaimed spa that harnesses the natural forces of the surroundings, providing a truly rejuvenating experience. The emphasis on authentic indigenous experiences sets it apart.
Service (4.8/5): Guests appreciate the non-contrived and relaxed atmosphere, along with the friendly and knowledgeable staff who enhance the overall experience.
Value for Money (4.8/5): With its unique rainforest setting and authentic cultural experiences, guests find the value for money to be exceptional.
Recommended for: Daintree Ecolodge is a haven for nature enthusiasts, wellness seekers, and those looking to immerse themselves in the beauty and tranquility of the Daintree Rainforest. Its commitment to sustainability, cultural immersion, and unique accommodations make it a standout choice for a pure rainforest experience.
Daintree EcoLodge: Score 9/10
Features: Eco-friendly lodges nestled in the rainforest canopy, on-site wellness spa, locally sourced cuisine, Indigenous guided tours.
Best For: Eco-conscious travelers who appreciate sustainability without compromising comfort and love engaging with local culture.
Daintree Wilderness Lodge:
Nestled in a secluded corner of the Daintree Rainforest, Daintree Wilderness Lodge offers an intimate and immersive rainforest experience that sets it apart from other nearby accommodations. Here are some distinctive features that make the lodge stand out:
Secluded Location: Daintree Wilderness Lodge is tucked away in a pristine pocket of the rainforest, providing a sense of exclusivity and tranquility. It offers a true escape from the outside world, allowing guests to connect deeply with nature.
Intimate and Eco-friendly Cabins: The lodge's cozy cabins are designed to blend harmoniously with the surrounding rainforest. They are thoughtfully crafted to be eco-friendly, ensuring minimal impact on the environment while providing a comfortable and rustic retreat.
Immersive Rainforest Experience: The lodge offers guided rainforest walks led by knowledgeable naturalists who share their passion for the region's unique flora and fauna. Guests have the opportunity to discover hidden gems, spot wildlife, and learn about the intricate ecosystem of the Daintree Rainforest.
Access to Pristine Swimming Holes: Daintree Wilderness Lodge provides access to nearby secluded swimming holes, allowing guests to cool off and relax in crystal-clear waters surrounded by the sights and sounds of the rainforest.
Authentic Sustainability Practices: The lodge prides itself on its commitment to sustainability, implementing practices that minimize its ecological footprint. This includes eco-friendly initiatives such as rainwater harvesting and solar power, ensuring a responsible and eco-conscious stay.
Recommended for: Daintree Wilderness Lodge is perfect for nature enthusiasts, eco-conscious travelers, and those seeking an intimate rainforest experience off the beaten path. Its secluded location, immersive activities, and dedication to sustainability create a unique and memorable stay that showcases the true essence of the Daintree Rainforest.

Daintree Wilderness Lodge: Score 8.7/10

Features: Private cabins with floor-to-ceiling windows for rainforest views, on-site restaurant serving local cuisine, guided tours, and nature walks.
Best For: Families and couples who value privacy and seek immersive nature experiences right from their doorstep.
Daintree Riverview Lodges & Camp Ground:
Daintree Riverview Lodges & Camp Ground: Score 8.5/10Features: Elevated lodges with balconies overlooking the Daintree River, campgrounds available, river tours arranged on-site.
Best For: Budget-conscious adventurers, campers, and families who want a base for exploring the Daintree and Great Barrier Reef.
Heritage Lodge In the Daintree
Heritage Lodge In the Daintree: Score 8.3/10
Features: Cabins within the rainforest, on-site restaurant with locally sourced ingredients, private access to a swimming hole, guided tours available.

Best For: Travelers who enjoy rustic charm and convenient access to the forest and river.
Things to Do in the Daintree, North Queensland
The journey to the Daintree Rainforest from Cairns or Port Douglas is in itself a mesmerizing experience. The route is well marked and offers stunning views along the way, leading to the Daintree Ferry, the only cable ferry operating in a World Heritage area. It's a quintessential part of the Daintree experience, connecting visitors to this ancient and magnificent wilderness.

The Daintree Rainforest is more than just a rainforest; it is a living testament to Earth's rich natural history, a sanctuary for unique flora and fauna, and a destination offering a myriad of adventurous and restorative experiences. It's a place where you can hike through lush trails, embark on river cruises, and even camp under the starlit sky. Whether you choose to stay within the rainforest or at accommodations in the Daintree Village, you are bound to leave with a renewed sense of connection to nature and an unforgettable collection of memories.
For a more comprehensive understanding of the Daintree's ecological wonders, I would recommend a visit to the Daintree Discovery Centre. Here, visitors can explore the aerial walkway, learn about the rich biodiversity of the rainforest, and the various threats to the Daintree ecosystem, such as deforestation. The center also educates about the ongoing conservation efforts to protect this cherished rainforest.
If you prefer to explore the Daintree on your own, a cruise on the Daintree River offers a unique perspective. There, you might get a chance to spot crocodiles in their natural habitat. For the more adventurous, zipline tours provide an exhilarating way to experience the forest canopy.
The Daintree, North Queensland
A rrealistic guide on things to do in the Daintree Rainforest.
Explore the Daintree Rainforest: The Daintree Rainforest is a living museum of biodiversity, but it's also vast and can be challenging to navigate. Guided tours can offer the best way to see and understand the ecology and history of the area. Remember, it's a tropical rainforest, so be prepared for hot and humid conditions, and be mindful of potential encounters with wildlife, including insects and snakes.
Daintree Discovery Centre: A self-guided audio tour through this centre can provide a detailed and fascinating insight into the rainforest's ecosystem. The Aerial Walkway and Canopy Tower offer stunning views, but be warned that the walkway may sway a bit, which can be disconcerting for some.
Daintree River Cruise: This is a great way to see the river's flora and fauna, including the possibility of spotting saltwater crocodiles. However, remember that wildlife is unpredictable, and sightings can never be guaranteed.
Ziplining: For the thrill-seekers, ziplining is an exciting way to experience the forest canopy. It can be a bit scary for those afraid of heights, and it's also not the cheapest activity.
Visit Cape Tribulation: A gorgeous place where the rainforest meets the reef. However, stingers are present in the waters during certain seasons, making swimming unsafe. Always heed local advice about where and when to swim.
Daintree Ice Cream Company: This is a fun stop where you can try exotic fruit ice creams. However, it can get busy during peak season, and they don't offer the ability to choose your own flavours; it's a set selection of the day.
Daintree Ecolodge & Spa: It offers lovely accommodations and spa services, but it might be on the pricier side for some budgets.
Wildlife spotting: The rainforest is home to an array of wildlife, including the elusive cassowary. However, it's worth noting that animals in the Daintree are wild and not on display for tourists - sometimes, you may not see much wildlife at all.
Hiking: There are many walking tracks in the Daintree, but conditions can be hot, humid, and challenging. It's important to wear good hiking shoes, carry plenty of water, and stay on designated trails.
Remember, visiting the Daintree Rainforest is an adventure in itself. It's not a sanitised theme park or an air-conditioned mall. Instead, it's a place where nature rules, which is what makes it such a remarkable and memorable destination.
A visit to the Daintree Ecolodge is a must for those seeking restorative experiences. It features the Healing Waters Spa, where the spa treatments are inspired by the life-giving properties of the Mossman River's water. The lodge pays homage to the Indigenous Kuku Yalanji people's ancient beliefs, acknowledging the water as a renewing and life-giving force. When hunger strikes, the Treehouse Restaurant at the Silky Oaks Lodge presents a culinary adventure, combining local ingredients in a refreshing and contemporary Australian menu.
Alternatively, guests can explore the Daintree Village's culinary scene. The region is dotted with cafés, restaurants, and distilleries serving tropical delights. Among them, the Hemingway's Brewery and the Grant Street Kitchen come highly recommended.
FAQ on the Daintree
The Daintree Rainforest is located in Far North Queensland, Australia. It stretches from the Daintree River north to Cape Tribulation and covers around 2,600 square kilometres.
From Cairns, it's approximately a two-hour drive north along the scenic coastal road to reach the Daintree. The journey from Port Douglas takes about an hour. Note that a car ferry is required to cross the Daintree River.
The Daintree Rainforest can be visited all year round, but the dry season from May to September typically offers more comfortable weather conditions with less rainfall and lower humidity.
River, Daintree Discovery Centre, and various walking tracks, lookout points, and swimming holes throughout the rainforest.
Activities include rainforest walks and hikes, river cruises, birdwatching, snorkelling, zip-lining, visiting the Discovery Centre, indigenous cultural tours, and exploring the unique flora and fauna.
Activities include rainforest walks and hikes, river cruises, birdwatching, snorkelling, zip-lining, visiting the Discovery Centre, indigenous cultural tours, and exploring the unique flora and fauna.
Comfortable walking shoes, a rain jacket, sunscreen, insect repellent, swimwear, a hat, and binoculars for wildlife spotting are recommended. Always carry plenty of water and some snacks.
No, it's not safe to swim in the Daintree River due to the presence of crocodiles. However, there are safe swimming spots in freshwater creeks and waterholes in the area. Always adhere to local advice and signage.
The Daintree Rainforest is a World Heritage Site, which offers it a certain level of protection. Various organizations and government bodies work to protect its unique ecosystems through conservation efforts, research, sustainable tourism practices, and ongoing land management.
Share Your All-Inclusive Adventures and Questions! 🌴 Have a memorable experience from a luxury all-inclusive vacation? We'd love to hear it at Luxury Resort Bliss. We're on the lookout for top-quality, insightful tales that'll inspire our community. Dive in and be a part of our sun-soaked stories! 🌊🍹✨
The story is a fictionalized account founded on travel expertise, research, and experience. Always refer to recent guest reviews and perform due diligence before booking.
💼 We cherish our independence! ✈️ Our travel recommendations are carefully researched, bias-free, and powered by human expertise by April and Ricky of LRB (we have personally researched and travelled to many of these destinations and researched others thoroughly through first-hand accounts). We also have put in the hard miles, and Ricky has worked for decades for resort and hotel chains  Hyatt, Hilton, Shangri-La and Radisson before starting Luxury Resort Bliss in 2007. 🌍✨ Unlike some other resort review websites we are concerned on the guest experience rather than mere corporate interest.