World's Best Wellness Retreats
World's Best Wellness Retreats
yearning for the world's best wellness retreats?
"Land beneath my bare feet, sun salutations to the rising sun, the rustling leaves softly whispering in the background. That's my usual morning routine," I begin, opening my notebook.
I'm Sarah, a 28-year-old travel writer from the hustle and bustle of New York City. My journey has taken me to the far reaches of the world, from misty Himalayan peaks to the sun-drenched beaches of Thailand, all in search of the ultimate sanctuary of peace, tranquility, and wellness.
My first stop was the revered Ananda in the Himalayas. Nestled amid the serene Sal forests, Ananda welcomed me with an open heart. Here, Ayurvedic practices weren't just a trendy add-on but the very heart and soul of the retreat.
The days began with yoga sessions, their rhythm syncing with the silent hum of the mountains. I explored the birthplace of Ayurveda, delving into Panchakarma, a detoxifying treatment that promised to cleanse the body and soul. There's something magical about Ananda, maybe it's the echo of ancient wisdom or the peaceful solitude of the mountains, but I left feeling lighter, grounded, and in tune with my inner self.
From the peaks of the Himalayas, I descended to the luscious tropical landscape of Koh Samui, home to Kamalaya Wellness Sanctuary. Here, I experienced a sense of homecoming, an echo of something ancient and elemental. At the heart of Kamalaya lay a centuries-old cave, once used by Buddhist monks for meditation.
Dedicated to fostering life's potential, Kamalaya offered a buffet of wellness experiences, from yoga, holistic medicine, detoxification, to stress management programs. But the most compelling part of my stay was the connection with the land itself, an unseen force that cradled and nurtured. I found myself shedding layers of stress, emerging brighter and more focused. Kamalaya wasn't just a retreat, it was a transformation.
Bali Wellness Retreats
Ah, Bali, the tropical paradise with a spiritual heartbeat. The Island of the Gods, as it's often referred to, is a mecca for wellness retreats, drawing in weary souls from across the globe, eager for rejuvenation and transformation. From lush Ubud, the cultural epicenter and the spiritual core of the island, to the sun-drenched beaches of Seminyak and Canggu, each area offers its unique flair to the overall wellness experience.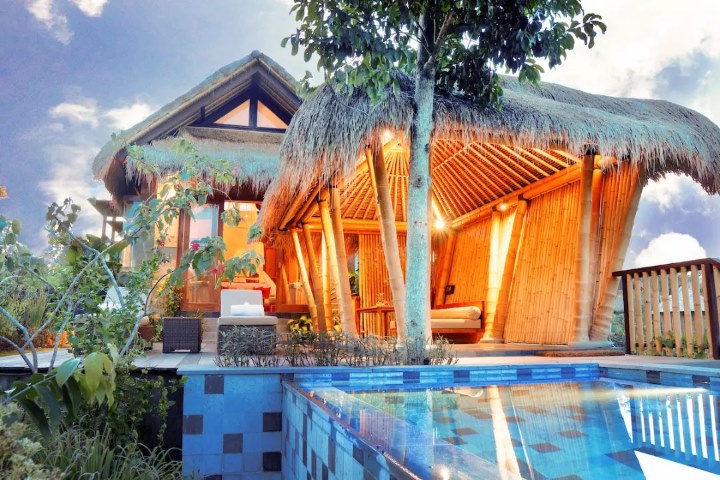 Fivelements Retreat Bali: An Immersive Journey Into Wellness And Tradition
In Ubud, you can find retreats like the famed "Fivelements," known for its eco-conscious approach and Balinese healing therapies. Surrounded by abundant greenery and the tranquil flow of the Ayung River, it offers an array of holistic wellness programs that take inspiration from the traditional Balinese way of life, from yoga and meditation to plant-based cuisine.

In Seminyak, retreats such as "Oneworld Retreats" provide a blend of Balinese and Western approaches to wellness, with programs focused on yoga, detox, Ayurveda, and mindfulness. And in the trendy beach town of Canggu, "The Pineapple House" is known for its laid-back vibe and surf-and-yoga packages.
Across these retreats, the common threads remain: a serene environment, a focus on holistic well-being, and a deep respect for Balinese culture and tradition. It's a remarkable blend that truly sets Bali's wellness retreats apart, offering not just a getaway, but an opportunity for meaningful transformation.
See also the best women's wellness retreats. 
The next leg of my journey took me to the heart of Bali, to the doors of COMO Shambhala Estate. Shrouded amidst the emerald forests of Ubud, COMO Shambhala Estate is a haven for those looking to embark on a wellness journey at their own pace.
For me, it was the freedom that made my stay special. I had the liberty to craft my days, be it exploring the ancient temples of Ubud, hiking through the verdant rice terraces, or surrendering to the expert hands of the Balinese masseurs. The cuisine was another highlight, a delicate balance of flavor and nutrition that kept me coming back for more. I left COMO Shambhala feeling revitalized, carrying a piece of Bali's serene spirit with me.
COMO Shambhala Estate (Bali)
Six Senses Yao Noi (Thailand)
The Six Senses Yao Noi, an eco-luxe hideaway in the lush landscapes of Phang Nga Bay. Committed to sustainability, Six Senses Yao Noi blurred the lines between the indoors and outdoors, inviting nature in.
The retreat's holistic wellness philosophy was a blend of modern science and ancient wisdom. I spent my days here soaking in the breathtaking views, practicing yoga in the open pavilion, and enjoying therapies that were thoughtfully crafted to rejuvenate the mind, body, and soul. The lingering memory of Six Senses Yao Noi? A renewed sense of purpose, a heart full of joy, and a soul in harmony with nature.
Find the best deal, compare prices, and read what other travelers have to say at Tripadvisor
All-Inclusive Wellness Retreats
Retreat Flight and Hotel Deals on Expedia
Vacation to Retreat
Book a Hotel + Flight or Car together to unlock savings
Gora Kadan, Hakone, Japan
The pursuit of serenity, balance, and rejuvenation has given rise to a discerning breed of globe-trotters in search of the world's most laudable wellness retreats. 
Tucked away in Hakone's serene mountain ranges, the ryokan-style Gora Kadan stands as an eloquent testament to time-honored Japanese hospitality and well-being traditions. Housed in a former imperial retreat, Gora Kadan blends heritage and modernity, an intimate dance of the past and present, if you will.
From the moment the sliding shoji doors reveal your suite – a harmonious palette of cedarwood, bamboo, and rice-paper - you're invited to step away from the hubbub of modern life and immerse in the Zen rhythm of ancient Japan. Each suite, adorned with private onsen (hot spring) baths, offers you a personal pocket of peace and solace.
With a focus on holistic health, Gora Kadan's wellness offerings are no less exquisite. Experiences range from meditative tea ceremonies to traditional shiatsu massages. Perhaps what sets this retreat apart, though, is the incorporation of kaiseki – a multi-course culinary journey crafted with seasonal ingredients, bursting with flavors that capture the essence of Japanese cuisine.
In comparison, there is Aman Tokyo – the urban wellness contender with its monumental spas and panoramic city views. Yet, while Aman Tokyo plays to the tune of ultra-luxurious modernity, Gora Kadan relishes in the gentle whispers of tradition. What Aman Tokyo may lack in cultural immersion, it compensates for in state-of-the-art amenities and the thrill of Tokyo's cityscape.
However, for the purest experience of Japanese wellness, Gora Kadan's tranquil authenticity is the one to beat.
Score: 9.5/10
Gora Kadan, a tranquil sanctuary nestled in the mountains of Hakone, Japan with in minutes the pace of my journey transformed, mirroring the slow, measured cadence of this traditional Japanese ryokan turned luxury wellness retreat.
Here, it wasn't about rigorous exercise regimes or scientific dietary programs. Rather, the emphasis was on finding peace, solitude, and a deep connection with nature and Japanese tradition. It was a journey into the heart of 'Zen'.
My room, formerly a part of the Imperial family's residence, was an enchanting blend of traditional Japanese aesthetics and modern comfort. The minimalistic design, with 'tatami' mat flooring and 'shoji' screens, created a sense of serenity that pervaded the entire space. The private onsen, or hot spring bath, attached to my room became a ritualistic space for contemplation and restoration.
Gora Kadan's wellness ethos was deeply rooted in the Japanese concept of 'Kaiseki', a traditional multi-course dining experience. Each meal was a symphony of seasonal and local ingredients, beautifully arranged to reflect the natural landscapes of Hakone.
The treatments offered at Gora Kadan were a fusion of ancient Japanese healing practices and contemporary wellness therapies. I experienced a 'Shiatsu' massage for the first time and found the pressure-based therapy surprisingly restorative. But the heart of the wellness experience lay in the 'Onsen' bathing ritual, a centuries-old Japanese tradition that relies on the healing properties of natural hot springs.
While Gora Kadan might not appeal to wellness seekers looking for high-intensity workouts or clinically tailored wellness programs, it was an idyllic retreat for those seeking a tranquil, culturally immersive experience steeped in tradition. As I left, I carried with me the subtle teachings of Zen, a quieter mind, and a deeper appreciation for life's inherent simplicity.
Find the best deal, compare prices, and read what other travelers have to say at Tripadvisor
Here are 30 top wellness retreats worldwide, and a brief note on the type of traveler they're best suited for:
Gora Kadan, Hakone, Japan: Best for those seeking a serene, culturally immersive wellness retreat rooted in tradition.
Laucala Island Resort, Fiji: Ideal for discerning travelers in search of ultimate privacy and a connection with nature.
Ananda in the Himalayas, India: Perfect for spiritual seekers and yoga enthusiasts looking for introspective wellness.
SHA Wellness Clinic, Spain: Suits those seeking a medically backed wellness retreat focusing on nutrition and lifestyle changes.
Rancho La Puerta, Mexico: Ideal for active travelers, offering a range of fitness classes amidst nature.
COMO Shambhala Estate, Bali: Great for those seeking a holistic approach to well-being in a tropical paradise.
Chiva-Som, Thailand: Suited for anyone in need of a comprehensive, tailored wellness program.
Six Senses Douro Valley, Portugal: Ideal for wine lovers who also appreciate wellness amidst verdant vineyards.
The Ranch Malibu, California, USA: Perfect for fitness-focused individuals seeking a transformative boot camp experience.
Amanbagh, India: Ideal for travelers seeking to experience the therapeutic benefits of Ayurveda in a luxurious setting.
Kamalaya Koh Samui, Thailand: Suits individuals seeking a blend of Eastern and Western healing practices.
Golden Door, California, USA: Perfect for individuals seeking a highly personalized wellness journey in an exclusive environment.
Lanserhof Tegernsee, Germany: Ideal for travelers wanting a cutting-edge medical spa experience.
Como Parrot Cay, Turks and Caicos: Great for beach lovers seeking peace, yoga, and rejuvenation.
Euphoria Retreat, Greece: Best for those seeking a blend of classical Greek healing philosophies and innovative wellness practices.
Four Seasons Resort Maldives at Landaa Giraavaru: Ideal for those seeking luxury, marine exploration, and Ayurvedic healing.
Amangiri, Utah, USA: Suited for adventure lovers who want to blend wellness with hiking, climbing, and exploring the desert landscape.
The BodyHoliday, St. Lucia: Perfect for solo travelers seeking a variety of wellness programs and activities.
Vana Malsi Estate, India: Ideal for individuals seeking a profound wellness journey focused on balanced living.
Aro Hā Wellness Retreat, New Zealand: Great for eco-conscious travelers seeking a blend of mindfulness, yoga, and outdoor adventure.
Miraval Arizona Resort & Spa, Arizona, USA: Perfect for those seeking a well-rounded wellness retreat with an array of workshops and activities.
The Retreat Costa Rica: Ideal for those who love scenic views and seek a holistic approach to wellness.
Lefay Resort & Spa Lago di Garda, Italy: Suited for luxury-seekers wanting a blend of traditional Chinese medicine and modern Western practices.
Clayoquot Wilderness Resort, Canada: Ideal for adventure and nature lovers looking for wellness in the wilderness.
Bushmans Kloof Wilderness Reserve, South Africa: Great for wildlife enthusiasts seeking wellness amidst a biodiverse reserve.
Brenners Park-Hotel & Spa, Germany: Perfect for those looking for a luxurious, traditional European spa experience.
Rosewood Little Dix Bay, Virgin Gorda, British Virgin Islands: Ideal for beach lovers seeking wellness offerings in a stunning island setting.
Laucala Island Resort, Fiji
My next destination took me to the South Pacific, to the private paradise of Laucala Island Resort in Fiji. As the seaplane touched down on the turquoise waters surrounding the island, I was awestruck by the kaleidoscope of blues and greens stretching out before me.
Laucala is not just a resort; it's an untouched Eden of lush rainforests, powder-white beaches, and pristine coral reefs. Here, privacy and luxury go hand in hand. Every villa is a private sanctuary, complete with a pool, a personal butler, and stunning views of the South Pacific. My hilltop estate, one of the 25 Fijian-style villies, was a masterpiece of traditional architecture and modern opulence.
Privacy is the currency here, with only 25 villas scattered across 3,500 verdant acres, each cloaked in lush greenery and perched over pristine beaches.

Unlike the understated elegance of Gora Kadan, Laucala embraces unabashed luxury. Villas feature private infinity pools and outdoor rain showers. Staff and chefs are at hand to cater to your every whim, whether that means a sunrise yoga session on the beach or a freshly-prepared seafood platter.
Wellness at Laucala is as much about physical rejuvenation as it is about connecting with nature. The spa is uniquely centered on traditional Fijian therapies, utilizing organic products sourced from the island's own plantations. Imagine the heady scent of indigenous flowers as you drift away under the skilled hands of your masseuse - a symphony of senses, indeed.
For those seeking an alternative, the Brando in French Polynesia offers similar extravagance with a touch of Hollywood glamour. Yet, Laucala's unspoiled landscapes and intimate size give it a unique edge. It's not just a resort, it's an island experience.
The wellness experience at Laucala went beyond traditional spa therapies. Yes, there was an extensive menu of treatments inspired by ancient Fijian healing practices, and yes, the spa facilities were world-class. But the real magic lay in the island's inherent connection with nature. Horse riding along the beach at sunrise, diving amid the vibrant coral reefs, hiking in the emerald green hills - every experience was a salve for the soul.
The culinary journey was just as enriching. With an emphasis on organic, locally sourced ingredients, each meal was a gourmet delight. Many ingredients were harvested from the island's own farms and gardens, making every dish a taste of the island's rich, fertile soils.
While Brando tickles with the charm of Marlon Brando's legacy, Laucala is for those who yearn for pure, unadulterated seclusion.
Score: 9.7/10
See more adult-only all-inclusive-resorts in Fiji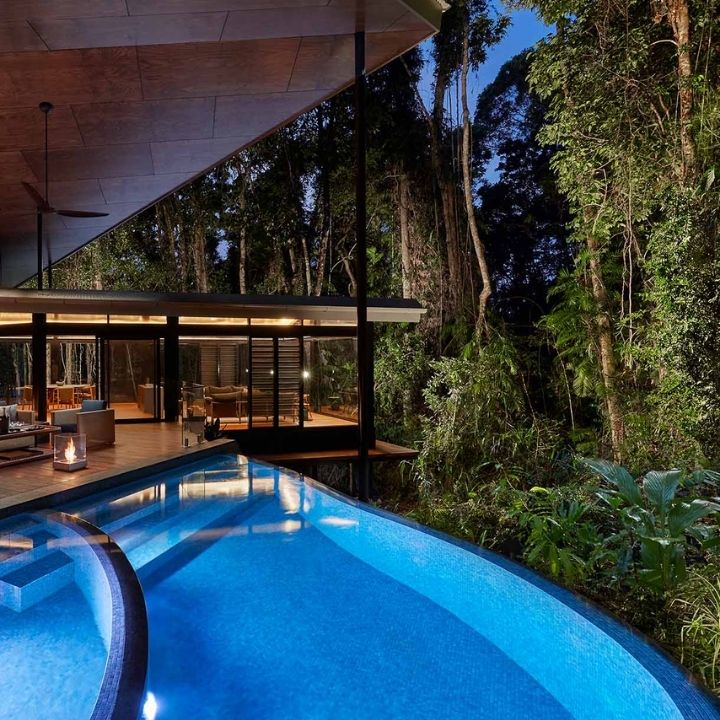 Daintree Rainforest, Silky Oaks Lodge in Queensland
Australia, with its diverse landscapes and commitment to wellness, offers a range of exceptional retreats that cater to the mind, body, and soul. Nestled in the heart of the Daintree Rainforest, Silky Oaks Lodge in Queensland is a prime example. Surrounded by ancient trees and bordered by the pristine Mossman River, it provides a serene sanctuary for those seeking tranquility and connection with nature. Wellness activities at Silky Oaks include guided rainforest walks, yoga sessions, and rejuvenating spa treatments that draw inspiration from indigenous Australian healing practices. With luxurious accommodations and a focus on sustainable practices, Silky Oaks Lodge exemplifies the harmony between nature, well-being, and luxurious comfort that defines wellness retreats in Australia. Additionally, other notable wellness retreats in the country include Gaia Retreat & Spa in Byron Bay, where guests can immerse themselves in healing treatments, organic cuisine, and a nurturing environment, and Lake House in Victoria's Daylesford region, known for its indulgent spa experiences and gourmet farm-to-table dining. Whether it's the tranquility of the rainforest or the peacefulness of the countryside, Australia's wellness retreats offer a haven for self-care and rejuvenation.
Gwinganna Lifestyle Retreat in the Gold Coast hinterland of Queensland
My journey then led me down under to the land of Oz, to Gwinganna Lifestyle Retreat in the Gold Coast hinterland of Queensland. This Australian wellness retreat is renowned for its holistic approach to health and well-being. It's not just about pampering treatments, though there's plenty of that. Gwinganna is about empowering guests with knowledge, and that's what I loved about it.
Here, nestled amid rolling hills and towering gum trees, I found a different rhythm. The days began with a 'Qi Gong' session at sunrise, followed by an organic breakfast harvested from the retreat's own gardens. What followed was a combination of seminars from wellness experts, invigorating bushwalks, calming yoga sessions, and dreamy spa treatments.
One of Gwinganna's unique features is its 'Dreamtime' hours, a dedicated time each afternoon for guests to rest, rejuvenate, or explore the expansive property at their own pace. I spent mine in quiet contemplation, walking among the gum trees, their trunks gnarled and beautiful like the lines on an old, wise face.
The real magic, however, unfolded on the plate. The food was a revelation, a celebration of fresh, local, and organic produce. Bursting with flavours, it was a testament to Gwinganna's philosophy that healthy food doesn't have to be dull or restrictive.
See more Wellness Retreats in Australia
California, with its stunning coastline and diverse landscapes, is home to a plethora of world-class spa resorts that cater to every wellness seeker's desires. From the iconic coastal city of Santa Barbara to the palm-fringed oasis of Palm Springs, there is no shortage of luxurious retreats. One standout is The Resort at Pelican Hill, nestled along the picturesque Newport Coast. With its Mediterranean-inspired architecture, lavish accommodations, and a renowned spa offering indulgent treatments, it promises a rejuvenating escape. Further south, in the desert oasis of Palm Springs, properties like The Parker Palm Springs and the Miramonte Indian Wells Resort & Spa offer a perfect blend of relaxation and elegance. From natural hot springs to desert-inspired therapies, California's spa resorts provide a tranquil sanctuary where guests can unwind, revitalize their spirits, and immerse themselves in the state's unique wellness culture.
Post Ranch Inn Adults Only All Inclusive
Perched on the cliffs of Big Sur, California, Post Ranch Inn is a secluded haven that embodies the essence of luxury and serenity. This award-winning resort boasts breathtaking views of the rugged coastline and the expansive Pacific Ocean, creating a sense of awe-inspiring beauty from every angle. Post Ranch Inn is renowned for its eco-conscious design, seamlessly blending into the natural surroundings. The accommodations, including treehouses and cliffside suites, offer an unparalleled level of privacy and comfort, allowing guests to disconnect from the outside world and reconnect with their inner selves. The resort's spa, nestled among the redwoods, offers a range of indulgent treatments inspired by the healing power of nature. From relaxing massages to rejuvenating facials, each experience is designed to restore balance and promote a deep sense of relaxation. With its commitment to sustainability, stunning natural setting, and unparalleled luxury, Post Ranch Inn invites guests to immerse themselves in the tranquility of Big Sur and embark on a transformative wellness journey like no other.
Arizona Spa and Wellness Retreats
Arizona, known for its vast desert landscapes and rich Native American heritage, is a haven for spa and wellness retreats and resorts. One iconic destination is the Miraval Arizona Resort & Spa, located in Tucson. Set against the backdrop of the Santa Catalina Mountains, this wellness retreat offers a holistic approach to well-being, blending outdoor activities, mindfulness practices, and rejuvenating spa treatments. Guests can engage in yoga sessions, meditation classes, and explore the surrounding desert trails, all while immersing themselves in the resort's luxurious accommodations and world-class amenities.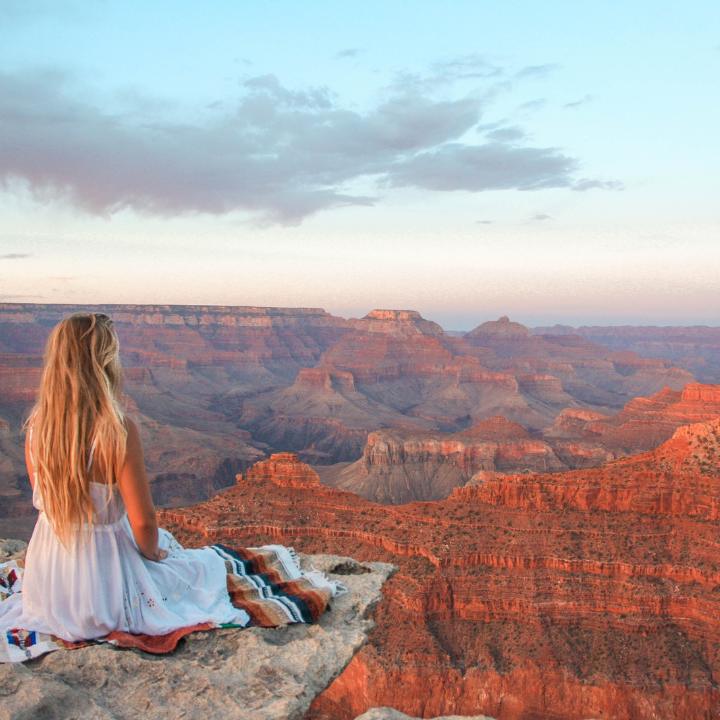 Another notable retreat is the Canyon Ranch in Tucson, an oasis of wellness nestled in the Sonoran Desert. With a focus on integrative health, Canyon Ranch offers a wide array of activities and services, including fitness classes, nutritional counseling, spiritual healing, and pampering spa treatments. From hiking through desert canyons to indulging in therapeutic massages, guests can embark on a transformative journey towards optimal well-being.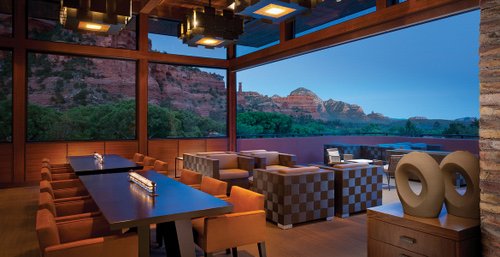 Enchantment Resort
Heading north to Sedona, Enchantment Resort is an enchanting destination that combines the natural beauty of the red rocks with luxurious wellness offerings. The Mii amo spa at Enchantment Resort provides a range of Native American-inspired treatments, energy healing sessions, and personalized wellness programs. Guests can partake in meditation sessions, outdoor adventures, and spiritual ceremonies, all while basking in the awe-inspiring beauty of Sedona's mystical landscapes.

Whether seeking relaxation, rejuvenation, or a deeper spiritual connection, Arizona's spa and wellness retreats and resorts provide a perfect escape. With their unique blend of natural surroundings, Native American influences, and luxurious amenities, these retreats offer a sanctuary for self-discovery and renewal amidst the breathtaking beauty of the desert Southwest.
Top Couples Wellness Resort
Nestled amidst the breathtaking beauty of Lake Garda in Italy, Lefay Resort & Spa is a haven of tranquility and luxury. This exquisite wellness retreat provides couples with an idyllic sanctuary to escape the pressures of daily life and reconnect on a profound level. Overlooking the shimmering waters of Lake Garda, the resort seamlessly blends traditional Chinese medicine with Western wellness practices, offering a harmonious fusion of ancient wisdom and contemporary techniques.
Find the best deal, compare prices, and read what other travelers have to say at Tripadvisor
See more spa resorts in Europe
FAQ for world's best wellness retreats
Different wellness retreats cater to different needs. Some focus on physical wellness with activities like yoga, hiking, and detox programs, while others might prioritize mental well-being with meditation, mindfulness, and stress management workshops. Consider your personal goals, the location, the duration of stay, and what activities and therapies are offered.
The duration can vary based on the program and your personal goals. While some retreats offer weekend programs, to truly reap the benefits of a wellness retreat, a stay of a week or longer is often recommended.
Most wellness retreats offer high-standard accommodation, varying from simple but comfortable rooms to luxurious villas. Some might offer private rooms while others may have shared accommodation options.
Absolutely. In fact, many people choose to attend wellness retreats alone as it can be a great opportunity for self-reflection and personal growth. Most retreats offer a welcoming and inclusive atmosphere.
This will depend on the location and the activities offered. Generally, comfortable clothing for physical activities, a swimsuit, hiking shoes, a journal for reflection, and personal toiletries are recommended. It's also a good idea to check if the retreat provides items like yoga mats.
Typically, meals are included and are often one of the highlights of wellness retreats. Many places offer nutritious, delicious food and cater to various dietary needs.
Not at all. Most wellness retreats welcome beginners and often offer various levels for activities such as yoga or meditation. If you're unsure, it's always a good idea to check with the retreat.
The best time to go would depend on the retreat's location and your own schedule. Some retreats may operate year-round, while others may be seasonal. It's always advisable to check with the retreat for the best times to visit.
The cost of a wellness retreat can vary greatly depending on the location, length of stay, and what's included in the program. Some can be quite affordable while others are more high-end. It's best to budget for what you're comfortable with and what you hope to gain from the experience.
Many people report feeling refreshed, rejuvenated, and relaxed after a wellness retreat. The aim is to provide you with tools and experiences that you can incorporate into your daily life, long after the retreat has ended.
💼 We cherish our independence! ✈️ Our travel recommendations are carefully researched, bias-free, and powered by human expertise by April and Ricky of LRB (we have personally researched and travelled to many of these destinations and researched others thoroughly through first-hand accounts). 🌍✨
We try to keep everything up to date, but please always do your own research and contact us if you know any issues for us to help others as best we can as a small but professionally focused team! 🧐📚⚠️