Best Resorts in Daytona Beach, Florida
LRB's top picks for hotel resort Daytona Beach Florida and Daytona Beach resorts. Daytona also has some great vacation home rentals and Florida inclusive vacation packages.

Daytona is more than speed, motorcycles and sand. Part of the attraction is that it has many faces. A lot of effort has been put into redeveloping the city in cites like Ocean Walk. Now some of the faded, deteriorating properties are starting to get replaced by more modern upgrades. And while Daytona can't really call itself the most famous beach in the world anymore, there are plenty of opportunities for some great beach vacations.
Daytona Beach Shores hotel deals finder

The Shores Daytona Beach Resort And Spa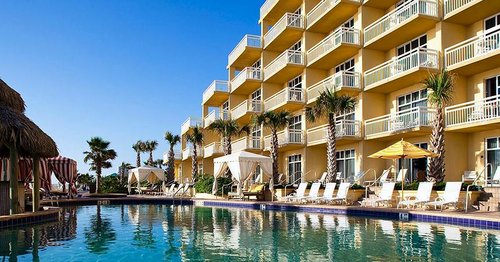 The Shores Daytona Beach Resort And Spa
Located on Daytona Beach this is the only AAA Four Diamond resort in Daytona and our top choice. With a free-form pool, a spa tub, a fitness center, a spa and a fire pit area on the beach there is a lot to keep the good times happening. Enjoy the recent upgrade which included chic furnishings, Italian marble bathrooms and great restaurants and bar looks.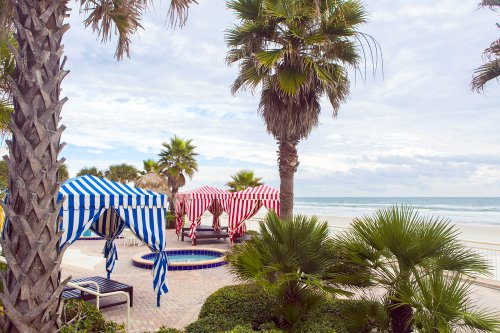 Hotel Resort Daytona Beach Florida
The guest rooms have views of the Atlantic or the intracoastal waterway. They have tropical decor and plasma TVs. Reviewers say great things like: beautiful, contemporary and comfortable with first class service, the windows open, I am happy here. 
At the time of writing the Shores had some great offers: 
Stay Three Nights Get the Fourth Night FREE to have the chance to hang by the pool, or relax at the spa.
Find out what offers are available today!
Click here for more about The Shores Resort & Spa
---
Bahama House Daytona Resort
The most popular hotel resort Daytona Beach Florida with guests. This resort represents excellent value for money. Even without a delicious complimentary happy hour for children and adults.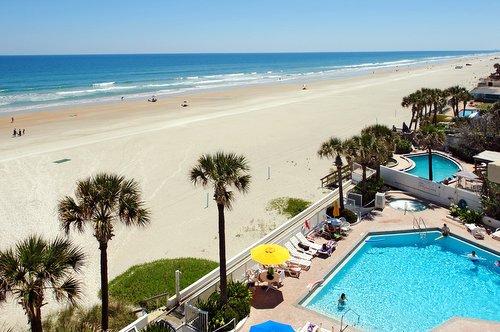 Hotel Resort Daytona Beach Florida
Bahama house is guest focused and is always up to date with great special offers which make it an affordable option. Add in a delicious continental breakfast, and evening drinks and you have a great vacation resort with a relaxed atmosphere.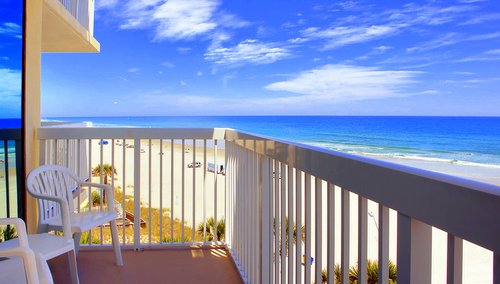 Click here for more on Bahama House, Daytona Beach Shores

---
Hilton Daytona Beach Ocean Walk Village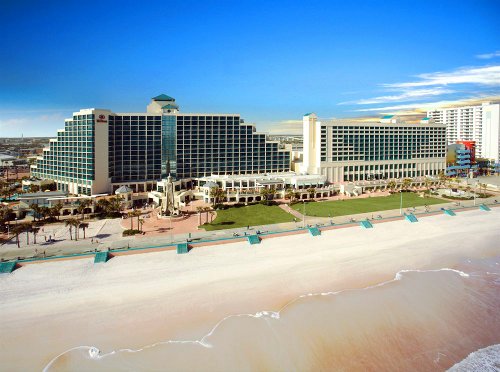 This amazing resort has 744 rooms, and great restaurants like the comfortable Hyde Park Prime Steakhouse.

With  health club services, steam rooms beach side water sports rentals this place gives the full resort experience. One of the best Kids clubs in Daytona beach is also located here with planned activities for kids of all ages.
Guests really like the huge pools good service and the professionalism shown at the kids zone. We would recommend you try to get into the newer North Tower.
The Hilton Daytona Beach Oceanfront Resort  offers direct beach access, and some exceptional food, beverage and activities.  
This really is a great location for families to explore and only a short trip from Orlando airport and across the road from Daytona Lagoon Waterpark & Arcade.. There are also more than 30 golf courses in the area as well as tourist attractions nearby.
More information on the Hilton Daytona Beach/Ocean Walk Village, Daytona Beach.
---
Best Western Aku Tiki Inn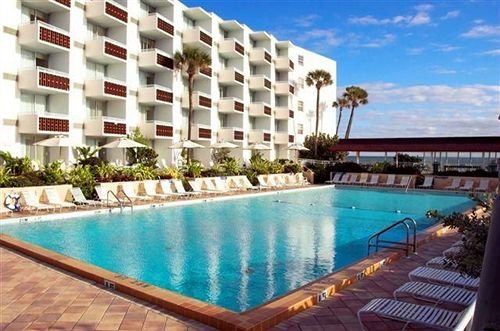 Best Western Aku Tiki Inn
Rooms with refrigerators, microwaves and perhaps even a kitchenette. Scores excellent grades for cleanliness and service with many of the top review sites. Views and balconies are also a good option.
Click here for more on Best Western Aku Tiki Inn, Daytona Beach Shores

---
More Daytona Beach Resort Reviews
Here is a quick overview of some of the other hotels and resorts in the area worth a mention. Our favorite ones are listed above but if you're still looking, here are some more!
See Daytona Beach at TripAdvisor
Atlantic Ocean Palm Inn $90
50 Rooms A
Family A
Luxury B
Service A
Amenities_A
Daytona Seabreeze, Daytona Beach, FL $120
110 Rooms
A
Family A
Luxury A
Service A+
Amenities_A
Hampton Inn Daytona Shores-Oceanfront

$110
115 Rooms A
Family A
Luxury A
Service A
Amenities_A
Directly On the "World's Most Famous Beach"Hampton Inn Daytona Beach Oceanfront - B
Hampton Inn Daytona Speedway/Airport 122 Rooms A
Family A
Luxury A
Service A+
Amenities_B
Holiday Inn Hotel And Suites Daytona Beach $90
120 Rooms A
Family A
Luxury A
Service A
Amenities_A
La Playa Resort and Suites Daytona Beach FAMILY
240 Rooms C
Family C
Luxury C
Service C
Amenities_C
Singles B
Nautilus Inn Daytona Beach $140
Rooms A
Family A
Luxury A
Service A
Amenities_A
Perry's Ocean Edge Resort $70
200 Rooms A
Family A+
Luxury A
Service A
Amenities_A
Plaza Resort And Spa, Daytona Beach,FL FAMILY
$100
SPA
320 C
Family C
Luxury B
Service C
Amenities_B
Sun Viking Lodge, Daytona Beach $130
Sun Viking Lodge, Daytona Beach,FL A+
Family A++
Luxury A+
Service A+
Amenities_A
The Boardwalk Inn and Suites Daytona Beach FAMILY
$65
Rooms C-
Family -
Luxury C
Service C
Amenities_C
💼 We cherish our independence! ✈️ Our travel recommendations are carefully researched, bias-free, and powered by human expertise by April and Ricky of LRB (we have personally researched and travelled to many of these destinations and researched others thoroughly through first-hand accounts). 🌍✨
We try to keep everything up to date, but please always do your own research and contact us if you know any issues for us to help others as best we can as a small but professionally focused team! 🧐📚⚠️