Hawaii Luxury Resort Reviews
Planning a great vacation to an Hawaii luxury resort? Hawaii has a high standard of service and luxury. It's an excellent spot to visit if you love luxury resorts.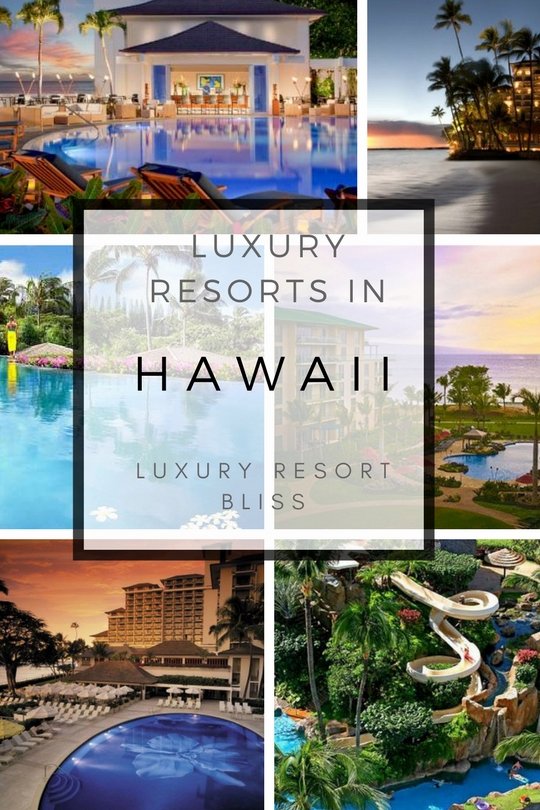 The Hawaiian Islands are a treasure trove of luxury resorts, each offering a unique blend of indulgence, relaxation, and cultural immersion. From the tranquil shores of Kauai to the dramatic landscapes of the Big Island, these havens of opulence cater to the most discerning travelers. Experience the sublime elegance of the Four Seasons Resort Maui at Wailea, where azure waters and white sand beaches create a picturesque backdrop for your getaway. Surrender to the enchantment of the St. Regis Princeville Resort on Kauai, where verdant cliffs and cascading waterfalls frame a serene sanctuary. Revel in the grandeur of the Montage Kapalua Bay on the island of Maui, offering an exquisite blend of refined hospitality and authentic Hawaiian culture. With an array of bespoke experiences and unparalleled amenities, these luxury resorts deliver the ultimate Hawaiian escape, ensuring every moment on these idyllic islands is etched in your memory.
On this page we've featured one or more outstanding resorts from each island in Hawaii. If you know which island you'd like to visit, click on a link below to read about the luxury resorts there.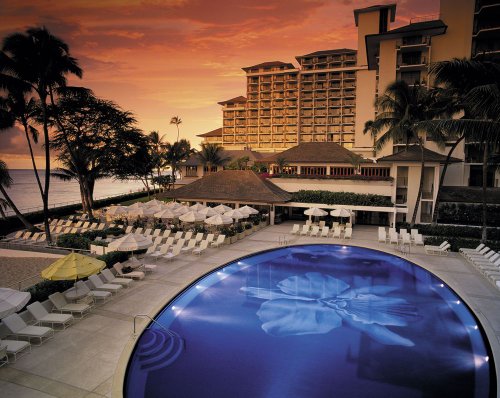 Halekulani - Hawaii Luxury Resorts
Special and Last Minute Deals for Hawaii; Hawaii Island, Hawaii Hotel Deals Finder

A great luxury resort should have special features or amenities that transport you from the everyday. The Hawaii luxury resorts featured on this page (and every page on this site) have been chosen for these reasons: they receive excellent or great reviews from past guests, they are luxury resorts (all 5 star unless noted otherwise), and they have great service, locations and amenities.
---
Four Seasons Resort Hualalai at Historic Ka'upulehu

Nestled along the sun-kissed Kona coast, the Four Seasons Resort Hualalai at Historic Ka'upulehu provides an enchanting escape into a tropical paradise. As you meander through the swaying palms and fragrant plumeria, the soothing rhythm of the Pacific gently serenades your senses. Here, the resort effortlessly weaves luxury and nature, offering well-appointed oceanfront bungalows, tantalizing gastronomical experiences, and a myriad of adventures awaiting the eager traveler.
Located in Ka'upulehu and 10 minutes from the airport.

Four Seasons Resort Hualalai at Historic Ka'upulehu
Highlights include a private signature golf course by Jack Nicklaus, sports club, and spa. You'll find a black lava pool, a white-sand beach and many activities including rock climbing.
Whether you seek solace in the rejuvenating embrace of the spa, indulge in the vibrant underwater realm through snorkeling excursions, or marvel at the majesty of a Hawaiian sunset, the Four Seasons Resort Hualalai will undoubtedly create lasting memories for the discerning, nature-loving traveler. For those seeking a more intimate, boutique experience, consider the neighboring Mauna Lani, Auberge Resorts Collection, as an alluring alternative.
Rooms and suites are large, decorated in a Polynesian style and have furnished lanais. 

More information on the Four Seasons Resort Hualalai At Historic Kaupulehu, Kailua Kona
Hawaii, Hualalai | Four Seasons Resort at Historic Ka'upulehu:

The Big Island of Hawaii boasts an array of luxury resorts that promise an unforgettable stay amidst the island's stunning natural beauty. At the Four Seasons Resort Hualalai at Historic Ka'upulehu, immerse yourself in a lavish tropical oasis with oceanfront bungalows, world-class dining, and a wealth of activities for the adventurous soul. Discover the enchanting Mauna Kea Beach Hotel, perched on the pristine shores of Kauna'oa Bay, where timeless elegance and modern amenities create a haven of tranquility. The Fairmont Orchid, located on the majestic Kohala Coast, offers a serene retreat with lush gardens, a pristine white sand beach, and a renowned spa. For an intimate and exclusive experience, escape to the Mauna Lani, Auberge Resorts Collection, where sophisticated island living meets unparalleled luxury amidst a breathtaking natural landscape. Each of these opulent sanctuaries showcases the Big Island's diverse charm, leaving you with memories to cherish for a lifetime.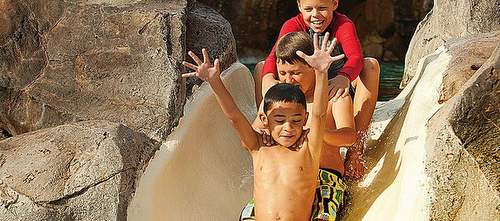 Find all the best Family Friendly Hawaii Vacation Resorts
---
Maui, the "Valley Isle," is home to a collection of luxury resorts that captivate visitors with their blend of exceptional hospitality, stunning landscapes, and world-class amenities. Experience the Four Seasons Resort Maui at Wailea, where refined elegance meets the island's natural beauty, featuring mesmerizing ocean views, a rejuvenating spa, and exquisite dining options.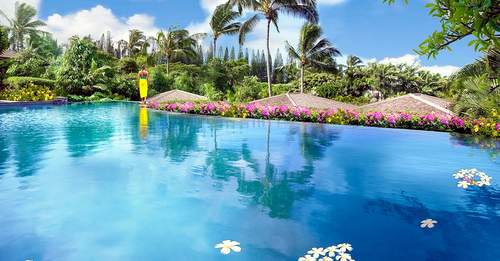 Montage Kapalua Bay - 5 Star Hawaii Resorts
Wailea Beach Villas, Kihei
Located in Wailea, Maui, this resort is a great alternative to the traditional hotel.
Accommodations consist of 98 spacious villas and penthouses. They are within a gate community.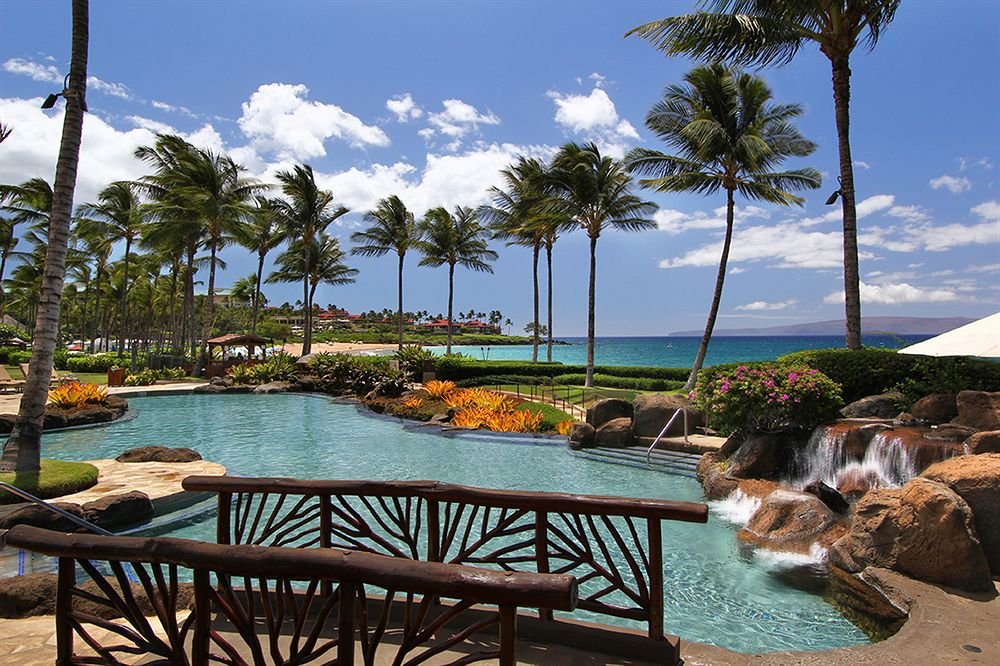 Wailea Beach Villas, Kihei
Highlights include a beautiful beach, great location with many area activities nearby, an adult's and children's pool, an activity room, kid's beach toys and championship golf nearby.

More information and reviews on Wailea Beach Villas.

---
Honua Kai Resort & Spa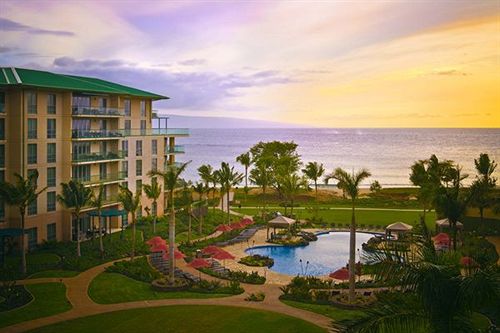 Located right on Kaanapali Beach, this resort is all suites and very spacious. High-end shopping is close by as are restaurants at Whalers Village. 
There are 3 swimming pools, 2 bars and a restaurant serving local Hawaiian food. Royal Kaanapali golf course is close by and the resort can arrange for you to do a variety of water sports. 
Past guests liked the ability to cook for themselves if desired, the beach and the hotel staff. This resort gets very good reviews and many returning guests.
More information on Honua Kai Resort & Spa.
---
A visit to Kauai, the "Garden Isle," promises a mesmerizing journey through a lush, natural paradise that is rich in both beauty and adventure. Kauai's verdant landscapes and pristine beaches create the perfect setting for a luxurious and tranquil escape. Immerse yourself in the island's breathtaking wonders, such as the dramatic cliffs of the Na Pali Coast, the cascading beauty of Wailua Falls, or the awe-inspiring Waimea Canyon, often referred to as the "Grand Canyon of the Pacific." Indulge in an array of outdoor pursuits, from leisurely strolls along the coastline and blissful afternoons on sun-kissed beaches to thrilling helicopter tours and exhilarating hikes through the island's lush rainforests. As you experience Kauai's vibrant culture, savor the island's culinary delights, and relish in the warmth of its people, you will find that a visit to this enchanting island offers an unparalleled experience of luxury, rejuvenation, and discovery
Waipouli Beach Resort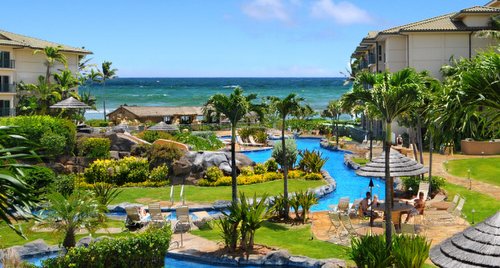 Waipouli Beach Resort
Accommodations consist of 118 condo's with kitchens. Perfect for families, it has a water slide, soft-water river pool, a kid's program, and a full-service spa. There is a beach but it's not suitable for most swimmers. Located on the East shore of Kauai, this resort is close to restaurants and shopping

More information on Waipouli Beach Resort.

---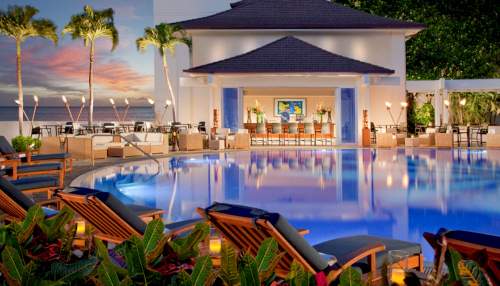 See Great Oahu Resorts
Halekulani Hawaii Luxury Resort
Located on the end of Waikiki Beach in Honolulu, this luxury resort is walking distance from shopping, restaurants and entertainment.
It's walking distance to shopping, restaurants and entertainment.
There are 455 rooms, furnished lanais, 300-count cotton linens and elegant decor.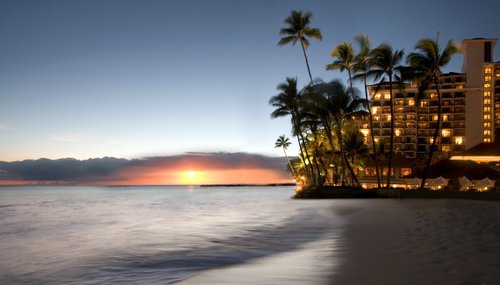 It's a leading hotel in the world, provides private registration, heated oceanside pool, spa with South Pacific treatments, complimentary wifi, fitness center, tickets to 3 museums, afternoon tea on the veranda, French and contemporary cuisine, water sports nearby, golf nearby.
Reviewers say: friendly and professional service, best shopping is right on the doorstep, an oasis away from busyness, great value for Hawaii, wonderful rooms, beautifully updated. 
More information on Halekulani.
---
Luxury Oahu Family Resort:
Aulani, a Disney Resort & Spa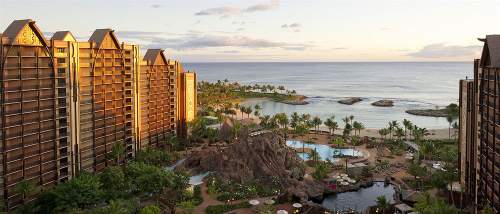 Recently voted top family USA hotel in the world, this resort is a fantastic choice for a family vacation. 
There are many things included in your stay like: kids club, night time entertainment, great big pools, a lazy river, and more.
You'll also find a great spa, beach and great Hawaiian (with a Disney slant) show. 
---
There are so many great luxury resorts in Hawaii. Another one worth checking out if you want pure luxury is The Royal Hawaiian, a Luxury Collection Resort.
---
More luxury resorts:
See more great 5 Star Hawaii Resorts

  Popular Areas:

Big Island and Lanai  
Maui     
Kauai   
Oahu

Features:

Top Hawaii Golf Resorts
Top Inclusive Hawaii Resorts
Top Hawai Family Resorts
---
A: Absolutely! Many luxury resorts in Hawaii emphasize the importance of cultural immersion, offering activities like lei making, hula lessons, and traditional Hawaiian cooking classes. These experiences provide an opportunity to connect with the rich history and spirit of the islands.
A: Hawaii's luxury resorts offer a unique blend of unparalleled natural beauty, exceptional hospitality, world-class amenities, and a deep-rooted cultural experience. Guests can expect stunning beachfront locations, rejuvenating spas, exquisite dining options, and a variety of activities that cater to different interests, making each stay truly memorable.
Share Your All-Inclusive Adventures and Questions! 🌴 Have a memorable experience from a luxury all-inclusive vacation? We'd love to hear it at Luxury Resort Bliss. We're on the lookout for top-quality, insightful tales that'll inspire our community. Dive in and be a part of our sun-soaked stories! 🌊🍹✨
The story is a fictionalized account founded on travel expertise, research, and experience. Always refer to recent guest reviews and perform due diligence before booking.
💼 We cherish our independence! ✈️ Our travel recommendations are carefully researched, bias-free, and powered by human expertise by April and Ricky of LRB (we have personally researched and travelled to many of these destinations and researched others thoroughly through first-hand accounts). We also have put in the hard miles, and Ricky has worked for decades for resort and hotel chains  Hyatt, Hilton, Shangri-La and Radisson before starting Luxury Resort Bliss in 2007. 🌍✨ Unlike some other resort review websites we are concerned on the guest experience rather than mere corporate interest.