Best Couples Only All Inclusive Resorts
Couples Only All Inclusive Resorts
There are some really great couples only all inclusive resorts. On this page you will find links to reviews of not only the outstanding Couples and Sandals resort chains which offer outstanding Caribbean all inclusive couples resorts, but also to other properties and locations around the globe.
We will also link to pages which review the best couples and adults only all inclusive resorts around the world.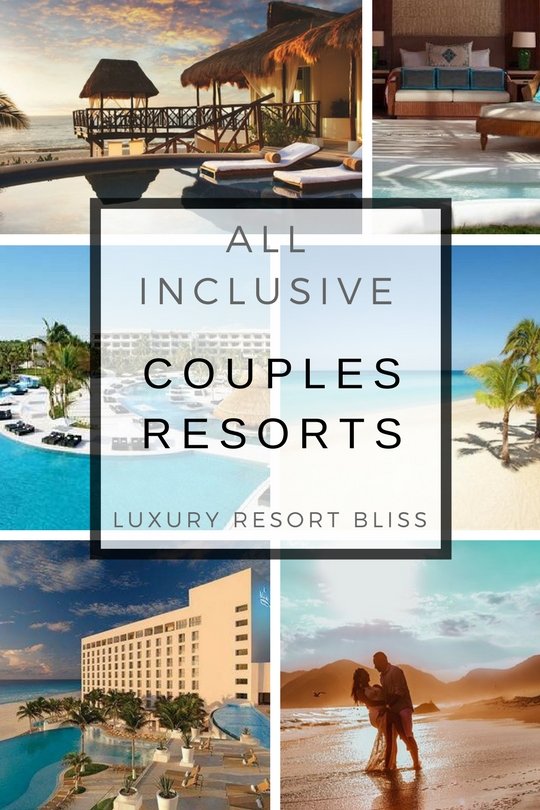 Romantic Escapes at Expedia  Save up to 50% at Couples Resorts

Best Romantic Vacations TripAdvisor Review 
---
Mexico is a popular destination for couples seeking a romantic and luxurious getaway. Cancun, Playa del Carmen, and Los Cabos are some of the top spots for couples-only all-inclusive resorts.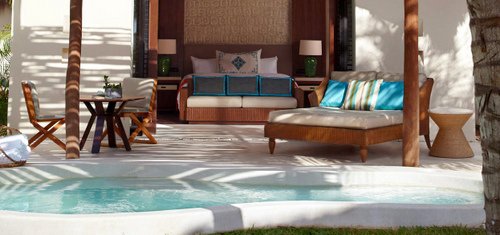 Playa del Carmen Couples Resorts
 offers a more relaxed atmosphere with a charming downtown area and plenty of beachfront activities.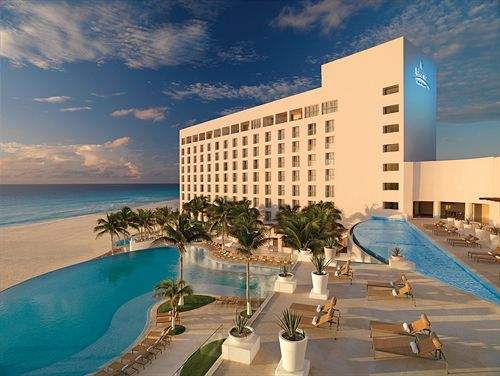 Le Blanc All Inclusive Couples Resort - Cancun
In Cancun, couples can enjoy the stunning turquoise waters of the Caribbean Sea and explore the nearby Mayan ruins.
See all the top Cancun All Inclusive Couples Resorts
Sun Palace is a dedicated Couples Only all inclusive resort where you will not find any kids in any form. This resort made the TA list of the most romantic resorts worldwide recently and has powered on generating great reviews from it's guests ever since.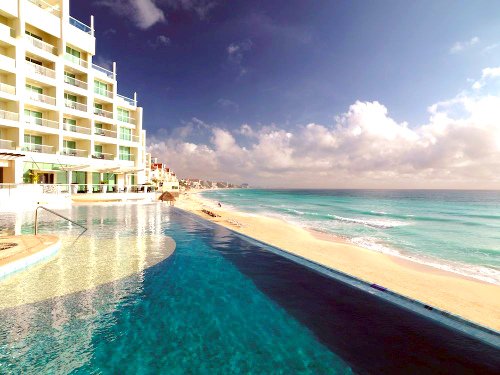 Sun Palace Couples Only All Inclusive Resorts
You will find it on the quiet southern end of Cancun with good access to the white sand, clear water beach. Enjoy a swim with the dolphins and a good variety of romantic bars and five top restaurants.
More information, special offers and reviews for Sun Palace Couples Only All Inclusive Resort.
See the 15 Top Cancun Adult All Inclusive Resorts.

Reviews:
Meet Dana Brezz, a New York City-based travel blogger who recently visited Cancun, Mexico. During her stay, she documented her experience at LeBlanc Spa and Resort, an all-inclusive five-star property. Dana's vlog shows off the beautiful views from her room, the delicious breakfast buffet, her time lounging on the beach, her room tour, and her fine dining experience at Bella. Throughout her vlog, Dana raves about the exceptional service she received from the resort's staff and highlights some of the unique features available to guests, such as a personal butler on every floor. Her vlog provides a glimpse into the luxurious experience guests can expect at LeBlanc Spa and Resort.
---
Valentin Imperial Maya All Inclusive Adult's Only Resort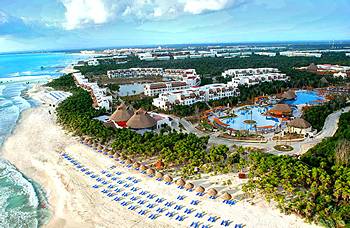 Valentin Imperial Maya All Inclusive Adults Only Resort
Many of the best couples all inclusive resorts are located in Mexico's Riviera Maya. This one is not any exception and is located on the very romantic sounding clear waters of Playa Del Secreto or Secret Beach.
More on the 410 room Valentin Imperial Maya-All Inclusive-Adults Only, Riviera Maya

Review
Meet Kristen, the travel advisor behind Sunsets and Suitcases. In her latest vlog, she takes us on a full tour of the Valentin Imperial Riviera Maya Resort, an all-inclusive resort located in Mexico. With her energetic and personable approach, Kristen shows us every corner of the resort, from the lobby and the plaza to the various restaurants and bars. She even takes us to the beach, where we can see sea turtles laying their eggs! With Kristen's insider knowledge and firsthand experience, she offers valuable tips and recommendations for those looking to book a vacation at this beautiful resort. If you're looking for a travel agent to help plan your next romantic getaway, be sure to check out Kristen's website at sunsetsandsuitcasestravel.com.
---
---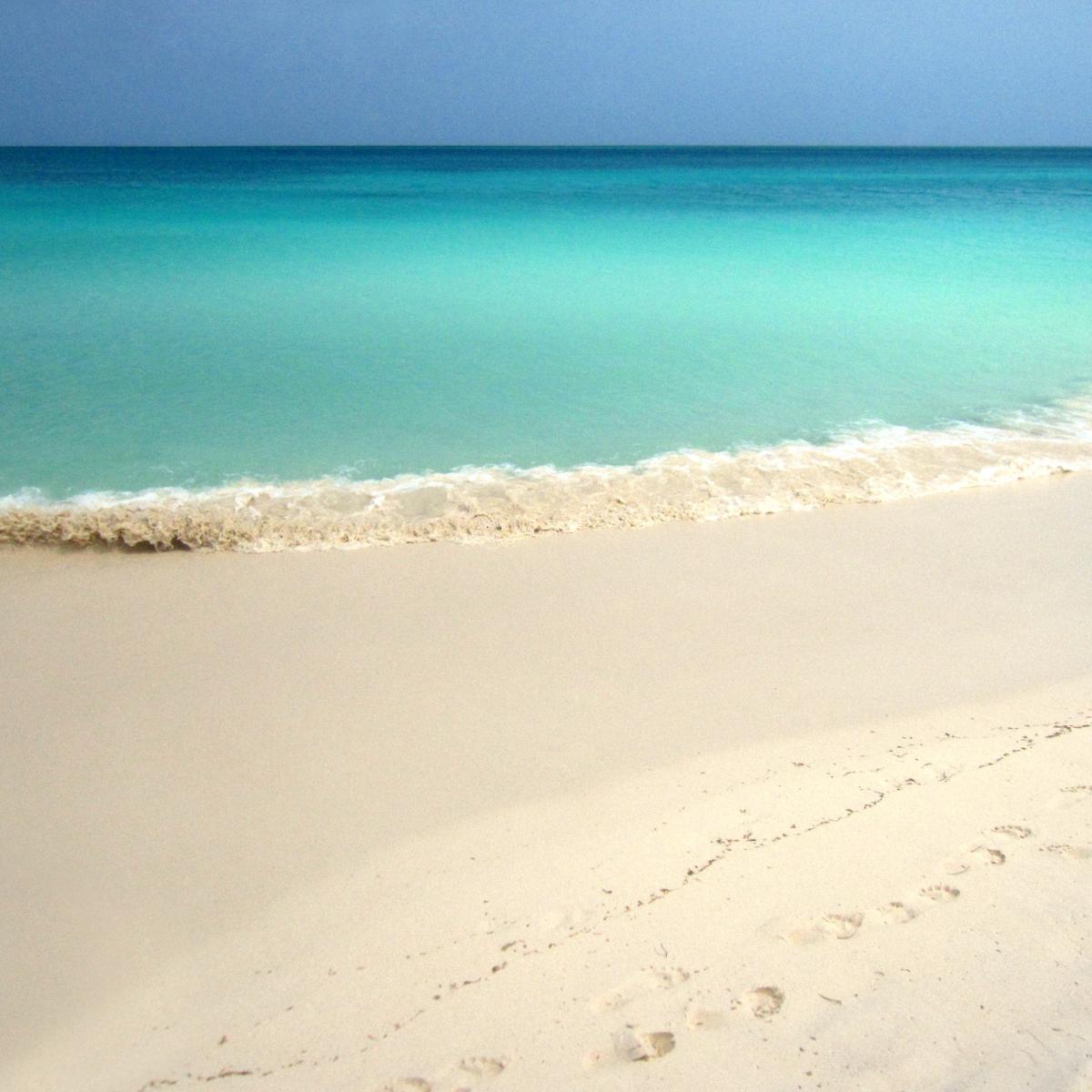 Aruba Beaches are great!
The Caribbean is known for its stunning beaches, crystal-clear waters, and year-round warm weather, making it the perfect destination for couples looking for a romantic getaway or a relaxing adults-only vacation. From the lush rainforests of St. Lucia to the white sand beaches of Jamaica, the Caribbean has something to offer every type of traveler. In this article, we will explore some of the best couples and adult-only all-inclusive resorts in the Caribbean, highlighting their unique features and offerings to help you choose the perfect destination for your next vacation. So sit back, grab a cocktail, and let's dive in!
Couples Negril All Inclusive
Couples Swept Away All Inclusive is a great option and one of the best Couples Resorts in Jamaica. 

An all-inclusive beachfront resort in Negril, Jamaica. Included are most meals, drink and water sports. Nightlife and shuttle services are also complimentary. This resort gets really excellent reviews from past guests - many of whom return often. 
More on Couples Negril All Inclusiive
Transform your Jamaica vacation into a romantic escape at one of the four ALL-INCLUSIVE adults-only Couples Resorts.
Couples Negril - Jamaica - Video Profile:
In this video, we join 2BusyNot2Travel as they take us on a virtual tour of Couples Negril, a beautiful and luxurious resort in Jamaica. With no beachfront accommodations, most rooms offer stunning views of the lush gardens. But what the resort lacks in beachfront rooms, it makes up for in activities, with numerous options both on and off-site, including tennis, racquetball, swimming, scuba diving, and snorkeling. And after all the activity, guests can unwind in the jacuzzi or indulge in a massage at the oasis spa. With five categories of rooms, there's something for everyone. So, whether you're planning a romantic getaway or just need some downtime, Couples Negril has it all. Join 2BusyNot2Travel on this tour and start planning your next vacation.
---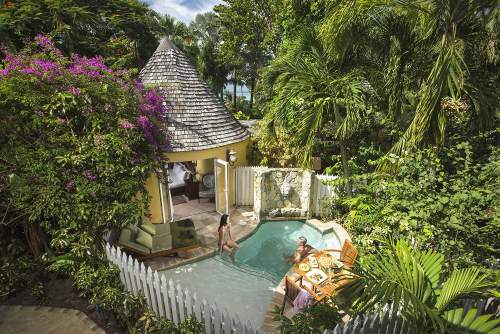 Sandals Grande Antigua Couples All Inclusive Resort
A couples-only resort which has won awards for the worlds best honeymoon location (on the beach). There are five freshwater pools, swim-up pool bar, five soothing whirlpools, six other bars, and four restaurants. There are a wide variety of activities included in the nightly rate.
Save up to 60% off and 1 Night free plus a $100 Red Lane Spa Credit at Sandals Grande Antigua Resort & Spa.
Latest reviews for the Sandals Grande
Review
The Wanderlust Jetsetter is a travel vlogger who explores different destinations around the world and shares her experiences with her viewers. In this particular video, she reviews Sandals Grande Antigua, an adults-only all-inclusive resort. Her review is concise and informative, providing useful information for anyone considering a stay at this resort.
---
Dominican Republic Couples All Inclusive Resorts
The Dominican Republic, after Jamaica and Mexico, is the prime location for couples and adult only all inclusive resorts. See all the Dominican Republic Couples All Inclusive resorts here.

Excellence Punta Cana Adults Only All Inclusive
Excellence Punta Cana is one of the most exclusive and elegant all-inclusive resorts in the Caribbean, catering only to adult guests. Upon arriving, I immediately felt like I was entering paradise with the fresh scent of flowers in the air and a warm welcome from the staff. The Excellence Club guests are escorted to a private lounge to complete their registration paperwork, ensuring a seamless check-in experience. While this is an adults-only resort, weddings are allowed in certain areas, and there are some spots for more lively activities and parties
Excellence Punta Cana is located north of the main area of Punta Cana, offering a more secluded oceanfront location, about a 40-minute drive from the airport onn a 2.5 kilometer stretch of powder white beach, this resort is in the Dominican Republic. 
There's no need to worry about claiming a spot on the beach, as there is a private area dedicated to Excellence Club guests. The resort features a train that runs the entire length of the property, making it easy to get around.
The rooms are contemporary with elegant decor, furnished balconies or terraces, and some with ocean views and Jacuzzi tubs.  Punta Cana is located in a bay of Macao and is largely unspoiled, making it a perfect destination for those who enjoy walking along the beach and taking in the natural beauty.
While there are a few lifeguards on duty, guests should still be cautious as there are few areas with rocky outcroppings in the sand.
Overall, Excellence Punta Cana is a must-visit destination for those seeking an exclusive and luxurious Caribbean experience.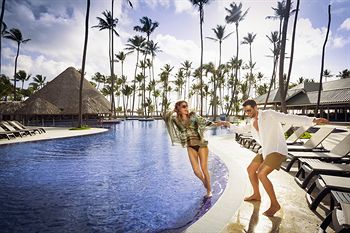 Excellence Punta Cana Adults Only All Inclusive
The all inclusive package includes meals, non-motorized water sports and tons of activities. There are many reports of people just not wanting to leave. (A very good sign!)
See reviews and special offers for Excellence Punta Cana Couples Only All Inclusive Resort.
---
Framed by mountain views and edged by the Caribbean Sea on Gros Islet, St. Lucia. Pigeon Island National Historic Park is positioned 1km from the resort.

This property partners with two other Sandals resorts located nearby. Complimentary shuttles transport guests between the properties. Guests have full access to all three resorts facilities.
St. Lucia is truly a one-of-a-kind destination for couples seeking a romantic and relaxing getaway. The island's unique natural beauty, with its stunning volcanic peaks and lush rainforests, sets it apart from other Caribbean destinations. The all-inclusive resorts in St. Lucia, such as Sandals and Rendezvous, offer unparalleled amenities and services, including luxurious accommodations, world-class dining, and a wide range of activities and excursions.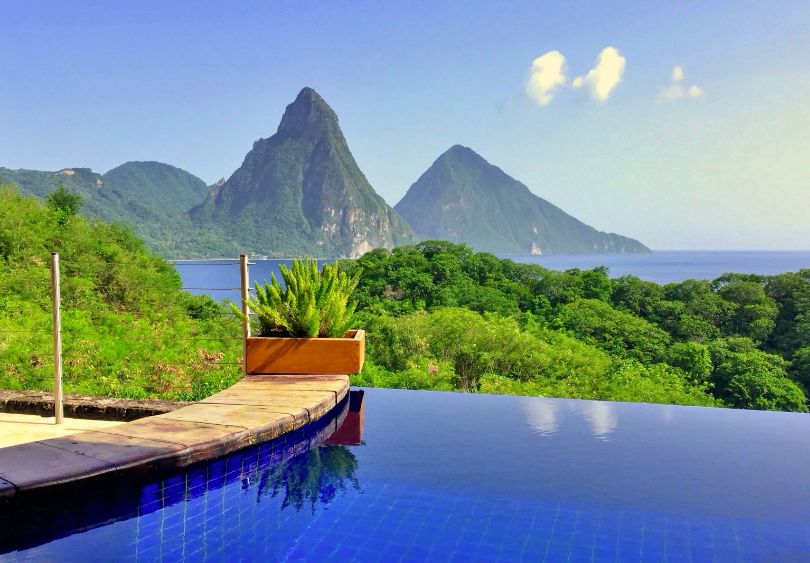 But what really sets St. Lucia apart is its warm and welcoming people. The island is known for its friendly locals, who will go out of their way to make sure you have a memorable and enjoyable stay.
Review of Sandals St Lucia
Meet Danny, a travel vlogger from Harr Travel, who is currently exploring the breathtaking Sandals Grand St. Lucian Spa and Beach Resort. As a luxury all-inclusive expert, Danny highlights the incredible amenities of the resort, including a dozen exquisite restaurants, several stunning pools, and a beautiful beach with crystal-clear turquoise water. But what sets this resort apart, according to Danny, is its staff, who go above and beyond to ensure guests have the perfect experience, whether it's a romantic getaway, a wedding, or a group event. Throughout the resort, the water is the focal point, from the shallow entrance on the beach to the over-the-water bungalows and restaurants. Danny also raves about the resort's scuba diving, snorkeling, and water sports activities, all included in your stay. From the classic jerk shack to the elevated seafood and steak concept at Gordon's over the Water Restaurant, Danny takes us on a complete walkthrough of the resort, showcasing its unique features, including the over-the-water restaurant and bar. So, whether you're seeking relaxation or adventure, Sandals Grand St. Lucian Spa and Beach Resort has something for everyone, and Danny's tour is not to be missed.
Save up to 55% at Sandals Grande St. Lucian Spa 

---
Rendezvous All Inclusive Couples Resort St Lucia
Located on Malabar Beach, this 3 star resort is set in a tropical garden. 
An all inclusive stay here includes: accommodations, all meals and snacks, unlimited alcoholic and non-alcoholic beverages, all land sports (like  tennis and golf), all water sports (like scuba diving and water-skiing).
A past guest has said: "An Adults all inclusive stay without any over-enthusiastic activities co-ordinators". Sound like what you're looking for?
More on Rendezvous Resort, St Lucia
---
Sandals Regency La Toc Golf and Spa Resort, St. Lucia
Located less than 4 kms from the capital city of Castries on the island of St. Lucia. The resort stands amid 210 acres of green hills on a coral bluff that juts over a long crescent-shaped beach. There are a total of 16 on-site restaurants and bars as well as access to the facilities and amenities of two other Sandals resorts.
Champagne welcomes you upon arrival. 
More on the Sandals Regency in St Lucia.
---
Sandals Halcyon Beach
This top couples all inclusive resort stands along a 300-meter stretch of thatch-shaded Caribbean beach in Castries, the capital city of St. Lucia.
Tourist destinations include the Rodney Bay shops located 10 kms from the resort. Guests are entitled to dine and use the facilities at Sandals' other 2 resorts. Watercraft and snorkeling gear are complimentary. A 9-hole golf course located nearby for guests.
Save up to 60% off at Sandals Halcyon Beach Resort.

---
Sandals Royal Bahamian Couple's Spa Resort & Offshore Island
Quietly nestled on Nassau's famed Cable Beach in the Bahamas. Guests can enjoy the colonnaded pool and dine at their choice of eight gourmet restaurants. Lots of great water and land activities included in the package.

Save up to 65% plus 1 Night Free and a $100 Red Lane Spa credit at Sandals Royal Bahamian Spa Resort & Offshore Island.

The video features a tour of Sandals Royal Bahamian, a luxury all-inclusive resort located on Cable Beach in Nassau, Bahamas. The hosts showcase various amenities of the resort, including the private offshore island, multiple pools and whirlpools, restaurants, bars, and food trucks. They also discuss the resort's British influence and daily high tea, and mention that the resort is good for those looking for a party vibe. The hosts conclude the video by mentioning that they are on an ultimate Caribbean honeymoon tour and will be heading to their next destination soon. They provide links in the video description for deals and more information about the resort.
---
Would you like to see more than these couples only all inclusive  resorts? You might want to talk a look at: Couples Resorts, Couples Resorts in Jamaica, or  All Inclusive Honeymoon Resorts. 

---
---
Share Your All-Inclusive Adventures and Questions! 🌴 Have a memorable experience from a luxury all-inclusive vacation? We'd love to hear it at Luxury Resort Bliss. We're on the lookout for top-quality, insightful tales that'll inspire our community. Dive in and be a part of our sun-soaked stories! 🌊🍹✨
The story is a fictionalized account founded on travel expertise, research, and experience. Always refer to recent guest reviews and perform due diligence before booking.
💼 We cherish our independence! ✈️ Our travel recommendations are carefully researched, bias-free, and powered by human expertise by April and Ricky of LRB (we have personally researched and travelled to many of these destinations and researched others thoroughly through first-hand accounts). We also have put in the hard miles, and Ricky has worked for decades for resort and hotel chains  Hyatt, Hilton, Shangri-La and Radisson before starting Luxury Resort Bliss in 2007. 🌍✨ Unlike some other resort review websites we are concerned on the guest experience rather than mere corporate interest.