Best Hotels Near Grand Canyon

Here's our list of the top hotels near Grand Canyon. We've also included B&Bs and vacation rentals on both the North and South Rim.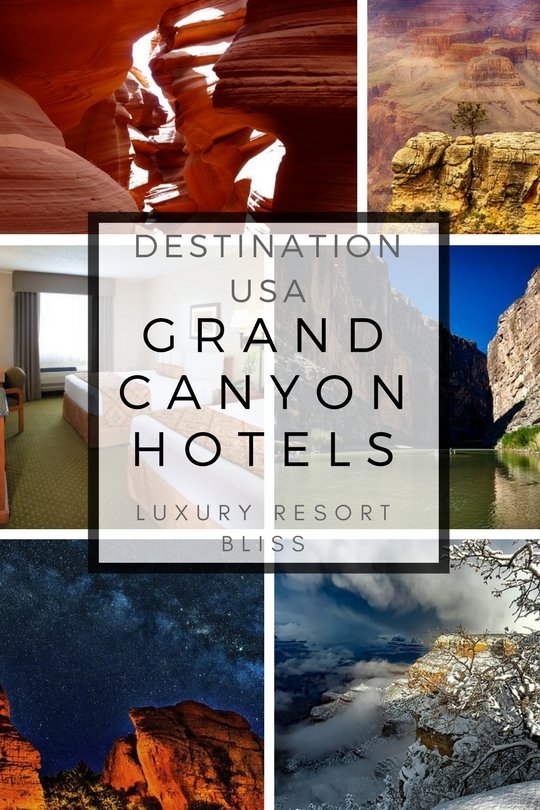 When to go to the Grand Canyon
Frequent thunderstorms in Summer, and a mixed bag in Spring and Autumn, which is a popular time for visitors. In Winter, snow storms may hamper views but also spectacular if you have time to wait around for the clouds to clear. On the South Rim, you can expect temperatures of between 41, 18 in January and 84 to 54 in July.
Open all year round. Down on Phantom Ranch, 56 to 36 in January and 84 to 54 in July. On the North Rim, expect temperatures between 37 and 16. The North Rim also gets quite a bit more snow early in the year. In fact, the park closes in November and re-opens in mid- May.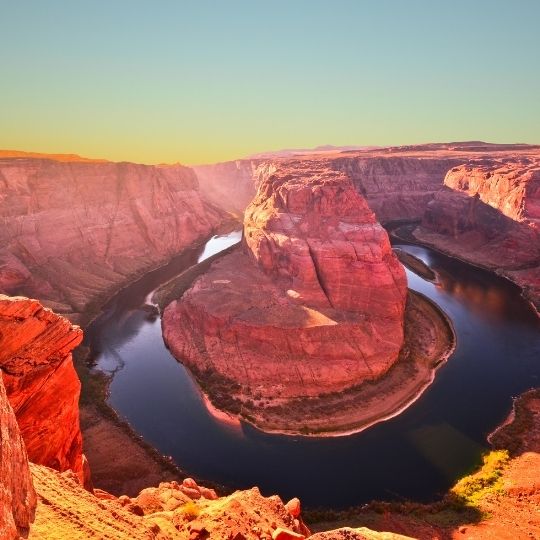 Grand Canyon
Summer Is the time when most people come. This obviously brings higher prices and crowds.  Hold your trip back to March and you will enjoy the cooler weather and fewer crowds. In fact, there are lodging and accommodation options available year round. Even in winter.

---
Grand Canyon Lodging (Canva)
Grand Canyon North Rim Lodging
These are some of the best North Rim lodgings and hotels near the Grand Canyon.

On the North Rim of the Grand Canyon since the 1920s, the lodge offers peace in a  rustic, limestone walls setting. An additional feature is a great views dining room.

Historic Cabin at Bright Angel Lodge

Grand Canyon South Rim Lodgings
These are the best South Rim Lodgings and hotels near the Grand Canyon. Also see the best 10 Grand Canyon Hotels at TripAdvisor.

The Grand Canyon Red Feather Lodge is located one mile from the south rim of Grand Canyon National Park in the small town of Tusayan.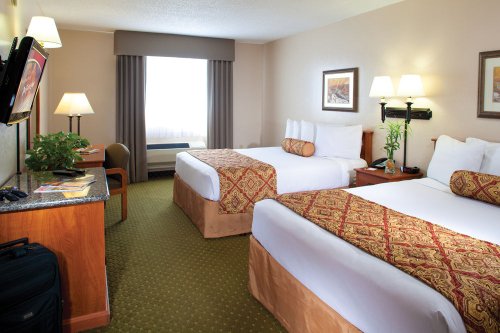 Guestrooms at Red Feather Lodge
More in this area: Tusayan Hotels.
---
Grand Canyon TOurs

Grand Canyon South Rim by Airplane
Grand Canyon West Rim by Coach
Grand Canyon Vacation Rentals - Find the best deal, compare prices, and read what other travelers have to say at TripAdvisor
3 Bedroom Cabin in Grand Canyon National Park: Wifi Internet, HDTV, Fireplace, Sleeps 8
5 Bedroom Rental House in Grand Canyon National Park: Sleeps 16
---
The famous El Tovar hotel is often regarded as the top hotel on the Canyon. In the Grand Canyon National Park Area opened in 1905 and renovated in 2005.
Video of the El Tovar Hotel:

---
Grand Canyon Tours
Grand Canyon Deluxe Tour

The Grand Canyon in Grand Style! The newest and most luxurious in the Sedona tour series. This luxurious, one of a kind tour enriches the soul and enlivens the mind as you travel on one of the top 10 scenic drives in America. Lunch and hotel pickup is included.

For more visit:
Grand Canyon Family Vacation Ideas with Video
---
---
Grand Canyon Family Vacation Ideas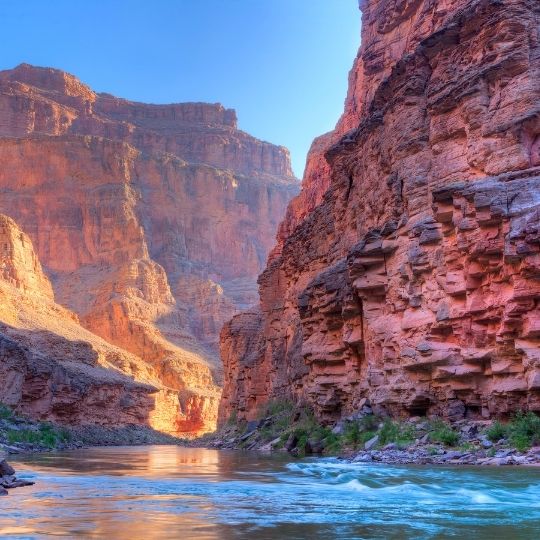 Grand Canyon
Here are some of our best Grand Canyon Family Vacation Ideas. You can also scroll to the bottom of the page to see videos of family vacations and activities around the Grand Canyon.

Horshoue Bend
What an ultimate family adventure destination you have chosen to look at. If you have never been to the Grand Canyon and you live in the USA than this is an obvious choice to consider.

Often the case with obvious choices is that we assume if we haven't been yet then we may not go and this makes it easy to overlook the next time. Best to go if you have any bit of desire and this may well open the door for a whole host of new family adventures.
Grand Canyon Vacation Rentals
There are plenty of good Grand Canyon vacation rentals situated in iconic locations. These are often set up as a family friendly ranch and can cost as little as $100 per night. 
Grand Canyon (Canva)
Things to Do

Some of the best activities for families include Grand Canyon Mule Rides of the Skywalk. Some activities listed below are clearly a little more suited to the highly adventurous and older family, but some are also great for all ages. See also the video at the bottom of the page.
See our Grand Canyon Tours for More Grand Canyon Family Vacation Ideas
Skywalk at Grand Canyon
o many the 7 mile gravel road trip into Skywalk at Grand Canyon and the "tourist trap" price factor prevent them from enjoying this facility.
Worth remembering is that the Skywalk is managed and contributes to the Hualapai Tribe who are the traditional owners of this land. Than any trip to the grand Canyon is worth a trip out here simply as a sign of respect to the traditional owners. This acknowledgement can also make for a more grounded Grand Canyon experience and set you off on the right path. As you set out the walk of 21 metres (70ft) around the horseshoe shaped walk consider the Hualapai, meaning "People of The Tall Pines," people who have walked these lands right up to the San Francisco Mountains for generations.
Skywalk at Grand Canyon
The bridge floats out 4000 feet above the canyon and provides for an interesting scene.
About half of the tribe today numbering in the thousands live in Peach Springs and tourism at the Canyon West facility aids in their economic future.
An Ultimate Entry Package - $70.95* plus tax, $8 impact fee & $3 fuel surcharge (at the time of writing)
Legacy Gold package includes, Skywalk Ticket Meal at viewpoint of choice, Hualapai Legacy Package, Hualapai Visitation Certificate, Photo opportunities with Hualapai Members, , On-Hop-Off Shuttle to all viewpoints and more.
The Skywalk is Included in Gold Package or for an additional 29.95 to other packages.
Check out the website for more information
Grand Canyon Mule Ride
We take a look at some of the Best Grand Canyon mule ride options for families.

op of Grand Canyon mule ride reviews.
National Forest Trail Rides
Great Family Alternative Mule Rides
How: Phone (928) 638-2891.
Where: Tusayan near the South Entrance to the National Park
Offered are short horse or mule one and two-hour trail rides in Kaibab National Forest from the Apache Stables. Twilight campfire and wagon rides are also available.
Apache Stables Horseback Trail Ride
Grand Canyon North Rim Mule Rides
To enjoy a North Rim mule ride you can register at Grand Canyon Lodge at the tour desk from 7:00am-5:00pm or you may call (435) 679-8665
The rides from are offered from May to the middle of October are either half day for over 10 year olds from about $80 or as little as $40 for the hour. Make sure the little explorer is at least 7 years old for the shorter trip.
Also if your family wii rudely reports you are overweight you can't go either (220 pound limit)
(435) 679-8665,  canyonrides.com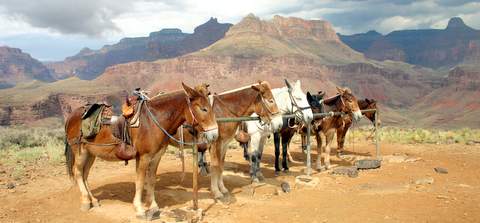 Grand Canyon Mule Rides
Abyss Overlook Ride
A great trip for older families from October to March, the ride begins near Bright Angel Lodge and takes you through Ponderosa Forest, Pinon and Juniper woodland. At the midway point, riders can take a very short walk to the Abyss.
Cost: Last check about $122 per person including a light snack.
Also check out the Overnight Rides
Only a few percentage of visitors to the canyon actually are fortunate enough to take a mule ride. The physical restrictions and the limited number of mules that are allowed to take the journey to the bottom of the valley mean that there are few opportunities and the rides need to be booked at least 9 months in advance.
That does not mean it's not worth giving it a try however; if you are planning your vacation in advance, why not take advantage of that?

Descent to the bottom of the Canyon on a Colorado River stay at Phantom Ranch.
(booked more than a year in advance.)
Cost: About $500 for 1 or $900 for 2.
Call (303) 297-2757
Before you make any bookings you may like to have a look at this video to determine if you and your family can stomach the rides and the heights.
Before you try to book also make sure you weigh less than 200lbs or 91kg, and are at least 4ft 7 or 138cm tall.
This is footage of an overnight mule trip to Phantom Ranch at the bottom of the Grand Canyon, descending on the Bright Angle Trail on the South Rim and coming back up the South Kaibab Trail.
Getting Around
Parking at the Grand Canyon Visitor Center and then taking the shuttle buses is the best way to avoid the crowds and having to fight for parking. Admission is $25 per private vehicle and $12 per pedestrian or cyclist.
Top Spots
Where to Stay
We have also listed some of the best camping spots with video below.
But if you are looking for the best Grand Canyon South Rim lodgings including the famous El Tover Hotel or other great Grand Canyon Tours see our best hotels near the Grand Canyon review above.
There and Away
Generally a lot of people who don't drive will fly into Phoenix, Arizona, and Las Vegas,

Nevada. Grand Canyon Airlines also fly from Boulder City, Nevada, to the Grand Canyon Airport in Tusayan, Arizona. Greyhound Bus Lines operate from Services Flagstaff and Williams. Amtrak stops at Williams and Flagstaff and there are then two shuttles daily to the Canyon. Transcanyon Shuttle between the North and South rims each way daily. www.trans-canyonshuttle.com