All Inclusive Sedona Resorts

Looking for the best Sedona Resorts? We've put together a selection of the best resorts in Sedona plus Sedona Spa resorts for those who love pampering.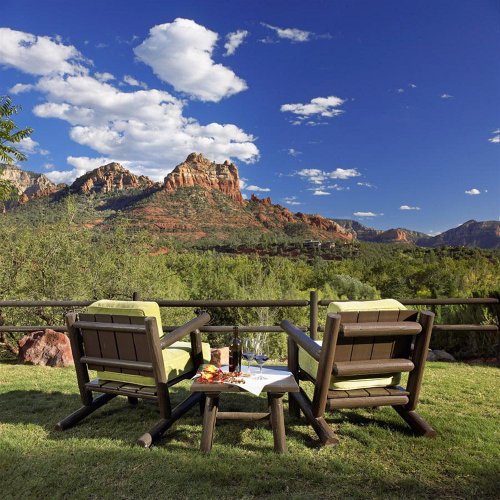 View from L'Auberge de Sedona
---
---
Sedona is a small city in Arizona famous for its healing properties and has been called the "New Age Mecca" by locals. There are many reasons to visit Sedona, but if you are looking for an all-inclusive luxury spa resort vacation or getaway, then it is the place to be.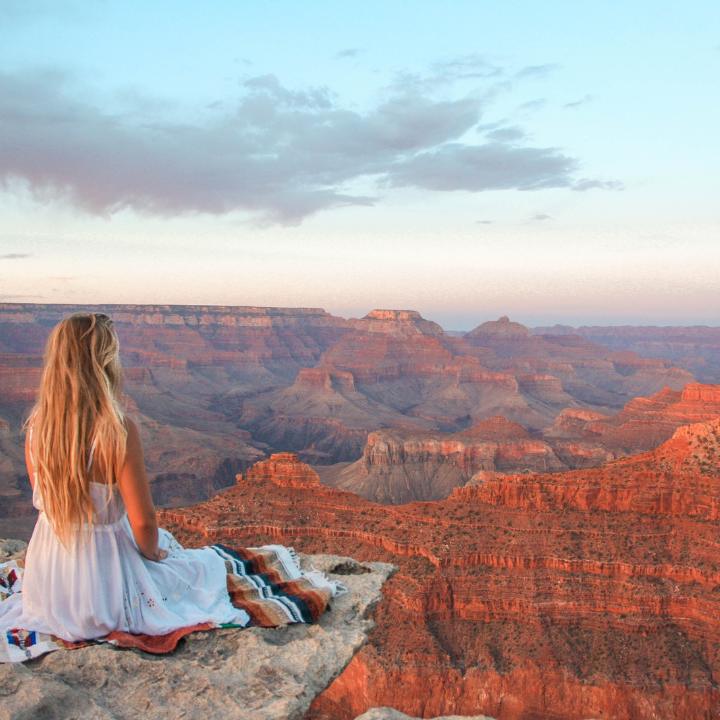 sedona-all-inclusive
Sedona, has a lot to offer. There are many natural attractions such as the red rocks and the Oak Creek Canyon, rock formations and stunning landscapes

The area is full of natural beauty and breathtaking views, with mountains, red rocks, cacti and spectacular sunsets, trails to explore and waterfalls to enjoy. There are also many luxury resorts in Sedona that offer all-inclusive packages for you to enjoy your stay at luxury resorts that offer all-inclusive spa vacations and getaways.
Best Sedona All Inclusive Resorts:
These are our favorite resorts for the Sedona Area distinguished by exceptional levels of service, great locations, and outstanding facilities. 
The Sedona area is home to only one resort, which is perfect for relaxing with family and friends.
The Spa resorts in the Sedona area offer a range of amenities and activities for guests to enjoy and many have packages available.
We will also offer some of the best Spa resorts as a comparison.
L'Auberge de Sedona
Best All Inclusieve Resorts in Sedona: L'Auberge de Sedona
Out of more than 80 properties in the Sedona area L'Auberge de Sedona is the only resort that lists as all-incluisve.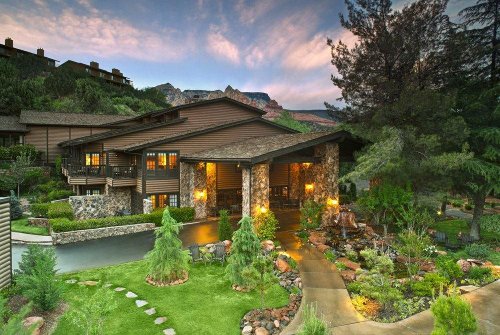 Location: Walking distance to Uptown Sedona. On 11 landscaped acres with gardens, decks, and private lawns. Close to Oak Creek Canyon river gorge.
Highlights: L'Auberge Restaurant has French inspired American cuisine and an extensive wine cellar, spa with shiatsu and Swedish massage, and a business center.
Rooms: have balconies or patios with views of the surrounding resort, gardens or Red Rocks, flat screen televisions. 
Reviews: Guests love the outstanding creek side location and close to downtown. Quick to upgrade and with outstanding, friendly service, this one continually proves a winner. Chill out around the fireplace with the sound of a strumming guitar. Good value.

More information on L'Auberge.
Video: L'Auberge de Sedona Revitalization at L'Apothecary Spa offers a personalized spa experience in nature.
---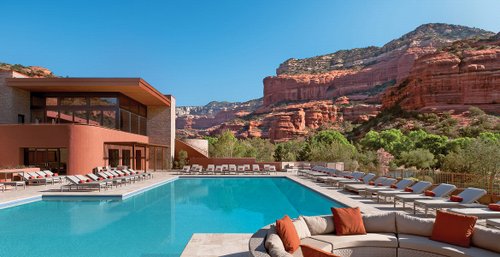 Enchantment Resort provides an escape from the hustle and bustle of modern life. This eco-resort is a blissful oasis located in the Oak Creek Canyon, just outside of Sedona, Arizona. The resort's property encompasses a variety of natural wonders such as lush forests, rushing waterfalls, and red rock formations. It features over 10 miles of hiking trails and ancient Native American petroglyp
Best 5-star: Enchantment Resort
Click above to read about this great resort on the Sedona Spa Resorts page.
---
Junipine Resort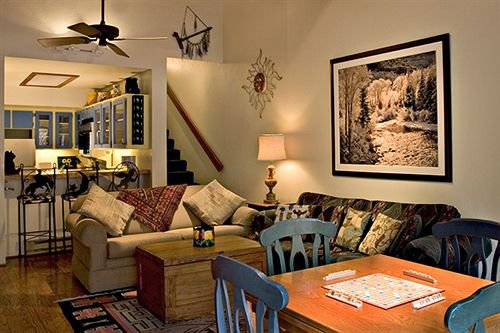 Location: On Oak Creek, close to downtown Sedona.
Highlights: include swimming and fishing in Oak Creek, basketball, creekside lawn games, hiking as well as booking a host of nearby tours (such as jeep tour adventures) or an in-room massage.
Rooms: Condo style rooms that accommodate  2-8 people with big living spaces, full kitchens, wood burning fireplaces and outdoor viewing decks.
Reviews: Although only a three star, this one out rates some higher credentialed resorts in the reviews. Guests come back again and again to enjoy the nature and wonderful surroundings. One of the best places to stay at any rate, but starting at around $200+, this place is a steal.
Click here for more information on Junipine Resort.
Video: Junipine Resort in Sedona Az. Visitando las cabañas en Junipine Resort En Sedona Az
---
Video: Top Things to Do in Sedona, AZ
---
Hilton Sedona Resort at Bell Rock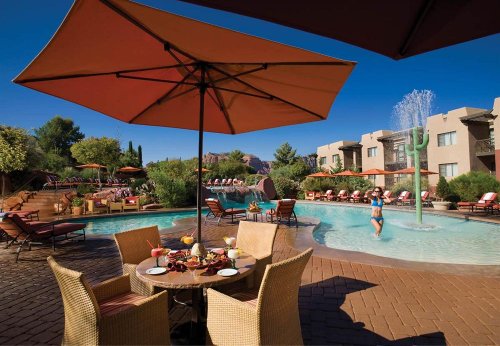 Location: in Oak Creek, close to Bell Rock and Sedona Golf Resort.
Highlights: Full-service spa, pool, health club. Only 219 guestrooms so it's not too large.
Reviewers say suites are very spacious, service is good and concierge helpful. The short distance to attractions was also a plus.
Get more information and see the latest reviews for Hilton Sedona.
Video: HIlton Sedona Resort at Bell Rock
---
---
Ridge on Sedona Golf Resort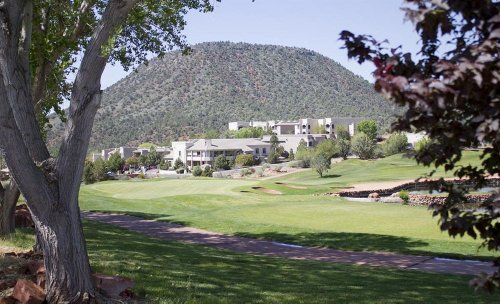 A family-friendly mid-range resort is golf, an outdoor pool, picnic areas and more in Oak Creek.
Reviews are good here with past guests liking the spacious rooms and reminding future guests that there is a resort fee per night here.
Get more information and see the latest reviews.
---
There are a few more resorts you can check out. Some have lower reviews or less on offer but they may have what you're looking for.
More Sedona Resorts:
For even more, check out Sedona Spa resorts or other resorts in Arizona. 

---
The red rocks of Sedona, Arizona are located on the northeast side of Oak Creek Canyon and can be seen from many areas in town. The red rocks were formed millions of years ago when lava flowed over a porous sandstone layer containing iron oxide, which is known to rust brown when exposed to oxygen. The red rock formations are among some of the most recognized national tourist attractions in Sedona.There is a trail that winds through the Red Rock formations and can be seen during the day or night. There are a lot of cliff jumping opportunities at some of the red rock formations.
The best time to visit is between October and March, because there are very limited hours during the summer when it gets too hot and humid for comfort.The Oak Creek Canyon has many natural attractions like waterfalls, rock formations, wildlife and more. Boating on Oak Creek is also popular here with different options such as renting kayaks or paddle boards or taking a guided tour.
The city also offers plenty of unique shopping opportunities like art galleries, boutiques and antique stores. There are also many restaurants that offer a variety of cuisines from Mexican to Italian dishes so you can always find something new to try while on your stay!