Virgin Islands Honeymoon All Inclusive
The Virgin Islands are an archipelago of islands in the Caribbean Sea that do tropical paradise as good as anywhere. Today, we'll be focusing our attention on the U.S. territory known, quite remarkably, as the U.S. Virgin Islands.
Honeymooning here allows you to leave your passports at home and fly your lovely selves into a warm and tropical paradise that's just a short four-hour flight from New York. Sounds pretty nice, doesn't it?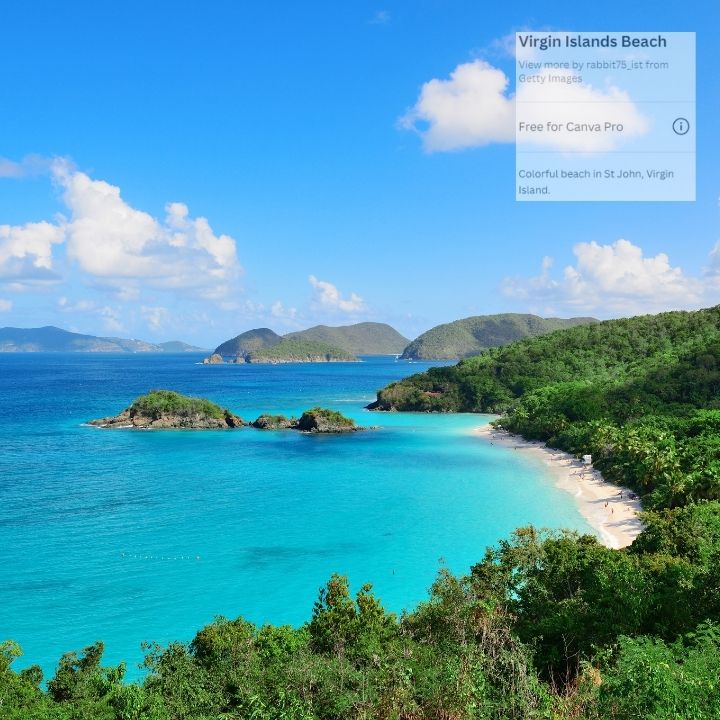 Virgin Islands are ideal for Honeymooners
TripAdvisor lists three all-inclusive hotels and resorts in The US Virgin Islands:
The U.S. Virgin Islands comprises the three main islands of St. Thomas, St. John, and St. Croix, with a bunch of smaller islands surrounding them.
Known for their unique volcanic rock formations, white-sand beaches, and world-class dive sites - you will be picking up your jaw from the sandy floor a lot down there.
We know the importance of luxurious privacy when on honeymoon, and each of the premium all-inclusive beach resorts listed below does too, naturally. So get ready to get excited about your tropical honeymoon, Virgin-Islands style.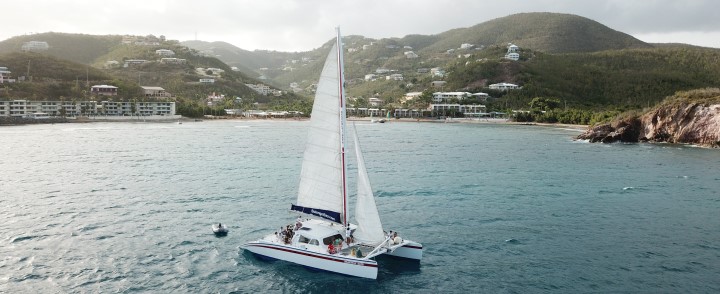 After taking one look at Bolongo Bay's beachfront scenes, it makes perfect sense why it's often regarded as the number one all-inclusive on St. Thomas.
Having crafted their all-inclusive package for over thirty years, what Bolongo Bay is currently offering feels like a different thing because it is a different thing.
Included in their standard all-inclusive package (that's right these aren't upgrades), you will receive 100% a la carte dining, complimentary water sports, a large selection of international beers, house wines, unlimited cocktails, and nightly live music.
Their dedication to providing high-quality food made fresh to order (no buffets here), as well as every drink under the setting sun ensures your wining and dining requirements are well catered for at Bolongo Bay.

Yes, you have access to all the delicious all-inclusive goodness on each of the honeymoon packages, but strap yourself in, because there's more. Think rose petals strewn across your room, Belgian chocolates, and champagne on arrival.
When Bolongo Bay knows a loved-up couple is coming, they pull out every stop. Customer satisfaction is paramount to how this resort runs.
This is why they also offer a build-your-own honeymoon package that lets you live your wildest desires, and cuts out everything that you don't need, or want.
Bolongo Bay may not have a fancy 5-star rating to its name. But, this family-owned and operated 3-star is ready, waiting, and capable to offer its guests affordable luxury.
Which, we're guessing most young couples can get on board with just as easily as the island-hopping sailing experience Bolongo would love to take you on.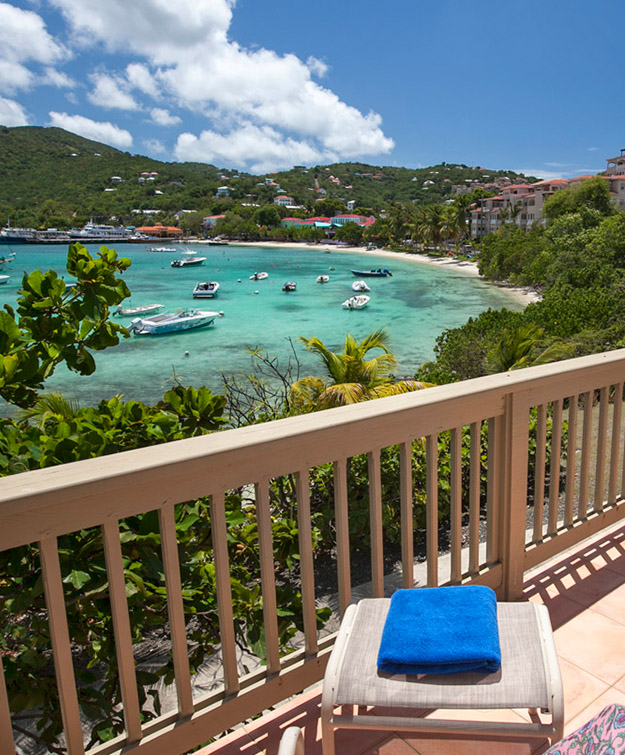 Gallow's Point Resort
Another 3-star resort that manages to offer value alongside luxury, Gallow's Point Resort is an ideal honeymoon destination. It is located on the less populated, more nature-orientated island of St. John.
The smallest of the three main U.S. Virgin Islands, St. John is a nature-lovers paradise as half the island is occupied by Virgin Islands National Park.
This fiercely protected park means the island is teeming with intriguing wildlife like cuckoos, warblers, dolphins, and green turtles, to name but a few.
As its namesake suggests, Gallow's Point is supremely located on 5-acres of private land at the tip of a stunning peninsula that needs to be witnessed to be believed.
Just a 5-minute stroll into the chic town of Cruz Bay, the location of Gallow's Point really does help it stand out from the crowd.
In terms of accommodation, you have the desirable choice of uninterrupted ocean or harbor views direct from your balcony.
Noteworthy amenities include on-site fine dining, a fitness center, bar, cafe, and the sparkling diamond of the resort - the oceanfront pool and jacuzzi.
With sweeping views looking out and over the rocky cliff edge and across the bay, this prized vantage point is unique to St. John.
The bay feels very "Southern France-Esque" as it's surrounded by mesmerizing hillsides and filled with luxury boats.

Another enticing aspect of St. John is its exclusive shopping scene that features the world's biggest names in jewelry, and fashion, making it a shopper's paradise among the palm trees.
Unsurprisingly, Gallow's Point is also ready to whisk you away to the heavenly waters and hiking trails of the island's national park.
On top, they offer island hopping and fishing tours as well as every water sporting opportunity you could ever want to get your adrenaline and adventure kicks from.
Another affordable slice of paradise that deserves every honeymoon couple's attention and soon-to-be presence.
Video review of Gallows Point Resort in St.John's: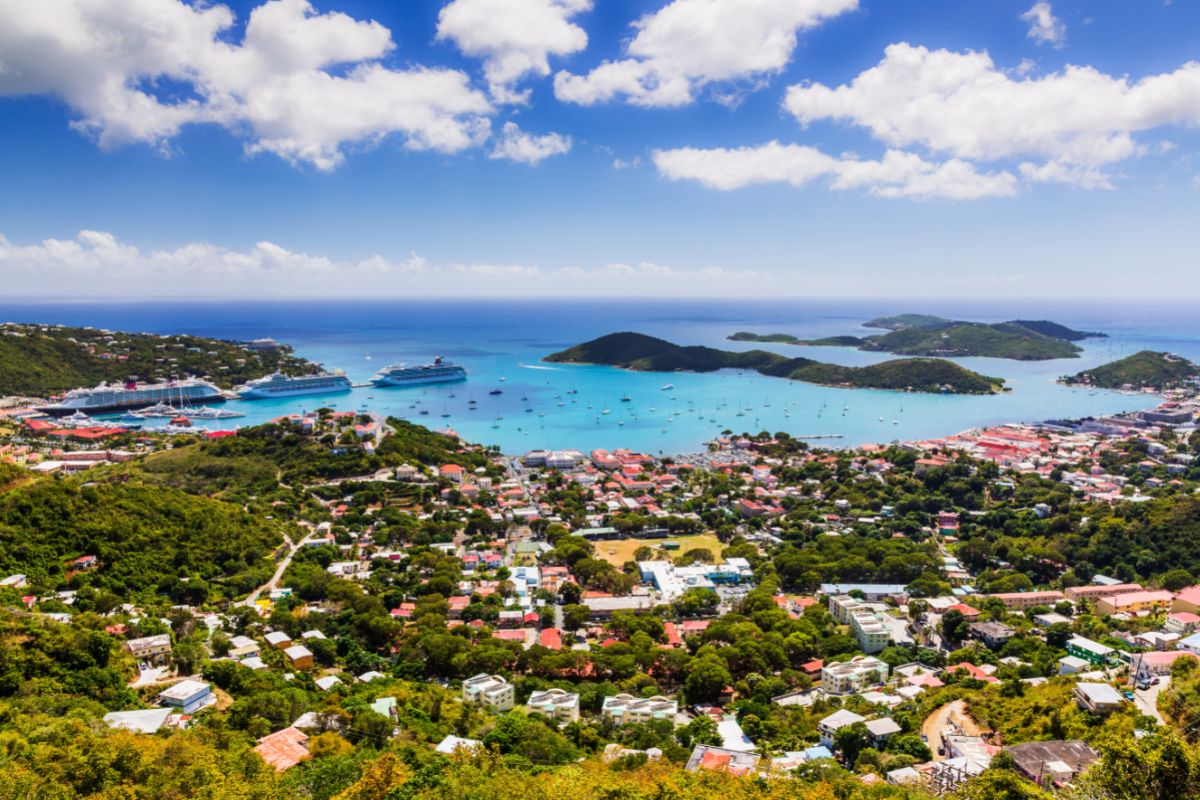 Secret Harbor Beach Resort is the worst kept secret on St. Thomas, (it's just that good). This boutique-style resort is one of the special ones.
Why? Because they manage to offer every amenity imaginable while maintaining a high level of service, cleanliness, and general resort charm.
Situated right opposite a pristine stretch of beach, crystal clear waters, and fish-filled reefs, you don't have to venture far to get up close and personal with Nemo, Dori, and the rest of the tropical best. 
Secret Harbor revels in giving its guests the keys to their heavenly holiday destiny. This is why they have a contemporary selection of suite rooms right down by the ocean's edge as well as nestled into the sweeping hillside. 
If eating and drinking (a lot) come part and parcel with your idea of a honeymoon, you'll be pleased to know that Secret Harbor has your appetite and insatiable thirst covered.
Whether it be sitting down by the oceanside with the warm afternoon breeze rolling through Sunset Grille, a casual lunch at The Patio, or convincingly sipping margaritas at the Tiki-fashioned Beach Bar, it's all about treating yourself down by the oceanside at Secret Harbor.
Luckily, Secret Harbor doesn't just want you to eat and drink well on your honeymoon, they want you to live well too.
Think adventure-orientated experiences like diving, boating, watersports, tennis, and a fitness center that helps you maintain your fitness regime between R & R time.
You would be right in thinking that this resort most certainly caters to the active crew too.
On top of pampering every honeymoon couple that walks, with hands held tight, into the resort, Secret Harbor is also well known for its all-inclusive wedding packages.
Now, we're not saying outright that you should get married and honeymoon here too, but we wouldn't pass judgment if you gave in to the temptation.
Because, when you find heaven on earth, you tend to want to stick around for a while. Hosting both your wedding and honeymoon at Secret Harbour will allow you this pleasure, and we'll just leave it at that.
Video review of Virgin Islands - Secret Harbor Beach Resort - St. Thomas USVI:
A cut above the rest, The Buccaneer Beach & Golf Resort is the place to be on the exclusive island of St. Croix. Check out from normal life and, subsequently, let The Buccaneer clock your swooning selves straight onto island time.
Whether you book a resort room or splash out and get to open the oceanfront doors on your very own private beach house - The Buccaneer blends timeless charm with modern luxury and every guest is better off for it.
The Buccaneer is a 340-acre oceanfront playground that features an 18-hole golf course, three private beaches, eight tennis courts, two pools, a full-service spa, a 24-hour fitness center, three restaurants, and a shopping arcade with a varied selection of mighty fine boutiques inside.
You didn't think the fun stopped at the water's edge now did you? With a high-end, high-octane water sports center that's ready and waiting to give you a wet and wild time, the ocean is very much your playground at the Buccaneer.
Of course, a place like The Buccaneer was never going to let its honeymooners experience the resort like regular guests.
Think private airport transfers, on-arrival chocolates and prosecco, a complimentary half-day Buck Island snorkeling trip, and idyllic beach cabanas at your sandy toe tips.
With a unique history that dates back to the 1600s as well as a viewfinder on the future, T Buccaneer has its own delightful charm that can't be replicated, only stayed in.
Video: Divi All-Inclusive Carina Bay Beach Resort & Casino
If you would prefer a honeymoon where the kids are not, then Divi Carina Bay is the place for you.
This adults-only beach resort features an in-house casino, an oceanfront and hillside pool, and four restaurants, all without a kid, or worse still, a screaming kid in sight.
As you could imagine, at an adult's only resort, entertainment is key to having a good time. Expect nightly entertainment from local bands and DJs as well as iconic karaoke nights that are all kinds of silly and fun.
Cane Bay Wall is only a short boat trip away and is regarded as a world-class dive site.
To keep the vibes high during the daylight hours, Divi Carina Bay puts on daily volleyball competitions that allow couples to compete for in-resort glory, and again, have a lot of fun.
If you hum to a lower frequency than games of shuffleboard can also be played, whenever you feel like it. Or, if your idea of heaven is being horizontal on a sandy beach surrounded by palm trees.
Then, of course, Divi has got you covered on that front with reclining lounge chairs, umbrellas, and hammocks strung out between the previously mentioned palm trees.
If you enjoy getting out beyond resort and seeing the sights, then book on to one of Divi's guided sightseeing excursions that you should most definitely pack a camera for.
Conclusion

Your honeymoon is meant to be the best holiday of your life, no questions asked. Allowing you to kick off your magical marriage in style, each of the resorts listed above will give you a honeymoon to remember, and then some.
By going up, above, beyond, and back again for each and every honeymoon couple that chooses to stay at their resort, you will be made to feel like the king and queen you always dreamt to be.
Like we even need to say it as it's as clear as the waters that surround them, but the U.S. Virgin Islands are the perfect place to escape to and spend a week with your new life partner.
So, what are you waiting for? You know the destination, you (hopefully) now know the resort, the only thing left to do is book and allow your tropical honeymoon to take over your dreams, one by one. 
💼 We cherish our independence! ✈️ Our travel recommendations are carefully researched, bias-free, and powered by human expertise by April and Ricky of LRB (we have personally researched and travelled to many of these destinations and researched others thoroughly through first-hand accounts). 🌍✨
We try to keep everything up to date, but please always do your own research and contact us if you know any issues for us to help others as best we can as a small but professionally focused team! 🧐📚⚠️