Dominican Republic All Inclusive Resorts
Dominican Republic All-Inclusive Resorts

Welcome to our Dominican Republic all inclusive resorts best of the best list. We've listed our favorite all inclusive resorts for families, adults only, golf, beach and by location.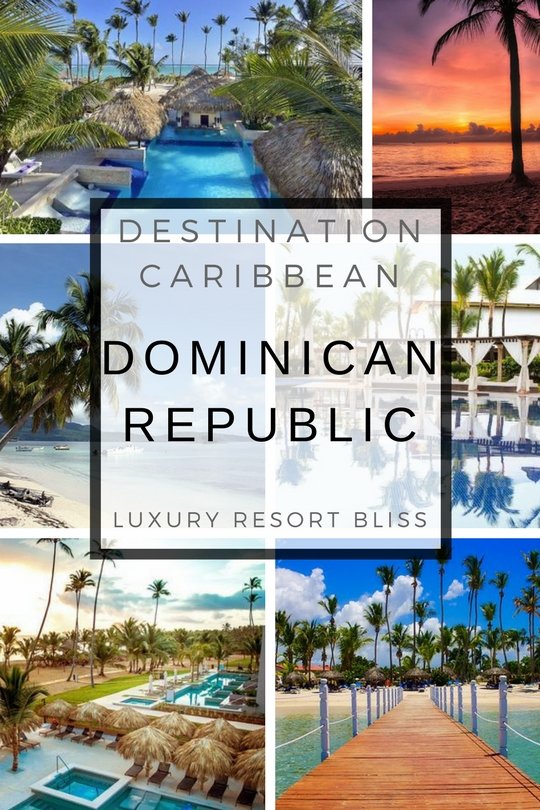 Top Destinations for all-inclusive resorts in the Dominican Republic
---
The Best of the Best

Dominican Republic All Inclusive Resorts
Dominican Republic has become one of the most popular tourist destinations, and it's not hard to see why. With its breathtaking beaches and resorts, this country has everything you could ever want on your holiday.
This article will look at some of the best all-inclusive resorts in Dominican Republic that are available for both couples and families alike.
The Dominican Republic is famous for its pristine beaches and relaxing lifestyle. The country features a variety of landforms ranging from mountains to valleys, beaches and rainforests, which makes it one of the most diverse destinations in the world. Travelers can choose from many different activities such as waterfalls, scuba diving, zip lining or even fishing.
VIDEO: Things not to miss in the Dominican Republic

Located in the northeastern part of the Dominican Republic, Punta Cana is a city that combines Caribbean and European cultures. The beaches are secluded and luxurious, with white sand and turquoise water. There are also plenty of outdoor activities for thrill-seekers.
Video Review:: Things to Know Visiting Punta Cana Dominican Republic
Punta Cana is quickly becoming one of the All Inclusive hotspots in the Caribbean. Located some 200km away from the bustle of the capital on palm fringed clear water beaches is one of the most amazing development stories of the transformation of farmland to resort paradise.  All the big acts in the resort world are getting in on the play and there is more than enough room on the 30 km of beach paradise to accommodate some exceptional resorts. See all the top Punta Cana All Inclusive Resorts.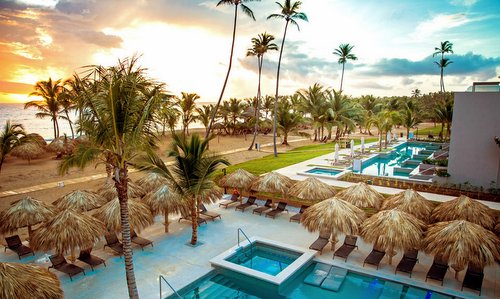 The New Excellence El Carmen Punta Cana Dominican Republic Adults Only All Inclusive
More information and offers for the Excellence El Carmen (VIDEO BELOW)
Excellence El Carmen Resort is the ultimate escape. Enjoy an all-inclusive experience, indulge in the spa and culinary creations at the restaurant, and relax on their gorgeous beach. The resort offers a wide range of room types including suites, villas, and bungalows with spacious rooms that are perfect for relaxing or enjoying a romantic vacation.
---
Majestic Colonial Punta Cana
Best for Families
The Majestic Colonial Punta Cana is the best resort for families with children. It is a short drive from the airport, and has many amenities for kids and adults alike.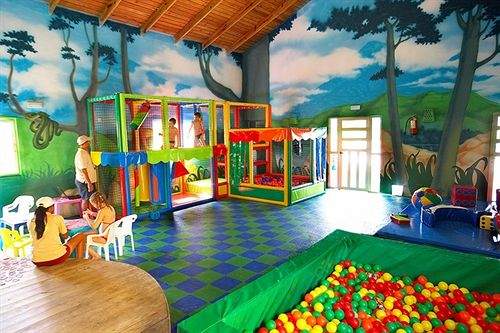 Majestic Colonial All Inclusive Resort is a great resort in Punta Cana. Another picture of this resort is at the top of the page. It's a great family resort but also great for everyone. 
Family friendly options include a kids room, birthday party area, in-room childcare and more for the children. 
Adults can enjoy golf, the casino, tennis, full-service spa, 6 restaurants and nightclub. This resort also has a huge and very long pool. 
See more and get the latest reviews for Majestic Colonial Resort.
Video: Majestic Colonial Resort Punta Cana, Dominican Republic | An In Depth Look Inside
---
Excellence Punta Cana Adults Only All Inclusive Resort
The Excellence Punta Cana Adults Only All Inclusive Resort features a variety of amenities and activities for adults only including a spa, tennis courts, fitness center, golf course and more. Guests can enjoy world-class cuisine at any one of the six restaurants on site or select from an extensive list of amenities offered by the resort's all-inclusive plan. The Excellence Punta Cana Adults Only All Inclusive Resort also offers guests access to an exclusive area with private pools and beachfront cabanas available for rental.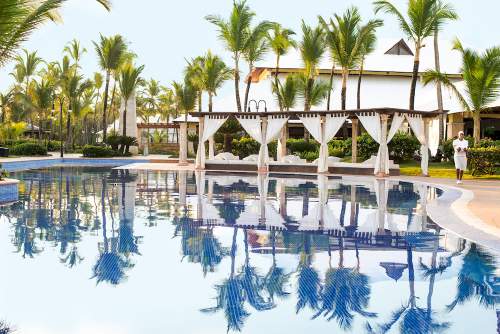 Pros: This is an all-suite adults only resort in Punta Cana. It's 5 star resort and full of luxury. There are 9 restaurants to choose from, unlimited drinks, daily activities like scuba and nightlife. It's located on a great stretch of palm-lined beach. 
Reviewers rate this resort very highly. They love the pool and swim-up bar, say it's one of the best resorts they've ever stayed in, love the food, staff and luxuriousness of the place. See the latest reviews. 
Get more information for Excellence Punta Cana. 
---
Paradisus Palma Real Golf & Spa Resort: Best Golf Resort
The Palma Real Golf & Spa Resort is a luxury resort with an 18-hole golf course, spa facilities, and a wide selection of restaurants.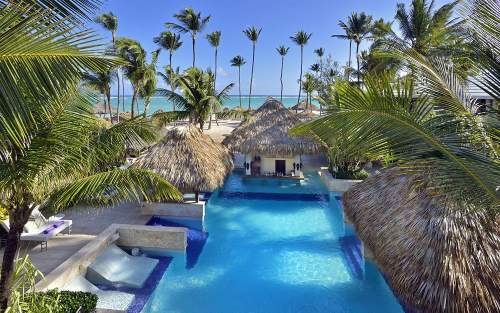 Paradisus is a great all inclusive resort and one you'd want to consider if you want to play golf while away. It's on the beach, has a spa, 9 restaurants, 2 bars, a casino, beach cabanas and more. There's a lot of offer here. Reviews are fantastic. 
Get more information and see the latest reviews for Paradisus Palma Real.  
---
Punta Cana All Inclusive Resorts are located in the Dominican Republic and offer a variety of different beach resorts. The all-inclusive vacation packages offer food, drinks, entertainment, and hotel stay for a single price. Visitors can enjoy the beautiful beaches, many tropical drinks and water sports.
There are many more great resorts in this area. See the best Punta Cana All Inclusive Resorts. 
---
---
Puerto Plata, Dominican Republic is a city that has been visited by tourists for decades. Known for its secluded beaches and mild climate, this beautiful port city has something to offer everyone. The history is rich here with colonial architecture, a variety of museums and ruins, and popular culture landmarks. The friendly locals are eager to show you their way of life through dance lessons, food tastings, or even by teaching you to play boliche.
Travelers looking for a tropical paradise should head to Puerto Plata. From the luxurious all-inclusive resorts to the exquisite boutique hotels, this Caribbean destination is overflowing with resorts that cater to every taste and budget.
Video review by guest (might give you some ideas): Top 10 Best Family Hotels & Resorts in Puerto Plata
The city and the many beaches have been constantly growing in popularity and now, with a weekend when a new flight is coming from Miami, there are more tourists than ever. The airport is close by so the flights aren't too long and once you are here, the town has lots of things to do and see. However, Puerto Plata doesn't lack any options for transportation because buses run frequently to all of the neighboring towns. For those who prefer a private driver, we recommend taking a taxi from the airport to your hotel or local destination.

Puerto Plata is a coastal city in the Dominican Republic that is home to some of the best all inclusive resorts in the world. This destination has something for everyone, from adults-only resorts to family-friendly hotels that offer amenities like delicious food, pools, and more.
7 Things to Do in Puerto Plata Dominican Republic (tourist Guide)
---
Iberostar Costa Dorada Puerto Plata All- Inclusive Resort
Iberostar Costa Dorada is a luxurious all-inclusive resort that is perfect for couples and families. Located in the Dominican Republic, this resort features a wide range of amenities and activities to keep guests entertained.
The resort features multiple different restaurants, bars, pools with (swim-up bars), tennis courts. There are also plenty of water sports available such as kayaking and snorkeling.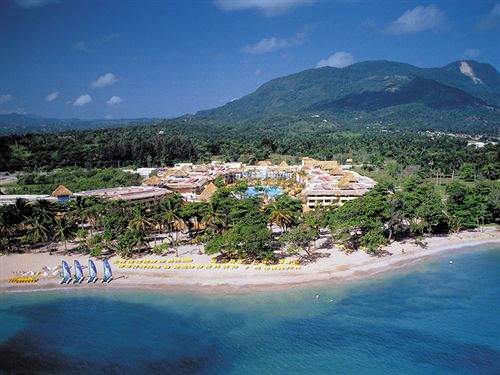 The highest rated resort in Puerto Plata, the Iberostar Costa Dorada is a great spot for everyone and a great choice for families. There's a free water park and kids club as well as a beach, pool and 4 restaurants. 
It's a large resort with over 500 rooms, has a health club, garden and meeting rooms.
Reviewers say it's friendly, there's a variety of food available and it's good, and staff are helpful. 
See the latest reviews and get more information for Iberostar Costa Dorada. 
---
La Romana is a quiet, relaxed place with a tropical flair. This city will take you to a different world where the sun is always shining and the beach is always calling your name. There are many interesting things to do in La Romana such as visiting the nearby Bio-Park which has many animals like monkeys, iguanas, or going on a tour of the sugar plantation and learn about how sugar is made. La Romana has it all!
You can find all inclusive resorts in La Romana s that offer the best of the Caribbean. The Dominican Republic is a popular destination for many travelers because it offers great beaches, amazing food, and exciting nightlife. La Romana also has a variety of different attractions such as natural parks, salsa clubs, or Dominican cuisine that will satisfy all travelers.
You can find all-inclusive resorts in La Romana s that offer the best of the Caribbean. However, not all La Romana resorts are great then do check out our reviews. 
Video: Casa De Campo Resort La Romana, Dominican Republic | An In Depth Look Inside
Casa De Campo Resort La Romana is one of the most luxurious resorts in the Dominican Republic. This 5 star resort has a variety of amenities to choose from. The resort offers an 18-hole golf course, a 2-mile long beach with clear, turquoise water and white sand, a casino, and spa facilities.
This is an attractive tourist destination for decades with its natural beauty and safe environment. The city offers many features that make it a perfect getaway, such as its proximity to the beach, tropical climate and rich history. La Romana is also known for its exotic restaurants and nightlife which are sure to please any visitor.
The area is famous for its close proximity to the country's capital, Santo Domingo, and its easy access to beaches, rainforest and other natural wonders. Altos De Chavon is worth visiting too. It's a nice town with great food. The museum there is also quite interesting and the place where I found some of my favorite souvenirs.
La Romana is known for its beautiful beaches and perfect weather. One of the main reasons La Romana became so popular as a tourist destination is because of the Punta Cana International Airport, which has direct flights to destinations all around the world. Another reason people visit La Romana are for its many tours and excursions. 
GUIDE | La Romana, Dominican Republic

La Romana is becoming well known for it's great resorts, golf, snorkeling and is home to the biggest tourist attractions in the country. Far enough out of town to enjoy some great beaches and coastline too. The area is pretty and has enjoyed a similar fairy tale of development that Punta Cana has had. 
---
Iberostar Hacienda Dominicus 
Best Beach All Inclusive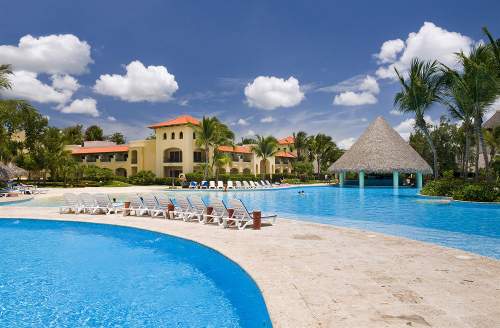 Located on one of the best beaches on the island, Iberostar Hacienda Dominicus is the highest rated resort in this area. This resort has 7 restaurants, a full-service spa, pretty garden, lots of water sports and close to the village of Bayahibe.
Reviewers like the food, spa and safety of this resort. The staff are reported to work very hard and are great. Many return guests at this resort.
Get more information and see reviews for Iberostar Hacienda Dominicus.
Iberostar Selection Hacienda Dominicus 5*, Bayahibe, Dominican Republic. 4 K Virtual Tour.
---
There are many many more Dominican Republic all inclusive resorts. To take a look visit:
Punta Cana All Inclusive Resort Vacations

Puerto Plata and Las Terranas All Inclusive Resort Vacations
La Romana and Juan Dolio All Inclusive Resorts
All Inclusive Resorts in similar areas:
Belize All Inclusive Resorts
Caribbean All Inclusive Resorts
Have a fantastic vacation at one of the fantastic Dominican Republic all inclusive resorts or recommend one below!
---
💼 We cherish our independence! ✈️ Our travel recommendations are carefully researched, bias-free, and powered by human expertise by April and Ricky of LRB (we have personally researched and travelled to many of these destinations and researched others thoroughly through first-hand accounts). 🌍✨
We try to keep everything up to date, but please always do your own research and contact us if you know any issues for us to help others as best we can as a small but professionally focused team! 🧐📚⚠️