Whitsunday Islands Australia
Whitsunday All Inclusive Resorts
Looking to compare Whitsunday All Inclusive Resorts to their alternatives? Long, Hamilton, Daydream, and Hayman Island are some of the most popular resorts in Australia. But what if you can't decide which resort to choose?
Whether you're looking for a family-friendly resort or an adult-only retreat, we make this decision easy for youwith these reviews.
We compare Whitsunday All Inclusive Resorts to the best resorts on Long, Hamilton, Daydream, and Hayman Island. Whitsunday All Inclusive Resorts are adult- or family-friendly and offer a range of activities and amenities that will keep everyone entertained.
Whitsunday Islands Travel Video:

The Whitsunday Islands Australia are located midway along the reef have some of the best accommodation options. Transfers run between Airlie beach and the islands constantly. These islands really hold a special place in world travel and deserve to make your bucket list of exotic destinations to visit. 
You may also like to see our review of the top Queensland Island Resorts which feature resorts in this area especially.
Fleets of boats from different companies make the journey each day to almost any of the islands that have resorts.  Alternatively, you may prefer to jet into Hamilton Island and catch a transfer from there to the island of your choice. 

The Coral Sea is the setting for these 74 majestic islands which are pooled in oceans of wonderful shades of deep blue and green. Seas are relatively calm in this area of Queensland which is sheltered by the Great Barrier Reef and you can easily find family beaches and snorkeling areas for beginners on most islands with coral views. This also makes cruising the sea on sailing boats and cruises a popular occupation in the area and there is a rich culture of boating and surf clubs.
Airlie Beach is the gateway port to the Whitsunday Islands Australia and also gateway port to the Great Barrier Reef islands.
Bedarra Island
While a couple of hundred kilometres to the north and not strictly in the man Whitsunday group Bedara is a wonderful destination Island resort. 
The island is promoted ans Australia's ultimate luxury barefoot all-inclusive private island resort.

Bedarra Island Queensland Australia
Bedarra Island Resort also known as the barefoot island which allows only 9 guest villas to maintain the perfect escape getaway environment with an ocean view.

Click here for more on Bedarra Island 

One of Australia's most exclusive resorts, and private hideaway, off the coast of Queensland.
*****
Read more on this resort on our Australia All Inclusive Resorts review.
---
The Whitsunday Islands were created as a result of volcanic activity hundreds of millions of years ago. Keep an eye out for Humpback whales cruising if you are in the area from July to September.

Whales in the Whitsunday Islands Australia
---
Whitsunday Island All Inclusive Vacation Packages
TripAdvisor has a number of all-inclusive holiday packages to the Whitsunday Islands
Want to book a holiday in Whitsunday Islands? Tripadvisor makes planning your trip easy with their wide selection of Whitsunday Islands holiday packages. Whether you're travelling for a romantic vacation, family vacation, or an all-inclusive stay, you'll be able to find the perfect package for you.
Expedia also lists of all-inclusive holidays to the Whitsundays you can check out. 
Daydream Island Resort
Daydream Island Resort is really the peoples resort and is not too expensive when you pick up a special offer. There are 300 rooms, a good sized spa, and a marine habitat. You can also snorkel on the local coral reef. Putt-putt, restaurants and lots of other attractions give this Whitsunday island an upbeat vibe.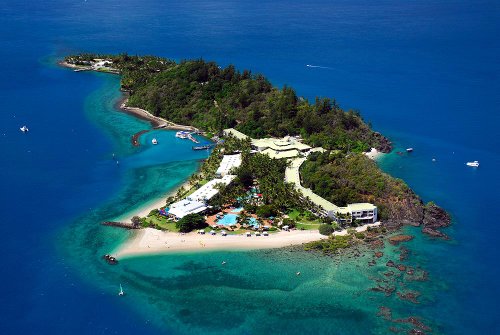 Daydream Island, Whitsunday Islands Australia
Daydream Island Resort & Spa, Daydream Island
One of the closest resorts to the mainland and one of the most popular with locals is Daydream Island. You can also take a day trip to Daydream and many of the other resorts in the Whitsundays for that matter from Airlie Beach / Shute Harbour and some of the other resorts in the area, and you will also find boats heading from the mainland will stop by this island on their way out to other islands.
Daydream Island Resort, is relatively close to the mainland comparatively but far enough away to get the clear blue waters. Located in the heart of Queensland's Great Barrier Reef, Daydream offers a world of possibility for fun, adventure, romance and relaxation.
Click here for prices, more info and recent reviews for Daydream Island.
Things to do on Daydream Island
Daydream Island has something for everyone – from snorkeling to scuba diving to whale watching to fishing and more. There are also plenty of activities that you can do while on the island, such as sailing and kayaking. If you are looking for things to do in Australia, Daydream Island should be at the top of your list! Fun Activities and Things to do on Daydream Island: Snorkel and scuba diving is the most popular activity on Daydream Island. It's just a short boat ride from the mainland with plenty of coral to explore and sea life to see as you snorkel. There are also some great wreck dives, like the SS Yongala, which sank in 1948 about five miles off of the island. You may spot a tiger shark, or even a turtle, as you descend to the depths of the ocean. There are also caves on the island for exploring.
Daydream Island All Inclusive Packages
Daydream Island offers some All Inclusive Packages that include food drinks and other activities.
For example their Live the Dream Package is an incredible option that starts at an unbelievable $360 per night during your stay. That's a 20% discount on the Best Flexible Rate and it lasts for 3 nights or more.
This is a resort package that offers so much, from delicious food to free WiFi. You can also use all non-motorised water sport activities as well as use the gym, pool, and steam room for free (which you'll appreciate because they are so expansive). There's also a daily buffet breakfast and complimentary transfers back from either Port of Airlie or Hamilton Island Airport
See more all-inclusive Whitsunday holiday packages
---
Special Hotel Deals in Bedarra Island, Australia
Hayman Island Whitsunday Resort
Positioned on the northern edge of the Whitsunday Passage close to famous Hart reef. The fabulous 116 room Great Barrier Reef, One&Only Hayman Island is also close to the outer part of the Reef.
The most common way to arrive is via a domestic flight to Hamilton Island and then catch some transport from there.  Regular flights are available from Sydney, Brisbane, Melbourne and there are some international flights do land on Hamilton Island as well. A plane sea plane, helicopter, or ferry can then scuttle you across to Hayman island and it is a wonderful trip whichever mode of transport you choose. You need to pass on your flight information to the resort to secure your transfers as they are not automatic.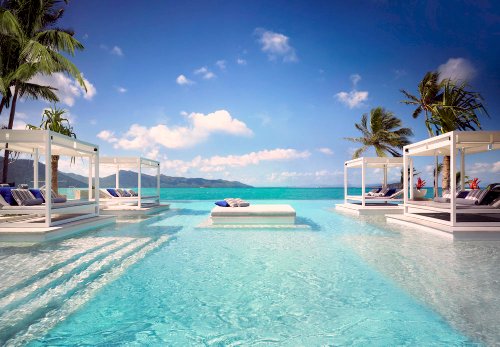 Hayman Island Whitsunday Resort
THis is a well serviced luxury resort and you can expect to find a lot of first class facilities and provides many ways to see the Great Barrier Reef including seaplane, helicopter, diving snorkelling. A quality spa and family areas are also available. Expect classy restaurants and fine wines.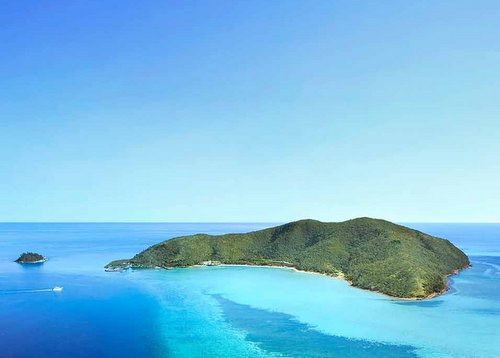 Whitsunday Islands Austral
One &Only Hayman Island Resort is one of the star resorts in North Queensland and often features in tourism promotions for good reason. This resort has been around for a while now and was talked about in world's best resorts lists years ago. Thanks to some recent upgrades and new management, this resort continues to deliver.

Considered a worlds best resort with beautifully appointed rooms on the Coral Sea....


Click here for more on Hayman Resort Hotel.

---
Long Island Resort Whitsundays
The Long Island Resort offers a range of accommodation options including family condos, oceanfront bungalows and luxury suites. Along with the incredible resort, guests can enjoy a variety of exhilarating activities such as scuba diving or snorkeling. For those who are looking for something different, there are also various tours, experiences and activities to choose from.
Palm Bay Resort Long Island
Palm Bay Resort specializes in luxury all-inclusive vacations and water sports, which is nestled on the coastline of Long Island. Palm Bay is a luxury resort in Australia complete with accommodations resembling the famous Balinese villas, and has one of the most amazing views of beaches, trees and has outstanding water quality on their private cove. 
Adult Only ALL Inclusive 
Best Adult ALL Inclusive Whitsunday Resort: Elysian Retreat
Note: Guests must be 16 years or older.
Packages here include food and drink: three gourmet meals per day and all Non-Alcoholic drinks as well as canapés and spa treatments and non-powered water sports.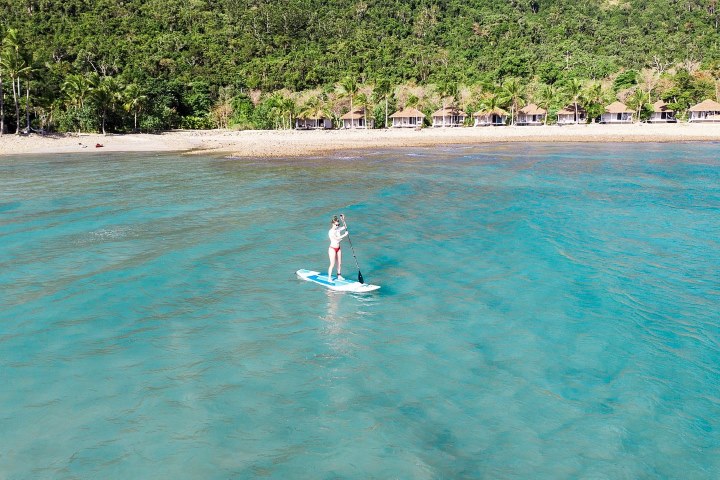 Elysian Retreat Whitsundays is an eco-friendly and luxurious retreat that offers accommodation options from luxury villas to private beachfront cabana. There are many activities to enjoy during your stay such as hiking, golfing and swimming with dolphins. Elysian Island Retreat offers a variety of activities for guests to enjoy, such as scuba diving, snorkeling and kayaking. The resort also has a spa and day spa. There are many restaurants on-site that offer fresh seafood and other local delicacies.

Elysium is perfect for getting away from it all and living in a secluded paradise. Every day, up to twenty members can enjoy the confines of this hidden gem. 
Elysian is perfect for a variety of different occasions. It's a great honeymoon destination or destination for a digital detox escape, so there is definitely something for everyone to enjoy.
Situated on a beautiful, private beach, with a view of the Great Barrier Reef in the distance. This eco-terrorist-protected property has gentle water and white sand beaches. The water surrounding the resort is pristine and crystal clear.  There are also pristine white sand beaches on either side of the property. The resort is close to the mainland and has its own jetty for boat or yacht access. It has been developed in an eco-conscious way with natural materials and an energy efficient design.
Elysian Island Retreat promises to give you an authentic and relaxing experience. You can choose from different packages that include accommodation, activities, meals and more.
Video: Escape to Elysian Retreat
Enjoy Restaurants, swimming pools, tennis courts, kids club, activities, bars, with great nightly entertainment...
Long Island Resort in the Whitsundays has better ratings by past guests than many of the other resorts on this page and definitely worth considering for an island adventure. (A number of resorts in this area don't get great reviews, so it is worth checking this one out.)
Long Island Resort
---
Apart from Airlie Beach, Hamilton Island a main resort / island destination.  It is a hub for many of the other resorts islands with a good sized domestic Airport bringing in guests from around the country.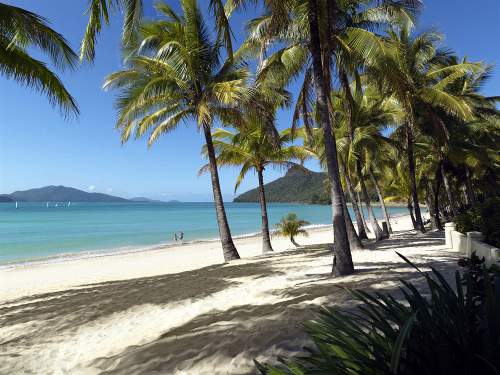 Hamilton Island Resorts
Hamilton Island has quite a number of resorts which we have reviewed on our Hamilton Island page. The 5 star Beach Club (image above) offers an intimate holiday experience that is perfect for couples.
Enjoy 30 acres of tropical garden landscape on the northernmost tip of Hamilton Island at Qualia.
See also our review of the best places to stay on Hamilton Island
---
Whitsunday Islands All Inclusive Resorts
Award for Best Whitsunday Island All Inclusive: Orpheus Island Lodge
If any resort in the Whitsunday's has taken up the challenge of providing all-inclusive style accommodation similar to what you see in Mexico or the Caribbean, it is this resort.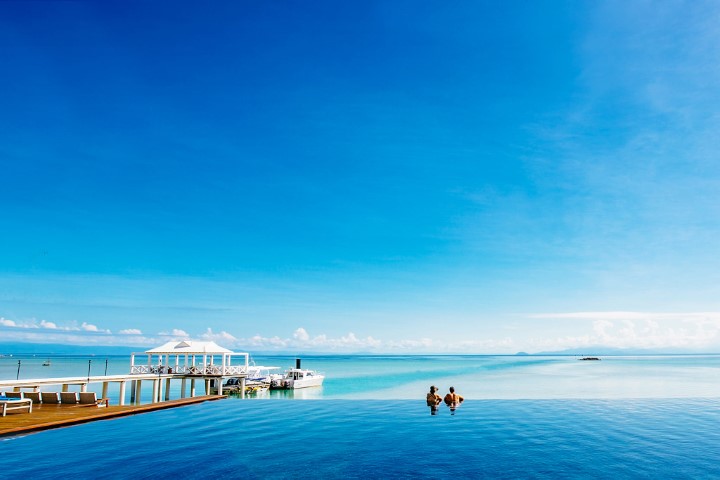 Whitsunday Islands All Inclusive Resort - While the resort has not become full all-inclusive these packages are impressive.
Orpheus Island Lodge has packages available like their XOXO package for example which seek to combine resort activities with all-inclusive meal plans. 

In the XOXO plan for example, the idea is to promote romance by enjoying all they have around. Whether that means enjoying a hammock, a cocktail and opportunities to check out the reef in your own dinghy or enjoy a  6-course dinner this all-inclusive package has you covered and includes accommodation, gourmet meals daily, quality wines, beers, spirits, mini bar and gourmet snacks.
By day, you can snorkel, take a sunset cruise, of check out some of the many other activities the resort has on offer. 
Orpheus Whitsunday Island Resort Hotel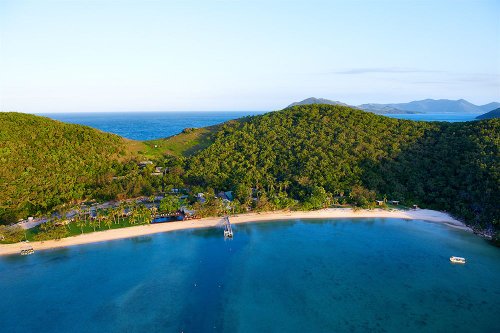 Orpheus Whitsunday Island Resort Hotel
Click here for more on Orpheus Resort Hotel.

One of the world's most exclusive private island destinations on the Great Barrier Reef and surrounded by pristine national park.

---
What happened to South Molle Whitsunday Islands Hotel
If you are wondering what happened to South Mole and some Other Whitsunday island resorts, this video paints a picture of decay and destruction as travelers have increasingly opted to travel in places like Bali as resort operators have struggled to adapt to changing market conditions. I don't agree with a lot on this news article but it provides some great images of what is happening with the Whitsunday Island resorts. 
Video: Haunting ghost resorts left to rot | 60 Minutes Australia
If I'm honest I can't keep up with the name changes for this island then I'm going to call it by it's long established name the locals know it by -  South Molle Island.
The only 18+ island resort in the Whitsundays, Koala Adventure Island offers adventure and nature. Check the link above to check out what is happening here these days.
Special Hotel Deals in South Molle Island, Australia

---
What happened to Brampton Island Whitsunday Island Resort?
Bramton is now one of those ghost resorts talked about in the news article above as owners have looked to pedal the familiar narrative of blaming their staff rather than come up  with business solutions' leagind their properties into decay.
Brampton Island, Australia, was not the usual Whitsunday resort island and has a unique place in the development of the region's tourism industry.  As a national park island that enjoys 12 great beaches, this resort is sure to remain relatively untouched for generations to come.
There were facilities here though and snorkeling, surf skis, sailboards, reef trips, a massage tours, guided walks and more are all available. To get there, you had to catch a ferry or flight from Mackay or Hamilton Island passengers to Mackay or Hamilton Island.
Brampton Island weather is ideal for year round holidays, with balmy nights and sun soaked days. Even the rainy season is in summer, so rarely does the island miss a beat.
Perhaps in time it will get rebuild as it is in almost a total state of disrepair at the moment. 
Overall: A short boat trip from Mackay and with wonderful golden sandy beaches and colourful coral gardens. On the Southern Whitsunday Island Passage, this resort is a good 50 km south of Hamilton Island which makes it a little separated from many of the Whitsunday Resorts. A good place for romantic escape and to enjoy the local island and National Park without distractions.
See: Brampton Island Resort Voyages 
---
While you don't stay on the reef itself in the Whitsundays, it is a truly magnificent destination surrounded by blue waters, white sands and views of many of the  enormous number of islands. Simply have the island resort arrange your boat transfer out to the main body of the reef on the days you would like to make the journey. Many reef tours will provide meals and all you need for a great day on the reef.

---
For more in resorts, check out Queensland Island Resorts.
Perhaps the most famous example of the beautiful pristine beaches is Whitehaven which often. This is a picture I took when my wife were on Whitehaven for our babymoon a few years back in mid summer. You can't help but marvel at the white silica sand which the image does not really do justice.
Almost every day you can see the dark clouds building for an afternoon storm, which can happen a bit in the summer. Personally, living in the Queensland tropics I learned to appreciate the drama of the summer wet season and really liked the refreshing change that the rains bring.
Trips are available to Whitehaven and the reef from your island resort as well. It's a great day to spend a whole day at an island that doesn't have anyone living on it or any accommodation.

Sarah loves to check out all-inclusive resorts and find great packages and report about what real travelers are saying, Sarah is an indicative character created for the purpose of providing insights uncovered during our research.  These reviews are indicative of others first-hand experiences using our research methodology designed to uncover the best  (as opposed to those that are simply marketed as the best).

While our reviews are founded on real accounts and stories and thoroughly researched do your own research and exercise your best judgment when making travel decisions. And keep in mind all-inclusive packages are always changing.