Best Beach Resorts in Asia
Looking to plan a holiday to Asia? In this review, we focus on some of the best countries to visit in Asia to help you plan your vacation whether you are travelling from Australia, North America, Europe or anywhere else.
We also have some great packages that help you save even more money while having a luxury experience.
Best Countries to Visit in Asia
Here is the list of the best countries to visit in Asia. As well as the top destinations and places to stay in each country.
While the travel climate in Asia is constantly changing and adapting to post-Covid conditions, there are some outstanding locations that stand the test of time and manage to maintain their authentic qualities that made them special in the first place. Also, there are destinations that were once too out of the way to enjoy comfortably that have now become accessible. We seek out and review the best of these destinations and properties throughout Asia.
Each year we review those resorts which stand out from the others in all the top destinations. 
---
Are there All-Inclusive Resorts In Asia?
With the rise in global tourism, more and more people are looking for all inclusive resorts. The majority of these resorts are located in the Caribbean, with a few on the Eropean and African continents but what about Asia?
Turns out there are many all-inclusive resorts in Asia and the number is increasing. In Thailand, there are a number of all inclusive resorts with many situated around Phuket. In Vietnam also there are dozens of all inclusive resorts. 
TripAdvisor Luxury Travel Asia Reviews
---
Best Southeast Asian vacation Destinations
Southeast Asia has been a key destination for holidaymakers for generations now. Whether you are travelling from Asia, North America or the United States, Southeast Asia has become accessible with direct flights to key hubs like Singapore, Hong Kong and Bangkok. Once in Southeast Asia affordable internal flights have opened up a world of opportunities to explore destinations once reserved for all but the most adventurous world travellers.  Many of these are safe destinations for first time solo travellers, families or honeymooners alike. 
The Phillipines, Bali and Thailand are among the ebst destinations in Southe East ASia. 
best luxury beach resort asia
Looking for the best luxury beach resorts in Asia then you can't go past the Bali Indonesia options for all inclusive, spa and luxury resort options. 
Bali, Indonesia 
Bali is a popular tourist destination because of its beautiful beaches, lush green rice fields, and rich culture. It is also one of the most popular honeymoon destinations in the world  due to its romantic landscape and tropical climate.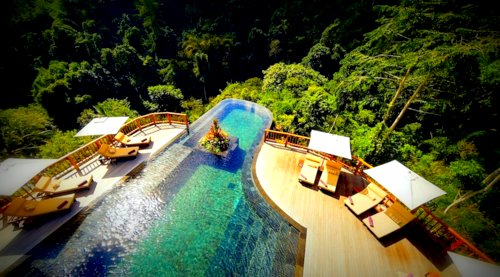 Bali Resorts
Bali and it's first class hospitality is truly renowned. Long gone are the days when Bali was reserved for adventurous Aquarius children in a forgotten exotic corner of the world.

While the exotic remains, the forgotten has definitely changed. Now popular Bali is a super location for a destination wedding, family get together, or even an all inclusive resort vacation. While plenty of free beaches and hideaways remain, Bali now is one of the top tourist destinations in Asia. A location we are happy to have lead the way in the top Asia travel destinations.
Bali Vacation Travel Guide

A great example of the change is the Como Shambhala Bali Luxury Resort.

This "yoga hotel" on the outskirts of Ubud, overlooking the  jungle of the Tjampuhan Valley retains what is great and authentic while adding more than a splash of luxury.

---
Cheapest countries to visit in Asia

Countries like India, Mongolia, Cambodia, Malaysia, Indonesia, Thailand, Bangladesh, Laos, The Philippines, Sri Lanka, India, Vietnam and Bhutan are some of the cheapest and best places to visit in Asia. Let's have a look at a few in more detail: 

Asian Island Vacations
Looking for the perfect Isalnd Resort in Asia. The Philippines is home to some of the top resorts on spectacular eco islands.  
Check out our update on all the best beach resorts on Palawan.  Palawan was named the best island in the world recently by Travel and Leisure magazine and we rate up near the top as well.
While the tropical island of Boracay located in the Philippines is not a huge destinations in terms of size it certainly makes up for this with quality. Constantly featuring in world's best beaches and destination reviews, Boracay punches way above it's weight, and is certainly a destination to consider.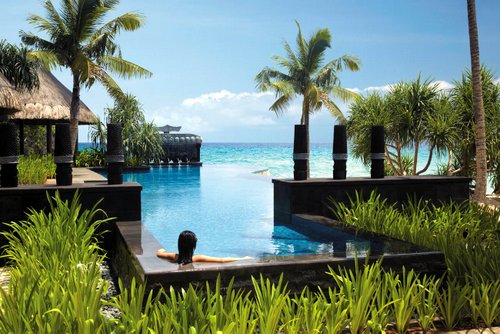 Shangri - La Boracay Resort
Easy to find flights from the capital of Manila make Boracay easily accessible from almost any Asian city. Once you arrive you will find a good selection of luxury Boracay resorts and accommodation with lower prices than other well known Asian destinations.

Top 25 Philippines Resort Deals with Reviews on TripAdvisor

Also in the Philippines you would do well to check out the Samal Island Resorts for something a little quieter. 

---
Asian Beach Vacations
There is nothing like getting away from the hectic city life and relaxing on a beach. The tropical climate, the beautiful beaches, and the amazing food makes it perfect for a vacation.
Thailand offers some of the best opportunities for beach vacations in Asia.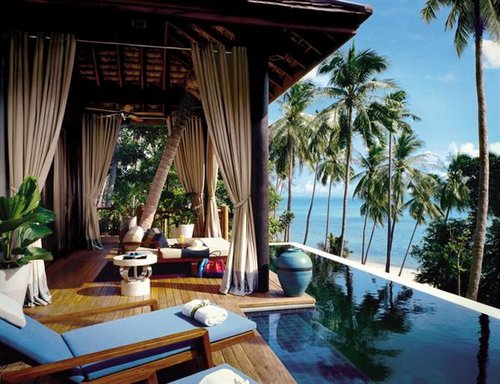 Thailand Luxury Travel
They say there is something for everyone in Thailand. Whether your idea of luxury is lazing on a Phuket beach resort, turning up at a health retreat, or exploring the temples from a Chiang Mai jungle resort, there are great options for you.
Thailand is legendary as a tourist destination thanks to the famous warm smiles of the people and the rich and fascinating culture of the people who wear them. 
Check out the Best:

Adventure travel Thailand style
Official Thailand Tourism Website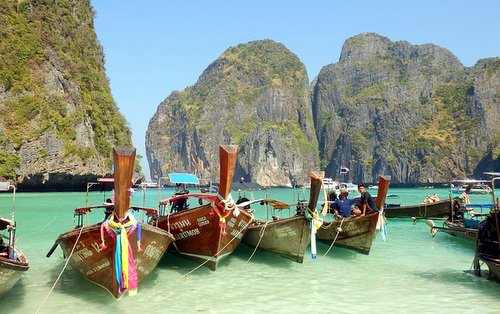 Koh Phi Phi Thailand
Climate and When to Travel to Thailand
Apart from these top vacation spots we have mentioned, the other major consideration when traveling to Thailand is the climate. This can have a big influence on your vacation quality of travel.
The rainy season which lasts from April to December can become a bit of a problem in the north after June, while it is otherwise manageable. In the south the Phuket coast comes alive with the good weather from November / December to April and on the nearby eastern coast of the peninsular  from February to October.
Cost of a Thailand trip
Many travellers to Thailand return from great trips where they spend less than $40 per day. Obviously, if you are staying in an upscale resort, you will quickly blow this target out of the water. But the reality remains however you generally continue to receive better value for money even as you go upscale comparatively to other countries. 
---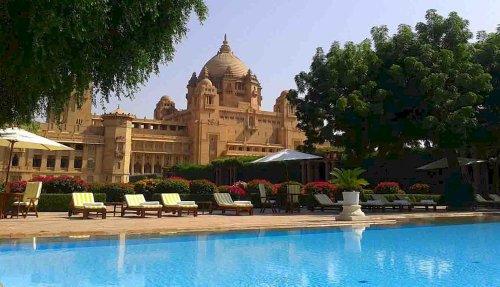 India Resorts
India is a unique destination different than anywhere else and a real gem in an era of bland cookie cutter vacation options. Surprisingly enough, India also has a selection of great beach resorts. 
Where the current beach resorts of Goa currently stand was once headquarters for the hippies escaping the mainstream to attain enlightenment in the East.

Before the hippies were the spice merchants which brought the Mediterranean influence. These days Goa is popular with the Indian well to do which has spawned a luxury tourism market.
See the best Goa Luxury Resorts.
Top 25 India Resort Deals with Reviews on TripAdvisor

---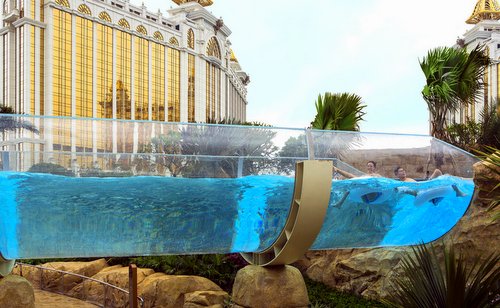 China Resorts
Cities in mainland China have seen an incredible increase in wealth. In Beijing, you can now find more and more luxury hotels and shops that have sprung up only in the last decade. Construction of new office buildings and new cars, such as Chinese manufactured Volkswagens and GMs, are seen everywhere. It's a new Beijing from the one people saw 20 or even 10 years ago.
Chinese traditional arts are embraced and can be appreciated regularly throughout the year. Even new Chinese fashion is gaining notoriety, and shops selling it can be found nearby boutiques selling famous western labels. The eBeijing website showcases Beijing leisure and recreation activities, current arts offerings, and much more.
We list the best China Resorts and travel options here: China Resorts

Top 25 China Resort Deals with Reviews on TripAdvisor

Hong Kong
Hong Kong is a bustling center of finance and international trade with the highest number of skyscrapers in the world. It also has a very high number of quality restaurants, and of those, several are among the best in the world. 

VIDEO: Hong Kong Vacation Travel Guide

Arriving in Hong Kong by boat is a unique experience giving tourists a beautiful view of the cityscape and the famous Victoria harbor. From there, people have access to Hong Kong's excellent public ground transportation system. Famous attractions and shopping opportunities are an easy ride away.
Hong Kong is also famous for its outstanding shopping opportunities.

Solo Asia
Solo travel has become increasingly popular in recent years. With the rise of social media, people have started to see that solo travelers are not alone.
The benefits of solo travel are as follows:
-It's a great opportunity to grow and learn about oneself.
-It's a chance to meet new people and make friends with locals.
-It's an opportunity to experience life from a different perspective.
One thing we are getting a lot of request for are opportunities to travel Asia Solo. Travelocity.com has come up with some solutions and is offering a few hacks.  Make your own schedule to follow. Especially if you are a first-time solo traveller you will find these options handy. 
Solo Travel Hotel Offer at Travelocity.com 

Places in Asia to Visit
These are our top places in Asia to Visit. We are always getting feedback and adjusting the list then if you have any comments please leave them in the comments at the bottom of the page. 
Bali (Indonesia)
Boracay (Philippines)
Chiang Mai (Thailand)
Caramoan (Philippines)

Guimaras Island (Philippines)

Goa (India)
Kuala Lumpar - Surrounding Area (Malaysia)
Koh Phi Phi (Thailand)
Koh Tao (Thailand)
Phuket (Thailand)
Palawan (Philippines)

Samal Island (Philippines)
Ubud (Bali Indonesia)
Overwater Bungalows Asia

When it Comes to Vverwater Bungalows the Maldives takes the cake. 
The Maldives is home to some of the most stunningly beautiful natural, clear water resort settings in the world.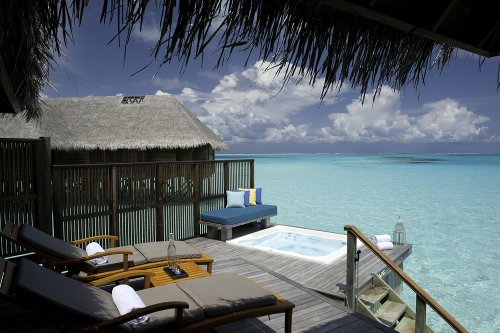 Conrad Maldives
Scattered across hundreds of kilometers these resorts are some of the most romantic isolated islands.
Our Luxury Resort Maldives page gives insights into which are the most exquisite of these prestige properties with some great package deals to boot.

Maldives Holiday Guide

Top 25 in the Maldives (Deals with Reviews)
See the official Maldives Tourism Site: https://visitmaldives.com/
---
Vietnam Luxury Travel Asia
In Vietnam, Ho Chi Min City and Hanoi both offer colonial architecture mixed with the modern. Museums and markets abound, both equally fun to explore. Ho Chi Min City, a port city, is located on the Saigon River, 60 km from the South China Sea. Almost 100% of Vietnam's south and eastern borders are coastline.
VIDEO: Ho Chi Minh City Vacation Travel Guide 
You can find numerous exquisite beaches, with modern facilities geared towards the most laid back tourists. Ho Chi Min City and the beach areas are, therefore, also popular with cruise lines. Views are to be experienced, not just by eyes, but by all senses. Vietnam's tourism is on the upswing, and it is a matter of time that this gem of Asia will be truly discovered and appreciated. 

See Vietnam Vacation Ideas on TripAdvisor.
---
Safest Countries in Asia to Visit
Some of the safest countries in Asia to visit are Singapore, Japan, and South Korea. Singapore is one of the safest countries in Asia and has a low crime rate. It also has strict gun laws and is one of the most developed nations in the world.
There are many countries in Asia that are safe to visit. Safety and security is something to stay proactive about wherever you are in the world, but many travellers return from some destinations amazed by the step-up in safety they experience in comparison to their own Western countries. Here are a couple of stand-out safe countries in Asia. 
Singapore 
Located at the southern tip of the Malay Peninsula, Singapore is one of the few remaining city-states (Vatican being another one). It's the smallest nation of the Southeast Asia. The country is made up of more than 60 island archipelago spreading over an area of not more than 300 square miles.
This tiny but wealthy Asian Tiger is a virtual beehive of cultures, languages, and traditions. The diverse population, whose majority are Chinese, with Malay, Indian, and European minorities coexist in harmony. 
See travel opportunities on TripAdvisor.
For foodies: the varied cuisines coexist equally well, with some blending of influences being seen as a major reason for local dining being considered as the "best in the world" by locals. Dining is also the country's national pastime.
Being a financial center of world importance and having one of the region's busiest ports, Singapore's economy depends heavily on trade. Modern multiculturalism is being touted as a crucial factor behind Singapore's political stability and the steady growth of its economy ever since the times of being a trading post for the East India Company in the early 19th century.

---
Japan 
Japanese hot springs are not always for monkey. People love them too!
Visitors to Japan can also enjoy the great luxury ski resorts, beach resorts or mountain resorts.
Japan is also home to some amazing ancient cities like Kyoto. a visit here as the cherry blossoms emerge is special.
Top 25 Japan Resort Deals with Reviews on TripAdvisor

---
Looking for the cheapest flights to Asia? An increasing number of flights are available to the Far East. Airlines from the destination countries are among the best and most service oriented in the world. Singapore Airlines, for example, is the most awarded airline in the world. Its cabin comfort, food, in-flight service, customer service, and seat comfort make the long trip to the Far East almost enjoyable. Travelers arrive at their destination quickly and ready to explore in less than a day.
However, flying to Far East Asia is not the best option if you want to explore multiple destinations; for visiting multiple Oriental treasures, cruise travel is far better option as it combines comfort and luxury with convenience and provides a relaxed experience with a unique perspective of the environment. There are many other cities throughout Asia to explore. See how things have changed in this part of the world.

---
💼 We cherish our independence! ✈️ Our travel recommendations are carefully researched, bias-free, and powered by human expertise by April and Ricky of LRB (we have personally researched and travelled to many of these destinations and researched others thoroughly through first-hand accounts). 🌍✨
We try to keep everything up to date, but please always do your own research and contact us if you know any issues for us to help others as best we can as a small but professionally focused team! 🧐📚⚠️