How to Find Discount Travel Flights
In the fast paced digital world the fastest means to finding discount travel flights has evolved significantly in the last few years.  
Back in the day (the olden days) it was the case that you hung around outside the airline like a bad smell to see if there were any standby flights on offer. This practice was long  gone after the advancements in online booking sites which started to use last minute flight deals as a marketing tool, rather than a way to offer value.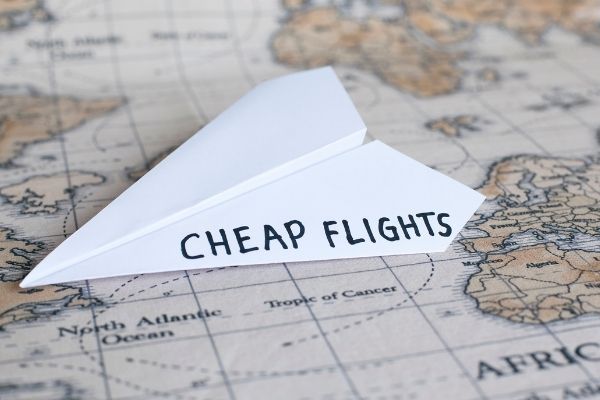 cheap flights deals
Who Owns the Discount Travel Booking Sites?
Not that it significantly affects flight prices, but it is good to have a general idea of who owns what discount flight booking website. At the time of writing Expedia owned Travelocity, Orbitz, CheapTickets, Hotwire and eBookers while Priceline  owned Kayak, Booking.com, Cheapflights, Agoda and Momondo. Outside the system was  CheapoAir which is a large independent flight booking agent. 
Last Minute Flight Bookings Cost Money
Next came the era of trying to find the perfect window to book in. There were different schools of thought about what was the perfect amount of time to book a flight to get the perfect value, and while some of these principles apply the speed at which you can get a good overview what you can expect to pay means the windows are less relevant. 
While last minute bookings continue to get promoted as a good value option this is far from what the findings suggest. Leaving flight bookings until the last minute can end up costing you an arm and a leg. Or more specifically from about $75 to $200.
Booking early can also cost you, especially if you try to book more than 113 days out from departure.
The prime amount of time to book out from a flight is ideally from about 21 days to 112 days out.
Other Standardised Rules for Finding Discount Travel Flights
As the new search tools make it pretty easy to see when the best times to fly are, and it is worth exploring, even though they are not as important as they once were.
What is the Best Day of the Week to Fly
What is the best day of the week to fly is something anyone looking for flight discounts has asked themselves at some stage. 
A consensus has emerged that Tuesdays are the cheapest day to fly while Friday and Sunday have more people in the air and higher prices.  While this is often the case, other surveys have found weekends and Wednesdays can also offer the best value. Then you really do need to take into consideration your destination and get the hard numbers. Watching the videos I have included on this page is the best place to start.
Of course, prices will also vary on other factors such as the time you choose to fly, the airline, and if you flight departs in the middle of the night or night. Only you will know what luxuries you are willing to sacrifice in order to get the best price.
If food and baggage allowances are not included, as is the case from many flights in Europe then you really need to take these factors in to consideration as well and not making getting the best deal overrule some of your other objectives. 
If it is going to take you days longer to get over your jet lag because you have only targeted cheaper prices, this can have significant impacts on the overall quality of your vacation.
Even the time of the flight matters a lot. No one wishes to book a flight for 3 am. But you will be amazed at the cost differences. So if you can jeopardise your sleep for a few hours and save a few bucks instead, it won't be a bad idea after all!
Which Search Tool will Give the Best Results?
Our research has shown that not all search engines are alike, and some will consistently give better results than others.  A few years back Google purchased a software flight search engine, which has rocketed it to near the top of the charts as far as finding cheap flights is concerned.  
I'm happy to share this news with you because we are all about providing the best information for our readers, but not all the travel websites reviews you read online will because Google does not have an affiliate (income earning) program to reward travel writers like ourselves with income for recommending them (that I know of). And Also as I mentioned earlier the engine does not always come up with the best price, because it only searches a number of other search engines. This makes it what is called an aggregator site.
The thing that is outstanding about the Google search is the speed at which you can quickly accumulate masses of information at an instant to see where the great deals are.  In an instant you can scan entire periods of time and multiple destinations to come up with great deals and abnormalities in pricing which you can then take advantage of if your situation allows.
---
Google Flights
This video teaches you how to find the cheapest flights by using Google flights (2021). We recommend using this process with some other search engines and aggregator booking sites we list below to save money on both domestic and international flights. 

CheapOair
CheapOair is the place I will end up booking my flights if I am simply looking for a great deal. I know when I buy tickets here they  are 100% non-refundable, although they can overwrite your own rules.  If you are really looking for a great fare and everything looks pretty well locked in place, and you can take the hit if something goes wrong, then they are an option. Have a look at what others are saying on the link below first however and keep in mind what might happen when airlines cancel flights. 
Consumer affairs  sum it up like this:
'CheapOair is great for cheap airline tickets and last-minute deals. If you don't mind that fares are nonrefundable, you'll enjoy the wallet-friendly travel deals on its website'.

Kayak Discount Travel Flights
Kayak, like many other booking sites offer flexible booking dates as a way to save money. 
Using Kayak in conjunction with Google Flights is a great way to save money. See the video below: 
SkyScanner - Aggregator
In this review, Road Jess Travelled answer the question, should use Skyscanner? Skyscanner, a popular online travel agent for finding  affordable airfares but what are, the pros and cons of using it.
One of the aggregator tools that is really worthwhile trying is SkySkanner. In tests, SkySkanner consistently did better that the other tools on price, and it also has massively impressive search features like searching an entire month at once.
Skyscanner included a lot of the smaller airlines other engines were not showing and got a great deal, and often the best deal on a consistently regular basis.
Skyscanner also allows you to search from multiple destination to find the best fare, or even simply choose to search for deals anywhere from a particular destination. You can easily see the fare prices available for a whole month and find where the peaks and troughs in price are.
Try it out for yourself : Compare prices on flights with Skyscanner
---
Best Booking  Time Windows According to Research
Cheap Air is known for their shopping engine that uses a patented algorithm that scours the web for the lowest prices but they have also done some work on finding which time zones are the best for booking. How far out from the event is the best time to book?
Finding flight deals in advance remains however more of an art than a science. The best time to book will remain a  nuanced question because there is not any real way of knowing because often upcoming specials are not announced in advance by airlines and sometimes they respond to market conditions and what their competitors are doing.
But if we go by what has happened in the past these are some of the results we can expect to find.
The Best Priced Fares
Momondo is  quickly is gathering the reputation of finding the cheapest flights, and this has been backed up in trials. 
The issue we have with this platform is that it does not have the search features that both Skyscanner and the Google Flights tool have. Then even though you may find the best flight for a particular flight on a particular day, you can easily lose sight of bigger issues. 
But if you know when and where you are going it is definitely one you want to try.
---



Up to 40% off worldwide

Last-minute all-inclusive deals

Free Atlantis Activities


Save 50% on Vacation Packages

60% off Hotels

75% off Cruise Deals

Car rentals From $4.95

Caribbean & Mexico Beach Getaways 50% off

Riviera Maya Vacations from $499

Jamaica Vacations - Up to 60% Off

"when to buy flights tool" to see when fare's will be the lowest.

Lots of Roundtrip Flights under $199

Save Up To 25% Off Contiki Trips 

Last-Minute Hotel Deals

Top Travel Package Deals - Save up to $500.

Daily Deals! Score up to 40% Off Hotels and Flight + Hotel Packages

Save Up to 50% on Hotels and Get Special Insider #TravelHacks on Expedia!

 Kids stay and eat free at Holiday Inn hotels.

Save up to 40% Off Domestic (U.S.) Hotel Destinations.

Orlando Hotels starting at $39 per night

Find the Best Deals on Flights with KAYAK

Up to 25% Off Adventure Travel Deals

Roundtrip Flights to Hawaii from $317

Save 50% on the Hotel Deal of the Day!


Quarantine Free Travel Destinations


New York for as low as $90

Save up to 40% Off Hotel Bookings

IHG InterContinental Hotels and Resorts

Book Early and Save up to 20%

Comparison price engine

40% off Savings at Palace Resorts


Save up to $500 with a Vacation Package at priceline.com

Last-Minute Deals Up to 60% off: Flights, Hotels, Cars, Packages!

Round-Trip Flights Under $150! Hotel Bids from $28 per night!

Priceline Last-Minute Cruises from $60/ night!

Spa Credit of up to $175

Free Catamaran Cruise when you book 5 nights

Save up to 65% plus 1 night Free and your Companion Flies Free

Receive An Instant Savings of $350 Towards Your Beaches Resorts Vacation!
Great Flight Deals
The other option is to look for great specials and discounts offered by the airlines.
For these you need to check out our travel deals page.
Share Your All-Inclusive Adventures and Questions! 🌴 Have a memorable experience from a luxury all-inclusive vacation? We'd love to hear it at Luxury Resort Bliss. We're on the lookout for top-quality, insightful tales that'll inspire our community. Dive in and be a part of our sun-soaked stories! 🌊🍹✨
The story is a fictionalized account founded on travel expertise, research, and experience. Always refer to recent guest reviews and perform due diligence before booking.
💼 We cherish our independence! ✈️ Our travel recommendations are carefully researched, bias-free, and powered by human expertise by April and Ricky of LRB (we have personally researched and travelled to many of these destinations and researched others thoroughly through first-hand accounts). We also have put in the hard miles, and Ricky has worked for decades for resort and hotel chains  Hyatt, Hilton, Shangri-La and Radisson before starting Luxury Resort Bliss in 2007. 🌍✨ Unlike some other resort review websites we are concerned on the guest experience rather than mere corporate interest.