Best Australia All Inclusive Resorts (2022)
Australia all inclusive resorts are not common but you can find some great ones especially at the luxury end of the market. We do our best to discover the kind of experience you are looking for in this review.
Australia does not really do all-inclusive in the same style as the Caribbean or Mexico. However, a lot of the expensive islands in Australia ARE all-inclusive and extremely luxurious and often include meal packages and activities. There are also hosts of other great resorts scattered along the coastline, the Great Barrier Reef and the Red Center.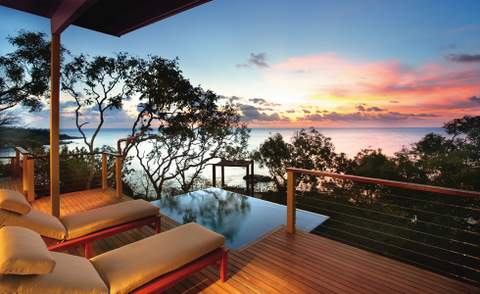 Lizard Island - Top Australian All Inclusive Resort
See Australian Great Barrier Reef Luxury Island Resorts
Lizard Island Resort - Reef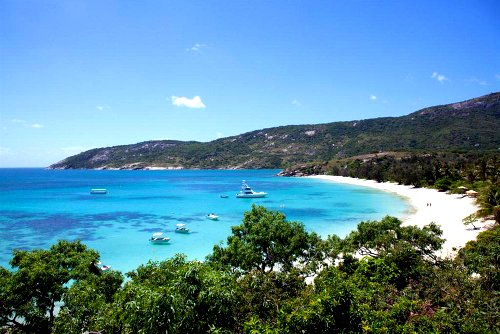 Lizard Island Resort
Often a worlds top 10 resort and likely Australia's best resort, Lizard Island All Inclusive resort is beautifully remote and private with great diving and snorkeling. 

It's Australia's northernmost all inclusive resort and right on the Great Barrier Reef. The great diving includes the famous Cod Hole. Snorkelers can see coral gardens, tropical fish and giant clams. They are moments away from the secluded beaches.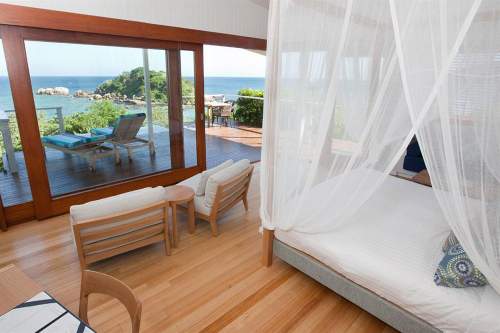 You'll stay in one of 40 villas. They are elegant and spacious and have either ocean or beach views. Note that children 12 years and under are not catered for.

Dining is at Osprey's Restaurant. The menu changes everyday and showcases fresh seafood and local produce. 

Activities include game fishing, gourmet picnics, bushwalking, sailing, glass bottom boat trip and the luxurious Azure Sp
Reviewers almost always give this resort a perfect rating. They say it's "a must" for snorkelers and divers. Some can't say enough good things about it (unusual for any resort!).
More on information, special all inclusive offers and reviews for Lizard Island.
---
Sydney All Inclusive Resort
Spicers Sangoma Retreat in the Blur Mountains near Sydney offers an eco sustainable travel option from a brand renowned for it's green credentials. 
Sydney All Inclusive Resorts
The resort is all-inclusive and all gourmet meals buse local Harvest Farms and organic produce, sourced from community supported agriculture (CSA) and feature vegetables as heroes. The idea is to keep it all as organic and sustainable given the circumstances. 
More information on this all inclusive eco-friendly Sydney Retreat (Spicers Sangoma) 
Top Australian Travel Destinations

Here are a few deals at some of Australia's to travel destinations.

Uluru  Longitude 131
Experience the heart of the outback at Longitude 131° and enjoy views of World Heritage listed Uluru-Kata Tjuta National Park.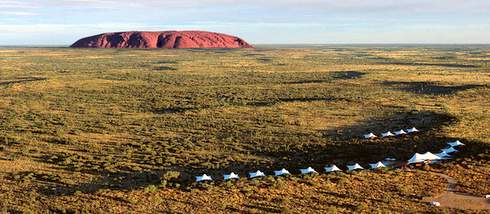 Uluru Australia All Inclusive Resort
Rates include the wonderful views from the luxurious desert style accommodation, all dining, and an open bar with premium wines and spirits and a whole host of other mod-cons, transfers, experiences and amenities. However you will pay extra when you open the "cellarmasters list". 
More on Longitude 131
https://longitude131.com.au/rates/

---
Capella Lodge - Lord Howe Island

Capella Lodge - Lord Howe Island
This amazing resort on an amazing island was recently included on TripAdvisor best all inclusive resorts in the world list at number 10.

Although a little further out from the coast than the regular Great Barrier Reef islands, this resort somehow manages to stay in Australian territory. Truly a a unique place and a dream holiday for Australians. Few will ever have the chance to experience this place.

See special offers and reviews for Capella Lodge All Inclusive
Video: Lord Howe Island & Capella All Inclusive Lodge on Getaway

---
Byron Bay All Inclusive Experience
In a lot of the top vacation places in Australia like Byron Bay you are not likely to find an all inclusive resort, but there are exceptional resorts around which have packages. A good example in Byron Bay is the The Byron at Byron Resort. 

As an example of one of the packages that are available check out the The Mind, Body and Soul package for those seeking  wellbeing and rejuvenation. At the time of writing this included  four nights accommodation full buffet breakfast daily, greetings mocktail or cocktails, 90 minute Massage, rainforest meditation or yoga, Spa Vouchers, Green Smoothies,  dinners, lunches, bicycles, and Wifi (complimentary for all guests). You could even ride a bicycle into laid back Byron Bay.

Follow the links from any resort in this website and you can search the different inclusive package options available at that time.
---
Heron Island All Inclusive Packages
Join a guided reef walk to learn more about the unique ecology of the Great Barrier Reef, or snorkel off the beach.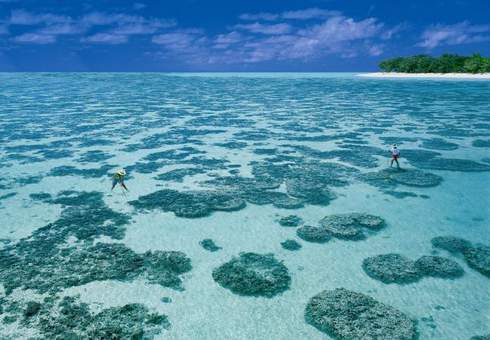 Heron Island has All Inclusive Packages
Heron has inclusive packages available which include accommodation, all meals, turtle talks, a snorkel trip, 24 hours free Wi-Fi and and the children stay for free. 
More on Heron Island with links to the All Inclusive packages.

---
Bedarra Island - Rainforest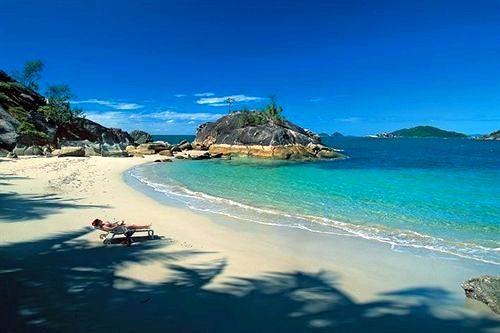 East Bedarra Island Retreat
More on Bedarra island

This resort emphasizes that you can do what you wish, when you wish. It's a small resort will have a maximum of 32 guests.
Accommodations are in 16 secluded villas, each hidden in the rainforest and only minutes from the beach. Each has a separate living area, spacious bathroom and kind size bed.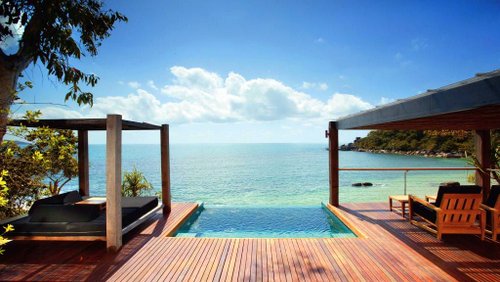 The menus change daily and have an emphasis on fresh seafood and exotic tropical produce. You can have a gourmet picnic on the beach.

There are many activities such as catamaran sailing, paddle-skiing, fishing, snorkeling and diving day trips to the Great Barrier Reef, as well as motorized dinghies for exploring the island's picturesque, private beaches.
Reviewers give this resort exceptionally great reviews almost every time. Most think it's great for relaxation, the beach and sunbathing. Overall it is out of this world compared to most other resorts.
---
If you have not already familiarized yourself with Australia and it's vacation regions you may like to check out Australia Vacation Packages,  Australia's best vacation spots or find out about Australia's Best beaches next.  Some more popular resort locations in Australia are the Gold Coast , the Sunshine Coast, Port Douglas, Whitsunday Islands, and Uluru. 
Australia is well known for it's beaches and there are plenty of resorts and all inclusive resorts to help you enjoy them. Here are a few to get you started. You are more than likely to find all inclusive vacations on an island in Australia. Here are some of the best Australian beaches.

More Queensland Island Resorts
See more great Queensland Island Resorts on the Great Barrier Reef.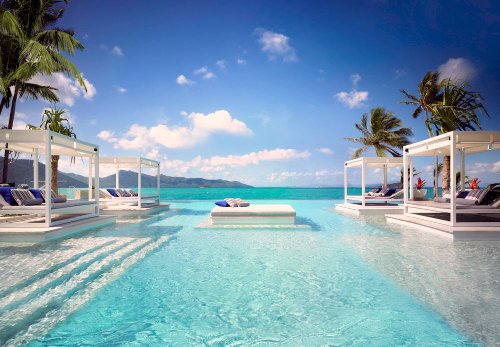 ---