Australia All Inclusive Resorts
Best Australia All Inclusive Resorts
In Australia all-inclusive resorts are not common, but you can find some great ones especially at the luxury end of the market. We do our best to discover the kind of experience you are looking for in this review.
Australia does not really do all-inclusive in the same style as the Caribbean or Mexico.
However, a lot of the expensive islands in Australia ARE all-inclusive and extremely luxurious and often include meal packages and activities. There are also hosts of other great resorts scattered along the coastline, the Great Barrier Reef and the Red Center.
Australia Vacations All inclusive on Expedia
Book a All inclusive Hotel + Flight or Car together to unlock savings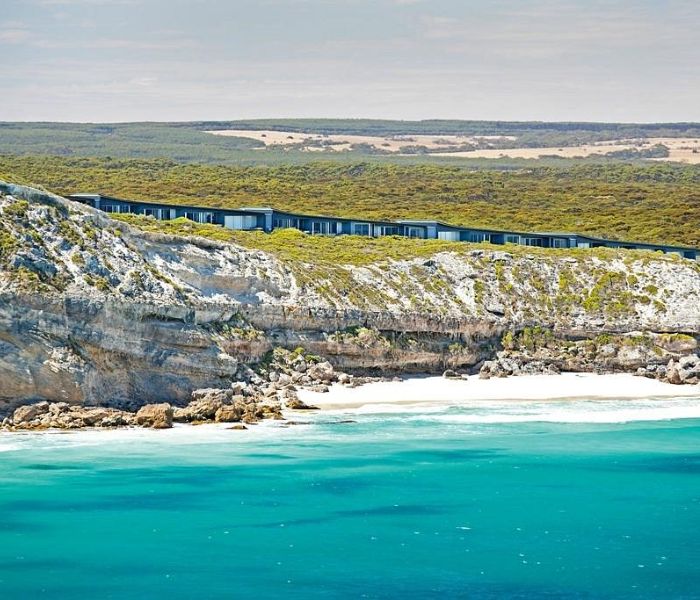 Southern Ocean Lodge
Located on Kangaroo Island in South Australia, Southern Ocean Lodge offers a truly remarkable and all-inclusive luxury retreat. Unfortunately, the lodge was devastated by bushfires, but now reopening, guests can expect a stunning coastal oasis with 25 luxurious guest suites boasting breathtaking ocean views. The main lodge will feature enhancements, including a private dining area, edgeless pool, and a new location for the Southern Spa. The lodge's commitment to exclusively using local produce will continue, supporting the regional economy. With its unrivaled natural beauty and world-class amenities, Southern Ocean Lodge will once again captivate travelers seeking an unforgettable escape.
The Whitsundays is a region in the Australian state of Queensland, on the coast of the Great Barrier Reef. The Whitsundays is also one of Australia's best all-inclusive resort regions with many natural wonders and activities to keep you busy.
Bedarra Island - Rainforest
Best Private Island All Inclusive Retreat
Bedarra Island Resort is truly something special. Nestled in a secluded location, surrounded by majestic granite boulders and pristine beaches, this all-inclusive sustainable resort is the epitome of barefoot luxury.
From the moment I arrived, I was struck by the natural beauty of the island. The staff greeted me warmly and showed me to my private villa, which had uninterrupted ocean views and was impeccably designed with a comfortable bed, modern amenities, and a private balcony.
The resort's Executive Chef prepares gourmet meals daily, and local produce and tropical fruits are featured in the ever-changing menu. The open terrace restaurant, bar, and lounge are the heart and soul of Bedarra, where guests can converge over a delicious meal or indulge at the legendary open bar. I particularly enjoyed the exquisite dining experience on the terrace, with deserted beaches and lush rainforests in the background.
While relaxation is at the forefront of the ethos at Bedarra, there are plenty of activities to keep guests entertained, including kayaking, stand up paddle boards, snorkeling, fishing, and tennis. I also took advantage of the self-guided interactive walks through the verdant rainforest, which were informative and breathtaking.
One of the things that sets Bedarra Island Resort apart from other luxury resorts is its commitment to sustainability. The resort has achieved GreenLeaders Platinum level, and I was impressed by the eco-friendly practices implemented throughout the property.
In terms of value, Bedarra Island Resort is certainly not cheap. However, for the unparalleled experience and attention to detail, it is worth every penny. The only drawback I experienced was the limited Wi-Fi access, but I found this to be a welcome break from technology and helped me fully immerse myself in the island's beauty.
Bedarra Island Resort is one of the unique resorts in Queensland. It's a much more intimate resort, offering only 11 villas & 16ha of rainforest, which guarantees an authentic barefoot experience.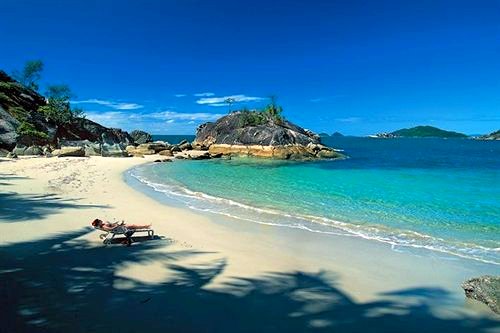 East Bedarra Island Retreat
Pros: This resort emphasizes that you can do what you wish, when you wish. It's a small resort will have a maximum of 32 guests.
Accommodations are in 16 secluded villas, each hidden in the rainforest and only minutes from the beach. Each has a separate living area, spacious bathroom and king size bed.
The menus change daily and have an emphasis on fresh seafood and exotic tropical produce. You can have a gourmet picnic on the beach.

There are many activities such as catamaran sailing, paddle-skiing, fishing, snorkeling and diving day trips to the Great Barrier Reef, as well as motorized dinghies for exploring the island's picturesque, private beaches.
Reviewers give this resort exceptionally great reviews almost every time. Most think it's great for relaxation, the beach and sunbathing. Overall it is out of this world compared to most other resorts.
---
Heron Island All Inclusive Resort
Best Eco Friendly All Inclusive Resort in Australia
Heron Island is true coral at the World Heritage Listed Great Barrier Reef of Australia. Swim from the beach over a garden of coral to explore the vast ocean. Heron Island features a wide range of activities, including guided island and reef walks, semi-submersible, bird watching and beach picnics, plus a Reef Ranger program.

Heron Island offers you an incredible all inclusive experience in nature whether you enjoy the outdoors or simply want a relaxing getaway. The island provides ample opportunities to see the native marine life and its amazing coral lagoon. It's also a really nice place for watching the sun set over the islands and experience nature at its best!
Join a guided reef walk to learn more about the unique ecology of the Great Barrier Reef, or snorkel off the beach.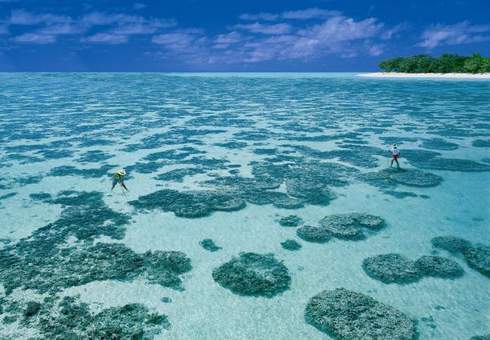 Heron Island has All Inclusive Packages
Heron has inclusive packages available which include accommodation, all meals, turtle talks, a snorkel trip, 24 hours free Wi-Fi and and the children stay for free. 
More on Heron Island with links to the All Inclusive packages.
Video Review: Join the lovely and lively Lucy on a virtual tour of the stunning Heron Island in Queensland, Australia. Witness the island's natural wonders, eco-tourism practices, and sustainable efforts. Lucy will take you on a tour of the resort, share her snorkeling and diving experiences, and show you the island's ancient Bostonia forest. So buckle up and get ready for an exciting adventure!
---
Australia Adult Only All Inclusive Resorts
There are a variety of all-inclusive options for adults in Australia. Some resorts offer adults-only amenities, while others offer adult-only pool areas or adult-only sections of the entire resort. There are even some resorts that combine all levels of luxury in one package, offering both adults-only and family accommodations.
Elysian Retreat: Best Adult Only All Inclusive on the Great Barrier Reef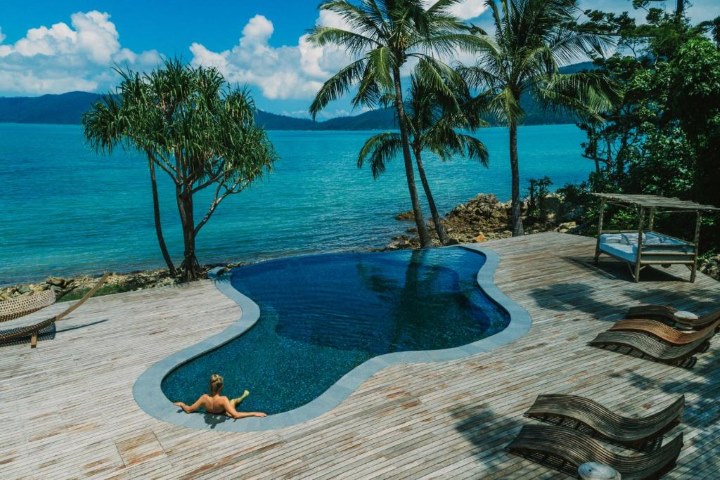 Elysian retreat is touted as the first all-inclusive island retreat on the Great Barrier Reef. Tucked away on tropical Long island on a rocky beach, surrounded by national park rainforest and the turquoise waters of the Great Barrier Reef this is a blissful escape from everyday life where our small personable team will take good care of your family.
Which also all all-inclusive organic meals canapés, non-alcoholic drinks and beach activities.
See Australian Great Barrier Reef Luxury Island Resorts
Award: Best Luxury All Inclusive Queensland Island Resort
Award for Best North Queensland All inclusive resort: Lizard Island Resort All Inclusive.
Lizard Island Resort, located on the Great Barrier Reef, is one of the top all-inclusive resorts in Queensland, Australia. With its secluded location within a national park and private beaches, guests can indulge in luxurious accommodations, fine dining experiences, and a range of exciting activities such as snorkeling, diving, and fishing. As the only luxury resort located directly on the Great Barrier Reef, Lizard Island offers a truly unique and unforgettable experience for travelers seeking the ultimate tropical getaway.
Often worlds top 10 resort and likely Australia's best resort, Lizard Island All Inclusive resort is beautifully remote and private with great diving and snorkeling.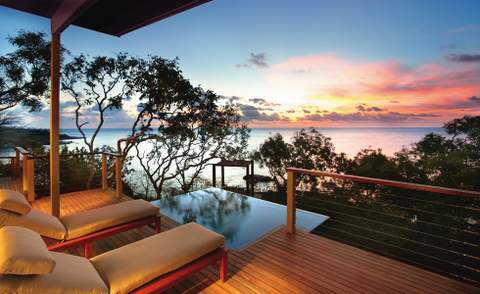 Lizard Island - Top Australian All Inclusive Resort
More on information, special all-inclusive offers and reviews for Lizard Island.

See also the best Cairns Resorts
---
Saffire Freycinet is a luxury resort nestled on the pristine coast of Tasmania, offering a truly indulgent experience with its all-inclusive packages. The Saffire Freycinet All-Inclusive package is designed to provide guests with a seamless and unforgettable stay. From the moment you arrive, you'll be greeted by unparalleled service and a stunning natural setting. The package includes luxury accommodation in beautifully appointed suites, featuring breathtaking views of the surrounding landscapes.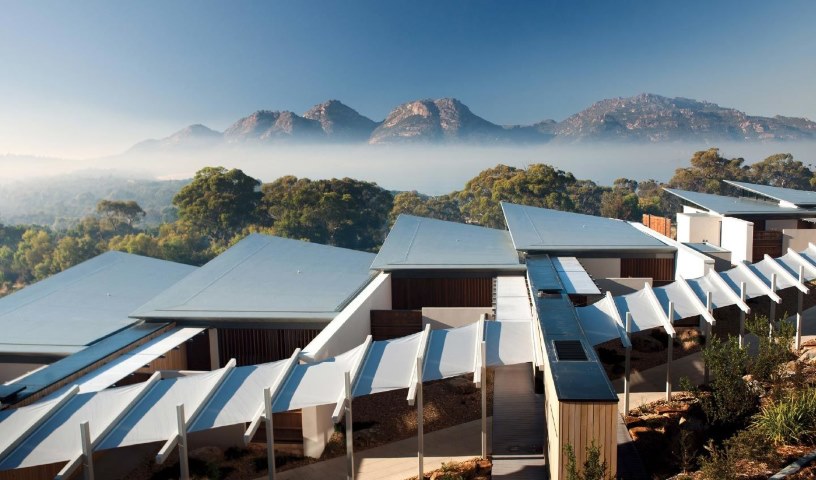 Throughout your stay, you'll have access to an array of world-class amenities, including a relaxing day spa, gourmet dining experiences, and a range of outdoor activities. Indulge in the finest Tasmanian cuisine, prepared with locally sourced ingredients, and paired with exquisite wines from the region. Explore the rugged beauty of Freycinet National Park, embark on guided nature walks, or enjoy water-based adventures such as kayaking or sailing. Every detail is taken care of, ensuring that you can unwind and immerse yourself in the tranquility of the surroundings. With its idyllic location, exceptional service, and an all-inclusive package designed to cater to your every need, Saffire Freycinet is the epitome of luxury and relaxation.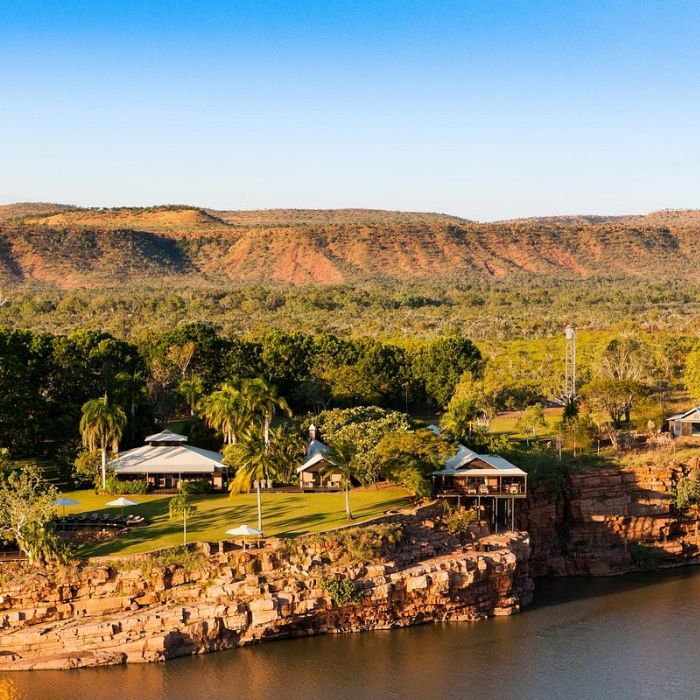 Set in the rugged beauty of the Kimberley region in Western Australia, El Questro Homestead offers a truly unforgettable all-inclusive retreat experience. From the moment you arrive, you'll be enveloped in a world of luxury, where every detail is taken care of. Indulge in gourmet meals crafted from the finest local ingredients, sip on premium wines and spirits, and enjoy a wide range of activities and experiences, all included in your stay.
See the all-inclusive resorts and retreats of Western Australia
Sydney All Inclusive Resort
Best Eco Friendly Sydney All Inclusive: The Spicers Sangoma Retreat
The Spicers Sangoma Retreat is a unique mountain village in a spectacular natural setting. It offers the perfect getaway for those who are seeking peace and tranquility, as well as an opportunity to learn more about Aboriginal culture.
Spicers Sangoma Retreat in the Blur Mountains near Sydney offers an eco sustainable travel option from a brand renowned for it's green credentials. 
Sydney All Inclusive Resorts
The resort is all-inclusive and all gourmet meals use local Harvest Farms and organic produce, sourced from community supported agriculture (CSA) and feature vegetables as heroes. The idea is to keep it all as organic and sustainable given the circumstances. 
More information on this all-inclusive eco-friendly Sydney Retreat (Spicers Sangoma) 
See more all-Inclusive Wellness retreats in Australia
Brisbane All Inclusive Resort
Top Brisbane all Inclusive Resort Award: Spicers Peak Lodge
Brisbane does not have any all-inclusive resorts then we went with a luxury all-inclusive lodge by the Rainforest as short drive out of the city.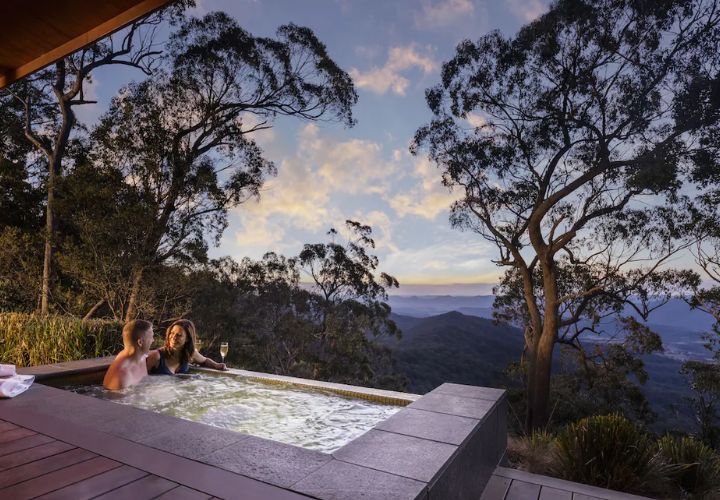 Top Brisbane All Inclusive Resort: Spicers
Spicers Peak Lodge is a retreat in Maryvale, QLD a sort drive from Brisbane but at altitude in the Scenic Rim 
The Scenic Rim is not only famous for its beautiful views, but it is also home to the world heritage listed Main Range National Park. The Spicers Peak Lodge is located among the untouched rainforest within this range.
Spicers Peak Lodge is the ultimate place to relax, reconnect with nature, and unwind completely. This all-inclusive package includes luxury accommodation and a light lunch as well as daily activities that can be enjoyed.
Video: Spicers Peak Lodge
See more all-Inclusive Wellness retreats in Australia
Spicers Peak Lodge all-inclusive package includes accommodation Light lunch for two, Dinner for two at The Peak Restaurant, and breakfast. 

Also on the all-inclusive package you can take some time to enjoy outdoor activities such as tennis, mountain biking & hiking, on your stay. Special-daily mini bar, complimentary WiFi access and star-gazing are rewards that come with this package on top of the guided nature walks and lookout walks included.
Top Australian Travel Destinations

Australia is one of the most popular tourist destinations in the world. The country offers a wide range of landscapes and activities for travelers to enjoy.
The best Australian resorts are perfect for those who are looking for a holiday that offers everything from adventure to relaxation. With all-inclusive resorts, you can expect to have access to the best of what Australia has to offer.
Here are a few deals at some of Australia's to travel destinations.

Australian Resort and Hotel Deals Hotels.com
Top 25 Resort Deals in Australia TripAdvisor
Uluru Longitude 131
Award: Best Outback ALL Inclusive Resort in Australia
When you're in the heart of Australia's Outback, you'll find yourself surrounded by natural beauty and wonder. The vastness of the landscape is something you won't want to miss out on. This is a side of Australia many travelers will never get to see.
Experience the heart of the outback at Longitude 131° and enjoy views of World Heritage listed Uluru-Kata Tjuta National Park.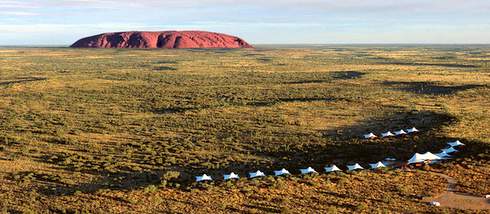 Uluru Australia All Inclusive Resort
Rates include the wonderful views from the luxurious desert style accommodation, all dining, and an open bar with premium wines and spirits and a whole host of other mod-cons, transfers, experiences, and amenities. However, you will pay extra when you open the "cellar masters list". 
More on Longitude 131
https://longitude131.com.au/rates/

---
Capella Lodge - Lord Howe Island
Lord Howe Island is a remote island in the Tasman Sea, located about 300 miles from Sydney, Australia. It is also home to Capella All Inclusive Lodge on Getaway.
The lodge offers guests a variety of activities such as snorkeling, scuba diving and fishing trips, golfing and more. The hotel offers guests an all-inclusive plan that includes food and drinks with no limit on the number of days guests can stay.

Capella Lodge - Lord Howe Island
This amazing resort on an amazing island was recently included on TripAdvisor best all-inclusive resorts in the world list at number 10.

Although a little further out from the coast than the regular Great Barrier Reef islands, this resort somehow manages to stay in Australian territory. Truly a unique place and a dream holiday for Australians. Few will ever have the chance to experience this place.

See special offers and reviews for Capella Lodge All Inclusive
Video: Lord Howe Island & Capella All Inclusive Lodge on Getaway

---
Byron Bay All Inclusive Experience
Award: Best Byron Bay All Inclusive Package
In a lot of the top vacation places in Australia like Byron Bay you are not likely to find an all-inclusive resort, but there are exceptional resorts around which have packages. A good example in Byron Bay is the Byron at Byron Resort. 

As an example of one of the packages that are available check out the The Mind, Body and Soul package for those seeking  wellbeing and rejuvenation. At the time of writing this included  four nights accommodation full buffet breakfast daily, greetings mocktail or cocktails, 90 minute Massage, rainforest meditation or yoga, Spa Vouchers, Green Smoothies,  dinners, lunches, bicycles, and Wifi (complimentary for all guests). You could even ride a bicycle into laid back Byron Bay.

Follow the links from any resort in this website and you can search the different inclusive package options available at that time.
---
If you have not already familiarized yourself with Australia, and it's vacation regions you may like to check out Australia Vacation Packages,  Australia's best vacation spots or find out about Australia's Best beaches next.  Some more popular resort locations in Australia are the Gold Coast, the Sunshine Coast, Port Douglas, Whitsunday Islands, and Uluru. 
Australia is well known for its beaches and there are plenty of resorts and all-inclusive resorts to help you enjoy them. Here are a few to get you started. You are more than likely to find all-inclusive vacations on an island in Australia. Here are some of the best Australian beaches.

More Queensland Island Resorts
Didn't Find the All Inclusive you were looking for. See more great Queensland Island Resorts on the Great Barrier Reef which will fulfill many of the objectives.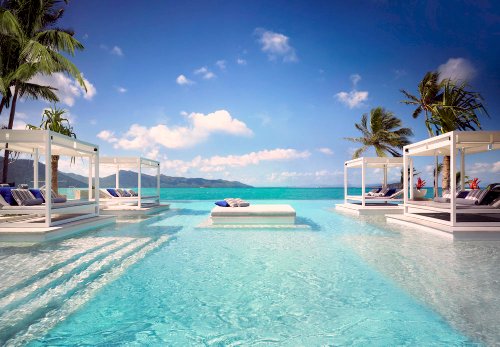 ---
💼 We cherish our independence! ✈️ Our travel recommendations are carefully researched, bias-free, and powered by human expertise by April and Ricky of LRB (we have personally researched and travelled to many of these destinations and researched others thoroughly through first-hand accounts). 🌍✨
We try to keep everything up to date, but please always do your own research and contact us if you know any issues for us to help others as best we can as a small but professionally focused team! 🧐📚⚠️