Top Orlando All Inclusive Resorts (2022) to visit before you die
Looking for Orlando all inclusive resorts vacations? We have got you covered with some of the best destination resorts and all inclusive packages.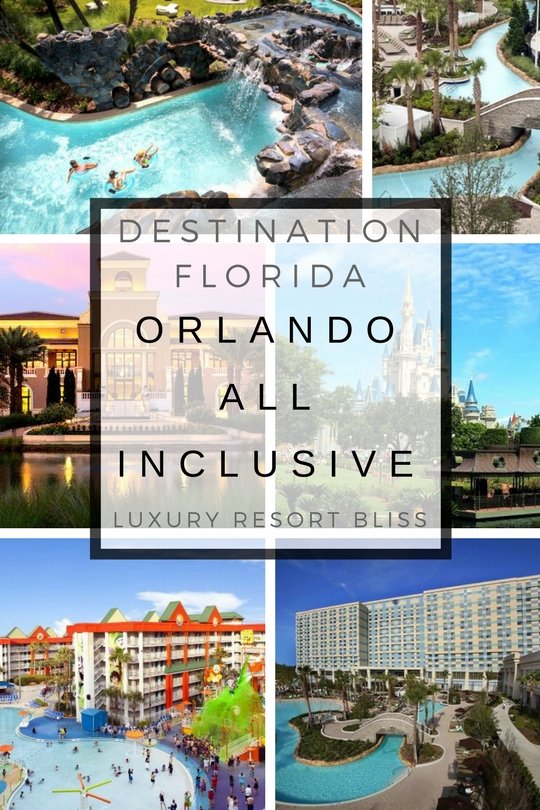 Our page which focuses on packages with inclusions like flights, beach activities and water sports, meals and beverages. Our Florida All Inclusive Discounts' page also has Orlando packages. You may also like to see the best all-inclusive resorts in Florida if you haven't already.

orlando All Inclusive Deals
How much will you save with this deal from Priceline: Orlando Hotels up to 60% off! 
Click Here for the Best Orlando Hotel Deals! from Hotels.com

Orlando Inclusive Packages
Now, of course, what your travel destination has to offer will depend on where you're going. Some places have more things to do than others; a beach vacation, for example, will be much more calm and relaxing than a vacation where you're all headed to the amusement park. But if you want the best of both worlds, then Orlando, Florida is the place to be. Featuring everything from outlet shopping and exciting restaurant experiences to a bustling night-life and amazing architecture, the city is perhaps best known for its amusement parks, in particular Disney World and Universal Orlando.

If you are considering going to Orlando for your next family trip, then you should consider these all-inclusive Orlando vacations.
These are quite simply some of the best family-vacation experiences that the city has to offer
On this page, we will look at some:

All-inclusive style resorts in Orlando.
Packages that include things like park entrances, buffet breakfasts and other inclusions.
Provide links to More of the best Orlando family, luxury and vacation resorts.
---
Best Orlando All Inclusive Resorts:
In Florida, it's hard to find a truly all inclusive resort. There are some but it's not like the Caribbean where you'll find truly spectacular and all encompassing all inclusive resorts.
These Orlando all inclusive resorts below each have something different to offer. You just need to find the one that has the all inclusive options most important to you - whether it be food or theme park tickets.
Reunion Resort And Club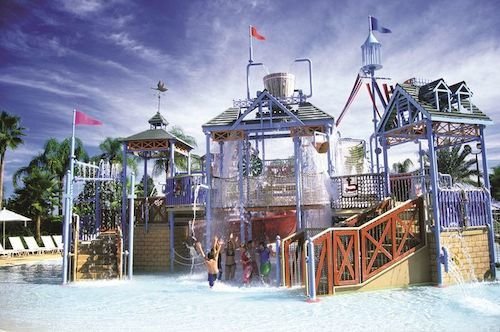 Reunion Resort And Club
One of the great inclusive packages at this terrific family orientated resort combines savings on the huge resort rooms and a resort credit to make the best use of all the activities around the magnificent. At the time of writing the package includes 20% off and $100 Resort Credit a night.
By using the cards, the resort is kept cash free, and tip free. Reunion Resort and Club is a huge destination resort situated in West Orlando close to Walt Disney World. 
- Minutes from Orlando
- 2300 acres
- Golf courses
- Water Parks
- Great Food
More on Reunion Resort, Orlando, Florida - Reviews and Offers
---
Hilton Orlando Bonnet Creek Resort
Hilton Orlando Bonnet Creek Resort
Hilton Orlando Bonnet Creek Resort while offering lot's of activities around the property, is not a full all inclusive Orlando resort. But, it does offer a family package which includes a big breakfast "for two" (note there are also inclusions for children when adults dine), and premium internet, great views and and King or Double Queen beds. Complimentary scheduled shuttle transportation is available to Disney Theme Parks!
---
Drury Inn & Suites Orlando

If you are simply looking to contain costs while enjoying things like hot breakfasts and free wi-fi, properties like the Drury Inn & Suites Orlando enjoy great reviews and offer these type of offers often.
The Drury hotel chain is completely family-owned, which means that the resort can offer you the perfect blend of elegant luxury and feeling like you're right at home. The highly trained staff are accommodating and knowledgeable; the rooms are roomy and spacious, even for families with many children; the food tastes great; and, if you're in the mood for eating off-site, the location is conveniently located near many high-quality restaurants. If you want to eat onsite, hotel passes include not only breakfast, but soda, hot food, cold drinks, and popcorn as well. Included on the grounds are a business center and facilities for working out, so that you can keep up to date with your work e-mails and exercise regimen. All of this is wrapped up in a package of quintessential Florida-style architecture (complete with dusky red and beige bricks), with big beautiful pools and cozy interiors.


---
---
Find Family Vacation Resorts in Orlando which have practically everything.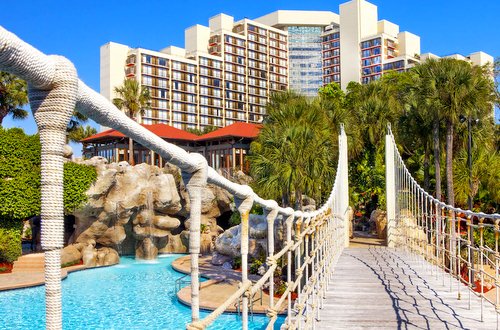 Hilton Grand Vacations at SeaWorld

The Hilton hotel brand is known all around the world for its refined combination of elegance, class, and luxury—and the Hilton near SeaWorld is no exception. Brimming with amenities—from a game room and several swimming pools to a tennis court and fitness center—the hotel also offers dedicated children's activities for the young ones in your family. This Bermuda-type resort is spread out over 33 acres, in a very convenient location in the city; it's close to not only SeaWorld and Universal, but also Disney World and Wet 'n Wild. Rooms include studios and suites, and feature kitchenettes to make meals for long family trips, as well as on-site restaurants.


---
Orlando Inclusive Packages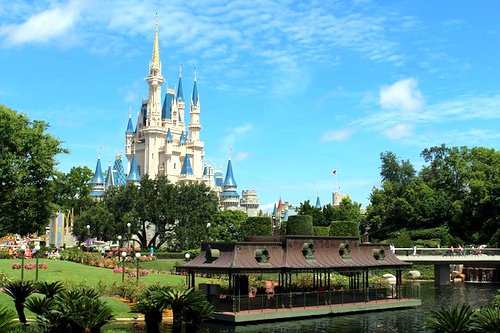 Disney Orlando All Inclusive Resorts
Springhill Suites Orlando At Seaworld
Orlando, FL (International Drive - Sea World) from $89
Resort Credit: Rate includes $25 hotel credit per stay
Free Breakfast Free Internet in Room Free Parking


Residence Inn Orlando Sea World
Orlando, FL (International Drive - Sea World)
from $84
Resort Credit: $75 Hotel Credit with 5-night Minimum Stay.
 Free Breakfast Free Internet in Room Free Parking


Fairfield Inn & Suites Orlando Lake Buena Vista Marriott Village
Orlando, FL (Lake Buena Vista - Kissimmee Area)
from $79
Resort Credit: Stay 2 nights or more and receive $25 Hotel Credit.
See travel dates
Free Breakfast Free Internet in Room Free Parking


Springhill Suites Orlando Lake Buena Vista/Marriott Village
Orlando, FL (Lake Buena Vista - Kissimmee Area)
hotel detailsfrom $88
Resort Credit: Stay 2 nights or more and receive $25 Hotel Credit.
See travel dates
Free Breakfast Free Internet in Room Free Parking

Get the above deals or similar here Save up to $500 on Florida Vacation Packages from $254 pp!

---
Hyatt Regency Grand Cypress

This resort offers all kinds of amenities to its guests. There are sports—golf, tennis, and swimming—as well as sailing, spas, and beautiful scenic grounds that are very well-maintained. Indeed, the premises include waterfalls, rock features, palm trees, and bodies of water, all of which work together to create the perfect tropical-type landscape. It's located near Disney World—saving your family the time of getting yourselves there from far away—and includes spacious rooms (with equally spacious TVs) to relax in at night, after tiring days spent exploring Disney. Last, the fine dining, prepared from world-renowned chefs, covers such disparate categories as sushi and American southwestern eats, in addition to the ever-popular breakfast buffet.

Villas of Grand Cypress Orlando All Inclusive Packages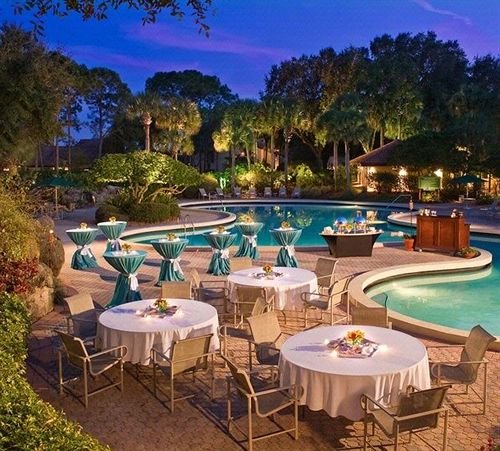 Villas of Grand Cypress Orlando All Inclusive Packages
Villas of Grand Cypress offer a package that is designed to build family harmony and includes activities on property and includes $75 in-room dining credit, bicycles, fishing equipment use, some snacks on arrival, recreation boat rentals and hit outs on the driving range.
See more information and offer on Grand Cypress Orlando
---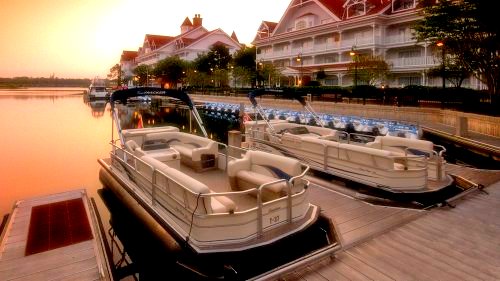 Disney's Grand Floridian
---
Floridays Resort Orlando
If you're looking for some of the best all inclusive Orlando vacations, then you won't be disappointed with Floridays. Named the #1 American family hotel by TripAdvisor, this condo-style hotel has been recently renovated. Based near the stunning Lake Buena Vista, it's only a short distance away from all the shopping and dining experiences you can dream of, as well as the world-famous tourist attractions. Included are roomy suites with balconies and whirlpool bathtubs (ideal for big groups), an on-site bar and cafe, and access to shuttle buses that transport guests to Disney World. It's also located close to various grocery stores, so making food (rather than shelling out money every night) quickly becomes a breeze.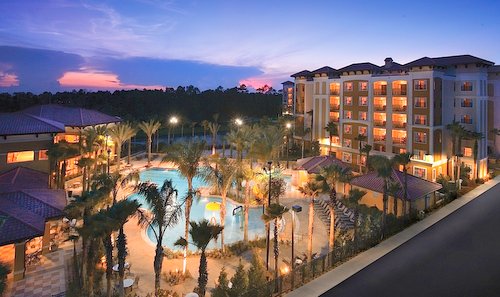 Floridays Resort Orlando
This resort is a peoples favorite and is wowing families since it opened in 2006.  This air-conditioned club resort is a bigger than usual with some 432 suites and a good example of why our Orlando Resorts continue to impress.
More information on Floridays Resort Orlando
---
See our review of the top Luxury Resorts in Orlando.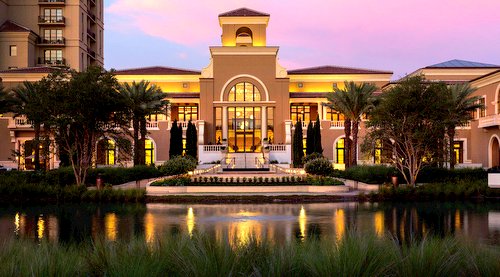 Four Seasons Resort Orlando At Walt Disney World
No family vacation to Orlando would be complete without a trip to the Walt Disney World Resort, which is the jewel in the crown of any Orlando-based vacation. Indeed, this theme park—probably the most famous theme park in the world—is no like other, with countless rides, restaurant options, and character meet-and-greets from all over the fifty-some Disney animated movies. Separated into multiple sections—Magic Kingdom, EPCOT, Hollywood Studios, and the Animal Kingdom—the park also includes almost thirty on-site hotel properties. Each site of the park offers everything from rides and adventures to exciting shows. The highly experienced staff who will do everything in their power to ensure that they have the greatest vacation ever. The parks even have a secret game of their own: the phenomenon of Hidden Mickeys, in which guests are indirectly encouraged to seek out all the Mickey Mouse head designs hidden all over the four parks. 

---
Orlando All Inclusive Family Resorts
While there are not any outright all-inclusive family resorts in Orlando here are some which have some great features and add ins.  
NICKELODEON SUITES RESORT

Family friendly in Orlando's Downtown Lake Buena Vista area.
Here is hotel that gets a mixed bag of reviews but seems especially favored with families with younger kids. To get a Sponge Bob, Poolside or Dora room will cost about an extra $20. Waterslides all day activities and the slime experience they loved.
Nickelodeon Suites Resort
Then while this is not one of the most favored resorts by adults it does earn a few votes from kids and earns an inclusion. Orlando's family friendly inclusive resort. Look to our Disney Resorts for slightly more upscale along these lines or check out our Orlando Family Vacation Resorts.
More information and Expedia deals on Nickelodeon Suites Resort

See our best Orlando Family Vacation Resorts

See Florida all inclusive vacation deals

---
Wyndham Grand Orlando Resort Bonnet Creek

Unlike other hotels in the area, this resort sits comfortably within a wooded region, located in the Bonnet Creek Resorts, and is surrounded by trees and beautiful landscapes. It's only a few miles from Universal—and, better yet, only a few minutes from Disney (specifically Epcot Drive)—which makes its location convenient for exploring both parks with your family. The resort has dedicated activities for children, in addition to a game room, fitness center, pool, and lazy river. Both family rooms and suites are available; they are tended to by a staff of dedicated, highly professional members. There are even fireworks at night, so that your whole family can enjoy a great light show.


Loews Royal Pacific Resort

Styled after the many seaside villages of Italy, this resort has the traditional architecture to back up its tropical delights and exciting cuisine. But more than that, this resort has one advantage over the other resorts and hotels in the area: it's located directly on-site at Universal, specifically near Universal Studios Florida, the Islands of Adventure, and the Universal CityWalk. This means that, if your family is a fan of the franchises that have rides at Universal—Harry Potter, E.T., Despicable Me, The Simpsons, and Jurassic Park—then there is no better place to stay. What makes this even better is that guests at the hotel get free express passes to the park (a value of 89$ per day), giving them the right to skip the long lines—as well as the ability to enter the park one hour before it opens.

---
Hard Rock Hotel at Universal Orlando

Since 1971, the Hard Rock name has been associated with having a classy, exciting experience for fans of rock (and rock memorabilia) all over North America, Europe, Asia, and Latin America. Located on-site at Universal, guests are presented with express passes for skipping lines—an excellent choice, seeing that the convenient location of the hotel will ensure that they can visit all the different sections of the park. Rooms feature rockstar-influenced paintings and décor, the pastel buildings codify classical Floridian architecture, and the large, palm-tree-laden pools feature roomy, elegant designs. Vintage-style furniture vies for attention alongside well-lit rooms and bright outdoor spaces. The hotel also provides access to a game room, evening entertainment, and activities for children.

Omni Orlando Resort at Championsgate

This large resort—you know it's big because it has 720 regular rooms, 49 luxury villas, and the 93-unit Sunset Lodge and Suites—is probably one of the most luxurious of its kind in the whole city. For families in particular, this hotel has exceptional recreation areas, which are spread out over a full 15 acres. These include a pool for children (including slides), a pool for families, a lazy river, a wave pool, and an all-adult pool. Nine restaurants are included on the hotel grounds, as are a signature spa, a 24/7 fitness center, and 23 private cabanas. Not to mention, it's very close to Disney World—that is to say, it's about 6 miles from the Magic Kingdom park—and even includes complimentary shuttle service to the parks. It's also fairly close to Universal and SeaWorld, as well as many other choices for dining, night life, and outlet shopping. Finally, the resort is notable for its extensive golf features: the championship course includes 36 holes, in addition to the 18-hole minigolf and an illuminated, 9-hole, par 3 course for night golfing.

All Inclusive By Universal Studios
UNIVERSAL'S CABANA BAY BEACH RESORT

This retro hotel can give you everything you need for a family vacation, from standard guest rooms and family suites to multiple pools and a lazy river. A water slide and bowling lanes are even included on the premises. The resort can be found at the heart of Universal Orlando—making it a perfect choice for guests wanting to explore that park—and guests are allowed Early Park Admission, an hour before the park opens. Rooms are spacious and elegant—which is fitting, considering that this big hotel is contained within eight separate buildings—and the modern décor features bright turquoises and pale blues. There are also dedicated activities for children to enjoy throughout the day.

All inclusive Orlando vacations: Perfect for everyone in your family

If you want to explore the best of what Florida has to offer your family, then the all-inclusive resorts in the city of Orlando are the ideal choice. They all offer excellent amenities and high-quality services; they're close to Disney World and Universal; they ensure that every aspect of your trip will be amazing and (dare I say it) unforgettable. When all's said and done, we hope that the ideas we've presented to you today will help you find the best choice of resort for you and your family. Best of luck!

Check out our review of all the top Disney Packages in Orlando for some great deals. 
Orlando All Inclusive Vacation Packages
If you are looking to put together your own package which is all-inclusive try one of these travel deals offered by the top networks.