Best Luxury Resorts in the Maldives (2023)
Welcome to our top Luxury Resort Maldives list. This best of the Maldives resort review features beautiful island resorts with white sandy beaches and lagoons.
See the Maldives COVID 19  official travel updates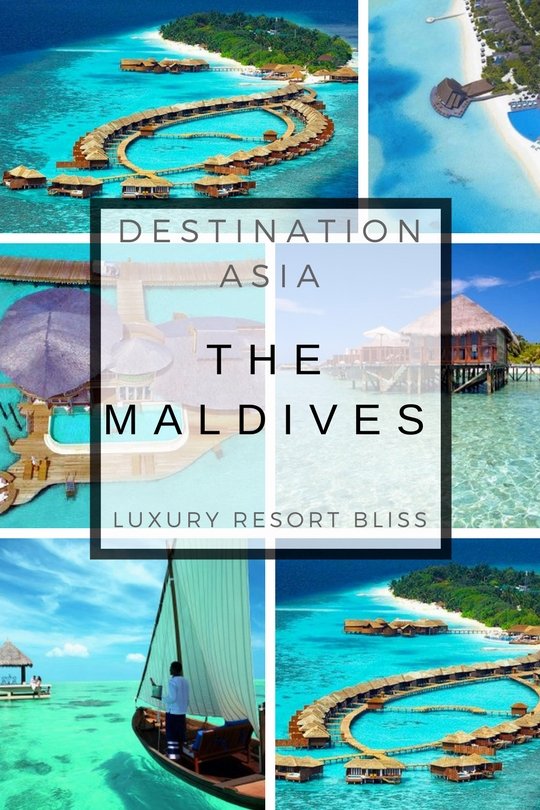 You can hardly have a world's best luxury resorts website and not feature the Maldives. Where else are the islands of a country more blessed with gorgeous white sand, crystal clear-water beaches? Each of the 1200 islands which surround dozens of coral atolls. has it's own perfect beach and their own luxury resorts to go with them. While honeymoons are a big part of the market there are spaces for families as well. Divers and snorkelers too can really make the most of the clear waters and pristine seas.

Best Maldives Resorts
Maldives resorts are perfect for honeymoons, romance, and quiet relaxing getaways and there are even some for families. Each of these  has something a little different to offer and so you can choose one that especially suits you.
Maldives Hotel Deals on Hotels.com

---
Top Luxury Resort Maldives List: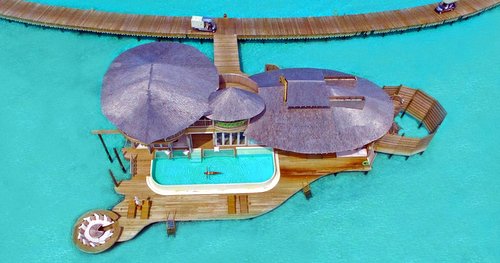 Soneva Jani, located in the Medhufaru lagoon
Below are the best Maldives resorts chosen by quality of resort and the reviews of past guests.
See also the Top 25 Maldives Resort Deals with Reviews on TripAdvisor.

Gili Lankanfushi Maldives Resort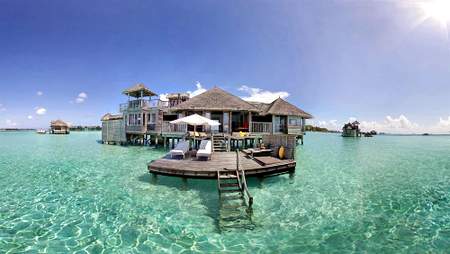 Gili Lankanfushi Maldives Resort
This top class five star Maldives luxury resort is often listed as the best Maldives resort and is located at Lankanfushi. Despite the luxury, the resort is not reserved for adults only and plenty of families also enjoy the huge rooms, outstanding features and variety of foods offered.
There is a reason this resort has been TripAdvisor's best resort in Asia. The hug over water bungalows and easy going style chi style make this place adorable.  The butlers compliment the setting well and from the moment you arrive to champagne and canapes and start some music on your in room Bose speakers to your departing boat the service is nothing but five (or six) star. 
The resort is home to a classy spa, groovy group yoga and Tai Chi sessions. There are five obviously outstanding restaurants including Peruvian and Japanese.
With reliable eco credentials as well we think this top Maldives resort has a little more character as well as some of the more well known brands and give it our top Maldives resort badge as well. 
The video below can begin to give you an appreciation of the colors of the fish life available at your clear water doorstep.
More on Gili Lankanfushi Maldives Luxury Resort.

---
Cocoa Island by COMO Five Star Maldives Luxury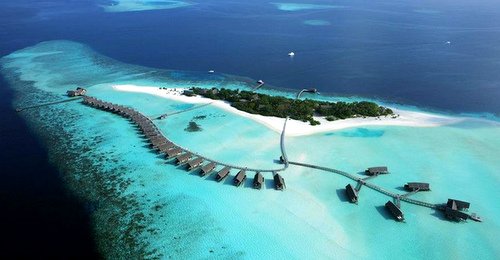 Cocoa Island by COMO
With only 32 rooms, Cocoa certainly is a location to enjoy five star Maldives hospitality in relative seclusion. You will likely see a good number of couples here soaking up the pristine aqua environment and beaches.
Catch a little snorkeling, scuba diving or simply soaking up the beauty of this place. All only a 40 minute boat ride from the main airport.
More on Cocoa Island by COMO - Luxury Resort Maldives
Also by Como is the amazing new family friendly Maalifushi by COMO reviewed on our best new resorts.
---
Conrad Maldives on Rangali Island
THis Maldives honeymoon resort has won the Conde Nast Gold List award is a quite comprehensive property with 8 restaurants, and a  a full-service spa.
The 150 rooms are decked out as you would expect in the luxury line of the Hilton brand WiFi, patios, iPods.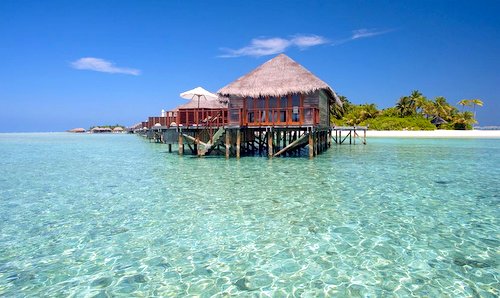 Conrad Maldives Luxury Resort
This award-winning 5 star resort is on 2 islands connected by a bridge. It's surrounded by lagoon and reached by seaplane from Male.
There's an amazing underwater restaurant as well as other restaurants, a private beach, a dive centre, 2 spas and water sports available.

You can choose to stay in the water villas, beach villas or spa villas (which have treatment rooms). All rooms have high-speed Internet.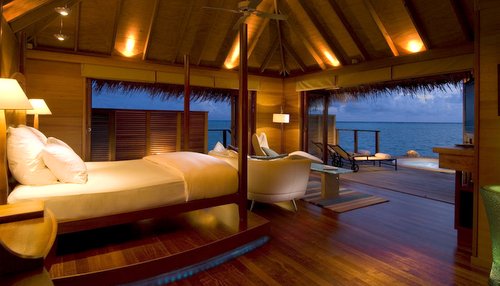 Conrad Maldives Room
Reviewers say: good for it's quiet side and proximity to a more active and busy island, water villa island is very secluded, beach villas are not separate buildings, beautiful and luxurious, beach villas is more spacious, great for a honeymoon! 
Conrad Maldives Rangali Island - Click for more images, deals reviews and pictures on Expedia.

Conrad Maldives special offers and reviews at TA

---
Taj Exotica 

Top Honeymoon Maldives Resorts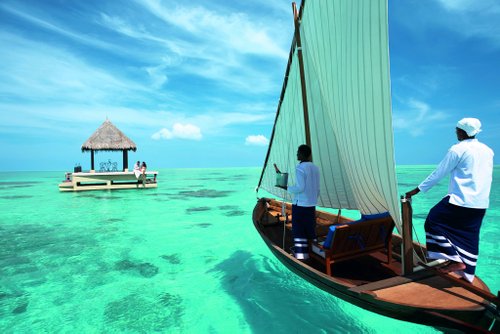 Top Honeymoon Maldives Resorts Taj Exotica
On a private island, which also has one of the biggest lagoons in the Maldives and a speedy boat trip from the airport are some of the attractions of this top luxury honeymoon resort in the Maldives.
The rooms are almost as large Luxury villas start at 750 + square feet rooms are almost as big and all are fully decked out with Nespresso machines, DVD music systems and the like.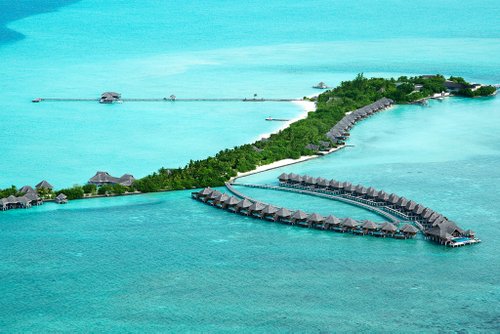 The Butler service is sensational here ald all speak English well. There are pool options in nearly every room and also down at the infinity pool by the beach where restaurants are located.
Located on a private island with one of the largest lagoons in the Maldives.
This 5 star resort is located on a very small island, on a long beach and surrounded by a large lagoon.

It's a 15 minute boat-ride from the airport. There's an authentic Indian spa, water sports (including water skiing and windsurfing) and an accredited dive centre.

Accommodations are made up of villas standing on stilts in the sea. They have thatched roofs and some have private plunge pools. There is AC, satellite TV and wireless Internet.
Reviews and offers for Taj Exotica Luxury Resort Maldives and Spa
Reviewers say: great service and food, excellent dive center, a few minor complaints about aircraft but overall very good. Great for romance and a honeymoon!

---
Anantara Honeymoon Resorts Maldives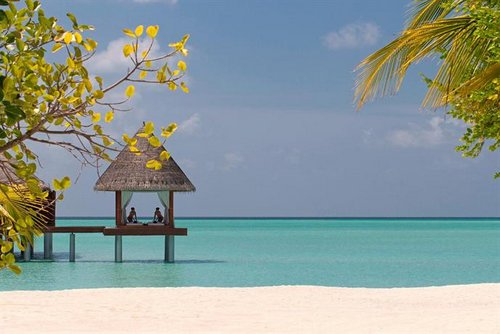 Honeymoon in the Maldives
Anantara actually has four world class resorts in the Maldives. Anantara Dhigu is one our favourites and really is a tropical paradise One of the biggest hassles you are likely to encounter is the really short Kayak to Guli Fushi Island for a snorkel. Apart from that everything is taken care of for you starting with the 40 minute speedboat trip from the airport.
On arrival you quickly see this is something special with fish and rays and little reef sharks becoming visible. 
This is one of the resorts in the Maldives which really does take kids seriously and for families there is a kids club and children under six year of age even eat free.
Located 35 minutes from airport and set on 2 private islands And set on white sandy beaches, lagoons and coral reefs.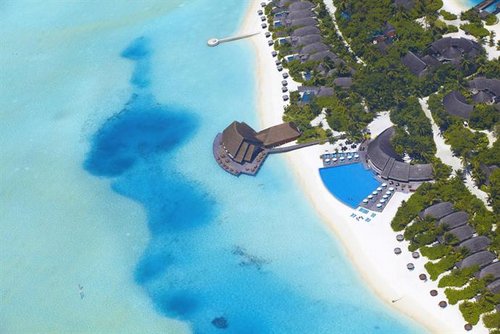 Anantara Honeymoon Resorts Maldives
There are 68 beachfront villas and 110 rooms over all including over water villas. There's a spa, a beachfront infinity pool, a certified dive centre, sailing excursions, fishing and water-skiing.

They have outdoor bathrooms and rain showers. There are 38 over-water suites with open-air infinity-edged bathtubs and private sun decks.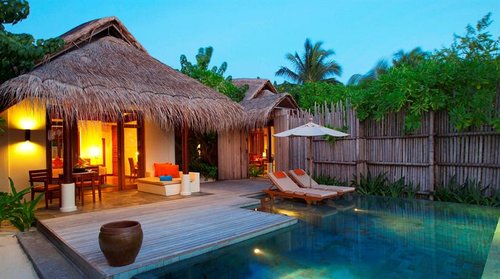 Reviewers say: great for quiet and relaxed surroundings, staff strive to be helpful, try to get the furthest out bungalows, pictures don't do it justice, choose a sunset water villa.

Anantara Dhigu Resort And Spa Maldives - More informations and maldives deals

---
Kurumba: Luxury Resort Maldives
While the resort is one of the originals and has been open since the 1970's the resort has been maintained and updated well.  These resorts closer to the airport on the snow white sands Is what made the Maldives popular and their appeal continues.  
This is also a resort wit some good priced all inclusive packages which is not all that common in the somewhat expensive Maldives. 
Located on 48 acres and 10 minutes from the airport. There's a beautiful beach and lagoon.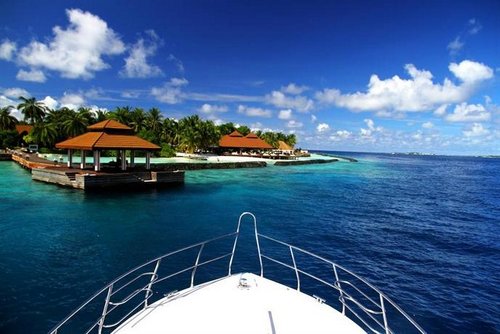 There are 9 restaurants, 2 swimming pools and a children's pool, 3 tennis courts, a dive centre, a spa and a water sports centre. 
There are 180 villas and bungalows with wood floors and furniture. There's an outdoor shower and private patio.

Reviewers say: great for a honeymoon, luxurious by pricey, beach bungalow is worth the cost, spacious and fabulous bathroom, fantastic service.
More information and offers on Kurumba Maldive Resort.
---
All Inclusive Maldives Honeymoon and Family Resorts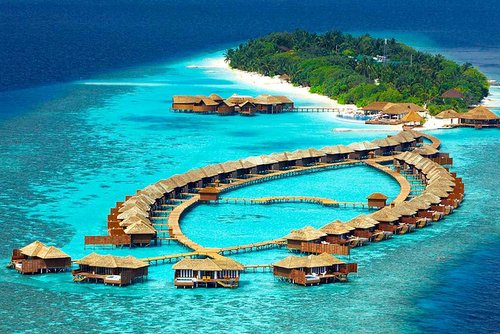 Lily Beach All Inclusive Resort & Spa
Lily Beach All Inclusive Maldives Resort
Sometimes regarded as the best all inclusive resort in Asia this is certainly a resort to put on your radar if you are planning a Maldives resort vacation.  Huge private rooms and decks into clear waters and pool areas for adults and families.  This is the major Maldives resorts which is predominately all inclusive with an opt out instead of opt in option.
The buffets are sensational and stacked with top class offerings, kids meals, multiple cooking stations and well known quality wines. Apart from this you will find a few outstanding a la carte restaurants around the resort.
Looking for an All Inclusive resort in the Maldives? Lily Beach- All-Inclusive Platinum Plan Resort in the video below recently made the worlds best all inclusive resorts list. 

---
Resorts that currently (at the time of writing) have all Inclusive packages available in the Maldives:

Thundi Guest House
Fun Islands Resort - Maldives
Price is now: $183

Bodufinolhu (South Male Atoll)
Adaaran Club Rannalhi - All Inclusive
Price was: $547 Price is now: $438
Helengeli Island Resort
Maldives All Inclusive Resorts.
Some of these resorts are listed as 5 stars but not across the board. The first 2 in our list are almost 5 star resorts.
You can also find a list of the 4 star resorts after the Top 5 list.

---
Maldives Honeymoon Resorts - Four Seasons Landaa Giraavaru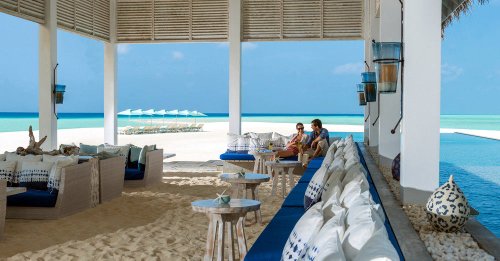 Four Seasons Landaa Giraavaru
Guests are reporting a remarkable and amazing deserted tropical island type experience. Right on the lagoon.

Offers and more information.

---
---
Sarah loves to check out all-inclusive resorts and find great packages and report about what real travelers are saying, Sarah is an indicative character created for the purpose of providing insights uncovered during our research.  These reviews are indicative of others first-hand experiences using our research methodology designed to uncover the best  (as opposed to those that are simply marketed as the best).

While our reviews are founded on real accounts and stories and thoroughly researched do your own research and exercise your best judgment when making travel decisions. And keep in mind all-inclusive packages are always changing.