Best Luxury Resorts in the Maldives
Welcome to our top Luxury Resort Maldives list. This best of the Maldives resort review features beautiful island resorts with white sandy beaches and lagoons.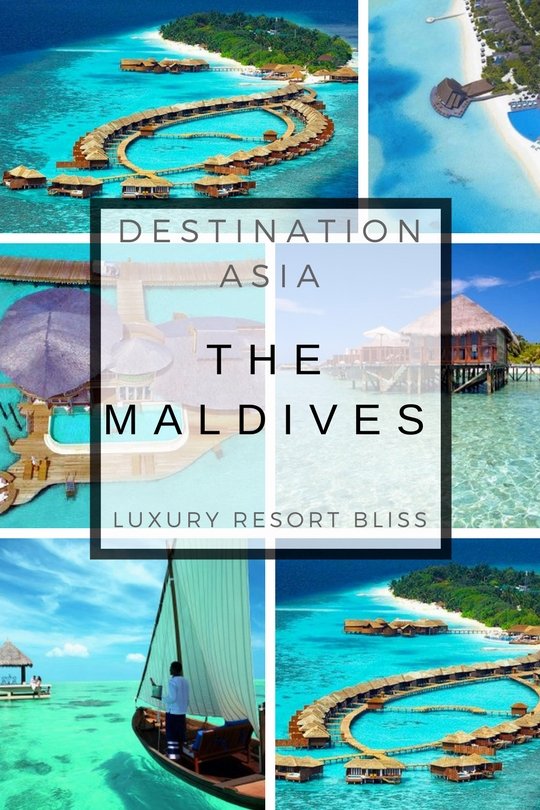 You can hardly have a world's best luxury resorts website and not feature the Maldives. Where else are the islands of a country more blessed with gorgeous white sand, crystal clear-water beaches? Each of the 1200 islands which surround dozens of coral atolls. Has It's own perfect beach and their own luxury resorts to go with them. While honeymoons are a big part of the market there are spaces for families as well. Divers and snorkelers too can really make the most of the clear waters and pristine seas.
Maldives resorts are perfect for honeymoons, romance, and quiet relaxing getaways and there are even some for families. Each of these has something a little different to offer and so you can choose one that especially suits you.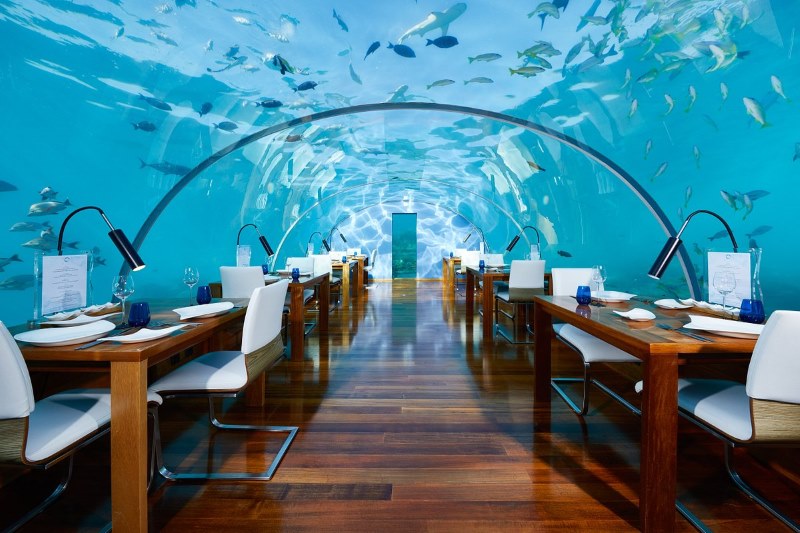 Conrad Maldives Underwater hotel room
Discover the mesmerizing depths of the Maldives at these underwater hotels. Explore extraordinary accommodations at resorts like Huvafen Fushi and Anantara Kihavah, where underwater experiences redefine luxury. Dive into a world beneath the waves. #UnderwaterHotels
Pullman Maldives Maamutaa Resort, located in the pristine Gaafu Alifu Atoll, is an all-inclusive luxury retreat that is sure to dazzle even the most discerning travelers. This secluded paradise offers a variety of accommodation types, from beach and overwater villas to unique aqua villas that boast underwater bedrooms. The resort's culinary scene is diverse and exquisite, with six dining venues, including the first organic and vegetarian restaurant in the Maldives. While tranquillity seekers will adore the resort's serene environment and wellness offerings, adventurers will revel in a variety of recreational activities available, from tennis courts and beach volleyball to diving trials and non-motorised water sports. Despite being tucked away from the hustle and bustle, the journey to the resort, encompassing a flight and a speedboat ride, may seem tedious to some. Furthermore, those seeking a vibrant nightlife or extensive shopping opportunities might find the resort's offerings limited. Nonetheless, Pullman Maldives offers an immersive luxury vacation that beautifully blends nature, wellness, and gastronomy, making it an ideal choice for those seeking a rejuvenating escape.
Mercure Maldives Adult Only All-Inclusive Resort
Adults-Only All-Inclusive Escapes: 5 Captivating Maldivian Resorts for the Ultimate Romantic Getaway
Adult Only Resorts in the Maldives - Find the best deal, compare prices, and read what other travelers have to say at Tripadvisor

Hurawalhi Island Resort: Dive into unparalleled luxury at Hurawalhi Island Resort, where you can dine among the marine life in the world's largest all-glass undersea restaurant.
You & Me Maldives: Ignite your passion at You & Me Maldives, a lovers' sanctuary where natural-chic ambiance and exquisite dining whisk you away to your own private paradise.
Komandoo Island Resort & Spa: Experience the intimate allure of Komandoo Island Resort & Spa, a serene haven exclusively for adults seeking a truly tranquil escape.
Centara Ras Fushi Resort & Spa Maldives: Embrace the exhilaration of island life at Centara Ras Fushi Resort & Spa Maldives, where adventure and indulgence collide just a speedboat ride away.
Cinnamon Hakuraa Huraa Maldives: Lose yourself in the enchanting romance of Cinnamon Hakuraa Huraa Maldives, a dreamy lagoon paradise designed to elevate love to new heights.
See the Maldives all-inclusive adult only resort review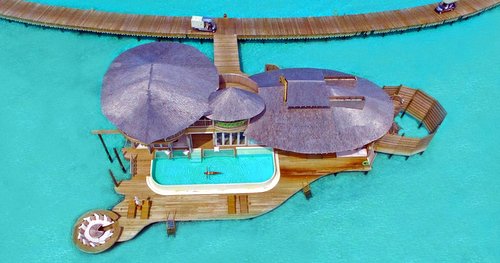 Soneva Jani, located in the Medhufaru lagoon
Below are the best Maldives resorts chosen by quality of resort and the reviews of past guests.
See also the Top 25 Maldives Resorts with Reviews on TripAdvisor.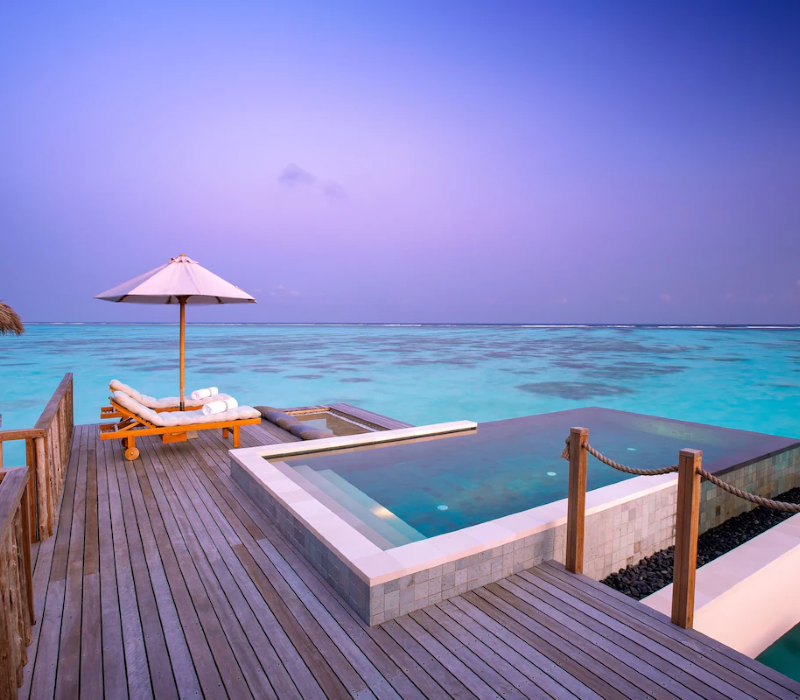 Gili Lankanfushi, nestled in the serene beauty of the Maldives, takes luxury eco-tourism to new heights. A mere 20-minute boat ride from Male, the resort offers a blend of rustic charm and modern amenities, with 45 traditionally crafted villas perched over a crystal-clear lagoon.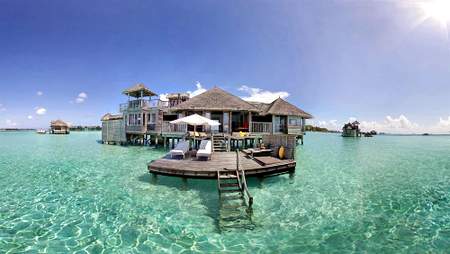 Gili Lankanfushi Maldives Resort
The on-site PADI diving school and various water sports make it an aquatic paradise, while the award-winning Meera Spa promises holistic wellness. Despite its close proximity to the airport, Gili Lankanfushi transports you to a private sanctuary where your footprint on the environment is as light as possible. Be it the private residences accessible only by boat or the delightful culinary experiences at its ocean-view restaurants, Gili Lankanfushi offers an unparalleled luxury experience. However, this slice of paradise comes with a high price tag and a rustic-luxe aesthetic that might not appeal to everyone. Nonetheless, for those in search of an eco-conscious resort that beautifully balances luxury with sustainability, Gili Lankanfushi stands out as a dream destination.
More on Gili Lankanfushi Maldives Luxury Resort.

---
Cocoa Island by COMO Five Star Maldives Luxury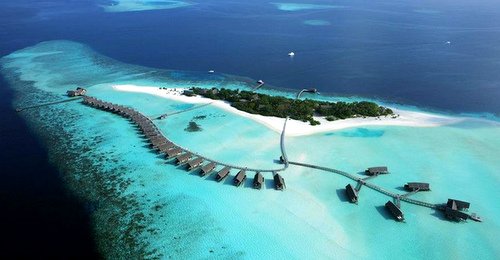 Cocoa Island by COMO
With only 32 rooms, Cocoa certainly is a location to enjoy five star Maldives hospitality in relative seclusion. You will likely see a good number of couples here soaking up the pristine aqua environment and beaches.
Catch a little snorkeling, scuba diving or simply soaking up the beauty of this place. All only a 40 minute boat ride from the main airport.
More on Cocoa Island by COMO - Luxury Resort Maldives
Also by Como is the amazing new family friendly Maalifushi by COMO reviewed on our best new resorts.
---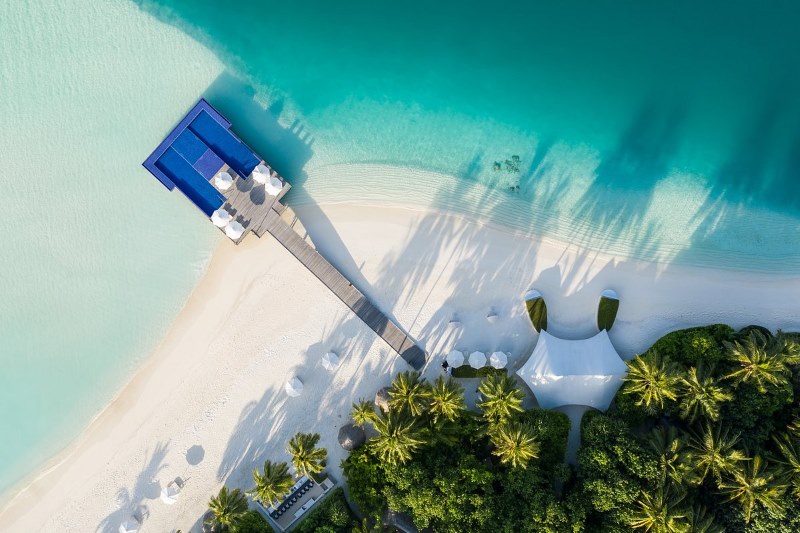 Conrad Maldives On Rangali Island
Nestled in the picturesque beauty of the Maldives, Conrad Maldives welcomes you to a world of unparalleled luxury and natural wonders. From the moment your feet sink into the white sandy beach, you'll be captivated by the resort's vibrant and immersive experience. With its tagline "Maldives in Full Colour," Conrad Maldives promises a kaleidoscope of unforgettable moments.
The accommodation at Conrad Maldives is a testament to exquisite design and attention to detail. From the cozy and intimate Water Villas nestled amidst tropical gardens to the luxurious Superior Water Villas with their breathtaking views, each option offers a slice of paradise. Immerse yourself in the Maldivian charm as you relax on your private terrace or soak in your bathtub with a view.
Culinary delights abound at Conrad Maldives, with eight restaurants and three bars offering a diverse range of flavors and experiences. Indulge in delectable Maldivian cuisine, savor international dishes, and enjoy vibrant live entertainment that transforms every meal into a memorable occasion.
The resort goes above and beyond to cater to every guest's needs and desires. With a plethora of activities and watersports on offer, you can explore the vibrant house reef, partake in thrilling adventures like surfing and parasailing, or simply relax on the pristine beach. The spa and wellness facilities provide a sanctuary of serenity, offering a wide range of treatments to rejuvenate your mind, body, and soul.
Families will find a haven of entertainment and comfort at Conrad Maldives. Children can splash around in the dedicated pool and enjoy the various activities organized especially for them, making traveling with little ones a joyous and stress-free experience.
While the proximity to the airport may result in occasional aircraft noise, the convenience of being on the beach within moments of arrival outweighs this minor inconvenience for most guests.
Conrad Maldives Rangali Island - Click for more images, deals reviews and pictures on Expedia.

Conrad Maldives special offers and reviews at TA
Taj Exotica Resort & Spa, Maldives: Where Luxury and Nature Harmonize
Score: 9.5/10
Immerse yourself in the sublime fusion of luxury and nature at Taj Exotica Resort & Spa, Maldives. Located on Emboodhu Finolhu Island, surrounded by one of the largest natural lagoons in the world, this award-winning resort offers an unparalleled experience that seamlessly blends contemporary amenities with the island's breathtaking beauty.
Accommodation options at Taj Exotica include villas built entirely over water and beachfront villas, each exuding a sense of refined elegance. Wake up to endless views of the Indian Ocean from your personal sundeck or take a refreshing dip in your private plunge pool. The villas are luxuriously appointed, providing a private sanctuary where you can unwind and reconnect with nature.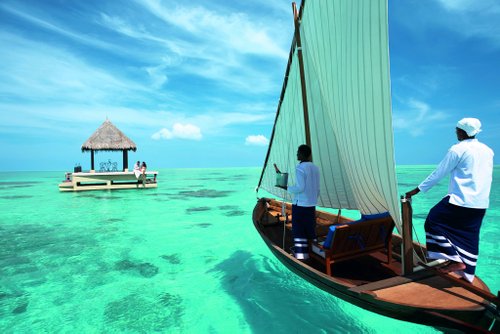 Top Honeymoon Maldives Resorts Taj Exotica
Indulge in a culinary adventure at the resort's four dining venues. From Pan-Asian delights to progressive international cuisine, each restaurant offers a unique dining experience with ocean views. Whether you choose interactive dining or a romantic dinner under the stars, every meal is a sensory delight.
The acclaimed Jiva Grande Spa takes relaxation to new heights with its range of holistic treatments. Located in overwater treatment rooms, this authentic Indian spa offers a haven of tranquility where you can rejuvenate your mind, body, and soul.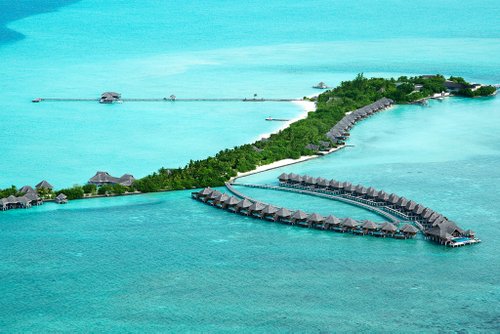 The natural beauty of the island seamlessly blends with the luxurious amenities and services provided by Taj Exotica. The resort offers a range of bespoke packages, such as Romantic Escapes, which include a private dinner at the Ocean Pavilion, a couple's spa treatment over the water, and unforgettable sunset moments. Personalized butler service, access to non-motorized water sports activities, and inclusive Wi-Fi add to the overall guest experience.
While Taj Exotica delivers an exceptional luxury experience, it's important to note that the rates reflect the exclusivity and amenities offered. Additionally, the mandatory green tax and extra charges for additional guests should be taken into consideration when planning your stay.
In summary, Taj Exotica Resort & Spa, Maldives, is a true sanctuary where luxury merges seamlessly with the captivating natural landscape. From its idyllic location to its luxurious accommodations, delectable dining options, and rejuvenating spa experiences, every aspect of this resort has been thoughtfully designed to create an unforgettable stay. For travelers seeking a spa-focused getaway, the Spa Getaways offer provides an indulgent experience to nourish your senses and radiate inner glow. Taj Exotica Resort & Spa, Maldives, is a true gem in the Maldives, capturing the essence of luxury and delivering a world-class escape for discerning travelers.
Reviews and offers for Taj Exotica Luxury Resort Maldives and Spa

Reviewers say: great service and food, excellent dive center, a few minor complaints about aircraft but overall very good. Great for romance and a honeymoon!

---
Anantara Honeymoon Resorts Maldives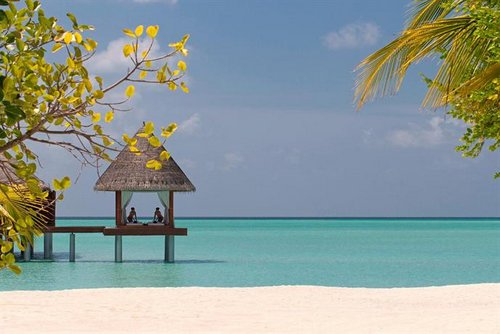 Honeymoon in the Maldives
Anantara actually has four world class resorts in the Maldives. Anantara Dhigu is one our favourites and really is a tropical paradise One of the biggest hassles you are likely to encounter is the really short Kayak to Guli Fushi Island for a snorkel. Apart from that everything is taken care of for you starting with the 40 minute speedboat trip from the airport.
On arrival you quickly see this is something special with fish and rays and little reef sharks becoming visible. 
This is one of the resorts in the Maldives which really does take kids seriously and for families there is a kids club and children under six year of age even eat free.
Located 35 minutes from airport and set on 2 private islands And set on white sandy beaches, lagoons and coral reefs.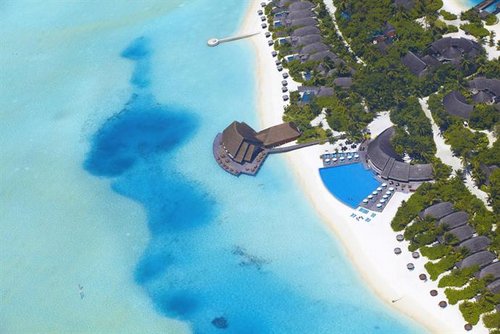 Anantara Honeymoon Resorts Maldives
There are 68 beachfront villas and 110 rooms over all including over water villas. There's a spa, a beachfront infinity pool, a certified dive centre, sailing excursions, fishing and water-skiing.

They have outdoor bathrooms and rain showers. There are 38 over-water suites with open-air infinity-edged bathtubs and private sun decks.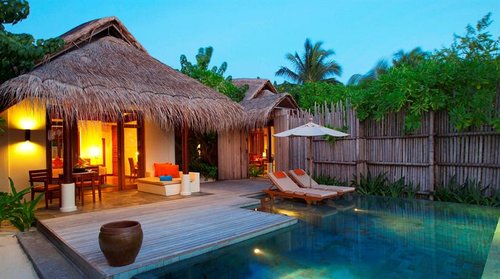 Reviewers say: great for quiet and relaxed surroundings, staff strive to be helpful, try to get the furthest out bungalows, pictures don't do it justice, choose a sunset water villa.

Anantara Dhigu Resort And Spa Maldives - More informations and maldives deals

---
Score: 8.8/10
Step into a world of timeless luxury and vibrant experiences at Kurumba Maldives. Situated on its own private island just a short 10-minute speedboat ride from the airport, this iconic resort offers a perfect balance of relaxation and excitement, making it ideal for couples, honeymooners, families, or groups of friends.
Accommodation at Kurumba is diverse, with eight styles of carefully designed units that cater to different preferences. Nestled amidst lush tropical gardens, each room provides a cozy and intimate space for relaxation, whether you're lounging on your private terrace or soaking in a bathtub with a view.
Culinary delights await at the resort's eight restaurants and three bars, taking guests on a gastronomic journey from local Maldivian fare to international cuisines. With diverse choices and vibrant live entertainment, every meal becomes a special occasion to savor.
Kurumba is committed to offering 'so much more' to its guests. A plethora of activities and watersports await, from exploring the vibrant house reef to indulging in the Maldives' best nightly entertainment scene. Whether it's surfing, parasailing, or beach volleyball, there's never a dull moment at Kurumba.
The spa at Kurumba is a sanctuary of serenity, offering a wide range of treatments to pamper and rejuvenate. The on-site gym and fitness classes cater to those who wish to maintain their wellness routines even on vacation.
Families will find Kurumba particularly welcoming, with dedicated children's activities and a dedicated pool for the little ones. Traveling with children becomes easier and more enjoyable with thoughtful amenities and services.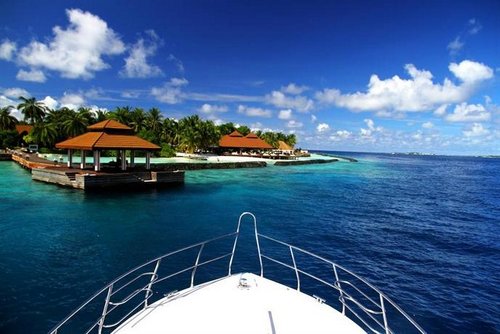 There are 9 restaurants, 2 swimming pools and a children's pool, 3 tennis courts, a dive centre, a spa and a water sports centre. 
There are 180 villas and bungalows with wood floors and furniture. There's an outdoor shower and private patio.

Being in proximity to the airport is both a convenience and a potential drawback, as occasional noise from aircraft can be heard. However, most guests find that the convenience outweighs any minor inconvenience caused by the occasional aircraft noise.
In conclusion, Kurumba Maldives stands as a luxury resort that continues to innovate and offer a rich tapestry of experiences. Its vibrant atmosphere, diverse dining options, and extensive range of activities make it an excellent choice for those seeking a tropical escape. For travelers looking for a more secluded and serene experience, Baros Maldives offers an intimate island retreat with its pristine white-sand beaches and personalized service.
Experience the allure of Kurumba Maldives, where timeless luxury, vibrant experiences, and warm hospitality combine to create an unforgettable Maldivian getaway.
More information and offers on Kurumba Maldive Resort.
Maldives All-Inclusive Resorts: A Gateway to Unforgettable Luxury Escapes
When it comes to indulging in the epitome of luxury, Maldives all-inclusive resorts stand at the forefront, offering a seamless blend of opulence and convenience. These resorts provide a haven where every aspect of your vacation is taken care of, allowing you to unwind and immerse yourself in the stunning natural beauty of this tropical paradise.
From the moment you step foot onto the white-sand beaches and gaze upon the crystal-clear turquoise waters, you'll be transported into a world of unparalleled luxury. Maldives all-inclusive resorts cater to discerning travelers seeking an elevated vacation experience where relaxation, indulgence, and adventure intertwine harmoniously.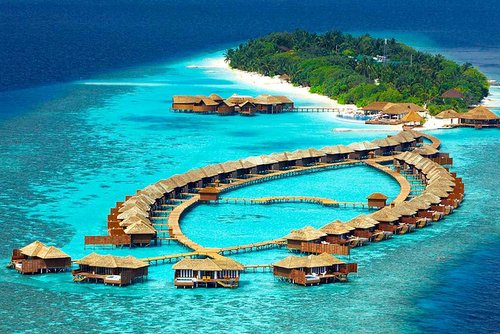 Lily Beach All Inclusive Resort & Spa
One of the standout features of all-inclusive resorts is the comprehensive nature of their packages. From lavish accommodations to world-class dining experiences, exhilarating water sports, and rejuvenating spa treatments, everything is conveniently included, leaving you with nothing to worry about except enjoying your time in paradise.
Imagine waking up in a private villa perched over the water, with the gentle sounds of waves lulling you into a state of tranquility. The accommodation options at these resorts are nothing short of extraordinary, offering spacious villas with breathtaking ocean views, private pools, and direct access to the pristine beaches. The attention to detail in design and comfort is remarkable, ensuring a truly immersive and luxurious stay.
Gourmet dining takes center stage at all-inclusive resorts, with a variety of culinary options that showcase international flavors and local delicacies. From indulging in a romantic candlelit dinner on the beach to enjoying a fusion of flavors at fine-dining restaurants, each meal is a sensory journey designed to tantalize your taste buds.
When it comes to activities, all-inclusive resorts spare no effort in providing a plethora of options to suit every interest. Whether you're seeking thrilling water sports adventures such as snorkeling, diving, or kayaking, or prefer more relaxed pursuits like sunset cruises and beachside yoga sessions.
While the all-inclusive experience undoubtedly offers numerous benefits, it's important to consider certain factors. The exclusivity and comprehensive nature of the packages can come at a higher price point compared to other types of accommodations. Additionally, travelers who prefer more flexibility in dining and activities may find that an à la carte approach suits their preferences better.
Looking for an All Inclusive resort in the Maldives? Lily Beach- All-Inclusive Platinum Plan Resort in the video below recently made the worlds best all inclusive resorts list. 

---
Resorts that currently (at the time of writing) have all Inclusive packages available in the Maldives:

Thundi Guest House
Fun Islands Resort - Maldives
Bodufinolhu (South Male Atoll)
Adaaran Club Rannalhi - All Inclusive
Helengeli Island Resort
Maldives All Inclusive Resorts.
Some of these resorts are listed as 5 stars but not across the board. The first 2 in our list are almost 5 star resorts.
You can also find a list of the 4 star resorts after the Top 5 list.

Four Seasons Landaa Giraavaru: Where Dreams of a Perfect Wedding Come True
Nestled on a pristine island in the Maldives, Four Seasons Landaa Giraavaru is a captivating destination that embodies luxury, romance, and the allure of a tropical paradise. This exquisite resort offers a wedding experience like no other, where every detail is meticulously crafted to create unforgettable moments of love and celebration.
From the moment you step foot onto the island, you'll be enchanted by the sheer beauty of the surroundings. Picture yourself exchanging vows on a secluded beach, with the soft sand beneath your feet and the gentle waves of the Indian Ocean as your backdrop. The resort's idyllic settings provide a dreamy ambiance for your special day, making it an ideal choice for couples seeking a magical destination wedding.
Maldives Wedding Resorts
The Four Seasons Landaa Giraavaru goes above and beyond to ensure that your wedding is a seamless and memorable experience. The dedicated wedding planners work closely with you to understand your vision and bring it to life, handling every detail with impeccable precision. From arranging floral arrangements and decor to curating personalized menus and coordinating entertainment, they take care of it all, allowing you to relax and fully immerse yourself in the joy of the moment.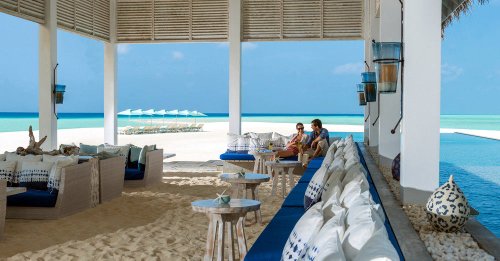 Four Seasons Landaa Giraavaru
The resort's world-class amenities and services further enhance the wedding experience. Luxurious accommodations await you and your guests, ranging from beachfront villas to overwater bungalows, each meticulously designed to provide a haven of comfort and privacy. Indulge in the rejuvenating treatments at the spa, embark on thrilling water sports adventures, or simply bask in the sun by the infinity pool – there's something for everyone to enjoy.
While Four Seasons Landaa Giraavaru shines in many aspects, it's important to note that the exclusivity and luxury offered do come with a higher price tag. Additionally, the remote location of the resort may require extra travel arrangements, which should be considered when planning your wedding.
In conclusion, Four Seasons Landaa Giraavaru sets the stage for a truly magical wedding experience in the Maldives. With its breathtaking scenery, impeccable service, and unparalleled attention to detail, it provides the perfect backdrop for couples to exchange vows and embark on a lifelong journey together. Whether you envision an intimate beach ceremony or a grand celebration surrounded by loved ones, this resort promises to create cherished memories that will last a lifetime.
Alternative Resort Recommendation: For couples seeking a more intimate and exclusive wedding experience, Baros Maldives offers a tranquil setting with its secluded villas and pristine beaches. With its attentive service and attention to detail, Baros Maldives provides a romantic and serene escape for couples looking to tie the knot in paradise.
---
---
💼 We cherish our independence! ✈️ Our travel recommendations are carefully researched, bias-free, and powered by human expertise by April and Ricky of LRB (we have personally researched and travelled to many of these destinations and researched others thoroughly through first-hand accounts). 🌍✨
We try to keep everything up to date, but please always do your own research and contact us if you know any issues for us to help others as best we can as a small but professionally focused team! 🧐📚⚠️