Kurumba Maldives
Prepare to step into a kaleidoscope of sensations, where the raw beauty of nature collides with untamed luxury. Kurumba Maldives beckons, like a siren in the distance, promising a journey that is as fierce as it is enchanting. Brace yourself as we traverse the untrodden path, for here, amidst the rawness and grit of paradise, lies a sanctuary that defies convention.
Kurumba Maldives, the oldest resort in the Maldives, offers a blend of modern comforts and tropical charm. While its location near the airport may not provide complete tranquility, the resort compensates with its extensive amenities, including multiple restaurants, bars, pools, and a contemporary spa. Families will appreciate the kids' club and babysitting services, while couples can indulge in wine tastings and romantic sunset jazz. The renovated rooms feature contemporary decor, outdoor patios, and spacious open-air bathrooms. Though not offering overwater villas, Kurumba Maldives ensures an enjoyable and vibrant experience for guests.
Pros of Kurumba Maldives:
Rich history and tropical charm: As the oldest resort in the Maldives, Kurumba exudes a sense of history and tropical allure. Set on a former coconut plantation, it carries a unique charm that sets it apart from newer properties.
Convenient location: Being just a short 10-minute boat ride from the airport, Kurumba offers unparalleled convenience. Guests can quickly arrive at the resort and begin their island escape without long transfers.
Abundance of dining options: With eight restaurants and three bars, Kurumba spoils guests with a delightful array of culinary experiences. From local Maldivian delicacies to international cuisines, there's something to satisfy every palate.
Family-friendly amenities: Kurumba goes the extra mile to cater to families, providing a dedicated kids' club and babysitting services. Children can enjoy their own pool and a variety of organized activities, ensuring a memorable vacation for the whole family.
Cons of Kurumba Maldives:
Potential noise disturbance: Due to its proximity to the airport, guests may experience occasional noise from air and water traffic. While it may not be the most tranquil location, many find the resort's other offerings compensate for this minor inconvenience.
Man-made protective barrier: While the man-made barrier around the reef serves as a necessary protective measure, it may obstruct some views of the natural beauty of the surroundings. However, the resort's lush tropical gardens and other captivating features make up for this trade-off.
Spotty Wi-Fi and reception service: Some guests have reported occasional issues with Wi-Fi connectivity in their rooms, as well as lapses in reception service. However, the attentive and friendly staff strive to address any concerns promptly.
Absence of overwater villas: Kurumba does not offer overwater villas, which are often sought after for their iconic Maldivian experience. However, the resort's accommodations still provide comfort, privacy, and a touch of luxury.
Bottom Line: Kurumba Maldives, with its rich history, convenient location, diverse dining options, and family-friendly amenities, offers a remarkable vacation experience. While potential noise disturbances and the absence of overwater villas may be drawbacks for some, the resort's unique charm, attentive service, and abundance of activities make it a compelling choice for a tropical getaway.
Review: Kurumba Maldives
Review: Kurumba Maldives – A Kaleidoscope of Experiences
From the moment your feet sink into the white sandy beach at Kurumba Maldives, you'll be taken on a vibrant journey, a rollercoaster ride of sensory delights that's perfectly encapsulated in the resort's tagline: "Maldives in Full Colour."
Set on its own private island just a 10-minute speedboat ride from the airport, Kurumba Maldives is a verdant paradise offering the perfect balance of relaxation and exhilaration, of solitude and social activities, making it ideal for couples, honeymooners, families, or groups of friends.
Accommodation: Kurumba boasts eight styles of accommodation, each carefully designed and located to offer different experiences. Nestled amidst the island's lush tropical gardens, every unit offers a cozy, intimate space for relaxation, whether you're lounging on your private terrace or soaking in your bathtub with a view.
Culinary Delights: The resort excels in its culinary offerings, boasting eight restaurants and three bars. Each venue takes you on a different gastronomic adventure, from sampling local Maldivian fare to feasting on international cuisines. Their diverse choices and vibrant live entertainment make every meal a special occasion.
Activities: True to its promise of offering 'so much more,' Kurumba presents a plethora of activities and watersports, from exploring the vibrant house reef to indulging in the Maldives' best nightly entertainment scene. With options like surfing, parasailing, and even beach volleyball, Kurumba ensures that there's never a dull moment.
Spa and Wellness: The resort's spa is a sanctuary of serenity, offering a wide range of treatments like hot stone massages and manicures/pedicures. The gym with aerobics and yoga classes caters to those who wish to keep their fitness regime going, even on vacation.
Family-Friendly: Kurumba particularly shines in its family-friendly offerings. Children can splash around in the dedicated pool or enjoy the various activities organized for them. With its thoughtful amenities and services, Kurumba makes traveling with children not just easier, but also more fun.
Location: Being in proximity to the airport is a double-edged sword. While it ensures that you're on the beach within moments of touching down, there might be some noise disturbance from the airplanes. However, most guests report that the convenience outweighs any minor inconvenience caused by the occasional aircraft noise.
Conclusion: In conclusion, Kurumba Maldives is a luxury resort that does not rest on its laurels as the first resort in the Maldives. Instead, it continues to innovate and offer a rich, colorful tapestry of experiences that leave guests with vibrant memories and the longing to return.
Overall Score: 8.8/10
Accommodation: 9/10
Dining: 9/10
Activities: 9/10
Spa and Wellness: 8.5/10
Family-Friendly: 9/10
Location: 8/10
Kurumba: Luxury Resort Maldives
While the resort is one of the originals and has been open since the 1970's the resort has been maintained and updated well.  These resorts closer to the airport on the snow white sands Is what made the Maldives popular and their appeal continues.  
This is also a resort wit some good priced all inclusive packages which is not all that common in the somewhat expensive Maldives. 
Located on 48 acres and 10 minutes from the airport. There's a beautiful beach and lagoon.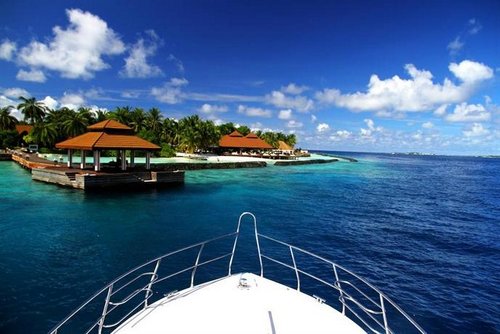 There are 9 restaurants, 2 swimming pools and a children's pool, 3 tennis courts, a dive centre, a spa and a water sports centre. 
There are 180 villas and bungalows with wood floors and furniture. There's an outdoor shower and private patio.

Reviewers say: great for a honeymoon, luxurious by pricey, beach bungalow is worth the cost, spacious and fabulous bathroom, fantastic service.
More information and offers on Kurumba Maldive Resort.
Kurumba Maldives: MORE Features, Pros and Cons
Features:
Close Proximity to the Airport: Kurumba Maldives is just a 10-minute speedboat ride from the airport, which makes it incredibly accessible.
Diverse Accommodation Options: With eight styles of accommodation, guests can choose from a wide variety of living spaces, each offering different experiences.
Culinary Variety: The resort boasts eight restaurants and three bars, offering a diverse choice of cuisine from local Maldivian fare to international dishes.
Vibrant Entertainment: Kurumba Maldives is known for its vibrant live entertainment and hosted social events, offering fun and excitement for guests of all ages.
Wide Range of Activities: From watersports and excursions to exploring the vibrant house reef, there is no shortage of things to do at Kurumba Maldives.
Spa and Wellness Facilities: The resort offers an exquisite Maldivian spa treatment experience and has a gym that offers aerobics and yoga classes.
Family-Friendly: Kurumba Maldives caters to families with children, offering a dedicated children's pool and various activities tailored for younger guests.
Pros:
Convenient Location: The resort's proximity to the airport is a major plus, particularly for guests who wish to minimize travel time.
Variety of Experiences: The wide range of dining options, activities, and entertainment make for a diverse and fulfilling vacation.
Excellent Service: The warm Maldivian hospitality and high standard of service at Kurumba are frequently praised by guests.
Family Oriented: Kurumba's focus on family-friendly amenities and activities makes it a great choice for families.
Cons:
Possible Noise from Airplanes: Being close to the airport means that some noise from incoming and outgoing flights might be audible.
Less Private: As Kurumba is a larger resort with a variety of activities and events, guests seeking a more secluded, private experience might find it a bit crowded.
Limited Natural Environment: Unlike some other resorts that are located on larger islands or more secluded atolls, Kurumba's smaller size and developed infrastructure might not offer as much of the "wild, untouched" Maldives experience.
Premium Cost for Extras: While many amenities are included, certain activities, dining experiences, and spa treatments come with an additional cost, which can add up.
Kurumba Maldives is conveniently located just a 10-minute speedboat ride away from the airport. This proximity ensures a swift and hassle-free transfer to the resort.
Yes, Kurumba Maldives provides complimentary Wi-Fi access to guests, allowing them to stay connected throughout their stay.
No, Kurumba Maldives does not offer overwater villas. However, the resort offers a range of accommodations nestled amidst lush tropical gardens, providing privacy and a serene atmosphere.
Kurumba Maldives boasts eight restaurants and three bars, providing guests with a diverse culinary experience. From local Maldivian specialties to international cuisine, there are options to suit every taste.
Yes, Kurumba Maldives is known for its family-friendly amenities and services. The resort features a dedicated kids' club where children can enjoy supervised activities and a separate pool area.
Yes, Kurumba Maldives has a spa offering a range of rejuvenating treatments. Guests can indulge in massages, facials, and other wellness experiences to enhance relaxation and rejuvenation.
Kurumba Maldives offers a wide range of activities to cater to different interests. Guests can enjoy water sports, such as snorkeling and diving, explore the vibrant house reef, or participate in various land-based activities like beach volleyball.
Yes, Kurumba Maldives offers a romantic setting and special experiences tailored for couples and honeymooners. Sunset jazz, wine tastings, and intimate dining options are just a few of the offerings designed to create memorable moments for couples.
Yes, the resort's concierge can assist guests in arranging excursions and day trips to explore the natural beauty and cultural attractions of the Maldives.
The standard check-in time at Kurumba Maldives is 2:00 PM, and the check-out time is 12:00 PM. However, the resort may accommodate early check-in or late check-out requests based on availability.
All Inclusive Family Resorts in the Maldives
Lily Beach All-Inclusive Maldives Resort
Lily Beach Resort & Spa - This all-inclusive family-friendly resort offers a range of activities and amenities for both adults and children. With spacious villas, a kids' club, water sports, and a variety of dining options, Lily Beach Resort provides a well-rounded vacation experience.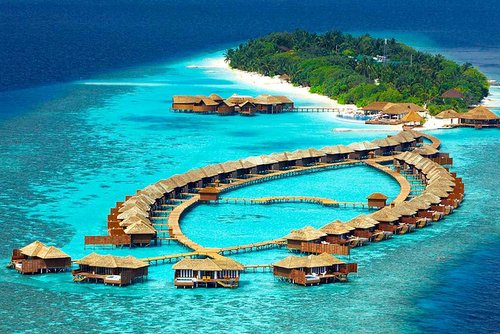 Lily Beach All Inclusive Resort & Spa
Sometimes regarded as the best all-inclusive resort in Asia this is certainly a resort to put on your radar if you are planning a Maldives resort vacation. Huge private rooms and decks into clear waters and pool areas for adults and families.  This is the major Maldives resorts which is predominately all-inclusive with an opt-out instead of opt in option.
The buffets are sensational and stacked with top class offerings, kids meals, multiple cooking stations and well known quality wines. Apart from this you will find a few outstanding à la carte restaurants around the resort.
Looking for a family All Inclusive resort in the Maldives? Lily Beach- All-Inclusive Platinum Plan Resort in the video below recently made the world's best all-inclusive resorts list. 

---
Resorts that currently (at the time of writing) have all Inclusive packages available in the Maldives:

Thundi Guest House
Fun Islands Resort - Maldives
Bodufinolhu (South Male Atoll)
Adaaran Club Rannalhi - All Inclusive
Helengeli Island Resort
Maldives All Inclusive Resorts.
Some of these resorts are listed as 5 stars but not across the board. The first 2 in our list are almost 5 star resorts.
You can also find a list of the 4 star resorts after the Top 5 list.

Kandima Maldives - Known for its vibrant atmosphere and contemporary design, Kandima Maldives offers an all-inclusive package that includes meals, beverages, and various activities. The resort features a kids' club, water sports center, multiple restaurants, and a range of accommodations suitable for families.
Atmosphere Kanifushi Maldives - Located in the Lhaviyani Atoll, Atmosphere Kanifushi is an all-inclusive resort offering a comprehensive package that covers meals, beverages, activities, and even spa treatments. The resort features spacious villas, a kids' club, water sports, and a variety of dining options.
Sun Siyam Iru Fushi Maldives - This all-inclusive family-friendly resort boasts an array of activities and amenities for all ages. With spacious accommodations, a kids' club, multiple swimming pools, a spa, and diverse dining options, Sun Siyam Iru Fushi ensures a memorable and inclusive vacation.
OBLU by Atmosphere at Helengeli - Situated in the North Male Atoll, OBLU by Atmosphere offers an all-inclusive experience with a range of activities, dining options, and amenities. The resort features comfortable villas, a kids' club, water sports, and a house reef for snorkeling and diving adventures.
These alternatives provide a similar all-inclusive experience to Kurumba Maldives, catering to families with various amenities and activities. Each resort has its own unique features and ambiance, allowing families to choose the one that best suits their preferences and requirements.
See more on our all-inclusive Maldives Resort Reviews
Share Your All-Inclusive Adventures and Questions! 🌴 Have a memorable experience from a luxury all-inclusive vacation? We'd love to hear it at Luxury Resort Bliss. We're on the lookout for top-quality, insightful tales that'll inspire our community. Dive in and be a part of our sun-soaked stories! 🌊🍹✨
The story is a fictionalized account founded on travel expertise, research, and experience. Always refer to recent guest reviews and perform due diligence before booking.
💼 We cherish our independence! ✈️ Our travel recommendations are carefully researched, bias-free, and powered by human expertise by April and Ricky of LRB (we have personally researched and travelled to many of these destinations and researched others thoroughly through first-hand accounts). We also have put in the hard miles, and Ricky has worked for decades for resort and hotel chains  Hyatt, Hilton, Shangri-La and Radisson before starting Luxury Resort Bliss in 2007. 🌍✨ Unlike some other resort review websites we are concerned on the guest experience rather than mere corporate interest.