All-Inclusive Resorts In The Maldives
All-Inclusive Resorts In The Maldives
Imagine a far-flung paradise where azure waters kiss the shores of pristine, white-sand beaches, and coconut palms sway gently to the rhythm of a warm, tropical breeze. This is the Maldives, an archipelago of 26 atolls nestled in the Indian Ocean's lap, and the epitome of luxury and tranquility.
There are some traditional all-inclusive islands in the Maldives and we will cover some here, but the majority of what we might think of as all-inclusive resorts haves full-board and half-board options. Full-board means breakfast, lunch and dinner are included while with half-board only breakfast and dinner is covered. Alcohol is typically not included routinely but can come with the traditional packages.
Getting to your All-Inclusive Resort
When it comes to getting around, the Maldives has its unique, exciting, and sometimes adrenaline-pumping ways. Due to the geographic dispersion of the islands, seaplanes and speedboats are the most common modes of transfer from Malé, the capital, to your chosen resort.
The journey itself is often a thrilling adventure, offering breathtaking aerial views of the atolls and the vast Indian Ocean. Some far-flung resorts might require a domestic flight followed by a speedboat ride, turning the journey into a memorable part of your Maldivian experience.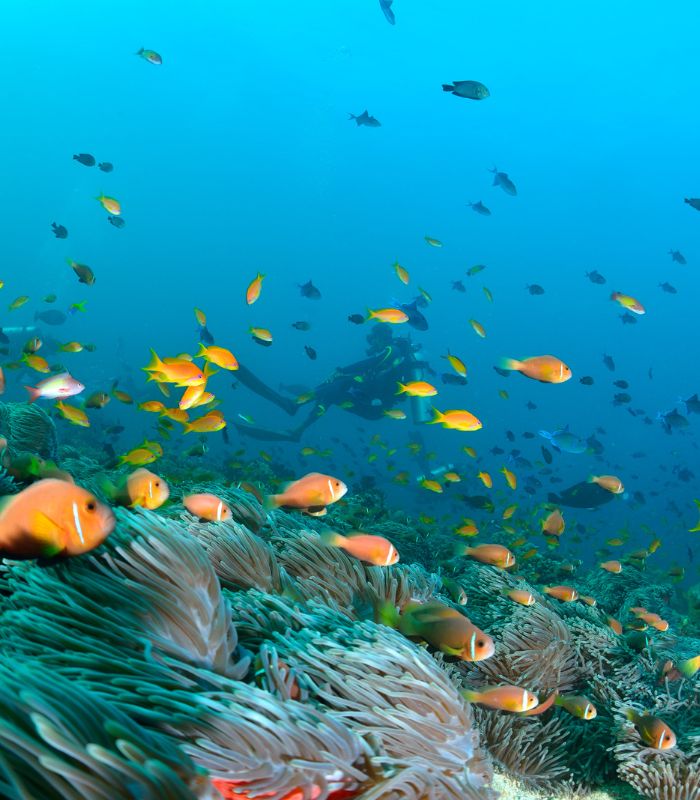 The Maldives is a haven for water sports enthusiasts, with almost all resorts offering a range of activities from snorkeling and diving to jet-skiing and windsurfing, often included in all-inclusive packages. For those seeking a more laid-back vacation, many resorts also offer a variety of wellness options, including spa treatments, yoga classes, and meditation sessions.
All Inclusve Resorts in the Maldives with the best food
In the Maldives, a gastronomic adventures await you at every turn. As a writer with a penchant for the extraordinary, allow me to introduce you to five Maldivian resorts where your taste buds will embark on a delectable journey through a symphony of flavors.
The dining scene in Maldivian all-inclusive resorts is a culinary delight. Resorts pride themselves on their array of world cuisines, with some even hosting culinary events featuring international chefs. But keep in mind, while most all-inclusive packages include a variety of dining options, some exclusive restaurants or dining experiences may come with an additional cost.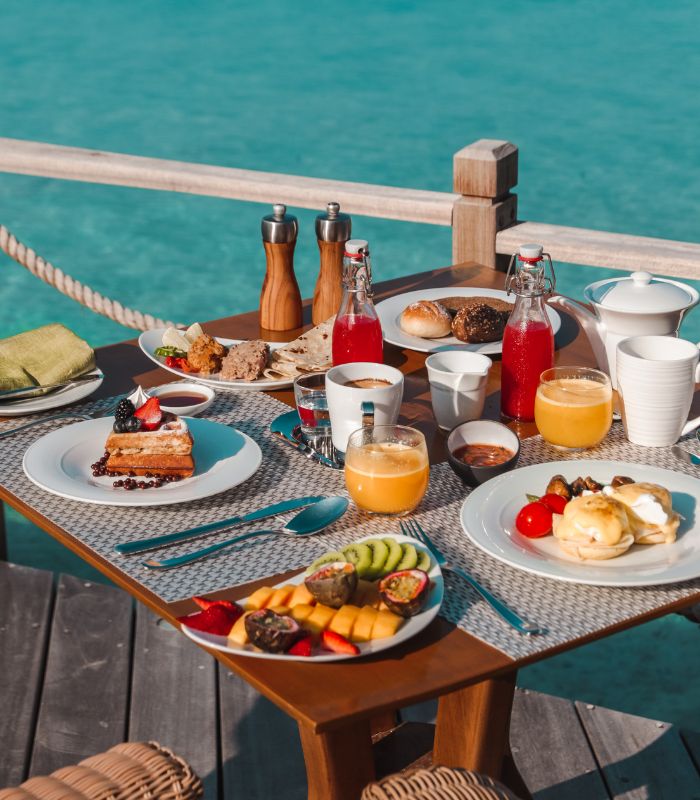 Gili Lankanfushi Maldives: A Culinary Odyssey amidst Crystal Waters At Gili Lankanfushi, embark on a culinary odyssey as you explore the sublime fusion of Japanese and Maldivian flavors at By the Sea or indulge in international delicacies with the gentle lapping of waves beneath you at the Overwater Bar.
Soneva Fushi: A Feast for the Senses in a Barefoot Paradise Soneva Fushi, the epitome of barefoot luxury, invites you to savor sustainable and organic cuisine at the treetop sanctuary of Fresh in the Garden or delight in beachfront feasts beneath the star-studded sky at Mihiree Mitha. More on Expedia
One&Only Reethi Rah: A Symphony of Flavors on a Secluded Atoll One&Only Reethi Rah orchestrates a symphony of flavors as you sample contemporary Japanese creations at the overwater Tapasake or relish in the garden-to-table concept at the enchanting Botanica. 
Velaa Private Island Maldives: A Gourmet Haven on a Private Isle Velaa Private Island, an exclusive gourmet haven, whisks you away on a gastronomic journey with the unique fusion of European and Asian flavors at Aragu, while the overwater Tavaru tantalizes your senses with a captivating Teppanyaki and East Asian dining experience.
Six Senses Laamu: Sustainable Indulgence in an Eco-Conscious Sanctuary Six Senses Laamu, an eco-conscious sanctuary, entices you with its sustainable and organic approach to dining. Lose yourself in the international delights of the overwater Longitude or savor farm-to-table creations at the signature Leaf restaurant.
See reviews to these all-inclsuive resorts in the Maldives on Tripadvisor: Find the best deal, compare prices, and read what other travelers have to say at Tripadvisor about all-inclsuive resorts in the Maldives
In the Maldives, where luxury and nature intertwine, these five resorts promise to satiate your cravings, whisking you away on an unforgettable culinary adventure as you revel in the paradise that surrounds you.
Among these idyllic islands, two all-inclusive resorts promise an unparalleled vacation experience: the ever-charming Meeru Island Resort & Spa, and its sophisticated cousin, the One&Only Reethi Rah.
Meeru Island Resort & Spa
As the seaplane descends onto Meeru Island, the first thing you notice is the stunning canvas of turquoise, teal, and sapphire blues – the lagoon. If you ever wondered what it would be like to live in a postcard, this is it.
This resort has an all-inclusive plan that allows you to dine in and around the resort!
Meeru Island Resort & Spa has cornered the market in offering a 'Robinson Crusoe' style vacation with all the frills of a luxury resort. The island is laid back, with barefoot dining a norm and the harmonious blend of nature and comfort their mantra.
The overwater villines, a hallmark of the Maldives, take center stage at Meeru. Featuring private sundecks and stairways leading directly into the crystal-clear lagoon below, these villas promise an intimacy with the ocean that few resorts can match. If you are an ocean lover, there is nothing like waking up to the gentle lap of waves and diving straight into the vibrant underwater world, teeming with colorful corals and exotic marine life.
When it comes to dining, Meeru doesn't shy away from variety. With four à la carte restaurants, each offering a different world cuisine, and two buffet-style restaurants that change themes nightly, the resort ensures that your palate embarks on a journey as adventurous as your vacation.
However, Meeru's exclusivity might not resonate with everyone. Its laid-back vibe may not appeal to those seeking a bustling nightlife or a high-energy resort experience. Furthermore, its location in the North Male Atoll, while scenic, is a bit remote and may not be ideal for those wanting to explore other parts of the Maldives.
Meeru Island Resort & Spa at Expedia
One&Only Reethi Rah
For travelers seeking more polished luxury and a blend of relaxation and recreation, the One&Only Reethi Rah is a worthy alternative. Located in the North Malé Atoll, this resort is a short speedboat ride away from Malé, the capital, offering an easy gateway to island hopping.
The One&Only Reethi Rah is the epitome of modern luxury. Each villa is a masterclass in design, blending contemporary aesthetics with traditional Maldivian craftsmanship. The Beach Villas, with private pools and direct beach access, redefine opulence. Their pièce de résistance, however, is the Grand Sunset Residence, a secluded three-bedroom villa with its private beach, ideal for families or groups.
The resort boasts an impressive lineup of activities. From exploring the house reef with a marine biologist to taking cooking classes and visiting the on-site art studio, boredom is an alien concept here. The dining experience at One&Only Reethi Rah is equally impressive, with menus curated by Michelin-starred chefs across its seven restaurants.
The One&Only Reethi Rah, however, comes with a more substantial price tag. It may not be ideal for those seeking a simpler, more relaxed vacation experience without the added frills of ultra-luxury.
In conclusion, both resorts offer fantastic all-inclusive experiences but cater to different desires. Meeru Island Resort & Spa is your go-to for a relaxed, back-to-nature luxury experience, scoring a solid 8.5/10. 
One&Only Reethi Rah Reviews, Deals & Photos on Expedia
Lilly Beach All Inclusive
Lily Beach Resort & Spa, located in South Ari Atoll, is another gem in the Maldivian all-inclusive resort scene. Known for its pioneering Platinum Plan - an all-inclusive package that includes meals, drinks, and a host of activities - Lily Beach offers a balance between Meeru's laid-back charm and One&Only Reethi Rah's polished luxury. The resort's villas, whether beachfront or overwater, are tastefully designed, combining modern amenities with traditional Maldivian elements. Its location in the South Ari Atoll, a region renowned for its rich marine life, including the majestic whale shark, offers a superior snorkeling and diving experience. In comparison, while it may not have the rustic appeal of Meeru or the ultra-luxury of One&Only Reethi Rah, Lily Beach strikes a happy medium, making it an excellent choice for those seeking comprehensive luxury at a reasonable price point.
Lily Beach All Inclusive Maldives Resort
A Glimpse into the Maldivian Eden: The Lily Beach Resort & Spa
Drenched in opulence, the Lily Beach Resort & Spa is an all-inclusive oasis nestled on the private island of Huvahendhoo, a sublime gem in the heart of the Indian Ocean. It's a world where the turquoise waters whisper stories of serenity, where the sandy beaches offer a luxurious embrace, and where every sight has the power to mesmerize.
As you step into one of the 125 lavish guestrooms, the first thing that greets you is a sense of unparalleled luxury. Each room comes with a private spa tub, a furnished patio offering panoramic views of the surrounding paradise, and an LCD television to keep you entertained. The rooms are an epitome of comfort with complimentary wireless internet, iPod docking stations, and bathrooms that boast jetted tubs and complimentary toiletries.
But, that's just the tip of the iceberg. The Lily Beach Resort & Spa offers an intoxicating mix of world-class amenities that set it apart from its competitors. The full-service spa is a sanctuary of wellness where expert therapists offer relaxing massages, rejuvenating body treatments, and soothing facials. The private beach is a dreamy vista that will steal your breath away, and the resort's nightclub and outdoor tennis court add to the unique entertainment options available.
The property's all-inclusive Platinum Plan is where the true charm lies. Imagine relishing a breakfast with a selection of 20 European cheeses at the Lily Maa, the resort's multi-cuisine dining restaurant, or dining around options at AQVA or Tamarind specialty restaurants. The plan also entitles you to unlimited signature drinks, alcoholic and non-alcoholic cocktails, and a selection of 80 premium wines from around the world. In case you're a champagne lover, the premium French Champagne Tattinger is available by the glass.
The Platinum Plan doesn't end there. It includes three excursions per stay, snorkeling equipment, and access to all non-motorized water sports activities. For the sports enthusiasts, there's a sports complex with a tennis court, table tennis, billiards tables, gym, beach volleyball court, and a football pitch. The resort even caters to the younger guests with access to the Turtle Kids' Club.
As for the dining experience, you are in for a culinary journey. The resort boasts four restaurants, offering a plethora of choices. The 24-hour room service ensures that you can satiate your hunger at any time of the day or night. You could even visit the beach bar for a refreshing drink or savor the complimentary buffet breakfast served daily.
In comparison to its competitors, such as the Maldives' Anantara Dhigu and the Baros Maldives, the Lily Beach Resort & Spa offers an all-inclusive experience with a more extensive selection of premium wines, a wider variety of sports and entertainment activities, and a greater emphasis on luxury and value for money.
However, a slight drawback could be its less flexible dining options compared to the competing resorts, which offer more restaurants and cuisines to choose from. Moreover, Lily Beach Resort & Spa's location, though breathtakingly beautiful, might feel a tad remote for those seeking a vibrant city experience. But then again, if you're looking for an escape from the hustle and bustle, this is the perfect haven.
Now, let's talk scores. On a scale of 1 to 10, Lily Beach Resort & Spa scores a perfect 10 for its luxurious accommodations, a 9 for its dining experience, a 10 for its range of amenities, and an 8.5 for its location.
For those seeking an alternative, the Baros Maldives, renowned for its vibrant coral reefs and a variety of dining options
might just hit the spot. Located in the North Malé Atoll, Baros Maldives offers an equally luxurious, yet distinct experience. Though it doesn't follow the all-inclusive model like the Lily Beach Resort & Spa, its strength lies in its stunning natural beauty, and extraordinary underwater activities, a haven for diving and snorkeling enthusiasts.
If we were to score the Baros Maldives, it would fetch a 9 for its accommodations, an impressive 9.5 for its dining experience, a 9 for its amenities, and a solid 10 for its unparalleled location in the midst of vibrant marine life.
To sum it up, the Lily Beach Resort & Spa is a treasure trove of luxury, a place where you can revel in tranquility while being pampered with top-notch services and amenities. It's a paradise for those seeking a serene retreat, and a haven for families and couples alike. Even newlyweds would find the resort's honeymoon experience to be extraordinary. And with its inclusive Platinum Plan, your dream holiday is literally at your fingertips.
For travelers who prefer a more bustling locale or a richer underwater exploration, Baros Maldives serves as an excellent alternative.
In the end, whether it's the secluded haven of Lily Beach Resort & Spa or the vibrant charm of Baros Maldives, a Maldivian luxury resort experience promises to transport you into a world of sheer indulgence and unforgettable moments. Prepare yourself for a journey where every step leads to a new discovery, every sight holds a marvel, and every moment is steeped in luxury. It's not just a trip, it's a rendezvous with paradise.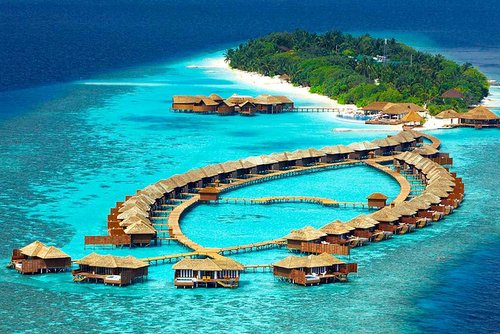 Lily Beach All Inclusive Resort & Spa
Sometimes regarded as the best all -inclusive resort in Asia this is certainly a resort to put on your radar if you are planning a Maldives resort vacation.  Huge private rooms and decks into clear waters and pool areas for adults and families.  This is the major Maldives resorts which is predominately all-inclusive with an opt-out instead of opt in option.
The buffets are sensational and stacked with top class offerings, kids meals, multiple cooking stations and well known quality wines. Apart from this you will find a few outstanding à la carte restaurants around the resort.
Looking for an All Inclusive resort in the Maldives? Lily Beach- All-Inclusive Platinum Plan Resort in the video below recently made the world's best all-inclusive resorts list. 

---
Top Resorts that currently (at the time of writing) have all Inclusive packages available in the Maldives:

Thundi Guest House
Fun Islands Resort - Maldives
Bodufinolhu (South Male Atoll)
Adaaran Club Rannalhi - All Inclusive
Helengeli Island Resort
Maldives all-inclusive Resorts with water slides
While Maldives is known for its idyllic overwater villas and tranquil ambiance, there are a few resorts that combine luxury with fun, offering all-inclusive packages and water slides for a more adventurous experience. Here are two resorts in the Maldives that feature water slides:
Kandima Maldives: Located in Dhaalu Atoll, Kandima Maldives is a stylish and lively resort that offers all-inclusive packages for an ultimate vacation experience. The resort features the longest outdoor swimming pool in the Maldives, along with a thrilling water slide. With ten different dining options, a wide range of activities, and the Aquaholics water sports center, Kandima Maldives caters to families and groups looking for a fun-filled stay.
Jumeirah Vittaveli: Nestled in the South Male Atoll, Jumeirah Vittaveli offers luxurious all-inclusive packages and boasts a unique feature – a water slide connected to a stunning overwater villa. Guests can enjoy this exhilarating slide that plunges them directly into the crystal-clear lagoon below. The resort also offers various dining options, a Talise Spa, and numerous activities for guests to enjoy during their stay.
Find out more on the Tripadvisor reviews of all-inclusive resorts: Find the best deal, compare prices, and read what other travelers have to say at Tripadvisor
These Maldives resorts combine luxury and excitement by offering all-inclusive packages and water slides for guests seeking both relaxation and adventure.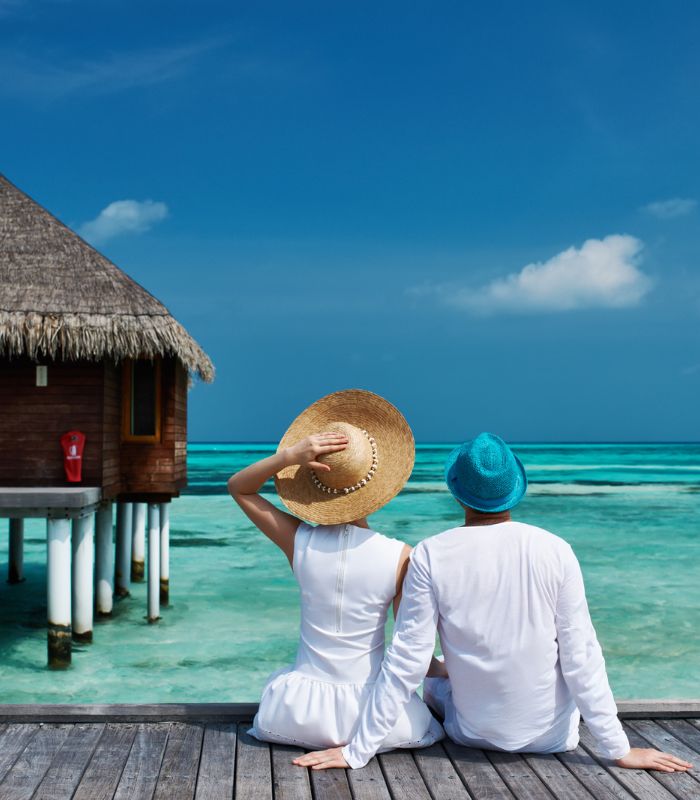 Love knows no boundaries, and in the Maldives, romance reaches new heights at the captivating all-inclusive wedding resorts and honeymoon havens. Picture yourself strolling hand-in-hand along the powdery shores of Baros, a hidden gem where love blooms amidst lush greenery and azure waters. Feel the magic at Four Seasons Resort Maldives, where idyllic beachfront villas and opulent overwater bungalows set the stage for a love story of a lifetime.
Baros Maldives Beach Wedding Resort
In this tropical paradise, where time stands still, you'll find yourself immersed in the lap of luxury and unparalleled beauty. Unwind with a couples' massage at the exclusive spa, where expert therapists transport you to a state of blissful serenity. Indulge in sumptuous candlelit dinners under the starlit sky, where each bite tantalizes your taste buds and ignites a symphony of flavors.
All Inclusive Maldives Honeymoon Resorts
Maldives ALL Inclusive Wedding Resorts
Maldives' all-inclusive resort scene Scorecard
Let's break down the key aspects of the Maldives' all-inclusive resort scene:
Scenic Beauty: 10/10
The Maldives is truly unmatched when it comes to natural beauty. From the crystal-clear waters to the pristine beaches and the vibrant underwater world, the archipelago is a slice of paradise on earth.
Luxury: 9/10
The Maldives is renowned for its luxury resorts, offering everything from overwater villas to private island retreats. However, the levels of luxury can vary significantly from resort to resort, and not all resorts may live up to the high expectations set by the top-tier ones.
All-Inclusive Packages: 7/10

While many resorts offer all-inclusive packages, the term 'all-inclusive' can mean different things at different resorts. Some may include water sports and spa treatments, while others may charge extra for these. It's important to read the fine print and understand what's included in your package.
Dining: 8/10
The dining scene in the Maldives is generally excellent, with resorts offering a variety of cuisines and dining experiences. However, the quality and variety can depend on the resort, and some may not cater to specific dietary requirements or preferences.
Activities: 9/10
The Maldives offers a wealth of activities, especially for water sports enthusiasts. From snorkeling and diving to fishing and sailing, there's plenty to keep you entertained. However, those seeking land-based activities may find the options more limited.
Accessibility: 6/10
Given the geography of the Maldives, getting to and from resorts can be an adventure in itself. However, it can also be time-consuming, and the cost of seaplane transfers can add significantly to your holiday budget.
Value for Money: 7/10
The Maldives is not a budget destination, and while the experience is generally worth the price, some may find the additional costs for certain activities, dining options, and transfers a bit steep.
In conclusion, the Maldives scores highly on scenic beauty, luxury, and activities but falls short when it comes to accessibility and value for money. It's essential to do thorough research and choose a resort that best fits your budget and preferences to get the most out of your Maldivian vacation.
Comparing the Maldives to Bora Bora and Seychelles
Bora Bora is often dubbed the 'Pearl of the Pacific.' Famous for its luxurious overwater bungalows, turquoise lagoons, and dramatic volcanic peaks, it offers a vacation experience akin to the Maldives. However, Bora Bora leans more towards the ultra-luxury market, with prices generally higher than in the Maldives. It's an ideal destination for honeymooners and couples seeking a romantic getaway. The cultural experiences, including Polynesian dances and traditional Tahitian feasts, add a unique flavor to the Bora Bora experience. If you're a fan of hiking and mountainous landscapes, Bora Bora offers more in terms of land-based activities than the Maldives.
Seychelles is another island paradise in the Indian Ocean, known for its pristine beaches, unique wildlife, and lush, mountainous interiors. While Seychelles doesn't offer the extensive range of overwater bungalows that the Maldives does, it does have an impressive collection of beachfront resorts and villas that blend seamlessly with the natural surroundings. Seychelles is also a biodiversity hotspot, home to rare species like the Aldabra giant tortoise and the Seychelles black parrot. It's an ideal destination for eco-conscious travelers and those seeking a mix of beach relaxation and nature exploration.
Recommendations
If you're seeking an ultra-luxury, romantic getaway and don't mind a higher price tag, Bora Bora could be the destination for you. Its unique blend of luxury and Polynesian culture makes for an unforgettable experience.
On the other hand, if you're looking for a blend of beach relaxation and nature exploration, Seychelles would be a perfect choice. Its unique biodiversity and stunning landscapes offer plenty of opportunities for eco-adventures.
However, if overwater villas, vibrant marine life, and a blend of relaxation and water-based activities top your list, the Maldives remains an unbeatable choice. It offers a wider range of options in terms of price points and experiences, catering to a more diverse audience.
Share Your All-Inclusive Adventures and Questions! 🌴 Have a memorable experience from a luxury all-inclusive vacation? We'd love to hear it at Luxury Resort Bliss. We're on the lookout for top-quality, insightful tales that'll inspire our community. Dive in and be a part of our sun-soaked stories! 🌊🍹✨
The story is a fictionalized account founded on travel expertise, research, and experience. Always refer to recent guest reviews and perform due diligence before booking.
💼 We cherish our independence! ✈️ Our travel recommendations are carefully researched, bias-free, and powered by human expertise by April and Ricky of LRB (we have personally researched and travelled to many of these destinations and researched others thoroughly through first-hand accounts). We also have put in the hard miles, and Ricky has worked for decades for resort and hotel chains  Hyatt, Hilton, Shangri-La and Radisson before starting Luxury Resort Bliss in 2007. 🌍✨ Unlike some other resort review websites we are concerned on the guest experience rather than mere corporate interest.