Cozumel Resorts
Looking for some great Cozumel resorts? We've found some great ones that receive great reviews, are beautiful and make for a great relaxing vacation.  Cozumel is an island of calm white sandy beaches, deep green forests, and a friendly relaxed lifestyle. Best of all Cozumel is home to the most stunningly brightly colored reefs and sea beds.
We've listed our top choices here on this page, but you can also check out the Cozumel all-inclusive bliss list.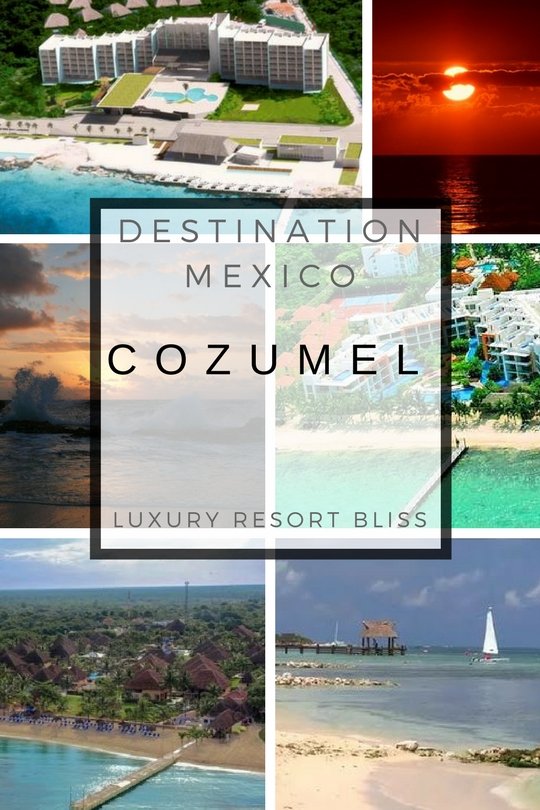 ---
There are a massive 27 all-inclusive resorts in Cozumel. That's 27 of 196 properties on a rather smallish island which makes this quite a densely populated all-inclusive destination. One of the best. 
See the all-inclusive resorts in Cozumel, compare prices, and read what other travelers have to say at Tripadvisor
---
Best of Cozumel Map & Attractions
Cozumel is a Mexican island, located just south of the Yucatan Peninsula in the Caribbean Sea. It is an idyllic place, with beautiful white sand beaches, an abundance of coral reefs and a rich marine life.
The island offers plenty of attractions for tourists to enjoy. One can go diving and snorkeling in the clear water or explore the island's jungles and mangroves by kayak or bicycle.
See the TripAdvisor map of Cozumel to find resort locations, prices and  ratings as well as attractions, restaurants, and things to do.
---
When to Go to Cozumel
Climate & Seasons
Cozumel like most of Mexico has a low season is post Easter which stretches all the way through to December with the cheapest prices in between. There is not a huge chance of getting hurricanes and often the weather can include a cool refreshing onshore breeze from September. 
Maximum and minimum temperatures in the area.
Rainfall in nearby Playa del Carmen
---
Inter-Continental Presidente Cozumel Resort
The Inter-Continental Presidente Cozumel Resort is a 5 star all inclusive resort with a beautiful beach and amazing views.
The resort has an array of amenities and activities to choose from, such as kayaks, snorkeling, scuba diving, windsurfing, sailing, and more.
It also has a variety of restaurants to choose from with authentic Mexican cuisine as well as international dishes.

Inter-Continental Presidente Cozumel Resort
Location: Beachfront on a private beach, Cozumel.
Amenities: two lighted tennis courts, ping-pong table, ceramics painting, live entertainment, a pool, well equipped business centre, gymnasium, pool, scuba diving and snorkeling.

The Spa offers a sauna and whirlpool. Treatments use indigenous fruits, plants, herbs and Mayan traditional techniques.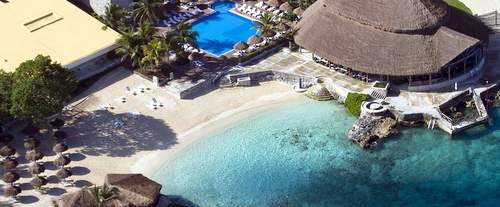 Inter-Continental Presidente Cozumel Resort
The kid's program is promoted in a way that shows they are serious about hospitality to children. 

Rooms: Rooms offer tea and coffee maker, turn downs, valet as standard. Things like newspapers and butler service are reserved for executive class. There are 220 guest-rooms with Egyptian styling, plasma TVs, and wireless Internet access.
Reviews: Reviews from this hotel generally acknowledge this hotel's place as the most outstanding in Cozumel. The surrounding area combined with true quality service make this hotel a standout. If you are aware of a better one you will certainly surprise us. 
Special offers and reviews on the InterContinental Presidente Cozumel Resort
InterContinental Presidente Cozumel Resort official website.

---
The Cozumel Palace is the perfect destination for your family vacation. The resort is located on a private beach, in the heart of Cozumel.
The resort offers various amenities and activities for adults and children. There are two outdoor pools, a large pool with water slide, water sports center, restaurants and bars with international cuisine, nightly shows and live music.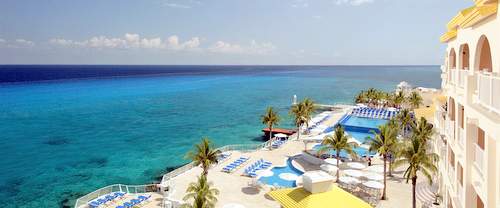 Cozumel Palace (This will take you to another Cozumel page)
---
Adult only All-Inclusive Resorts in Cozumel
The Mexican Caribbean is one of the most popular tourist destinations for adults, and Cozumel is a great place to visit. It offers many resorts that cater to adults only.
Some of the resorts in Cozumel offer all-inclusive packages, while others offer more luxurious accommodations with a variety of amenities. At these resorts, guests are free to enjoy all kinds of adult activities without worrying about children or other family members who might not approve.
Secrets Aura Cozumel All Inclusive is the only resort with is also Adult Only
Secrets Aura Cozumel All Inclusive
A stylish adults only all inclusive resort.
Location: Cozumel jungle surrounded by Mayan Ceiba trees and gardens.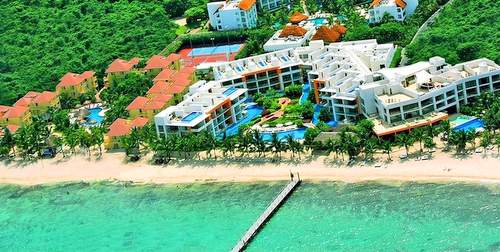 Secrets Aura Cozumel All Inclusive
Amenities: All-inclusive means all meals, snacks, alcoholic beverages, soft drinks, Italian fusion cuisine restaurant, Sandy Terrace Lounge, Lobby Bar, and "Niki-Tiki" Beach Lounge. The restaurants have recently been updated and now their are four á la carte gourmet restaurants and a buffet. 

Rooms: 96 rooms on three floors. They are all exclusive suites with views of the Caribbean Sea.Each has a terrace, plasma TV, wireless Internet, Bose audio system, DVD/CD or iPod player, and unique controlled illumination system, "Comfort Line" king size or two queen size beds.
Reviews: Loved it. Everyone who has stayed here has loved it as far as we can tell. You can assume from this that the food service are up to or above the standard of other resorts in the area. Having a brand new resort is a clear advantage when it comes to room and facility satisfaction and this shows. Guests are equally impressed with the location and the service. Quick to give upgrades.
More Reviews and Special Offers for Secrets Aura Cozumel
---

Hotel Occidental Allegro Cozumel (This will take you to another Cozumel page)
While many resorts on Cozumel are quite rustic compared to other areas of Mexico the Allegro Cozumel is something different. While offering a refreshing beachfront destination  San Francisco beach the resort itself is sophisticated.
There is a wide array of facilities not found at many other resorts on the island including  five spectacular swimming pools, spas, and a water park.
Rooms are massive and design has been considered carefully. This attention to detail has also carried over into the five restaurants which are the ideal place to restore the body after a busy day lounging on the beach or diving the reef.
VIDEO: Allegro Cozumel All-Inclusive, Resort
Official website for Allegro Cozumel All-Inclusive, Resort.
---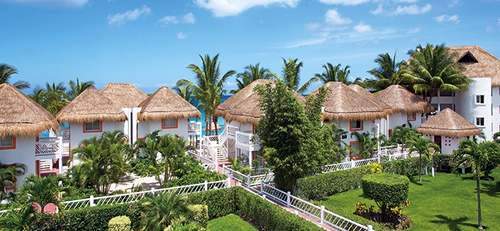 Sunscape Sabor Cozumel
Looking for an all inclusive resort which is particularly family friendly. In many ways the island of Cozumel is  already set up as a family paradise with its calm beaches, snorkelling opportunities and easy going way of island life
The Sunscape Sabor Cozumel takes that concept and stretches it a little further with  all inclusive package which makes it easy for everyone to relax. The  Unlimited-Fun® package, is really inclusive of all age groups and this is reflected in the great food, drinks and entertainment options available.
VIDEO: Sunscape Sabor Cozumel
See the official website  for the Sunscape Sabor Cozumel
---
El Cid La Ceiba Cozumel Beach Hotel
El Cid La Ceiba Beach Hotel is all about keeping pace with the  island rhythms. The resort also takes good advantage of the reef and its snorkeling and diving, opportunities.
The location is also gives you  options for day activities and excursions given it's proximity to San Miguel
VIDEO: El Cid La Ceiba Beach Cozumel

Official website for El Cid La Ceiba Beach Cozumel
---
Playa Azul Cozumel is a good choice if you are looking to enjoy a quality, family, golf or spa vacation in Cozumel.

If you are looking for a family run resort this is a great choice.  This is a refreshing change from the usual mega resorts that you find occupying more and more space on the Mexican Caribbean coast.
In many ways the charming intimate nature of service here is what a visit to Cozumel is all about. The personalized service really gives the impression of a home away from home. 
Particularly noted are the quality of the restaurant experiences. This is definitely not a slap it up all inclusive simply designed to keep guests from going hungry. Menu items are carefully considered and offer real flavours and tastes unique to this part of the world.  Dinning in an atmosphere of  celebration and personalized service  sets the mood for everything else wonderful that happens here. 

Share Your All-Inclusive Adventures and Questions! 🌴 Have a memorable experience from a luxury all-inclusive vacation? We'd love to hear it at Luxury Resort Bliss. We're on the lookout for top-quality, insightful tales that'll inspire our community. Dive in and be a part of our sun-soaked stories! 🌊🍹✨
The story is a fictionalized account founded on travel expertise, research, and experience. Always refer to recent guest reviews and perform due diligence before booking.
💼 We cherish our independence! ✈️ Our travel recommendations are carefully researched, bias-free, and powered by human expertise by April and Ricky of LRB (we have personally researched and travelled to many of these destinations and researched others thoroughly through first-hand accounts). We also have put in the hard miles, and Ricky has worked for decades for resort and hotel chains  Hyatt, Hilton, Shangri-La and Radisson before starting Luxury Resort Bliss in 2007. 🌍✨ Unlike some other resort review websites we are concerned on the guest experience rather than mere corporate interest.