Best Roatán All Inclusive Resorts (2023)
Looking for some great Roatán All Inclusive Resorts? Located on 30 miles of the Caribbean Coast of Honduras, Roatán is still a somewhat unknown location for a great vacation. If you love diving, it's a great choice as there is an excellent reef here.

Roatán,in an area called the Bay Islands about 20 km of the coast Honduras has become a popular cruise destination but the appeal goes much deeper than that. Hills thickly coated in jungle and clear and divers dive sites make this an especially enticing destination to visit on a family vacation, or honeymoon.
This list also has some great dive resorts: Top 25 Roatan Resort Deals with Reviews by TA
The All Inclusive Roatán Resorts
As my plane descended towards Juan Manuel Gálvez International Airport, I couldn't help but gaze at the stunning turquoise waters of the Caribbean Sea below. Roatan, a small island off the coast of Honduras, was about to become my playground for the next week, and I was more than ready to dive into this tropical adventure.
Our top Roatán All Inclusive Roatán Resorts reviewed with video and special offers. 
See 13 of 188 properties listed as All Inclusive in Roatán: Find the best deal, compare prices, and read what other travelers have to say at Tripadvisor on Roatan All-Inclusve
As my plane descended towards Juan Manuel Gálvez International Airport, I couldn't help but gaze at the stunning turquoise waters of the Caribbean Sea below. Roatan, a small island off the coast of Honduras, was about to become my playground for the next week, and I was more than ready to dive into this tropical adventure.
Henry Morgan, Roatán Resort

Henry Morgan All Inclusive Roatan
Henry Morgan is not the best resort in Roatan, but it does score 7 out of 10 for value, and it is one of the few that delves a little more into the all-inclusive concept. As you would expect, there are all-inclusive packages that do include three buffet meals, activities and sports and non-motorised water sports. However, you will need to fork out for à la carte options. 
Henry Morgan All Inclusive Buffet
All in all, these all-inclusive packages are about a 7 out of 10 for their commitment to the all-inclusive concept. 
See Henry Morgan All Inclusive on Hotels.com
Anthony's Key Roatan Resort
In recent times, Anthony's Key Resort has made the switch to all-inclusive. At the time of writing the resort were offering a seven-night all-inclusive package including airport transfers, three meals daily, welcome cocktails, cultural events, beach activities and tickets to local attractions.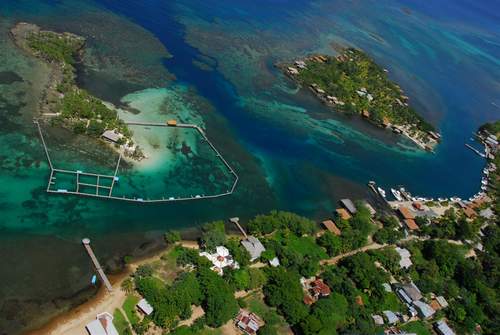 Anthony's Key Dolphin Encounter Area
Located partly on a tiny islet reached by a short boat ride from the resorts main grounds. 
This resort is great for lazing in hammocks, watersports, diving and swimming with the dolphins. There are also great programs and activities for children - including scuba certification. 
This is one of the Roatan resorts that is a recent award winner and gets excellent reviews. Scuba divers love this place. Past guests also like the atmosphere and the spa but really, diving and snorkeling are both mentioned over and over.
More information and the latest reviews on Anthoy's Key Resort.
Infinity Bay Spa and Beach Resort
All-inclusive packages at Infinity Bay Spa & Beach Resort are fairly inclusive, and we rate them above  7 out of 10 for their approach to the all-inclusive concept. Things like airport transfers, meal plans, unlimited drinks, and activities,  are pretty standard on these packages. 
The Premium All-Inclusive Package at the time of writing was advertised on their site for $95 USD/day  at the time of writing with sushi, steak, top-shelf liquor and   domestic and imported beers all included.
Accommodations are provided in Spanish-style villas, and the resort is pretty comprehensive, including a massive  300-foot infinity pool.
Infinity Bay Spa And Beach Resort
Roatan's Resort Royalty: Infinity Bay Spa and Beach Resort vs. Mayan Princess Beach & Dive Resort
When it comes to luxury and comfort, these two resorts rank among the best on the island. Nestled along the picturesque West Bay Beach, both Infinity Bay Spa and Beach Resort and Mayan Princess Beach & Dive Resort offer upscale accommodations and an array of amenities to make your stay unforgettable.
Infinity Bay Spa and Beach Resort: With its spacious rooms, fully equipped kitchens, and private balconies overlooking the pristine beach, Infinity Bay exudes elegance. The resort's lavish infinity pool is the perfect place to unwind after a day of island exploration, and their signature Tranquility Spa offers rejuvenating treatments to melt away any lingering stress.
Mayan Princess Beach & Dive Resort: Just a short stroll down the beach, the Mayan Princess offers a more laid-back atmosphere. While the rooms may not be as opulent, the resort's lush gardens, charming architecture, and friendly staff create a warm, welcoming environment. Plus, their all-inclusive package takes the hassle out of vacation planning.
For the adventurous traveler, both resorts have on-site dive centers, but I found Mayan Princess's dive team to be particularly knowledgeable and experienced. On the other hand, if you're looking for an upscale retreat with a touch of pampering, Infinity Bay is the place to be.
Video Review: This drone footage follows of a trip to Roatan Honduras, staying at Infinity Bay Resort in West Bay scoring 10 out of 10. They enjoyed the fine sandy to swim and snorkel.

More information and reviews on Infinity Bay Spa And Beach Resort on Hotels.com

Roatan Resorts Review
In this vlog, the hosts bid farewell to Belize and hello to Honduras. They plan to show viewers all that Roatan has to offer, with a focus on two areas: West Bay and West End. West Bay is more upscale, with nicer beaches and resorts, while West End has a laid-back, backpacker vibe and is popular with divers. The hosts share a pro tip about paying for day access to resort amenities. They also showcase delicious seafood dishes and a beautiful sunset. The vlog features a stunning hacienda and its private porch area, including a kitchen, bar, and bathroom bigger than their first apartment. The hosts marvel at the luxurious features and design of the hacienda, including a shower with glass tiles that let in sunshine. Overall, the hosts provide an entertaining and informative tour of Roatan, showcasing its different vibes and offerings.
These following resorts don't make as much of an attempt at the all-inclusive concept, but are great alternatives you might like to consider for the other endearing features they offer. 
Barefoot Cay Roatan Resort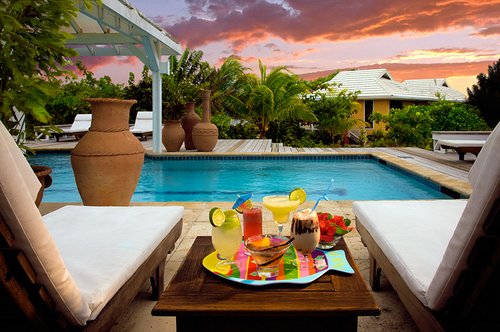 This award-winning resort is located on a privately owned 4-acre island, right on a white sandy beach. You can drink the tap water here. There are lots of activities: swimming, snorkeling, diving, fishing, kayaking, boat touring. The Cay is behind a reef and so protected from big waves.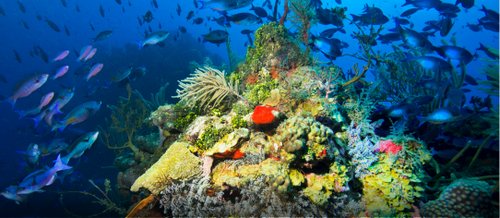 There's also a pool cabana, dining in restaurants or in the bungalows, fitness and spa services and more.

Accommodations are in bungalows. They are one or two bedrooms, are on the beach, have "Heavenly Beds" and are quite spacious.
The reviews on this resort are amazingly great with many perfect ratings.
More information and reviews on Barefoot Cay
---
Upachaya Eco-Lodge and Wellness Resort in Roatan
As I stepped foot into Upachaya Eco-Lodge and Wellness Resort, I instantly felt a connection with nature and an overwhelming sense of tranquility. This hidden gem, nestled amidst Roatan's lush greenery, offers a serene retreat from the hustle and bustle of daily life. The eco-conscious resort, run by a warm and welcoming team, truly goes above and beyond to create an experience that's as good for the soul as it is for the environment. With its cozy, inviting cabanas, delicious farm-to-table cuisine, and rejuvenating wellness offerings, Upachaya is the perfect place to unplug, unwind, and immerse yourself in the island's natural beauty. Whether you're participating in a rejuvenating yoga class, indulging in a revitalizing massage, or simply enjoying a good book while listening to the melodic bird songs, Upachaya Eco-Lodge and Wellness Resort feels like a home away from home – and one you won't want to leave anytime soon.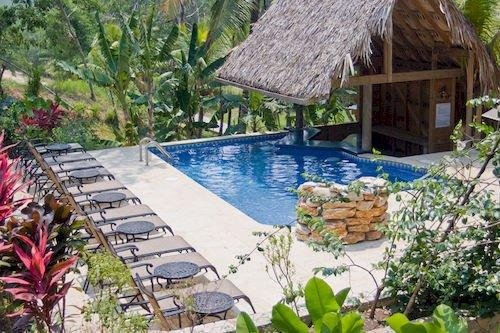 Yoga on the Boardwalk
This is a different type of resort for the area and one that amazingly gets perfect reviews from past guests. Yoga, spa services, water activities and relaxation are the focus here.
They will cater to most dietary concerns here. Regular retreats and events are scheduled here and you can check what's coming up on their website. This is a small resort with only 7 air-conditioned suites.
Past guests have enjoyed the snorkel and kayaking tours, healthy food offered, and the especially tranquil atmosphere (while still being close to attractions). It is rare for no one to post a less than perfect review. They must be doing things well!
More information and reviews for Upchaya here. 
---
Pristine Bay Resort 
Roatan, in the Bay Islands of Honduras had mostly smaller resorts until this latest arrival. This is one of the bigger most comprehensive resorts on the island and and is quite polished in it's finish.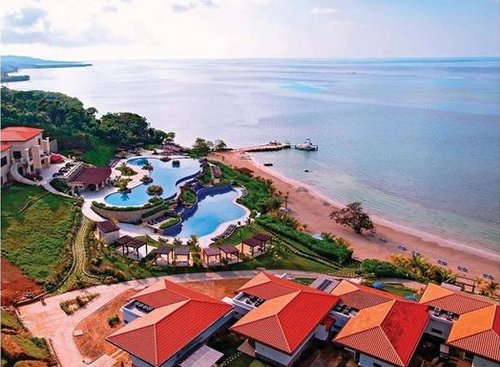 Multiple restaurants and swimming pools are more like the resorts you see in Mexico than what was previously available in Roatan.
More information and special offer on Pristine Bay Resort 
---
Mayoka Roatan Lodge 
At Mayoka Roatan Lodge, you'll find yourself enveloped in an atmosphere of laid-back luxury and effortless sophistication. Perched on a hillside overlooking the turquoise waters of Sandy Bay, this boutique lodge boasts breathtaking views and an intimate, inviting ambiance that makes you feel like you've stumbled upon your own private slice of paradise.
Each of the six uniquely designed suites at Mayoka combines modern comforts with island-inspired décor, creating an ideal haven for relaxation and rejuvenation. The friendly staff goes above and beyond to ensure your stay is nothing short of exceptional, attending to your every need with genuine warmth and hospitality.
The lodge's stunning infinity pool is the perfect spot to soak up the sun while sipping a refreshing cocktail from the poolside bar. And when hunger strikes, the on-site restaurant serves up a delightful fusion of Caribbean and international flavors, using fresh, locally sourced ingredients.
For those looking to explore the island's natural wonders, Mayoka Roatan Lodge offers easy access to some of Roatan's most stunning beaches, as well as top-notch snorkeling and diving spots. And after a day filled with adventure, there's nothing quite like unwinding with a soothing massage at their in-house spa.
In essence, Mayoka Roatan Lodge is a luxurious hideaway that captures the essence of Roatan's enchanting beauty, while providing an unforgettable experience that's as enchanting as the island itself.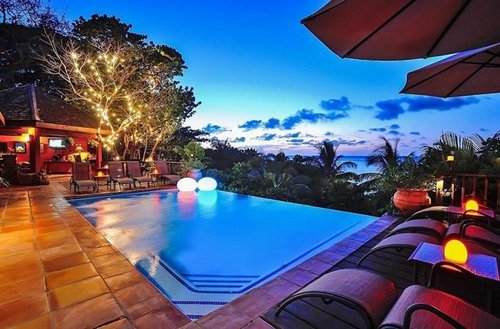 Infinity Pool at Mayoka Lodge
Mayoka Lodge has won a number of awards recently for best small hotel, romance and service. It gets excellent reviews and is on the more elegant and upscale side of resort life in Roatan. 
Amenities offered here include tennis, yoga, spa services, restaurant and bar, kayaking and snorkeling.
There are a small number of beachfront luxury suites to stay in here. Dining packages are offered and there are quite a number of activities to do in the area.
Past guests here rate it very highly. Personalized service (that is very well done), beachfront location, and food are all excellent. Families like this resort a lot as well as the close proximity to other attractions. 
More information and reviews on Mayoka Lodge.
---
---
Paradise Roatan Beach Hotel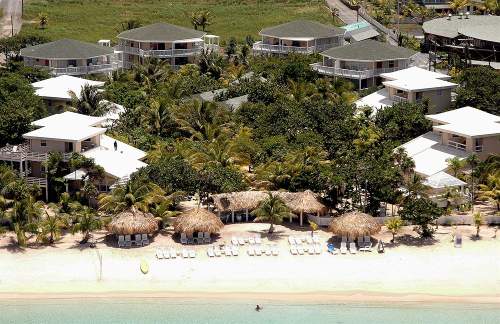 Roatan Beach Hotel
This mid-range resort is on a stunning beach and gets good reviews. It's in a good position to access the attractions around the island, has a pool, internet, pool and breakfast included.
I'd suggest taking a look at what guests are experiencing recently as the next step for this resort. Latest reviews on Paradise Beach Hotel.
---
Island Pearl Roatan Resort
This resort has an artistic flare and an owner who loves it. It's on a beautiful island on the West Bay beach. Accommodations are in villas or guest houses. Each one is a little different but note that not all are air conditioned. 
There's a restaurant, diving and snorkeling, PADI courses and fishing.

Reviews here are excellent but booking here may likely only be done on the official Island Pearl site.
---
Splash Inn Roatan Dive Resort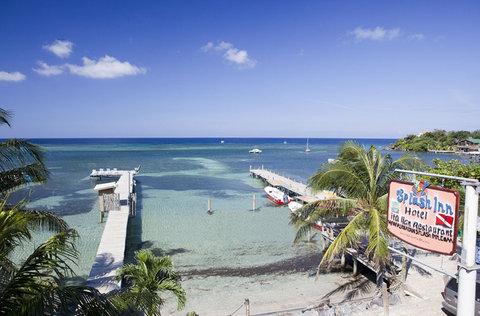 Roatan Dive Resort
Splash Inn is a 3 star resort and located on one of the best beaches in the area. It's a perfect spot for diving and snorkeling.
There are 25 rooms and all have air conditioning. There's a waterfront restaurant and meal packages are offered. 
Reviews here are excellent with past guests noting the great dive shop, patience offered to new divers, good restaurant and room service, and cleanliness of the whole place.
See the latest reviews and get more information for Splash Inn here.
---
Palmetto Bay Plantation Eco Friendly Roatan Resort

Located on Roatan's north shore, this resort strives to protect and respect the environment. There's a beach, scuba diving, snorkeling, a pool, a restaurant, kayaking, massage, horseback riding and a dock.
More information on Palmetto Bay Plantation

---
Unleashing the Adventurer Within: Activities and Excursions
Roatan's natural beauty offers endless opportunities for adventure. Here are some must-try experiences:
Scuba Diving: Roatan is home to the world's second-largest barrier reef, and it's teeming with marine life. I highly recommend diving with Mayan Princess's dive team for a personalized and unforgettable underwater journey.
Ziplining: Get your adrenaline fix by ziplining through the lush jungle canopy at Gumbalimba Park. The exhilarating experience is complemented by stunning views of the island and the ocean.
Little French Key: A short boat ride from the main island, this private retreat offers a picturesque escape. Enjoy a day of lounging on white-sand beaches, swimming with rescued animals, or snorkeling in the crystal-clear waters.
Savoring the Flavors: Roatan's Culinary Scene
Roatan is a melting pot of cultures, and its vibrant food scene is a testament to that. Here are my top picks for indulging your taste buds:
Argentinian Grill: Tucked away in West End, this cozy restaurant serves up mouthwatering Argentinean-style steaks and homemade chimichurri that will make you forget you're on a Caribbean island.
The Lighthouse: A charming spot in West Bay Beach, The Lighthouse offers a mix of Caribbean and international dishes. Don't miss their signature coconut shrimp and refreshing mojitos.
Creoles Rotisserie Chicken: A local favorite in West End, Creoles dishes out the most succulent rotisserie chicken you'll ever taste, along with irresistible side dishes like fried plantains and island-style rice and beans.
---
Roatan All-Inclusive Destination Scorecard: The Real Deal
Beaches: 9/10 Roatan's beaches are a true delight, offering powdery white sand and crystal-clear waters. West Bay Beach is the crown jewel, but don't be afraid to venture out and discover hidden gems like Camp Bay and Paya Bay. We're knocking off a point because some beaches can get crowded during peak season.
Accommodations: 8/10 Roatan's all-inclusive resorts range from luxurious havens to laid-back retreats. However, the island's smaller size means the selection is somewhat limited compared to larger Caribbean destinations. You may need to compromise on a few amenities or book early to secure your ideal spot.
Food & Drinks: 7/10 While all-inclusive resorts offer a variety of dining options, the food can sometimes be hit or miss. Local restaurants, on the other hand, serve up a flavorful fusion of Caribbean and international cuisine. It's worth venturing out of the resort for some authentic island eats!
Activities: 8/10 There's no shortage of things to do in Roatan, from world-class diving and snorkeling to jungle adventures and beach hopping. However, if you're looking for a more extensive range of activities, you might find the island's offerings somewhat limited compared to larger destinations.
Value for Money: 9/10 Roatan all-inclusive vacations generally provide excellent value for money, especially when compared to other Caribbean destinations. While prices can be higher during peak season, off-peak travel can yield some fantastic deals.
Safety: 7/10 Roatan is generally safe for travelers, but it's important to exercise common sense and take precautions, such as not flashing valuables and being aware of your surroundings. Some areas of the island are safer than others, so research and choose your accommodations wisely.
Ease of Travel: 6/10 Getting to Roatan is relatively easy, with direct flights from major cities. However, once you're on the island, the public transportation options are limited, and roads can be challenging to navigate. Renting a car or scooter is a convenient way to explore, but it's not for the faint of heart!
Overall Score: 54/70 Roatan is a charming and picturesque all-inclusive destination that offers a unique Caribbean experience. While it may lack some of the extensive amenities found in larger destinations, its natural beauty, friendly locals, and great value for money make it a truly memorable getaway. Just be prepared to embrace island life and go with the flow!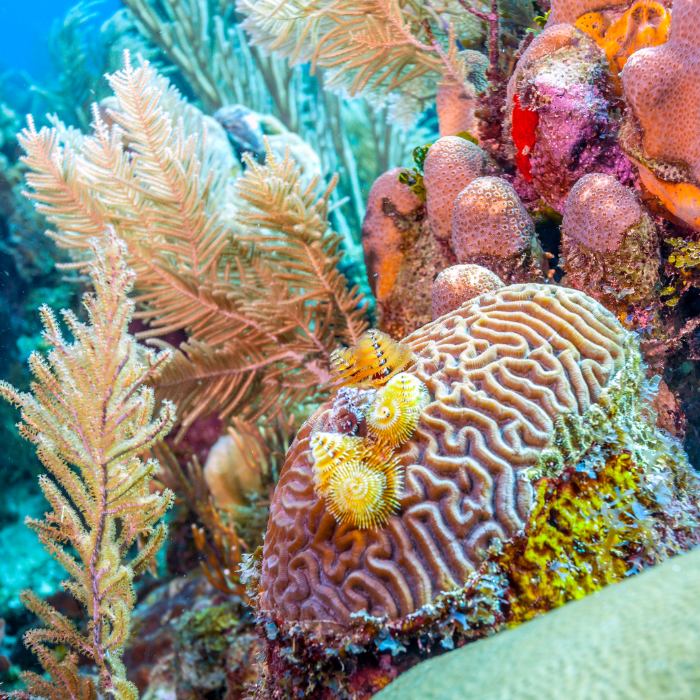 There are many great Roatan resorts, and we hope you found one that you like!
If you're still on the hunt for a great vacation spot, Belize resorts are also beautiful and have great diving and snorkeling. 
A: Ah, the eternal quest for perfect weather! Roatan boasts a tropical climate, so you can expect warm temperatures and sunny skies almost year-round. However, if you're trying to avoid the occasional rain shower, the ideal time to visit is between March and August. Just don't forget your sunscreen and a stylish sun hat!
Pack your bags and get ready to fly! Roatan has its own international airport, Juan Manuel Gálvez International Airport (RTB), which receives direct flights from major cities like Houston, Atlanta, and Miami. Connecting flights through San Pedro Sula or Tegucigalpa in mainland Honduras are also an option.
A: Traveling to paradise is a breeze! Citizens from the United States, Canada, the European Union, and many other countries can enter Honduras visa-free for stays up to 90 days. However, it's always a good idea to check the latest visa requirements for your specific nationality before you embark on your adventure.
A: Absolutely! Many all-inclusive resorts on the island cater to families, with kid-friendly activities, spacious accommodations.
Authors Unleashed: Unveiling the Ultimate Travel Experience through Expert Reviews, Ratings, and Research
💼 We cherish our independence! ✈️ Our travel recommendations are carefully researched, bias-free, and powered by human expertise. We use AI sparingly for editing purposes, ensuring an authentic and reliable experience. Join us on our unbiased journey! 🌍✨
Always do your own research! 🧐📚⚠️