Best Roatán All Inclusive Resorts (2023)
Looking for some great Roatán All Inclusive Resorts? Located on 30 miles of the Caribbean Coast of Honduras, Roatán is still a somewhat unknown location for a great vacation. If you love diving, it's a great choice as there is an excellent reef here.

Roatán,in an area called the Bay Islands about 20 km of the coast Honduras has become a popular cruise destination but the appeal goes much deeper than that. Hills thickly coated in jungle and clear and divers dive sites make this an especially enticing destination to visit on a family vacation, or honeymoon.
This list also has some great dive resorts: Top 25 Roatan Resort Deals with Reviews by TA
Roatan Attractions Video: Things to do and places to visit.
---
---
The All Inclusive Roatán Resorts
Our top Roatán All Inclusive Roatán Resorts reviewed with video and special offers. 
Henry Morgan, Roatán Resort

Henry Morgan All Inclusive Roatan
Henry Morgan is not the best resort in Roatan, but it does score 7 out of 10 for value, and it is one of the few that delves a little more into the all-inclusive concept. As you would expect, there are all-inclusive packages that do include three buffet meals, activities and sports and non-motorised water sports. However, you will need to fork out for à la carte options. 
Henry Morgan All Inclusive Buffet
All in all, these all-inclusive packages are about a 7 out of 10 for their commitment to the all-inclusive concept. 
See Henry Morgan All Inclusive on Hotels.com
Anthony's Key Roatan Resort
In recent times, Anthony's Key Resort has made the switch to all-inclusive. At the time of writing the resort were offering a seven-night all-inclusive package including airport transfers, three meals daily, welcome cocktails, cultural events, beach activities and tickets to local attractions.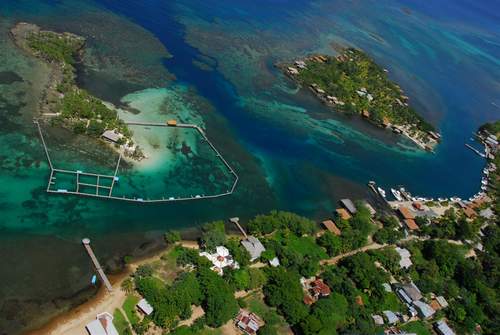 Anthony's Key Dolphin Encounter Area
Located partly on a tiny islet reached by a short boat ride from the resorts main grounds. 
This resort is great for lazing in hammocks, watersports, diving and swimming with the dolphins. There are also great programs and activities for children - including scuba certification. 
This is one of the Roatan resorts that is a recent award winner and gets excellent reviews. Scuba divers love this place. Past guests also like the atmosphere and the spa but really, diving and snorkeling are both mentioned over and over.
More information and the latest reviews on Anthoy's Key Resort.
Infinity Bay Spa and Beach Resort
All-inclusive packages at Infinity Bay Spa & Beach Resort are fairly inclusive, and we rate them above  7 out of 10 for their approach to the all-inclusive concept. Things like airport transfers, meal plans, unlimited drinks, and activities,  are pretty standard on these packages. 
The Premium All-Inclusive Package at the time of writing was advertised on their site for $95 USD/day  at the time of writing with sushi, steak, top-shelf liquor and   domestic and imported beers all included.
Accommodations are provided in Spanish-style villas, and the resort is pretty comprehensive, including a massive  300-foot infinity pool.
Infinity Bay Spa And Beach Resort
Video Review: This drone footage follows of a trip to Roatan Honduras, staying at Infinity Bay Resort in West Bay scoring 10 out of 10. They enjoyed the fine sandy to swim and snorkel.

More information and reviews on Infinity Bay Spa And Beach Resort on Hotels.com

Roatán Resorts
These following resorts don't make as much of an attempt at the all-inclusive concept, but are great alternatives you might like to consider for the other endearing features they offer. 
Barefoot Cay Roatan Resort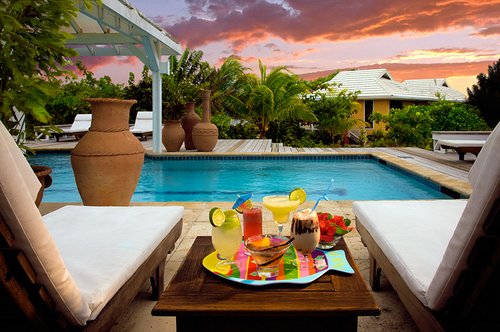 This award-winning resort is located on a privately owned 4-acre island, right on a white sandy beach. You can drink the tap water here. There are lots of activities: swimming, snorkeling, diving, fishing, kayaking, boat touring. The Cay is behind a reef and so protected from big waves.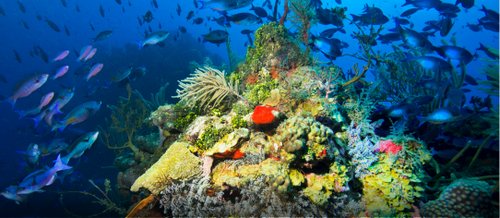 There's also a pool cabana, dining in restaurants or in the bungalows, fitness and spa services and more.

Accommodations are in bungalows. They are one or two bedrooms, are on the beach, have "Heavenly Beds" and are quite spacious.
The reviews on this resort are amazingly great with many perfect ratings.
More information and reviews on Barefoot Cay
---
Upachaya Eco-Lodge and Wellness Resort in Roatan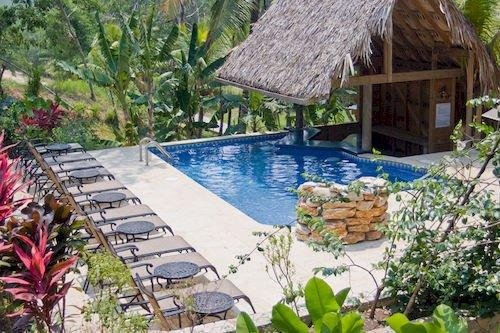 Yoga on the Boardwalk
This is a different type of resort for the area and one that amazingly gets perfect reviews from past guests. Yoga, spa services, water activities and relaxation are the focus here.
They will cater to most dietary concerns here. Regular retreats and events are scheduled here and you can check what's coming up on their website. This is a small resort with only 7 air-conditioned suites.
Past guests have enjoyed the snorkel and kayaking tours, healthy food offered, and the especially tranquil atmosphere (while still being close to attractions). It is rare for no one to post a less than perfect review. They must be doing things well!
More information and reviews for Upchaya here. 
---
Pristine Bay Resort 
Roatan, in the Bay Islands of Honduras had mostly smaller resorts until this latest arrival. This is one of the bigger most comprehensive resorts on the island and and is quite polished in it's finish.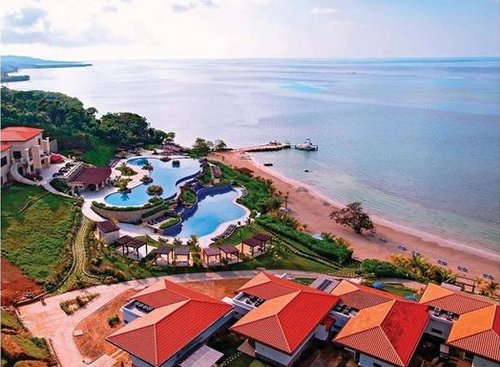 Multiple restaurants and swimming pools are more like the resorts you see in Mexico than what was previously available in Roatan.
More information and special offer on Pristine Bay Resort 
---
Mayoka Roatan Lodge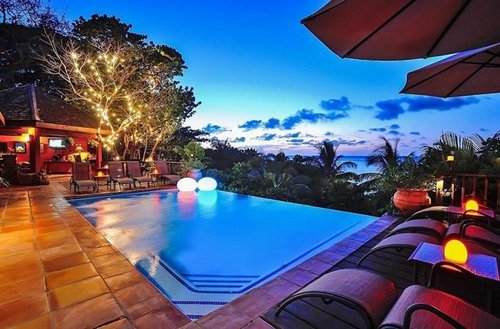 Infinity Pool at Mayoka Lodge
Mayoka Lodge has won a number of awards recently for best small hotel, romance and service. It gets excellent reviews and is on the more elegant and upscale side of resort life in Roatan. 
Amenities offered here include tennis, yoga, spa services, restaurant and bar, kayaking and snorkeling.
There are a small number of beachfront luxury suites to stay in here. Dining packages are offered and there are quite a number of activities to do in the area.
Past guests here rate it very highly. Personalized service (that is very well done), beachfront location, and food are all excellent. Families like this resort a lot as well as the close proximity to other attractions. 
More information and reviews on Mayoka Lodge.
---
---
Paradise Roatan Beach Hotel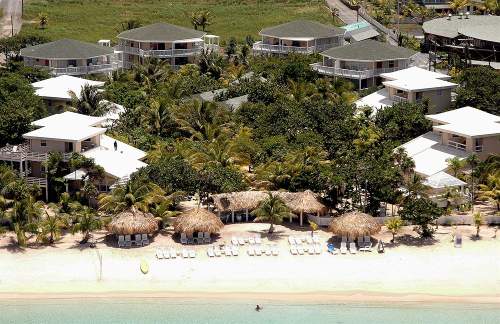 Roatan Beach Hotel
This mid-range resort is on a stunning beach and gets good reviews. It's in a good position to access the attractions around the island, has a pool, internet, pool and breakfast included.
I'd suggest taking a look at what guests are experiencing recently as the next step for this resort. Latest reviews on Paradise Beach Hotel.
---
Island Pearl Roatan Resort
This resort has an artistic flare and an owner who loves it. It's on a beautiful island on the West Bay beach. Accommodations are in villas or guest houses. Each one is a little different but note that not all are air conditioned. 
There's a restaurant, diving and snorkeling, PADI courses and fishing.

Reviews here are excellent but booking here may likely only be done on the official Island Pearl site.
---
Splash Inn Roatan Dive Resort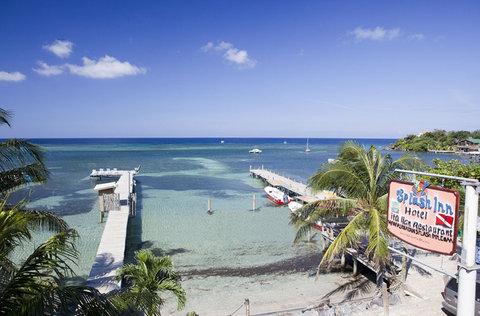 Roatan Dive Resort
Splash Inn is a 3 star resort and located on one of the best beaches in the area. It's a perfect spot for diving and snorkeling.
There are 25 rooms and all have air conditioning. There's a waterfront restaurant and meal packages are offered. 
Reviews here are excellent with past guests noting the great dive shop, patience offered to new divers, good restaurant and room service, and cleanliness of the whole place.
See the latest reviews and get more information for Splash Inn here.
---
Palmetto Bay Plantation Eco Friendly Roatan Resort

Located on Roatan's north shore, this resort strives to protect and respect the environment. There's a beach, scuba diving, snorkeling, a pool, a restaurant, kayaking, massage, horseback riding and a dock.
More information on Palmetto Bay Plantation

---
Another option is the Henry Morgan Resort. Good reviews and good value.
---
There are many great Roatan resorts and we hope you found one that you like!
If you're still on the hunt for a great vacation spot, Belize resorts are also beautiful and have great diving and snorkeling. 
Roatan Resorts Video