Uruguay All Inclusive Resorts
Uruguay All Inclusive Resorts
Sure, Brazil and Argentina are great countries to visit if you've never been. But what these two powerhouses of Latin America can't offer, Uruguay has.
Ranked first in South America for peace, democracy, low corruption, and crime rates, Uruguay has tangible prosperity running through its streets.
With its small population of just 3.5 million translating to a more tranquillo traveling experience, Uruguay is a country worth the flight. 
The top All Inclusive in Uruguay according to TripAdvisor are:
Arapey Thermal Resort & Spa
Altos del Arapey Club de Golf & Hotel Termal
Estancia Aguila Blanca
All Inclusive in Uruguay: best deal, compare prices, and read what other travelers have to say
We will check out and review these resorts and add some other ideas for great resort vacations.
Before I get started on the resorts, here are the Top 10 Reasons to Visit Uruguay
Not to mention it's perfectly positioned on the map to skip the arid climate of Argentina and the searing tropical humidity of Brazil.
Uruguay's temperament weather makes it a great place to visit in the Southern Hemisphere summer (which is our winter).
Whether you're longing to lounge in the thermal pools of Arapey or chill out by the beach, you can rest assured the all-inclusive resorts below have your every need covered.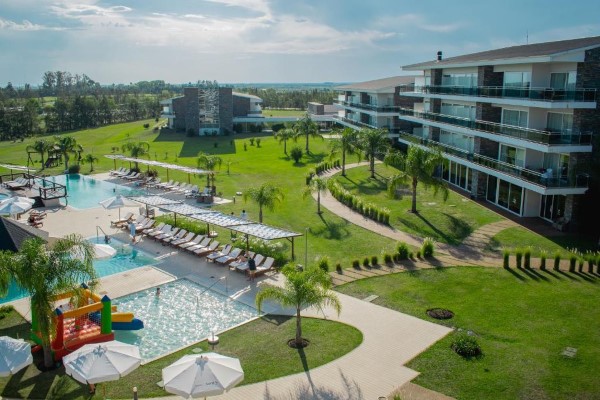 Popular for its hot thermal springs, Termas del Arapey is a tourist hub of Uruguay with a few of its best resorts dotted about. Altos Del Arapey Golf & Spa is one such resort.
Unlike a lot of resorts in Uruguay, this 4-star is ready and waiting to offer its guests an impressive selection of all-inclusive packages.
The most popular of these has got to be the Golf & Relax package that serves you free green fees on the resort's 18-hole resort golf course plus unlimited access to the putting green.

On top of having your golfing needs covered, this package includes every meal, drink, snack, and access to the jacuzzis, sauna, and gym. Also in the mix is one 30-minute massage to relieve the sustained golf swing pinch.
I keeping active is your game, then you'll be pleased to know the Golf & Relax package also allows you access to hiking, horseback riding, jeep rides, Aquagym, and Zumba classes (among others).
However, the reason why visitors from all over the Americas come to Altos Del Arapey is not to participate in a Zumba class (as nice as they are), they come for the thermal pools.
The resort features six of its own private thermal pools tapped from a 950-meter deep underground thermal spring that feeds them with 39-40 degree water, pouring 150,000 liters per hour. Impressive right?
This means the pool water is forever changing and is super clean and mineralized as a result.
A place to recharge the senses swimming in natural minerals, Altos Del Arapey has taken what nature is offering and given it to the people in a wrapped up in luxury kind of way. We are mighty impressed.
A stone's throw from Uruguay's culturally-significant capital Montevideo and situated between a pristine lake and the forest, the upmarket Hotel Del Lago is the place to be.
This 5-star makes a good case for the most high-end luxury resort in all of Uruguay. When you compare its rates and level of service to other 5-star hotels around the world, this place is an absolute steal.
Hotel Del Lago Uruguay All Inclusive
One word to describe this hotel is lush. From its bounty of towering trees to the well-kept grounds and premium 18-hole golf course, there is a noticeable emphasis on nature here at Hotel Del Lago.
Choose between a standard double and a family, or upgrade to the king suite and really feel like royalty. The rooms are made up in a clean and simple way with modern amenities that help to make your stay comfortable.
Think a choice between feather or firm pillows, complimentary robes, a jacuzzi in your room, and this is the kind of modern opulence that comes with a king suite.

A private balcony offers guests endlessly sweeping views looking out over Laguna del Sauce and this truly is a sight to admire. 
In terms of cuisine, Hotel Del Lago has brought the world to your plate and you'll be eating in style during your stay.
La Navicella is their signature restaurant and it serves up a delectable selection of Meditteranean Italian, a la carte, with panoramic views over the same lagoon as your room.
La Fontana Bar has a classy feel brought on by its colonial decor that suits the upmarket Italian drinks and cocktails on the menu. A perfect pitstop for an afternoon appetizer and a drink (or three) before sitting down for dinner.
Pool Bar La Cascada is a multidimensional outdoor snack/ wet bar that serves drinks in the pool and casual bites to the poolside crew.
We can't sing this stylish hotel's praises enough, so beyond this, you'll have to venture there yourself and see what all the fuss is about.
Arapey Thermal Resort & Spa is another 5-star resort, except this time we're venturing back into thermal country. Arapey Thermal is one of the best, brightest, and biggest hotels in the Termas del Arapey area.
In a similar vein to Altos del Arapey, this resort has tapped the great thermal resource and turned it into a desirable destination for all to enjoy. 
Arapey Thermal is a family-friendly resort that employs a dedicated recreation team who wants nothing more than for your kids to have fun, and you to do whatever it is you like to do.
With recreational activities, sports, interactive games, horse riding, and of course the fully supervised hot spring pools, there is something fun for all tastes and ages at Arapey Thermal. 
You will find no such thing as a "standard" room in this high-flying resort. Oh no, they jump straight into suite-style rooms that feature an aircon, a bar fridge, a security chest, and the rest.
The superior is their most high-end room type, and they are very la-di-da.
We aren't going to dance around the fact that Arapey Thermal isn't the most modern of hotels. The decor does look a little outdated (if we're being honest).
However, it must be known, that Uruguay is still considered a developing nation that brings in some tourist dollars, but not a bounty of them.
That being said the rooms are clean, the food at both Dionisio restaurant and Carpe-Diem Snack Bar is always fresh, and the staff will go above and beyond for you.
Oh, and did we mention that the pools aren't just warm? They're hot! When you put all of this together on top of the resort's emphasis on family-fun activities, then it begs the question, what more could you want?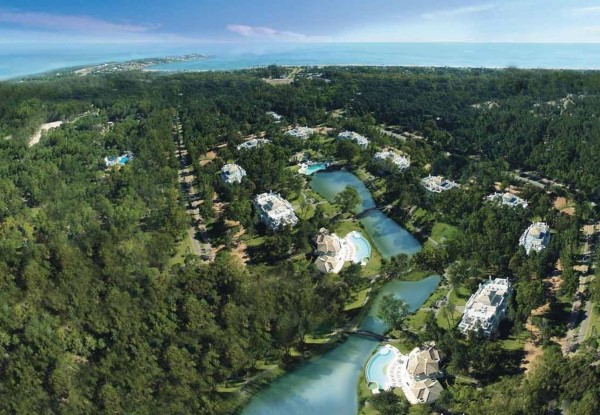 Solanas Punta Del Este Uruguay All Inclusive
If thermal pools sound nice and all, except when you holiday you don't holiday anywhere but the beach - Solanas Punta Del Esta Resort is your kind of place.
Just a short 6-minute stroll from the warm and inviting waters of the Atlantic Ocean (in the summer), Solanas is where beach-loving punters come when they want all-inclusive and they want it in Uruguay.
If a 6-minute stroll is too much for you, then your lazy bones are in luck, because Solanas Punta only went and built you a private white-sand beach with a large pool that replicates the ocean quite nicely.
Surrounded by virgin forest, this little oasis known as Crystal Beach & Lagoon is the perfect place for families with young kids to play the day away.
With 140 hectares of predominantly forested grounds, this resort is a haven for families who love to holiday in nature.
In terms of things to do, Solanas Punta offers it all with yoga classes, spa facilities, a fitness center, multiple indoor and outdoor pools (one with a slide), a solarium, a sauna, a golf course, and resort tennis courts (the perfect place to compete in your fresh vacay-whites before sinking a few sundowners with your newly-made friends for life).
The rooms are simple but effective, and there are multiple room configurations that come ready to accommodate families of all shapes and sizes.
Booking onto the all-inclusive will have you dining at the in-resort a la carte restaurant, lunching at the snack bar, and drinking at the regular bar.
One thing to consider is Crystal Lagoon is closed in the winter months (May to September).
Other than that, we think Solanas Punta Del Este is a very impressive resort that is pleasantly affordable, and child friendly and you can't help but sense that its atmosphere is a welcoming one.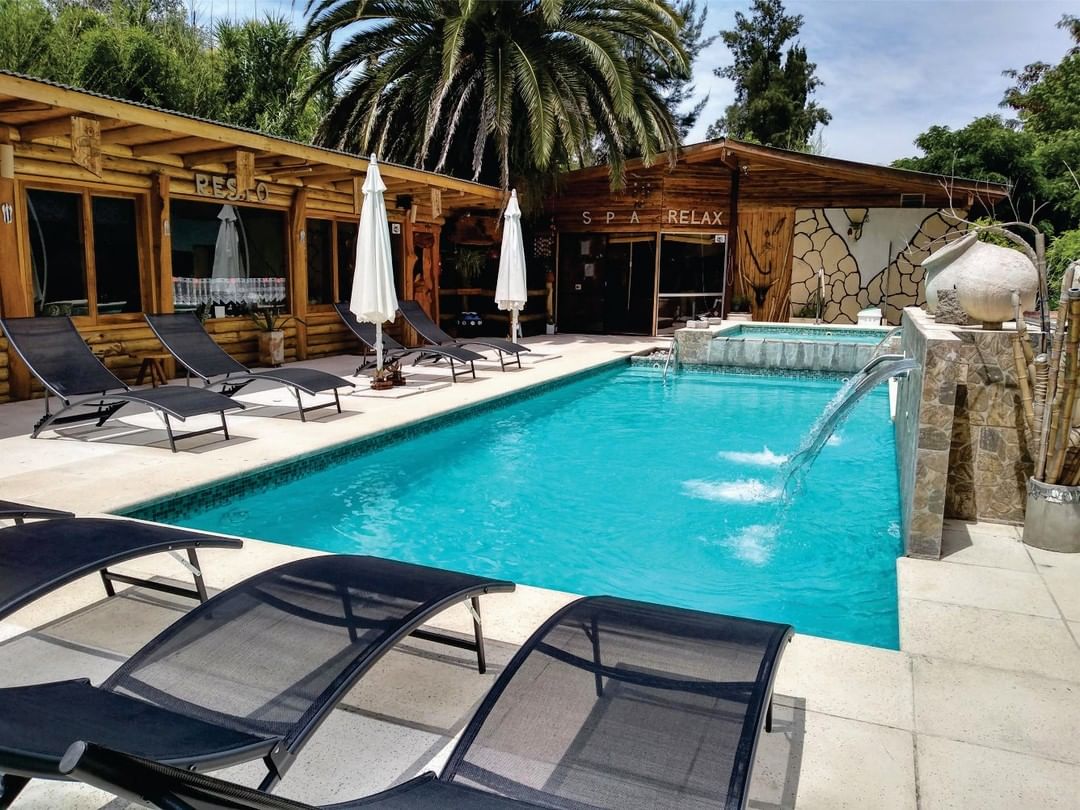 Pualy Resort & Spa
It's true that contemporary resorts are hard to come by in Uruguay, but that's why we're here, to do the groundwork. Pualy Resort & Spa is an eco-focused resort that is small in stature but big in soul.
Housing twelve guests at a maximum, this quaint little sanctuary offers a high level of care to each and every guest that walks through their doors. 
The resort is made up of five wooden cabins that honor traditional building methods while feeling very modern through decor and design.
Whether you choose to stay in a suite or the superior, each room is equipped with amenities that matter. Aircon, heating, desk, balcony, Wi-Fi, kettle, crockery, LCD TV, mini-bar, couch, and blackout blinds to help you catch some winks. 
Once you decide to venture outside of your room, you'll have access to the in-resort sauna, jacuzzi, pool area, gift shop, and a super-luxe spa service that will have you on cloud nine in no time.
There is also a boardroom and workshop that are perfect for low-key corporate events and conferences.
A stay at Pualy Resort means a hot breakfast is on the house, with a fully-equipped kitchen fitted in every cabin to do the rest.
If you don't fancy cooking on holiday (we don't blame you) then get in touch with management and they can tailor a daily meal plan for your party. This will allow you to eat well and not do a thing. 
The resort's exquisitely designed grounds help set this little slice of paradise apart from its larger counterparts. Think shady swings, footbridges, rock/ water features, and a bountiful amount of raised flower beds.
Their pride in nature can be felt instantly and makes for a tranquil experience to wander through the grounds.
Of course, this isn't an all-inclusive resort in the traditional sense of the word. But, rules are made to be broken right? Pualy is a perfect little oasis to help you reinvigorate the senses and  leave you feeling very zen. That much we do know.
Conclusion

So there you have it. A list of all-inclusive Uruguayan resorts that is as diverse as it is impressive.
We're guessing the fact that you are curious about a holiday in Uruguay means you like to kick trends and experience what everyone else is not (which is commendable).
We hope this article has inspired you to be that person, push for the new, and book your Uruguayan holiday today (before everyone else clocks on to just how magical this little-in-stature big-in-soul country really is).
If you liked these Uruguay All inclusive resorts, you may also like to check out the all-inclusive resorts in nearby Bazil
Share Your All-Inclusive Adventures and Questions! 🌴 Have a memorable experience from a luxury all-inclusive vacation? We'd love to hear it at Luxury Resort Bliss. We're on the lookout for top-quality, insightful tales that'll inspire our community. Dive in and be a part of our sun-soaked stories! 🌊🍹✨
The story is a fictionalized account founded on travel expertise, research, and experience. Always refer to recent guest reviews and perform due diligence before booking.
💼 We cherish our independence! ✈️ Our travel recommendations are carefully researched, bias-free, and powered by human expertise by April and Ricky of LRB (we have personally researched and travelled to many of these destinations and researched others thoroughly through first-hand accounts). We also have put in the hard miles, and Ricky has worked for decades for resort and hotel chains  Hyatt, Hilton, Shangri-La and Radisson before starting Luxury Resort Bliss in 2007. 🌍✨ Unlike some other resort review websites we are concerned on the guest experience rather than mere corporate interest.