Cancun All Inclusive Resorts
Welcome to the top 50 Cancun All Inclusive Resorts Bliss List with reviews. We have also included a video play list below to allow you to see video on each of the resorts to go along with the reviews. Enjoy!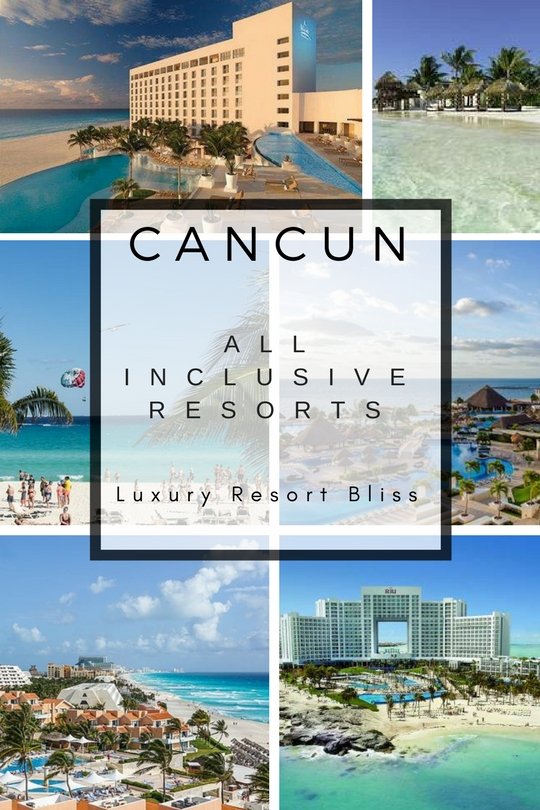 ---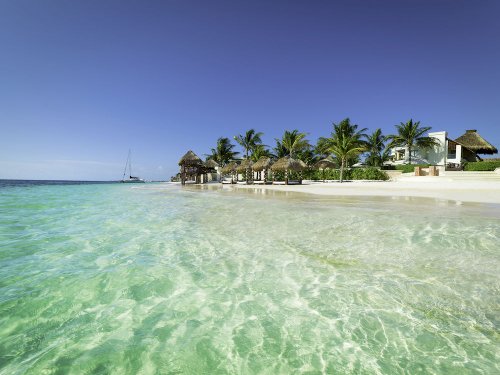 Azul Beach Hotel By Karisma All Inclusive is one of the best (if not the best) all inclusive resorts in Cancun. We reviewed this 100 room resort on our Cancun Family All Inclusive Resorts review because of how kid friendly it is. Little oceanside cabanas and big thatched roof rooms provide for quiet a peaceful atmosphere for family vacations. 

Adults can enjoy the four quality restaurants and facilities while kids hang out and have a great time in the quality run kids club with it's multitude of games rooms.

---
Hard Rock Cancun All Inclusive is a beautiful resort located on the pristine shores of the Caribbean. It offers elegant, contemporary accommodations with breathtaking views of the ocean and downtown Cancun.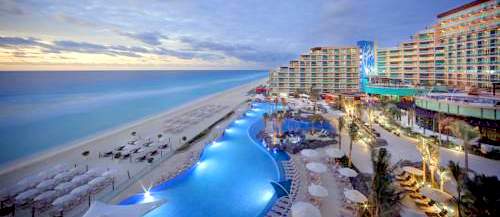 Hard Rock Cancun All Inclusive
Hard Rock is an entertainment rich all inclusive on the beach in the Heart of the Cancun hotel zone and features infinity pools, swim up bars, ocean or lagoon views, a top class spa, diverse and interesting restaurants - including Brazilian. If you don't mind the noise kids will love all the surprises like jetted spas in the room, a great kids club and more.
---
The Crown - Best Waterpark Resorts In Cancun
Planning a family vacation is never easy, especially if you're on a budget. With so many options, it can be difficult to choose where to go. These Cancun All Inclusive Family with Water Parks are perfect for any type of family with children who are looking for a vacation that is both affordable and fun.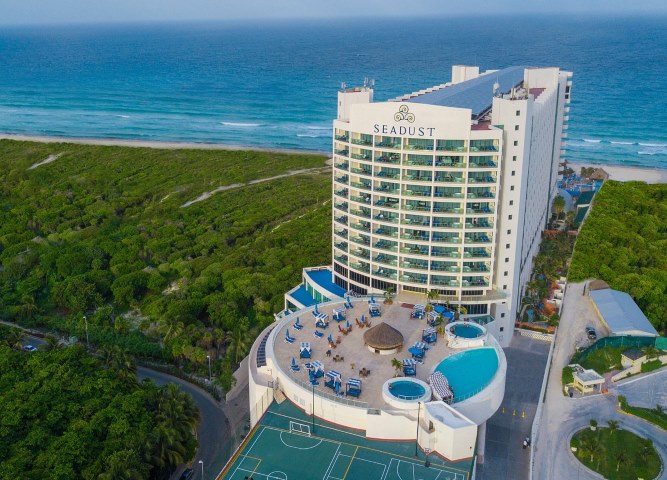 Seadust Cancun Family Resort
Seadust Cancun Family Resort is a top resort that offers an  amazing array of amenities for all guests. 
There are 11 bars and 24-hour room service at this resort. Lots of other activities for the whole family include an evening show that children are welcome to attend. There is also a kids club, teens club and waterpark with a pirate ship and some smaller slides. There is also a mini golf course on site as well as facilities for working out including a gym and spa.
The hotel has large and well-maintained pools. There are three pools, two of which are adult only. It is next to a beautiful stretch of white sand beach right on Bali's Hotel Zone. The rooms have balconies and there are many with excellent views over the ocean. All rooms have bathrooms with toiletries and towels, as well as individually controlled air conditioning.
Seadust Cancun Family Resort - All Inclusive is a short walk from Iberostar Cancun Golf Course and provides an infinity pool, private beach and Jacuzzi. It also has a day spa, sauna and outdoor tennis courts.
Cancun is a popular destination with families and couples alike. There are many family friendly activities that can be done while on vacation in Cancun, but some people want to make their vacation an adult only experience. If you are looking for an all inclusive resort with a waterpark in Cancun, this list should be helpful.
Dreams Cancun All Inclusive Resort
There are many hotels to choose from, but the Dreams Cancun All Inclusive Resort is one of the best.
Live Review : Cancun All Inclusive Resorts: What is the best Dreams Family All inclusive resort?
If you have young children, this is another of the all inclusive Cancun Family Resorts you are sure to love. But here you want to avoid the party times with kids as it also seconds as a party resort when that time of the year comes around.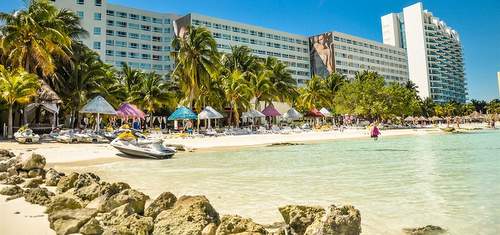 Dreams Sands Cancun Resort
The good part for families here is the calm beach on the quiet side of Cancun. This beach is free of the sea grass found at the more popular beach.
Full-service spa restaurants,including multiple European, Asian to Mexican, options will keep you deciding on something different each meal. 
The resort is active with music and shows and entertainment rolling on night and day. 
Kid's Club Details: a fully supervised children's program for the 3-12 year olds. The staff will entertain the your children with a different daily program with science, nature, and exploration activities. Sandcastle competitions, arts & crafts,  games room, beach movies on the big screen TV, and an ocean trampoline make sure they are stimulated throughout their vacation. 

Weekly camp-out adventures in which children will sleep in tents at the club or on the beach with parents approval make for an interesting personal growth opportunity.

Amenities: all inclusive meals, drinks, activities, entertainment, non-motorized water-sports (kayaks and tours, snorkeling, sailboats, trikes, water aerobics, jumping raft).
Full breakfast, lunch, dinner and snacks, parties, entertainment venues, tennis, beach volleyball, unlimited premium beverages,  business center; open 24 hours a day, Explorer's Kids Club.

Rates: are based on adult occupancy. [Note: Check up to date rates when booking] Those under 3 years are free.
Rooms: There are 480 guest rooms and suites "tastefully decorated in a contemporary Mexican style with marble and Colonial mosaics". King-size bed or two double beds, private balcony, marble floors, bathroom with bathtub and shower, electronic safe box, air-conditioning with individual control, 24-hour room service.
Reviews: Guests talked about how many friends their children made and the safety they experienced in the reviews. Often rated as a great place for a family with children. 
Lots of use of the word dreamy used in a good sense in these reviews. We search a range of review websites and found few issues. About the only problem you may get is finding a room available.
Special offers and packages for Dreams Cancun Resort & Spa - All Inclusive & Spa

---
Located on the Caribbean Sea, this resort is a spectacular destination suitable for adults and families. The property is home to lot's of restaurants, swim-up bars in the pools.
The resort is located on the south shore of a tranquil bay in Cancun, running ten minutes from the airport. It has 2,000 residences all with whirlpool tubs and luxurious creature comforts.
When you stay with us, kids and adults alike will be able to enjoy our superb amenities such as the Playroom, Teen Lounge and a variety of dining & bars. You'll also be able to try out our FlowRider® Double Wave Simulator!
If you're looking for a holiday to include some pampering, or a golf break, look no further than Moon Palace Cancun. With a wide range of accommodation on offer, combined with an AWE Spa® or exciting golfing, it's the perfect place to relax and recharge.
Video Reviewof Grand at Moon Palace Cancun | Luxury All-Inclusive | Full Tour in 4 K by the Top Flight Family who have 109 K Subscribers
---
The Hyatt Zilara Cancun is a 5-star resort located on the Mexican Caribbean that offers a lots of activities and conveniences. The resort is home to six gourmet restaurants, two refreshing pools, and the only spa in Cancun. The hotel also features an array of services from luxurious accommodations to well-known chefs.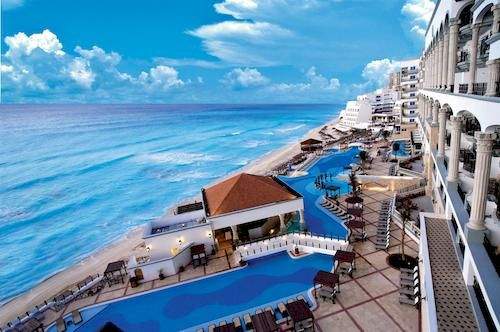 Hyatt Zilara
Hyatt Zilara is a Cancun adults-only, all-inclusive resort with a minimum age of 18. It is located in the heart of Cancun's tourist zone and features the widest beach.
Hyatt Zilara Cancun is an adults-only all-suite, all-inclusive resort where traditional Mexican warmth is experienced. There's a casual atmosphere so guests can feel intimate but not too serious. In addition, hygiene and security protocols are maintained to ensure guests enjoy a safe & secure stay in Mexico.
The hotel is located conveniently on the stretch of Cancun. Just a short drive from the airport, the resort offers easy access to many attractions of Mexico, including major sea-side activities, world-class shopping and nightlife.
Video: Hyatt Zilara Cancun Full Tour & Review | All-inclusive, adults-only Cancun resort
---
https://www.moonpalace.com/ is a family resort that offers guests the opportunity to enjoy a warm and friendly atmosphere, with plenty of opportunities for fun and relaxation.
Video Review: - A last minute vacation to Club Med Yucatan Resort in Playa del Carmen, Mexico
All-inclusive resort that is eco-friendly, surrounded by a pristine beach, and known for its world-famous Mayan Riviera.
Club Med Cancun Yucatan is the perfect choice for families looking for a carefree, all-inclusive vacation. You'll enjoy the sumptuous amenities, natural beauty and relaxing atmosphere at this exciting yet tranquil property.
With a vast range of activities and places to explore, you'll never get bored at this resort designed for families with children. There are so many ways to enjoy your time away from home, and even more things to do when you return.
Get quality refined accommodations with excursions to Mayan archeological sites, a new club med spa, 3 restaurants including 1 serving fine Mexican food and 1 for various worldwide specialties.
---
Beloved Playa Mujeres
The Playa Mujeres is a beautiful beach in Cancun, Mexico. It is located on the Caribbean Sea and it is one of the most popular destinations for tourists. The Playa Mujeres has a long stretch of white sand and clear, turquoise water. It is surrounded by luxury resorts and has many amenities including restaurants, bars, shops, nightclubs and more.
Beloved Playa Mujeres is a step-up in luxury from your average Cancun adults only all inclusive resort. The white sands of Playa Mujeres a few minutes to the minutes from Cancun are immaculate. A welcome addition to the 5-star boutique hotel range and one to seek out if you are looking for a quality spa and choices in  fine dining.
More information and special offers on Beloved Playa Mujeres.
---
Cancun is a popular destination for tourists and vacationers, as it provides a variety of activities for people of all ages. One popular activity is going to an adult all-inclusive resort. These resorts are hotels that have been converted into an adult-only environment with the intent to provide relaxation and entertainment.
The resorts offer a variety of amenities, including pools, spas, restaurants, bars and more. Not too long ago the average cost for a night at one of these resorts is $150-$200 per night and although prices have gone up significantly over the years the value remains. These resorts are located near some of the most popular tourist destinations in Cancun such as Isla Mujeres and Playa del Carmen.
Video Review: The 10 Best Luxury Adults only Resorts in Cancun | Mexico Luxury Holiday
Le Blanc (image below) Sophisticated resort with style and lavish personal attention to detail. On the beach near the marina. with two awesome golf courses and 8 pools.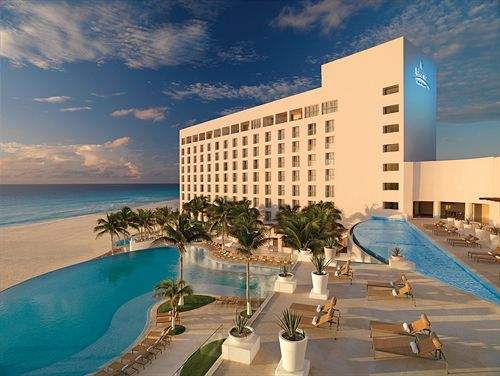 See Cancun Adult All Inclusive Resorts
Le Blanc Spa Resort Cancun is a luxurious resort hotel in the Caribbean with an exclusive adults only section. The resort has lots of meters of beachfront acherage with palm trees, gardens, and pools overlooking the ocean. There are stacks of restaurants and bars to choose from as well as plenty of activities to keep guests busy including tennis courts, a spa center and more.
Video Review: Le Blanc Spa Resort with Adults-Only Option is a 5-star high-end luxury resort in Cancun, Mexico.
---
The Beach Palace Family Resort is a family-friendly, all-inclusive resort in Cancun. The resort features a variety of amenities such as a swimming pool, spa and fitness center, kids club, and more.
he white sand beach and top location of this hotel is close to shopping hubs in Cancun, such as La Isla and has modern facilities. create the perfect combination for an unforgettable escape.
---
There are many beautiful beaches in Cancún area, but non like the ones that are found in the Corazone area which is the modern hotel zone. Then there is the American-style shopping centers, various restaurants & bars and nightclubs for various tastes.
The hotel has 569 comfortable rooms & amenities. Get a casual spa treatment or work out in the fitness center. There are also 4 pools to enjoy when you're hot! You'll find fun activities throughout the day and into the night.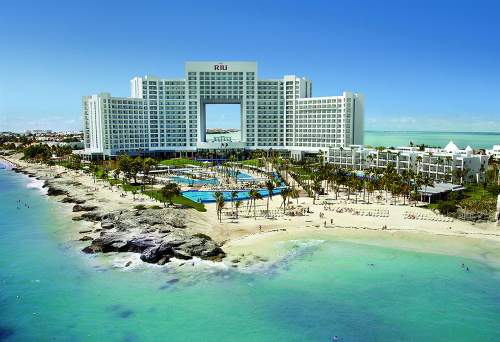 Riu Cancun All Inclusive Resort
You might want to enjoy your relaxing holiday alone, with family, friends or a partner! The location is perfect because it's 20 km away from Cancún Airport and 10 km away from the beautiful city of Cancún.
For those who appreciate good food, we have cooking stations that offer regional cuisine at our main restaurant and specialty restaurants. There is also a steakhouse and 5 bars on-site in case you're looking for something else.
Riu Cancun All Inclusive Resorts
Video review Hotel Riu Cancun All Inclusive - Cancun  by RIU Hotels & Resorts
---
Excellence Playa Mujeres All Inclusive Adult Resort is a beachfront resort in Riviera Maya, Mexico. This 5-star resort is located on an exclusive stretch of beach and offers guests the opportunity to relax and rejuvenate with the help of a world-class spa, gourmet restaurants, and endless activities.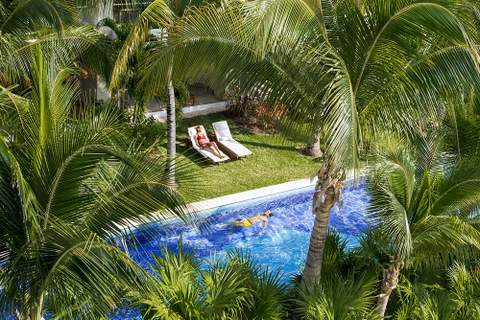 Excellence Playa Mujeres
Excellence Playa Mujeres All Inclusive Adult Resort is a luxury all-inclusive resort that offers guests the opportunity to relax and rejuvenate with the help of a world-class spa, gourmet restaurants, and endless activities. The resort is located on an exclusive stretch of beach in Riviera Maya, Mexico. The property features award-winning restaurants by culinary masters as well as unlimited access to top shelf spirits . Guests can also enjoy golf at three nearby courses or indulge in other sports like tennis or water sports. If you are looking for an upscale vacation this is a grweat option.
Video Review: This is the first video in our Cancun trip. We visited a resort called Excellence Playa Mujeres Resort in Cancun, Mexico.
The Riviera Maya is a popular tourist destination in the Caribbean. It is located on the east coast of Mexico and offers many all-inclusive resorts.
One of the main draws to the Riviera Maya is that it has more natural attractions than Cancun, such as waterfalls and jungle tours. The Riviera Maya also has less traffic than Cancun and provides a better opportunity for relaxation. However, there are fewer activities available in the Riviera Maya than in Cancun.
The region is popular among travelers because it has a wide range of natural beauty and activities. The region also boasts of an endless list of restaurants, bars, shops, nightlife and entertainment options.
Check out this list of the "Best 10 Things To Do In The Riviera Maya Cancun Travel Guide"
You may also like a short drive south and enjoy the Riviera Maya all inclusive resorts.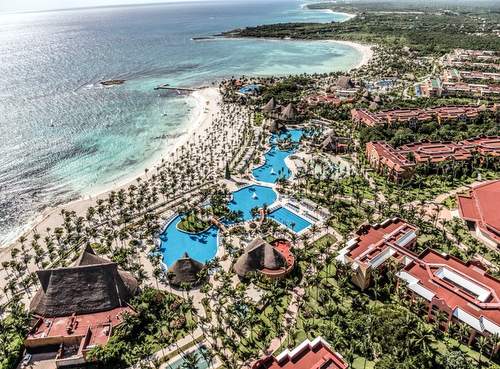 Riviera Maya All Inclusive Resorts
---
All Inclusive Cancun Vacation Packages
Cancun is an all-inclusive destination, which means that once you have booked your trip, everything else is taken care of. You can enjoy a wide variety of activities and excursions without having to worry about the cost.
This section provides an introduction to Cancun as a vacation destination and what to expect once you arrive in the city.
Expedia Cancun Vacation Packages
Looking for daily family vacation deals in Cancun. The best Cancun resort discounts are available here. Add flights and transfers once you find the Cancun family vacation resort of your choice.
There are many resorts and hotels in the area that offer guests the chance to enjoy all of their meals, drinks, and other amenities without having to pay extra.
In the mood to explore some other great options? Check out our  page with  the best packages for the best prices. Here are a few that stood out to us
If you have not seen the best Cancun Family All Inclusive Resorts this is a great place to begin putting together a great package, and we recommend it. 
For more all inclusive resorts, check out:
When to go to Cancun
Conventional wisdom has it that the best time to go to Cancun is when everyone else does in the peak season from Christmas to April. Room rates are always competitive in Cancun and a good deal is possible year round. Keep in mind march break can bring the party crowd.  September and October is the peak of Hurrican season but if you are booking at short notice you may do well.
One of the most important factors is the weather. The article mentions that Cancun has a tropical climate, with low average temperatures and a lot of rain in summer. It also mentions that it is not a good idea to visit Cancun during hurricane season, which is from June 1st to November 30th.
The climate in Cancun varies depending on the season. The average temperature ranges from 25°C in winter and up to 34°C in summer.
Summer:
If you want to avoid crowds and have easy access to water sports, summer is the best time to visit Cancun. You can enjoy the warm weather while taking in some of the best views of the year.
Winter:
If you want an authentic Mexican experience, winter is a great time to go to Cancun. You can explore the culture and do some shopping in one of Mexico's most popular destinations.
What is Spring Break Like in Cancun?
Cancun is a popular destination for spring break travelers, but there are some safety concerns to keep in mind. The following are some of the things to be aware of if you decide to visit Cancun during Spring break time. This is generally a very busy time of year.
Spring break is a time for students to take a break from their studies and have some fun. Cancun is a popular destination for spring breakers. , but if you're looking for a less-traveled destination, then consider other destinations in Mexico. 
💼 We cherish our independence! ✈️ Our travel recommendations are carefully researched, bias-free, and powered by human expertise by April and Ricky of LRB (we have personally researched and travelled to many of these destinations and researched others thoroughly through first-hand accounts). 🌍✨
We try to keep everything up to date, but please always do your own research and contact us if you know any issues for us to help others as best we can as a small but professionally focused team! 🧐📚⚠️