13 Portugal All Inclusive Resorts (2022) with alternatives

Portugal all-inclusive resorts are scattered along the best beaches in Portugal from the Algarve out to the Azure Islands in the mid-Atlantic. These are the best we have found to date, and they get great reviews from past guests. Not all are fully all-inclusive and in some areas of Portugal only packages are available to upgrade to all-inclusive. We also have some great adult and family all inclusive options. 
Briefly, about Portugal:
Portugal has great medieval castles, colorful towns, and great beaches. Most of the resorts we feature are close to those golden sandy beaches. 
Visit Portugal Overview:

---
Best Portugal All Inclusive Resorts
These are the top all-inclusive resorts in Portugal. If you are looking for all include packages for a trip to Portugal with flights included, you might like to try our travel deals page, where you can put together a package. 
TripAdvisor lists over 200 of the more the 3000 properties in Portugal as all-inclusive: All Inclusive Portugal on TA. These are some of the best and some that are great but only have AI packages available. 

Pestana Porto Santo Beach Resort & Spa, All Inclusive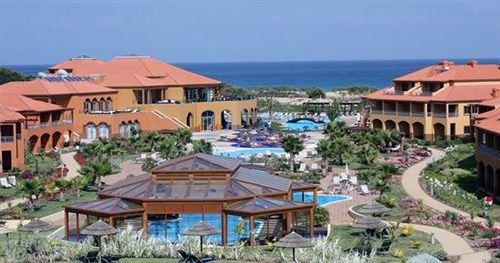 This 275 room, Portugal All Inclusive Resort close to Porto Santo Beach. It includes meals and beverages, an outdoor pool, an indoor pool, a children's pool, a health club, a sauna, and a  full service health spa.
We find a lot of people regard this as the best Portugal all inclusive resort, love their vacation and want to return. It gets great reviews.

For more information click: Pestana Porto Santo Beach Resort & Spa - All Inclusive (Expedia) 
Reviews and special offers for Pestana Porto Santo Beach Resort

See First Choice Holidays - Free Kids Holidays - All Inclusive Deals
---
Algarve All Inclusive Resorts
The Algarve has some of the best beaches in all of Portugal and is often called the Garden of Portugal. This is the main hub for all-inclusive resorts in Portugal. The Algarve has golf but is also sunny all yearwith lots of cute villages, and cliff fringed beaches 
More on the Algarve area (the best resorts in the area are below):
First Choice Holidays has great package deals on these resorts.

Alvor Baia Hotel Apartamento
A solid resort with all inclusive packages for this 402-room family resort. This is a good report considering the somewhat lukewarm reputation of all inclusive resorts in the area.  Families love this resort despite the 20 minute walk or free shuttle to the quality beach thanks to a good kids club and lots of facilities.
Around the grounds look forward to big family friendly pools and playgrounds, kitchenettes.

More information on Alvor Baia Hotel Apartamento
Als available on First Choice Holidays

---
Algarve All Inclusive
VILA GALE LAGOS Algarve All Inclusive Option

The Vila Gale resort brand has a reasonable upscale reputation and this modern 300 room editions is a good addition to what's available in the Algarve. 
The resort is not completely all-inclusive and while breakfast is always included there are à la carte options. 

Video: Hotel Vila Galé Lagos - Algarve
---
Portugal All Inclusive Beach Resorts
ADRIANA BEACH CLUB RESORT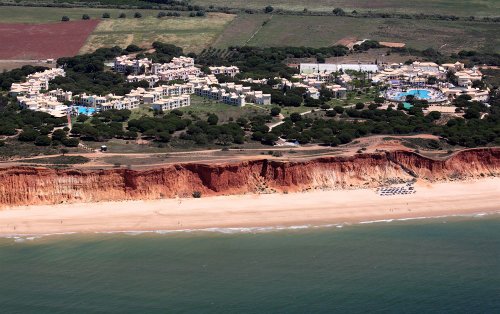 This 430 room, 4 star resort is in Albufeira, near Falesia Beach. It features a restaurant, a poolside bar, an outdoor pool, an indoor pool and a tennis court, a spa tub, and a sauna. Guests report there is a great bus and entertainment team. Reviews are good.
Get more information and see the latest reviews for Adriana Beach Club All Inclusive.
---
Portugal Family All Inclusive Resort
CLUBHOTEL RIU GUARANA ALL INCLUSIVE RESORT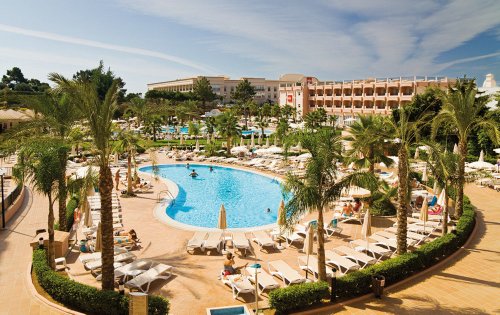 This all inclusive Portugal 4-star resort-hotel is popular with both couples and families. The ClubHotel Riu Guarana is set in an impressive cliff landscape. It is generally regarded as the best resort in Olhos de Agua and is a satisfaction machine in the amount of amazing comments and excellent reviews it produces. It's definitely one to check out!

See more information and the latest reviews for Club Hotel Riu Guarana. 

---
Overlooking white sand beaches, this resort is great for families ad wellness. It has all of the usual resort facilities but there's also a golf academy, spa, and even a flying trapeze.

Video of Club Med: 

---
azores all inclusive resorts
One place that does offer an all-inclusive travellers' dream experience is the Azores. The Azores, are not physically attached to Portugal. They are a mid-Atlantic island archipelago in with sheer cliffs,  villages, green slopping landscapes. 
VIDEO: Top 6 Reasons Why the Azores are Every Traveler's Dream

One place that offer all-inclusive options in the Azores is Aqua - Pópulo Eco Village | Aparthotel on the island of São Miguel, and is suitable for family vacations or romantic getaways alike. 
See the reviews on TripAdvisor. 
Adult only resorts in Portugal 
Tui Blue Falésia is an adults-only hotel with  multiple restaurants and pools. While not fully all-inclusive there are packages available and plus free breakfast options.
For sixteen-year-olds teenagers and older this is home to some great romantic opportunities. Situated on a stunning beach indulge in adults-only luxury with Portuguese quinine, , wellness options at the spa and a  sports program by the pool. 
Tui Blue Falésia reviews on Tripadvisor

---
---