Seychelles All Inclusive Resorts
Seychelles All Inclusive Resorts
Seychelles is an archipelago nation made up of 115 tropical islands off the coast of East Africa. Surrounded by the warm, opal-hued waters of the Indian Ocean, these islands are framed by coral reefs and pristine beaches.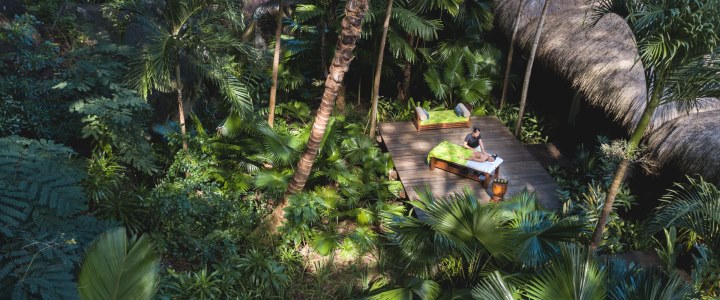 Anantara Maia
On land, Seychelles boasts an array of nature reserves and national parks that fiercely protect the country's mountainous rainforests and wildlife.
TripAdvisor lists eight all-inclusive resorts in the Seychelles. But not all are fully inclusive.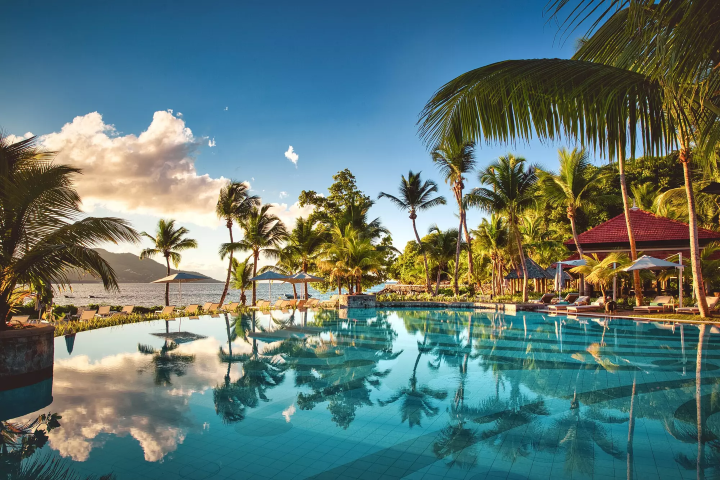 Club Med Seychelles All Inclusive
As the originators of the all-inclusive resort concept, I seem obliged to start off this review with the Club Med Seychelles. At Club Med, not only are all your meals and snacks included on full board, you get to choose between the buffets flavors of the and specialty restaurants. There are also ample sporting experts and facilities around the resort, as is the club med way. 
The Club Med Seychelles is set on a wonderful small island paradise of Saint Anne which is a protected ocean environment. As the only resort there the resort takes on an adventurous vibe, yours to explore and the resort act ivies and features help you do this. There are abundant adventure seeking activities to explore by kayak or hike to, discovering beaches and forests as you go.
The all Inclusive packages or  'Beyond All Inclusive' package  here ayou to personalise your meals with the chef with a dining by design approach with allows you to choose anytime and anywhere to enjoy the best local and international produce.
By booking directly, this allows you a 20 percent discount at the time of writing on the on a beyond all-inclusive stay. Take care of things like high-speed WiFi,  floating breakfasts,Welcome Champagne, daily breakfast, lunch and dinners with premium drinks, a dedicated host, yoga and more.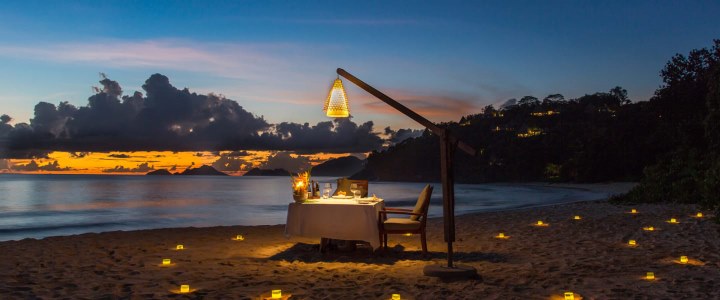 beyond all-inclusive
Anantara Maia is not simply another 5-star resort that spares no expense for its guests' experience, but it sets the standard. In a similar light to Raffles, Anantara Maia faces a white-sand beach and is enveloped by 30-acres of hilly rainforest.

Designed by world-famous architect Bill Bensley, the villas of Anantara Maia effortlessly fuse rustic and chic, with every contemporary luxury.
So out-of-this-world is the Anantara villas that guests often find themselves watching time and the world go by from the divine confines of their villa.
Anantara knows this, which is why they offer an around-the-clock villa host service to tend to your every need. Known for pushing the boundaries of what modern service exhibits, their tailored "Beyond All-Inclusive" packages are destined to impress every guest. 
From welcome champagne on arrival to your last supper before departure, every nibble, drink, and meal is included. On top of that, Anantara's  "Dining by Design" experience is ready to create a special dining experience without a soul in sight.
If you enjoy getting the bird's eye view of paradise, the Romantic Escape Beyond package is ready to fly you and a loved one into the sky for a 15-minute scenic helicopter flight.
Each Beyond package is tailored a little differently depending on the clientele, but just know that they treat every guest as if they were royalty.
Honeymoons, weddings, family anniversaries, couples retreats, whatever the event, you better believe that Anantara Maia is ready to make it a special one.
The All Inclusive Package at Cerf Island Resort was composed of breakfast, poolside lunch, afternoon tea with snacks*. Dinner was in a fine dining restaurant and included drinks. (*At the time of writing). 
While essentials like sparkling water, hot drinks, juices, local beers, and house wines, and local spirits & cocktails were included, there are a few emissions. All in all this is a pretty strong all-inclusive offer for this part of the world where costs tend to make inclusive options limited. 
The All Inclusive Package did not include minibar, room service, imported drinks and A la Carte.

Cerf Island Resort
For anyone who's desiring an authentic Seychellen experience (the all-inclusive way), Cerf Island Resort has found the recipe.
Named after the French Frigate "Le Cerf" which docked at Port Victoria in November of 1756, this Island is steeped in high-seas maritime history. Measuring a single mile across and less than that wide, getting lost on Cerf isn't an option, it's where you get found. 
A quirky side of Cerf is its noticeable lack of roads, with just a few across-island pathways that make for some jaw-dropping hikes.
You know how we said the resort is ready to bring an authentic Seychellen flavor to your holiday?
Well, as you will find out from their traditional-style villas, we weren't joking. Each villa and suite of Cerf Island Resort has traditional wood finishings to match its natural surroundings. 
Another way that Cerf has kept their resort purposefully traditional is the food. Authentic Creole and Seychelles recipes are served in modern, a la carte restaurants, to give guests a real sense of Seychelles through their food.
Not that it's a little surprise, but everything you drink and eat for the duration of your stay at Cerf is included in their all-inclusive package (and yes, that means alcohol too). 
If it's activities you want, then it's activities you will get, with an impressive selection of fishing, sailing, diving, snorkeling, helicopter tours, and guided island tours at your fingertips.
You may be thinking "yeah, this is me, every box has been ticked, now it's time to book". But wait, hold fire, we haven't even let slip the best part about Cerf Island Resort, and it's a doozy.
Unlike the first two resorts featured, Cerf doesn't demand a monumental outlay of cash. This is a resort that strives to give guests the best while remaining competitive in price.
Almost all-inclusive Resorts
There are other resorts in the Seychelles which, although not all-inclusive cam close or were that outstanding, we could not leave out.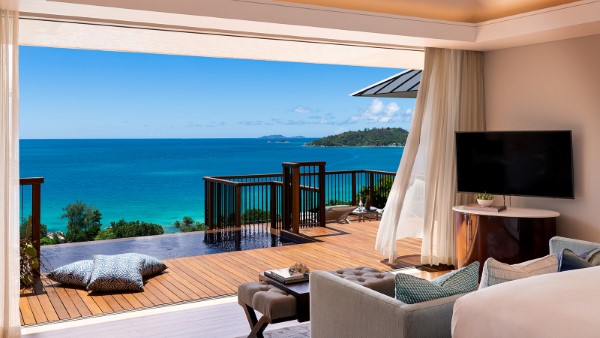 Raffles Seychelles
Located on the exclusive shores of Praslin Island, this award-winning 5-star tends to attract guests who have a penchant for the best. a 15-minute helicopter flight from Mahé International, or a scenic 55-minute ferry ride, Raffles Seychelles offers "tropical luxury" in every sense of the term.
Nestled between lush forested hillsides and crystal-clear ocean, a stay at Raffles feels completely cut off from civilization (just with every amenity imaginable). 
The resort comprises 86 luxurious villas, each with its own private outdoor pavilion, plunge pool, and balcony to soak in the warmth of the island.
The magic of Raffles is that its villas are purposefully positioned to offer hillside, beachfront, and panoramic views (depending on your desires).
If you like to eat well on holiday, and let's face it, who doesn't? Then Raffles has got your appetite covered.
Featuring three first-rate restaurants, a sushi room, two lounge bars, a pool bar, and a private dining option, it's safe to say that you'll be wining and dining in style at Raffles.
With a string of UNESCO world heritage sites and beaches nearby, think of Raffles as an  exquisitely polished stepping stone to nature.
With catamarans and speedboats ready to whisk guests away an afternoon in a heavenly enclave, or a full day of island hopping, every wild island fantasy becomes reality at Raffles.
Ruffles is not an all-inclusive resort, but rather has packages with inclusions. The summer package at the time at writing for example includes things like breakfast and a 30% discount. https://www.raffles.com/seychelles/offers/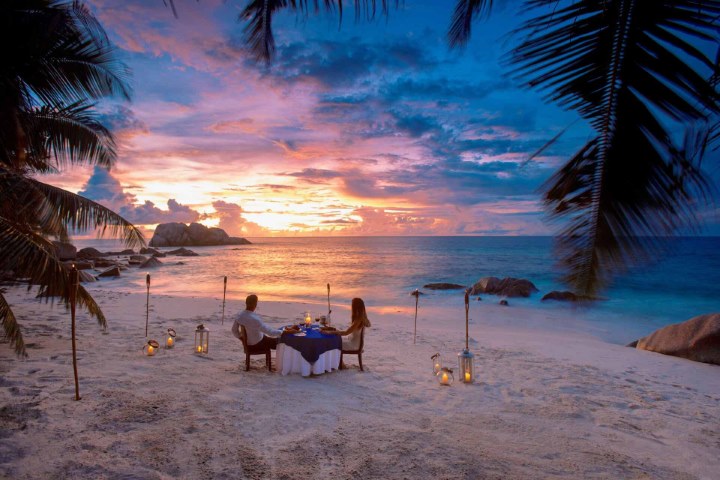 Cousine Island Seychelles
We're guessing that even your wildest dreams haven't dreamt up a private stay on a luxury island?
Well, Cousine Island is where the impossible becomes reality, and they've got your private island fantasy covered. Having the exclusive rights to Cousine Island, this 5-star resort is able to offer guests a once-in-a-lifetime experience of complete serenity.
With a considered mix of luxury and presidential villas, invite the entire extended family along and be the official hero of the decade.
The resort has curated a first-class choice of all-inclusive packages termed "experiences", and they really are something.
From barefoot beach weddings, honeymoon hideouts, birthday extravaganzas, family anniversaries, babymoons, romantic retreats - whatever the event, you'll want to host it on Cousine. 
On top of having a picturesque private island at your disposal, the natural beauty that surrounds it simply must be explored.
Across-water excursions, safari tours, fishing expeditions, diving days, you need not worry about getting island fever on Cousine, because this is an aquatic paradise after all.
Sustainable resort living can be felt through everything that Cousine does. From their solar power plant, rainwater capture tanks, market-leading recycling program, marine restoration program, and island wildlife nursery - this is a resort that's driving force is far greater than just profits, it's the future.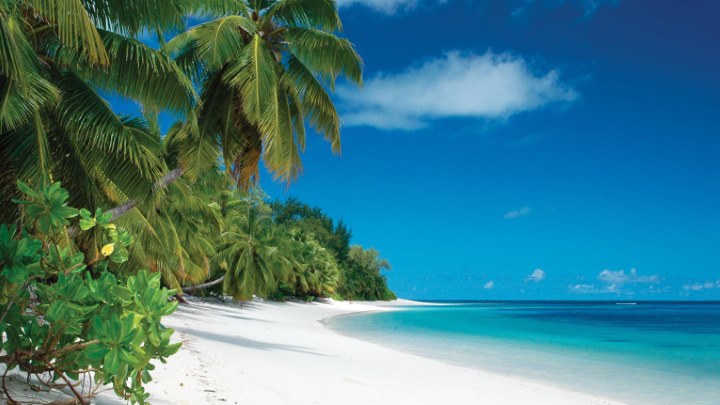 Four Seasons Desroches
Like a Four Seasons resort needs any sort of introduction, but on Desroches Island, the term "luxury" is getting challenged every single day.
Sure, a small private island is cute and all. But, when you realize that Four Seasons is the only resort on Desroches Island (a 402-hectare island paradise that's framed by nine miles of pristine white-sand beaches), it's just a completely different thing.
On the culinary front, again, it's the sheer choice that sets Four Seasons Desroches apart, as you are bestowed with the when, where, and how you'd like to dine. The island retreat package here allows you a luxurious residence villa and for you to customize your own all-inclusive vacation. This can include return private flights between Mahé and Desroches Island, and a consultation with the hospitality team and chef on your personalized breakfast, lunch and dinners. The world-class chefs and wait staff at Desroches aren't just in the business of serving impeccable food, they make light work of creating unforgettable experiences built around food. 
Whether it be a private beach picnic, a lighthouse tipple, or a fully-catered barbeque at your residence.

What Four Seasons is offering guests on Desroches isn't just a unique experience in Seychelles. Think of the island as your personal playground. A place where your every need has already been met, and your every fantasy is ready and waiting to be discovered.
One of the first things you notice about Four Seasons Desroches that's different from every resort in Seychelles is the amount of choice you have in accommodation.
Each villa type has been spaciously designed to give privacy a whole new meaning, and elegantly styled to give opulence a new meaning too.
From a couple's retreat to an extended family getaway, each of the one, two, three, four, five, six, and seven-bedroom presidential villas set the gold standard in holiday accommodation.
This magical island also plays host to a tortoise sanctuary where you can get up close and personal with ancient Aldabra tortoises.
If living on the edge is your digs, then throw yourself at the resort's guided surf lessons that strive to put you onto perfect waves.
As you probably could have guessed, a stay at Four Seasons Desroches doesn't come cheap. But, putting a price on a once-in-a-lifetime holiday like this just doesn't add up.
The money that you outlay will seem like a distant memory once you step foot on the island, let go of every stress and just be.
Video: Four Seasons Resort Seychelles at Desroches Island
Share Your All-Inclusive Adventures and Questions! 🌴 Have a memorable experience from a luxury all-inclusive vacation? We'd love to hear it at Luxury Resort Bliss. We're on the lookout for top-quality, insightful tales that'll inspire our community. Dive in and be a part of our sun-soaked stories! 🌊🍹✨
The story is a fictionalized account founded on travel expertise, research, and experience. Always refer to recent guest reviews and perform due diligence before booking.
💼 We cherish our independence! ✈️ Our travel recommendations are carefully researched, bias-free, and powered by human expertise by April and Ricky of LRB (we have personally researched and travelled to many of these destinations and researched others thoroughly through first-hand accounts). We also have put in the hard miles, and Ricky has worked for decades for resort and hotel chains  Hyatt, Hilton, Shangri-La and Radisson before starting Luxury Resort Bliss in 2007. 🌍✨ Unlike some other resort review websites we are concerned on the guest experience rather than mere corporate interest.
Summary



Okay, so you know the flora is impressively out of this world, but what about the fauna? With the chance to see giant Aldabra tortoises and rare tropical bird species, this is a place of natural mystique and daily wonder.
Each all-inclusive resort featured in this article endeavors to give its guests an experience like no other.
Expect everything that the world's most luxurious 5-star resorts represent, just with a Seychellen twist. So, mix up a Piña Colada, pour yourself a big umbrella-topped glass of it, and proceed to discover your next tropical holiday destination. 
We may be a little "Seychelles-struck", but isn't there something truly special about this mystical archipelago of islands? Seychelles is the kind of place that can't help but evoke a sense of wonder from every person who comes for a visit.
Yes, that's right, you'll have to come and see what Seychelles is about for yourself, because no amount of words, photos, or stories can do a place like this justice.
Living and breathing it  for yourself is the only thing that will do. So, polish off that Piña Colada, throw its cocktail umbrella up in the air, and dare to book yourself into one of the resorts listed above. Let the daydreaming commence.