Spain All Inclusive Resorts
The best Spain all inclusive resorts are almost always located on the beach and most often in the popular Canary Islands location of Tenerife. You can see also our dedicated best Tenerife all inclusive resorts if you have not done already. 
Here are the best all inclusive resorts in Spain.
---
Best Spain All Inclusive Resorts:
Are you looking for the best all-inclusive resorts in Spain? If yes, then you came to the right place. In this article, I am going to share my experience at the best all-inclusive resorts and hotels in Spain.
Spain has always been known for its beautiful beaches and amazing food. People from all over the world come to visit Spain because of these reasons. The country offers a variety of tourist attractions such as historical cities, castles, museums, art galleries, etc.
There are several types of all-inclusive resorts in Spain. These include beachfront resorts, luxury resorts, family resorts, golf resorts, spa resorts, etc. Each type of resort has its own unique features.
For example, some resorts offer activities such as horseback riding, tennis, swimming pools, water parks, etc. 
Other resorts provide entertainment like live music or shows on stage. Some resorts also have restaurants that serve international cuisines, while others only serve Spanish dishes.
In addition to offering different amenities, each type of resort also provides guests with different services.
For instance, some resorts provide free shuttle service to and from the airport, while other resorts charge extra fees for it.
Some people prefer to stay at an all-inclusive resort because they do not want to spend money on meals. This is why many all-inclusive resorts offer buffet-style dining.
Another reason why most people choose to go to an all-inclusive resort is that they can save money by staying there.
Many all-inclusive resorts offer discounts during the low season. However, before choosing an all-inclusive resort, make sure that you know what kind of amenities you need. You should also consider your budget when deciding where to stay.
But, even once you have considered all this, you are probably still wondering which Spanish all-inclusive resorts are the best. Keep on reading to find out!
Majorca All Inclusive Resorts
With about 10 million visitors each year, this, the largest of the Balearic Islands, is well set up to handle tourism. Even with all these tourists, the relatively small population maintains an authentic quality that is attractive. Some of the best all-inclusive resorts in Spain are located here.
Majorca All Inclusive Resorts:
Majorca Overview:

Hotel Riu Bravo, Majorca All Inclusive Resort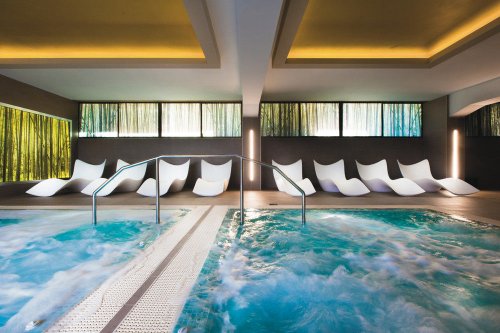 The Indoor Spa Tubs
Great 4 star resort. All rooms have a private balcony, an exotic wellness centre and high quality buffet meals feature at this four star all inclusive resort set amongst some great gardens not far from the capital of Majorca.

This resort is popular with people of all nationalities who give it pretty good to excellent reviews. Reports are of excellent food and buffet options available throughout the day. Well worth making that booking.
See reviews and bookings for Hotel Riu Bravo All Inclusive.

---
Riu Tropicana Clubhotel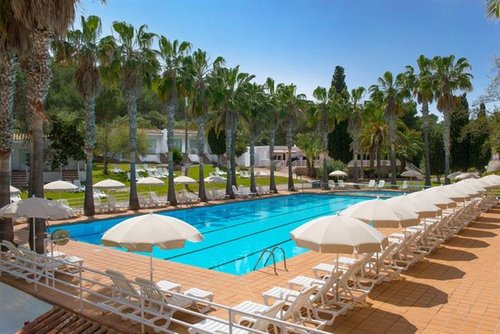 On Cala Domingo's cove set right upon the beach is the 3 star Clubhotel Riu Tropicana. Highlights include a swimming pool with children's section, lounge chairs and umbrellas set around the pool, terrace solarium, lounge bar with terrace, mini-market, and mini club for kids' 6 days a week.  
Not all the packages are the same at this resort then take care when you book. You will see the reviews are very good to excellent.
See more information and reviews Riu Tropicana Clubhotel.

---
Novo Sancti Petri All Inclusive Resorts
Novo Sancti Petri is a resort town in Andalusia. This is in southwestern Spain and there are a some great golf courses, Playa (beach) de la Barrosa, and a number of different resorts and hotels here.
Iberostar Royal Andalus, All Inclusive Resort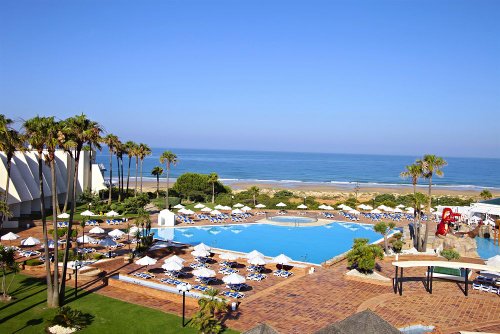 A mid-size 4 star resort in Novo Sancti Petri with excellent reviews from past guests. Highlights of this beachfront all inclusive resort include a restaurant, indoor pool, fitness centre, spa, wifi and more. 
Get more information and see the latest reviews for Iberostar Royal Andalus.
---
ClubHotel Riu Chiclana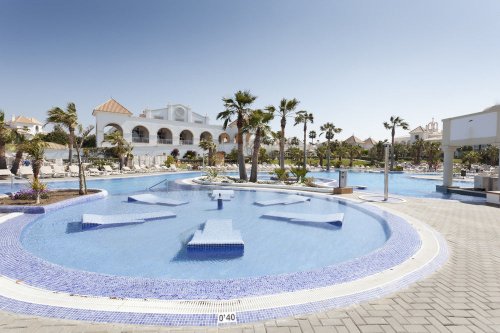 This 4 star all inclusive resort is very large with 832 guestrooms. Highlights include an indoor pool, 2 outdoor pools, free children's club, health club, spa, game room and more. Reviews are quite good.
Get more information and see the latest reviews for Clubhotel Riu Chiclana.
---
Isla Canela, Spain All Inclusive Resorts
Isla Canela is an island south of Andalusia, Spain. It has great beaches making it a popular resort spot. Find out more about Isla Canela. 
---
Iberostar Isla Canela All-inclusive Resort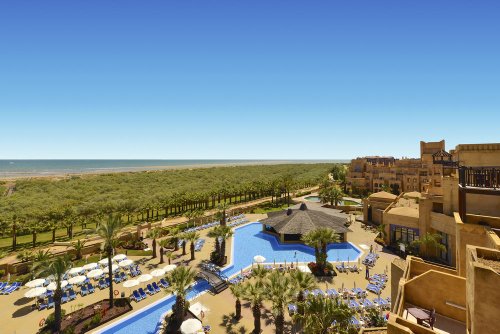 Iberostar Isla Canela is a 4 star all inclusive resort with a full-service spa, indoor pool, 300 guestrooms, water sports nearby and a children's pool. Reviews are excellent with many raving about their stay here.

Get more information and see the latest reviews.
---
Gran Canaria:
Hotel Suite Princess, Adults Only All Inclusive Resort
This 4 star resort is in Taurito on Gran Canaria. It's an adults-only resort with around 300 rooms, soaking bathtubs, scuba diving and furnished lanais. It's close to the Lago Taurito Water Park.
Reviews are excellent with past guests liking the variety of food, cleanliness, and the main things are to do here are the beach and hotel.
Get more information and see the latest reviews for Hotel Suite Princess. 
---
Tenerife All Inclusive Resorts
This video may inspire you to check out some of the best Tenerife all inclusive resorts.

Melia Jardines del Teide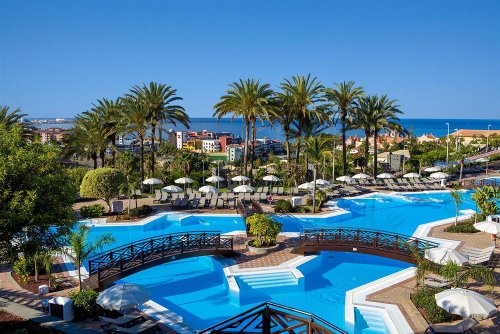 This 4 star all inclusive resort has 3 restaurants, 3 pools, a free children's club, free shuttle, health club, poolside bar and spa treatments. It's a popular resort that gets good reviews. 
Get more information and see the latest reviews for Melia Jardines del Teide. 
---
Bahia Principe San Felipe
This Tenerife all inclusive resort is 4 star and not too large with 261 guestrooms. It's has a free kid's club, full-service spa, 3 restaurants, children's pool, tennis court and garden. It's on the boardwalk and 15 minutes from Loro Parque.
Get more information and see the latest reviews for Bahia Principe San Felipe.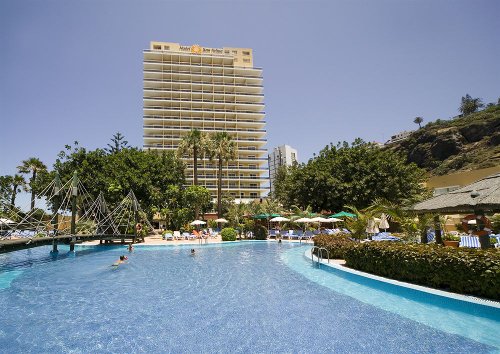 ---
What Does All-Inclusive Mean?
All-inclusive means that everything included in the price of the room is provided by the hotel.
There is no additional cost to be paid by the guest. All-inclusive resorts usually offer breakfast, lunch, dinner, snacks, drinks, laundry, Wi-Fi, parking, tours, transportation, etc.
If you are planning to travel to Spain, then all-inclusive resorts are a perfect choice. They offer great value for money.
Plus, you will get to enjoy more time relaxing on the beach without worrying about spending too much money.
It also just so happens to be one of the sunniest and warmest areas in the world – so it's also a great place to visit all year round if you're on the search for a sunny spot where you can soak up the sun, catch a sun tan and get some vitamin D.
We hope you've found one of the Spain all inclusive resorts to your liking. For more, visit:
Portugal All Inclusive Resorts
---
Why Should You Visit Spain?
People who love traveling often ask themselves "why should I visit Spain". Well, here are some reasons why you should visit Spain:
Beautiful Beaches
Spain is one of the top destinations in Europe for tourists. It offers a wide range of beaches which include sandy beaches, rocky beaches, and even black sand beaches.
Amazing Food
Spain is famous for its delicious cuisine. From tapas to paella, Spanish food is simply mouthwatering.
Historical Cities
Spain is home to many historic cities including Madrid, Barcelona, Valencia, Seville, Granada, Toledo, Salamanca, Bilbao, etc
Museums
Spain is home to numerous museums which include the Prado Museum in Madrid, the Reina Sofia Museum in Madrid, the Thyssen-Bornemisza Museum in Madrid, etc.
Art Galleries
Spain is home to various art galleries including the Picasso Museum in Malaga, the Guggenheim Museum in Bilbao, etc
Shopping
Spain is known for its shopping malls. The Las Ramblas area in Barcelona is considered to be the epicenter of shopping in Spain.
Nightlife
Spain is home to a vibrant nightlife. People come from around the world just to experience party life in Spain.
Culture
Spain is home to a rich culture. Its history dates back thousands of years. It boasts of having the largest collection of works by Pablo Picasso in the world.
Sports
Spain is home to several sports teams such as FC Barcelona, Real Madrid, Athletic Club de Bilbao, Atlético de Madrid, etc
Nature
Spain has many national parks like the Sierra Nevada National Park, the Parque Nacional del Teide, the Sistema Ibérico, etc
Wildlife
Spain is home to wild animals such as elephants, gorillas, lions, tigers, etc.
Heritage
Spain is home to countless heritage sites such as the Alhambra Palace in Granada, the Mezquita in Cordoba, the Alcázar in Seville, etc.
Festivals
Spain is home to festivals such as the Feria de Abril in Pamplona, the Festival de San Fermin in Pamplona, La Tomatina festival in Buñol, the Running of the Bulls in Pamplona, etc.
Architecture
Spain is home to beautiful architecture. Some of the most popular examples of this include the Sagrada Família Church in Barcelona, the Plaza Mayor in Madrid, the Cathedral in Seville, the Royal Palace in Madrid, etc.
Wrapping Up
Spain is one of the most beautiful places to visit in the world and has a variety of all-inclusive resorts that are suitable for all different price points!
These 12 amazing resorts are great places to stay during your visit to Spain, and are sure to provide you with everything you need to feel at home while traveling abroad! 
The only question left to ask is – which Spanish resort are you planning on staying in this year? Thanks for reading!