Hotel Marqués de Riscal
Review of the Hotel Marqués de Riscal in Spain.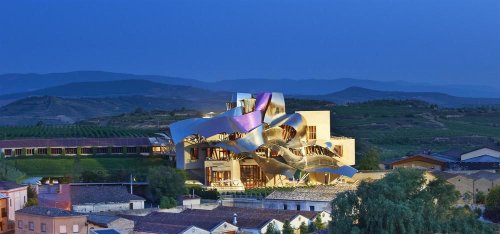 Hotel Marqués de Riscal
Set in the Rioga wine region in the centre of Elciego, Spain. It's a landmark avant garde property designed by Frank Gehry.
The twin monasteries of San Millan de La Cogolla are 39 km away. It's 20 minutes from the airport. It's not a typical resort but we can't resist adding it.
The hotel has 19th century wine cellars, a rooftop lounge and library and 24 hour room service. There are two dining options: traditional Basque cuisine and regional and international cuisine. Recreation options include a jogging track and quad bikes for rent.
The spa has a fitness room, indoor pool and beauty treatments incorporating "wine therapy".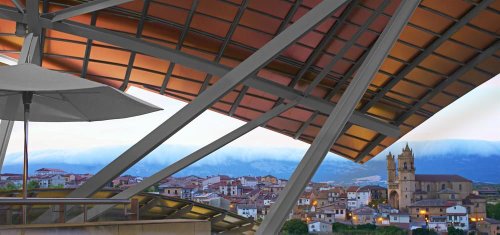 Guestrooms have espresso machines, bathrobes and slippers, and a bright and contemporary decor with a pale wood finish.

Reviewers really enjoy this hotel. They say it is a must in Europe, not to be missed if you're in Spain, you need to rent a car to get here, great spa and great wine. It really gets unusually fantastic reviews.

More Information