Hotel Marqués de Riscal
The Hotel Marqués de Riscal is a luxurious and modern hotel located in the heart of the wine country in La Rioja, Spain. This hotel is known for its unique design, inspired by the famous Guggenheim Museum in Bilbao, making it a true architectural masterpiece. The hotel is surrounded by the vineyards of Bodegas Marqués de Riscal and offers breathtaking views of the rolling hills and countryside of La Rioja.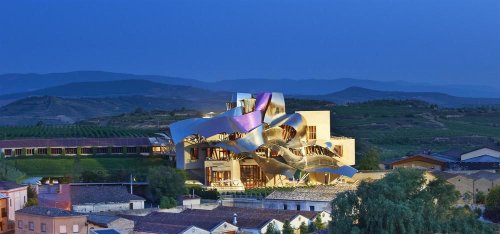 Hotel Marqués de Riscal
Set in the Rioga wine region in the centre of Elciego, Spain. It's a landmark avant garde property designed by Frank Gehry.
The twin monasteries of San Millan de La Cogolla are 39 km away. It's 20 minutes from the airport. It's not a typical resort but we can't resist adding it.
The hotel has 19th century wine cellars, a rooftop lounge and library and 24 hour room service. There are two dining options: traditional Basque cuisine and regional and international cuisine. Recreation options include a jogging track and quad bikes for rent.
The spa has a fitness room, indoor pool and beauty treatments incorporating "wine therapy".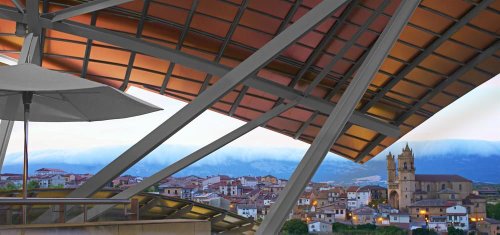 Guestrooms have espresso machines, bathrobes and slippers, and a bright and contemporary decor with a pale wood finish.

Reviewers really enjoy this hotel. They say it is a must in Europe, not to be missed if you're in Spain, you need to rent a car to get here, great spa and great wine. It really gets unusually fantastic reviews.

More Information
Video Resort Review: César Caicoya, an architect, worked as the executive architect on the Hotel Marqués de Riscal with Frank Gehry. As the executive architect, Caicoya developed the design ideas of the design architect. Gehry's inspiration for the building came from the land, surrounding medieval towns, the stone tower of a church, and dancers' colorful dresses. The building was constructed using four main materials: colored titanium, sandstone, dark African wood, and tempered glass. The complicated structure required computer aided design and manufacturing to build. Caicoya feels great emotion every time he visits the building and wants people to feel happiness and love there. It was an honor to work with Gehry again, who proposed an even greater challenge, which was an impossible dream come true.
Video Review: Travel by Design: Hotel Marqués de Riscal, A Luxury Collection Hotel - An Impossible Dream
The rooms and suites at Hotel Marqués de Riscal are spacious, elegant, and well-appointed, offering the ultimate in comfort and style. They feature large windows that offer panoramic views of the surrounding landscape and are equipped with the latest in technology and amenities. The hotel also offers several dining options, including the Bar Marqués and the Frank Gehry Restaurant, which serve a range of delicious local and international cuisine.
In addition to its stunning architecture and luxurious accommodations, the Hotel Marqués de Riscal is also a popular destination for wine lovers. The hotel is situated within the vineyards of Bodegas Marqués de Riscal and offers guests the opportunity to tour the vineyards, taste the wines, and learn about the winemaking process. The hotel also offers a range of wine-related activities, including wine tasting sessions, vineyard walks, and cooking classes, making it the perfect destination for those who want to immerse themselves in the world of wine.
Whether you are looking for a relaxing holiday in the heart of wine country, or a cultural and culinary experience, the Hotel Marqués de Riscal is the perfect destination. With its stunning architecture, luxurious accommodations, and wide range of dining and wine-related activities, this hotel offers an unforgettable experience for travelers of all ages and interests.
💼 We cherish our independence! ✈️ Our travel recommendations are carefully researched, bias-free, and powered by human expertise by April and Ricky of LRB (we have personally researched and travelled to many of these destinations and researched others thoroughly through first-hand accounts). 🌍✨
We try to keep everything up to date, but please always do your own research and contact us if you know any issues for us to help others as best we can as a small but professionally focused team! 🧐📚⚠️