The Top Poconos All Inclusive Resorts
The Top Poconos All Inclusive Resorts
Looking for some great Poconos all-inclusive resorts? There are a few good options. Two great for families, others great for couples. 
Skip to the awards for the best Poconos all-inclusive-resorts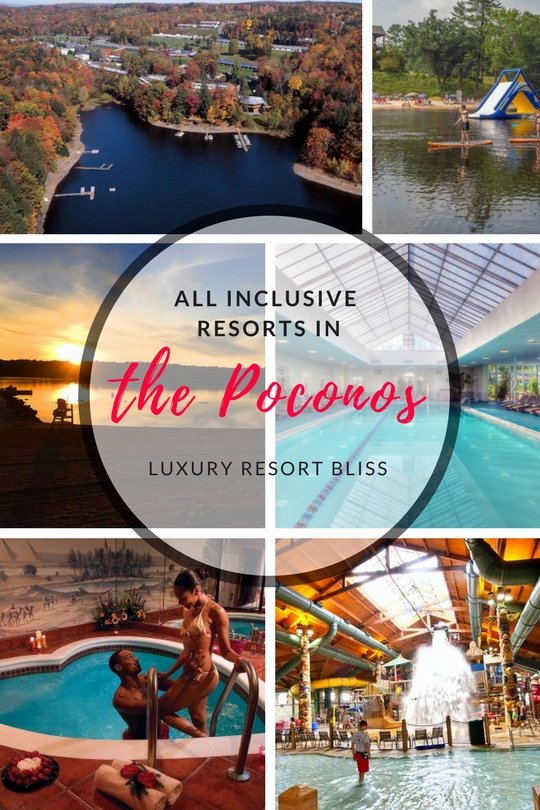 The Pocono Mountains region is a beautiful area of Pennsylvania that is perfect for a getaway. The region is home to a number of attractions, including skiing and snowboarding in the winter, hiking and biking in the summer, and golfing all year round. The Pocono Mountains also have a number of family-friendly attractions, such as zoos, museums, and water parks.
The Poconos Travel Guide - Jim Thorpe, Delaware Water Gap, Stroudsburg
Best Poconos All Inclusive Resorts:
Poconos, Pennsylvania is a popular tourist destination in the US. It is often referred to as the "Switzerland of America". The Poconos Mountains are home to many resorts that offer all-inclusive packages for families, couples and groups.
There are 11 all-inclusive resorts in the Poconos. Here are the top resorts according to categories: 
Pocono Palace Resort (Best rated all-inclusive for romance)
Mount Airy Casino Resort Spa (Casino all-Inclusive)
Cove Haven Resort: Couples All-Inclusive
Paradise Stream Resort: Adult Only all-Inclusive
The Lodge at Woodloch: Best intimate all-inclusive
Woodloch Resort: Best Family All Inclusive in the Poconos
All-inclusive in the Poconosi: Fnd the best deal, compare prices, and read what other travelers have to say at Tripadvisor
Woodlock Resort
Woodlock Resort: Best family  all-inclusive resort in the Poconos
Woodlock Resort is a well-known family resort located in the Pocono Mountains. The resort offers many activities for children of all ages. There are miniature golf courses, swimming pools, an arcade and nature trails for recreation. Families can also enjoy a variety of dining options such as the lodge restaurant and the poolside bar & grill.
Activities for kids include: 
Adventure Playground
Archery
Arts & Crafts Room
Bumper Boats
Bumper Cars
Climbing Wall
Disc Golf

Boats




Fishing Docks
Go Carts
Ice Skating
Miniature Golf
Nature Trail
Scenic Boat Tours
Snow Tubing
Sports Complex Pool (Springs)
Waterslide and Beach



Lots of Entertainment for the whole family including comedians

Video Resort Tour | Woodloch Resort - Pocono Mountains, Pennsylvania
Woodlock Resort offers an exclusive and serene setting that is perfect for a weekend getaway. Their on-site spa features over 5,000 square feet of luxury treatments to choose from and miles of wooded trails to experience the beauty of the Pocono Mountains. With an outdoor pool, tennis courts, game room and more, Woodlock Resort has all you need for a relaxing retreat.
Pros: The Woodlock Resort is a year round resort located in the Pocono Mountains of Pennsylvania. Activities on site include golf, paintball, fishing, hiking, and more. The resort also offers on-site dining and a full service spa.
Video: Woodloch Resort - Take A Tour of an All-Inclusive Family Resort in Pennsylvania!
You may also want to see:
Other great Poconos Resorts

Hotel Last Minute Deals in Poconos (area)
Skytop Lodge
Video Resort Tour | Skytop Lodge - Pocono, Pennsylvania
In this video from Pocono Tourism, travel vlogger Chris Barrett interviews Jeff Rutter, the general manager of Skytop Lodge, one of the most stunning resorts in the Pocono Mountains. Jeff discusses the challenges of the past year and the exciting renovations and upgrades that have taken place at the resort, including a resort within a resort, new farm-to-table dining options, and a focus on outdoor activities. He also shares his favorite time of year at Skytop and the beauty of the changing colors in October. Chris and Jeff have a great rapport and showcase the warm hospitality that visitors can expect at Skytop Lodge.
The Skytop Lodge offers a variety of amenities such as a swimming pool, tennis court, and hiking trails.
In addition to the many amenities offered by the lodge, there are also many activities nearby. A few of these include skiing at Shawnee Mountain Ski Area, golfing at The Mansion Golf Course and Spa.
Enjoy a beautiful view of the Pocono Mountains. And lastly, they have an indoor pool and hot tub.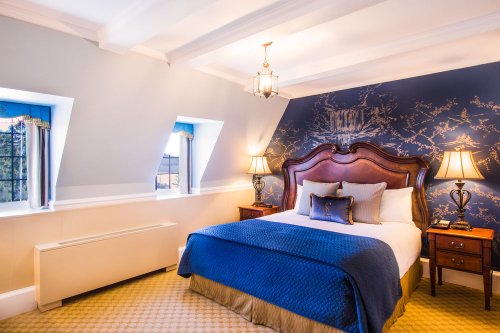 Guestrooms at Skytop Lodge
Skytop Lodge is one of the highest rated Poconos all inclusive resorts and the only conventional resort suitable for families (as the others are couples only). In the winter, it's a ski-in/ski-out resort with a free ski shuttle and ski storage.
The Indoor Pool
In the summer, there is a golf course, indoor and outdoor pools, 8 tennis courts, and conference center. There are 192 guestrooms, 3 restaurants and 2 bars. 
Get more information and see the latest reviews for Skytop Lodge.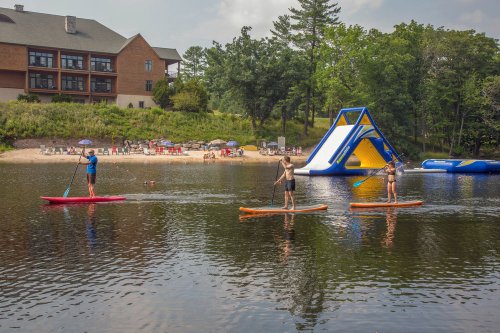 Outdoor Activities
---
Malibu Dude Ranch, Luxury Ranch Resort
This resort is a beautiful location for all to enjoy. Families can enjoy the outdoor activities such as horseback riding, fly fishing, and hiking. Couples can enjoy the romantic atmosphere of this resort and indulge in spa treatments or spend time in their very own private hot tub.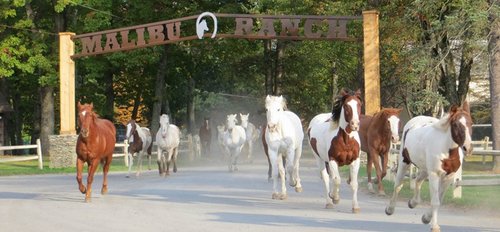 This is a unique all inclusive property on 800 acres in the Pocono Mountains. It offers you a Cowboy style vacation with all inclusive packages. Great for family vacations and large group get-togethers. There are 20 private cabins, a boat house on a lake, and main lodge chalet style rooms. 
Meals are included and you may have a great rodeo experience while you're there. Reviews are excellent here with past guests saying the whole experience was wonderful.
See the latest reviews or visit the official website here for more information.
Video:
Today, we're going to explore the Pocono Mountains in Pennsylvania and discover the best all-inclusive resorts for couples. Join me, ViewCation, as we take a closer look at Paradise Stream Resort, Cove Haven Resort, Mount Airy Casino Resort, Woodloch Resort, Skytop Lodge, and even a dude ranch! With so many amazing options to choose from, couples are sure to find the perfect romantic getaway in this breathtakingly beautiful region. So, buckle up and let's get started!
---
Paradise Stream Resort, Couples Only
The Paradise Stream Resort is a Couples Only resort in the Pocono Mountains. This is a great place for couples to enjoy their time together without interruptions from children.
The resort provides a variety of activities for couples to do together, including hiking, canoeing, and horseback riding. They also have an on-site spa that offers couples massages, facials, and more. The rooms at the resort are spacious with a king size bed and private balcony. The resort offers shuttle service to local restaurants and attractions as well as complimentary breakfast in their restaurant every morning.
Video Review by Guest: Paradise Stream Couples Resort | Room Tour | Poconos | Baecation | Travel Vlog
After its coal mines closed, Mt. Pocono has put a lot of energy into developing Paradise Stream. It remains their pride and joy. One of the town's many attractions is the scenic beauty of both natural and human-made elements. And all throughout the four amazing seasons,

Paradise Stream's stunning beauty entices couples from every location in the Northeast to spend their well-deserved intimate time together. Mt. Pocono is a pretty untouched area of the Pocono Mountains and offers plenty to enjoy. With its many designated preserves, cozy cafes, and tourist-friendly destinations, this scenic site is hard to find elsewhere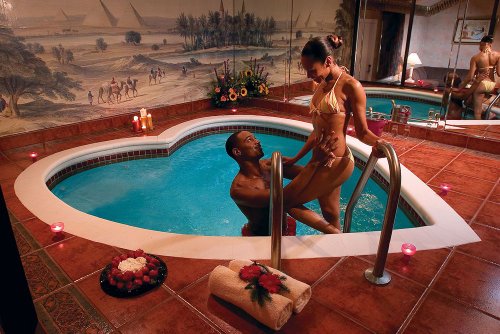 Pros: This top Poconos all-inclusive couples resort is set among the iconic colors of the Poconos mountain area.

Whatever the activity you like to do together this resort is likely to cater to your tastes. Play golf together, go for a paddle in a canoe, enjoy wondering the pristine mountain environment, or simply take a ride on a bicycle together. All in all this makes for a great activity to do on a honeymoon or a romantic weekend away.

Get more information: Paradise Stream Resort

---
Cove Haven Resort, Couples Only
Cove Haven Resort is a couples only resort in the Poconos. It is a romantic, secluded, and intimate setting for couples looking to get away from it all.
The resort offers a variety of activities for guests to enjoy including hiking, biking, horseback riding, fishing, and more.
Couples can enjoy the luxury of their own private cottage with a fireplace and Jacuzzi bathtub. There are also many different dining options available on property as well as an on-site spa where guests can indulge themselves with massage therapy or facials.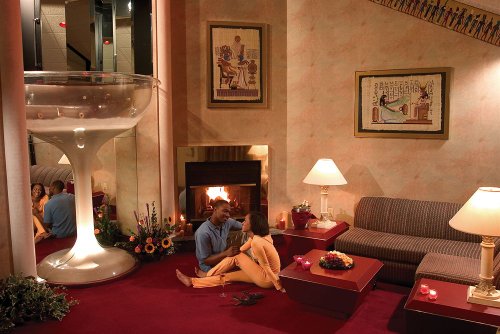 Pros: Couples can enjoy a health club and spa, have a game of indoor tennis, go ice-skating in the winter, play racquetball, or a host of other activities like mini-golf. There is also a great indoor pool, and a marina with water equipment and fantastic nightly entertainment.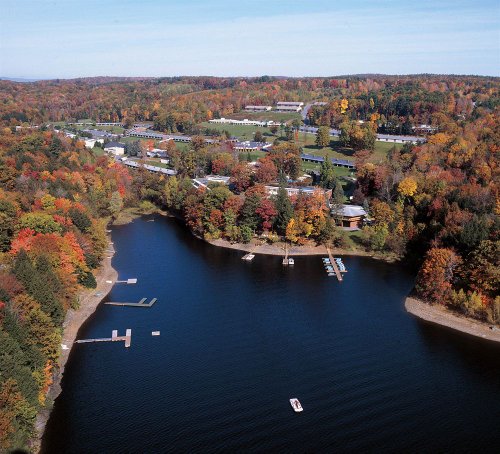 Cove Haven Resort, Couples Only Resort
This resort is all suites. While many come with champagne glass tubs, heart shaped tubs or private pools, they are are all designed for fantasy and intimacy and make for a great romantic time together away with your loved one.

Click here for more information.
In this video, YouTubers Tiff and Kei take us along on their 10-year anniversary trip to Cove Haven Couples Resort in the Poconos. They show us their room, which includes a heart-shaped jacuzzi tub and a round bed with a mirrored headboard, and take us on a tour of the resort's amenities, including a heart-shaped pool and a dry sauna. They also try out various activities such as bow and arrow, darts, and a nature walk. Tiff and Kei bring their own romantic touches to the room with rose petals and candles. Their humorous commentary and playful banter make for an entertaining and engaging travel vlog.
Reviews:
As a freelance writer with a sense of adventure, I recently took a trip to the Poconos for an all-inclusive getaway with my partner. We stayed at the Cove Haven Resort and had a blast trying out all the romantic activities they had on offer, from ice skating to horseback riding. The area is particularly beautiful in the fall, when the trees turn vibrant shades of red and orange, but it can be a bit pricier during peak season. If you're looking for a more affordable time to visit, consider going in the spring or early summer. An alternative destination to consider would be the Berkshires in Massachusetts, which offers similar scenery and romantic activities.
---
You will never be bored here! There is always something to do. You can go skiing, snowboarding, or ice skating on the mountain. Or you can go horseback riding through the gorgeous forest trails. You can even go cross country skiing or snowshoeing in one of the many parks near by!
The Poconos All-Inclusive Resorts offer a variety of dining options to choose from. Whether you want something quick like a pizza from the pizza place or something more formal like a gourmet dinner at The Dining Room restaurant, there is an option for everyone!
Close to All Inclusive - Resorts with Inclusive Packages
The Mount Airy Casino Resort has everything you need for a relaxing getaway. They offer spa packages, escape packages, and golf packages that allow you to choose the type of experience you want to have: be it zen-like, adventurous or competitive. With their variety of offerings and positive reviews from past customers, Mount Airy is sure to leave you feeling relaxed and recharged.
The Inn at Pocono Manor: a resort with good reviews and a variety of packages including breakfast and 4 course dinner, golf packages and spa packages.

Great Wolf Lodge: Top Poconos Water park Resort for families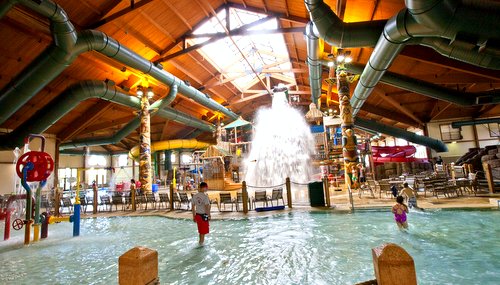 Has a variety of packages including a waterpark, some food packages and other attractions. Click to see our review.
Great Wolf Lodge Poconos Resort is the perfect vacation spot for families. The resort includes waterpark, mini golf, and many other activities to keep the whole family entertained.
The waterpark is a family favorite and includes a wide variety of slides, pools and other features. Love the lazy river? Try out hot tubs, swim-up bar or enjoy a poolside massage.
Video: REVIEW - Great Wolf Lodge - Pocono Mountains (Scotrun, PA)
---
Apart from these resorts, there are a few other good Poconos resort options depending on what you are looking for.
Our Poconos Resorts page list a few more options for a great vacation in the Poconos.

Review
My name is Sarah, and I'm a freelance travel writer from the midwest. I recently went on a trip to the Poconos with my partner, and let me tell you, it was an experience we'll never forget. We stayed at the Cove Haven Couples Resort, and from the moment we arrived, we knew we were in for something special.
The resort is all-inclusive, meaning we didn't have to worry about a thing during our stay. From the delicious meals to the endless activities, there was always something to do. And let me tell you, the activities were anything but ordinary. We tried our hand at archery, went ice skating on a frozen pond, and even played a game of giant chess.
But the real highlight of our trip was our room. We stayed in the Champagne Tower Suite, which had a heart-shaped jacuzzi tub with a mirror background and a round shaped bed with a mirrored headboard. The room was decorated with rose petals, and there was even a dry sauna for us to enjoy.
And the views from our room were just as stunning as the room itself. We could see the marina from our balcony, and the heart-shaped pool was just a short walk away. The pool wasn't open during our stay due to some construction, but that didn't stop us from enjoying the lounge chairs and soaking up the sun.
As for the food, we were blown away by the quality and variety of the meals. The resort has several restaurants to choose from, and we tried them all. From the steakhouse to the Italian restaurant, every meal was delicious and perfectly prepared.
Now, let's talk about the romantic side of things. The Cove Haven Couples Resort is known for its romance, and they definitely didn't disappoint. Our room was set up with candles and rose petals, and we even brought our own blanket to make the bed extra cozy. And let's just say, the heart-shaped jacuzzi tub was the perfect spot for some sensual relaxation.
Overall, I would highly recommend the Cove Haven Couples Resort to anyone looking for a romantic, all-inclusive getaway. The resort truly has it all, from the stunning views to the endless activities to the mouth-watering meals. It's perfect for couples who want to unwind and reconnect with each other.
However, if you're looking for something a bit different, I would also suggest checking out the Skytop Lodge. This historic resort is nestled in the heart of the Poconos, and it's perfect for those who love the great outdoors. With over 5,000 acres of land to explore, there's plenty of hiking, fishing, and other outdoor activities to enjoy. Plus, the views from the lodge are simply breathtaking.
---
Share Your All-Inclusive Adventures and Questions! 🌴 Have a memorable experience from a luxury all-inclusive vacation? We'd love to hear it at Luxury Resort Bliss. We're on the lookout for top-quality, insightful tales that'll inspire our community. Dive in and be a part of our sun-soaked stories! 🌊🍹✨
The story is a fictionalized account founded on travel expertise, research, and experience. Always refer to recent guest reviews and perform due diligence before booking.
💼 We cherish our independence! ✈️ Our travel recommendations are carefully researched, bias-free, and powered by human expertise by April and Ricky of LRB (we have personally researched and travelled to many of these destinations and researched others thoroughly through first-hand accounts). We also have put in the hard miles, and Ricky has worked for decades for resort and hotel chains  Hyatt, Hilton, Shangri-La and Radisson before starting Luxury Resort Bliss in 2007. 🌍✨ Unlike some other resort review websites we are concerned on the guest experience rather than mere corporate interest.