Smoky Mountains Luxury Resort and Cabin Vacations
Smoky Mountains Luxury Resort
In the heart of the American Southeast lies a realm of mist-shrouded peaks, verdant valleys, and crystalline rivers—a land where time seems to slow and nature's embrace envelops all who wander within its borders. The Great Smoky Mountains, a UNESCO World Heritage site, beckons travelers from near and far to explore its captivating beauty and discover the hidden treasures that lie within.
In this article, we shall embark on a journey through the enchanting world of the Smokies, uncovering the region's finest resorts and retreats that promise to elevate your mountain sojourn to new heights. From luxurious lodges nestled in the heart of the wilderness to charming riverside retreats, we shall delve into the unique offerings of each destination, providing insights and guidance to help you choose the perfect haven for your Smoky Mountain adventure.

So, lace up your hiking boots, breathe in the fresh mountain air, and join us as we traverse the breathtaking landscapes of the Great Smoky Mountains, unveiling the magic that lies within its most exquisite resorts and retreats.
Reviews:
The mist that rises from the peaks covers some great Smoky Mountain luxury resorts and cabins that stand apart. We found the top vacation opportunities on a recent search of the most popular National Park in the United States.

Smoky Mountains Treehouse Resort
Treehouse Grove has the distinction of having the nearest and most direct access to Smoky Mountains National park. Comprising Eight treehouses, this resort offers the best nature has to offer right at your doorstep.  You might have caught a glimpse of  "Treehouse Master" Pete Nelson on one of a handful of TV shows featuring treehouses. If you have, chances are you also came across Treehouse Grove as well. 
Smoky Mountains Treehouse Resort
The resort location you are situated  6.6 km from Ripley's Aquarium of the Smokies and about the same distance to Gatlinburg. Which makes it an ideal destination to explore both worlds. 
The cabins themselves are what you would expect in non tree bound structures. You will find a  TV, a coffee/tea maker, In-room dining and a kitchen containing a refrigerator and a microwave.
See also our treehouse vacation resorts review.
Read more on Treehouse Grove, our companion site | Green Travel List
Carolina Vacations: Myrtle Beach, Hilton Head, Outer Banks, Smokey Mountains

Smoky Mountains in Fall
Although it has the most visitors, it is definitely not crowded and there are great accommodation options.
For cabins inside the park, things to do and restaurant information check out the Smoky Mountains Review on TA.
Gatlinburg, Tennessee Hotel Deals Finder

---
Best Smoky Mountain Luxury Resort and Cabin Options:
Great Smoky Mountains National Park is one of the busiest in the country and occupies parts of Tennessee and North Carolina. It's not any wonder that you are interested in visiting here, as it really is an accessible and easy way to get back to nature and change the pace for a little while.  While the park itself follows the ridgeline of the Great Smoky Mountains of the Blue Ridge Mountains, there are more than a few good resorts and cabins in this part of the Appalachian Mountains with access to these magnificent high mountains. 
VIDEO: Great Smoky Mountains National Park
---
Elk Springs Resort
Elk Springs Resort: A Nature Lover's Sanctuary (8.5/10)
Elk Springs Smoky Mountans Resort features is another small set of cabin rentals and condos which make the most of the mountain environment. The views are spectacular and take in not only the surrounding 68 acres that contain the resort, but well beyond this as well.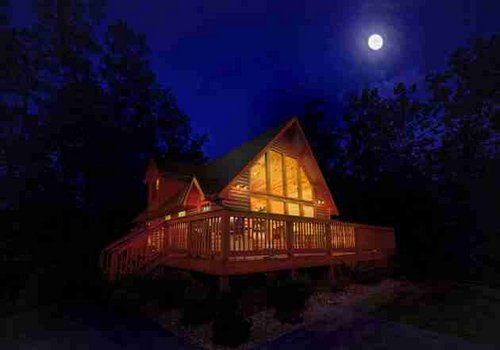 The Cabins
One cannot help but be struck by the serene beauty of Elk Springs Resort. Here, the verdant foliage of the Smoky Mountains envelops you, and the scent of pine gently whispers through the air. Upon arrival, a rustic elegance greets you, as the resort's luxurious cabins merge seamlessly with their surroundings. From the soaring timber beams to the warm, inviting fireplaces, every detail at Elk Springs Resort has been meticulously crafted to provide an unparalleled experience of comfort and indulgence.
Ideal for families and couples seeking an intimate retreat, the resort offers various cabin sizes and configurations to suit all tastes. Each cabin is uniquely designed, with amenities such as hot tubs, home theaters, and game rooms that will satisfy even the most discerning of guests. Furthermore, the resort's dedication to eco-friendliness, with features like energy-efficient appliances and water conservation efforts, serves to enhance one's communion with nature.
The only drawback to Elk Springs Resort lies in its secluded location, which, while providing a tranquil respite, can make trips to nearby attractions more time-consuming. However, the resort's attentive concierge is always on hand to assist with travel arrangements and offer expert advice on local attractions.
Rated the best Luxury Gatlinburg cabins tucked away in the seclusion of a private, 68 acre Great Smoky Mountains location. Reviews are excellent.
Get more information on Elk Springs Resort and Cabins. 
---
Appleview River Resort
If the Elk Springs Resort is a love letter to the wilderness, then the Appleview River Resort is a sonnet to the river. Situated along the banks of the Little Pigeon River, the resort's condos and cabins provide an elegant backdrop to the enchanting dance of the water. The sound of the river's gentle flow, combined with the soft rustling of leaves, creates a symphony that lulls visitors into a state of deep tranquility.
The Appleview River Resort is perfect for those who appreciate a balance of nature and convenience. The resort's proximity to the bustling town of Sevierville and popular attractions such as Dollywood ensures that guests have access to a range of entertainment options, while still enjoying a peaceful retreat. Each cabin and condo is exquisitely furnished, with modern amenities and thoughtful touches like plush bedding and whirlpool tubs, ensuring a comfortable and relaxing stay.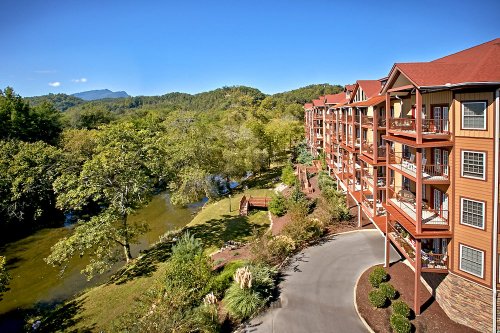 A prime river waterfront location with views, Appleview River Resort is snugly located right outside Smoky Mountains National Park.

Attractive condos of varying sizes can include fireplaces, private balconies, full kitchens as well as nearby outdoor hot tubs  fishing on the river.
See more information and reviews on Appleview River Resort

The main limitation of Appleview River Resort is that it offers fewer on-site amenities compared to Elk Springs Resort, such as home theaters and game rooms. However, its prime location and stunning riverside views more than make up for this minor shortcoming.
IBoth Elk Springs Resort and Appleview River Resort offer an unforgettable experience in the heart of the Smoky Mountains. For nature lovers seeking seclusion and luxury, Elk Springs Resort is an unparalleled choice. On the other hand, those who desire a harmonious blend of natural beauty and modern convenience will find their perfect haven at Appleview River Resort.
---
Westgate Smoky Mountain Resort & Spa
Westgate Smoky Mountain Resort & Spa: Where Rustic Charm Meets Modern Comfort
Hidden among the rolling hills and verdant foliage of the Smoky Mountains lies the Westgate Smoky Mountain Resort & Spa, a haven where the charm of a rustic mountain lodge coexists harmoniously with the indulgence of modern amenities. It is here that one can find a perfect balance between adventure and relaxation, as the resort offers an array of experiences designed to immerse guests in the majestic beauty of the Smoky Mountains while pampering them with luxurious comforts.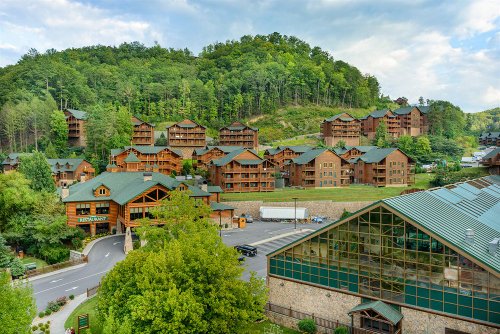 Westgate Smoky Mountain Resort & Spa is the epitome of a mountain retreat, with its sumptuous accommodations that range from cozy studio villas to spacious four-bedroom cabins. Each lodging option is meticulously designed, featuring warm wood accents, plush furnishings, and fully equipped kitchens, providing guests with a home-away-from-home atmosphere. The resort's pièce de résistance, however, is the breathtaking view of the Smoky Mountains that can be enjoyed from the private balconies of the cabins and villas.
A key aspect that sets Westgate Smoky Mountain Resort & Spa apart from other mountain retreats is its on-site amenities. The resort's world-class Serenity Spa offers a plethora of rejuvenating treatments and therapies, allowing guests to unwind and reconnect with their inner selves. For those looking to maintain their fitness regime, the resort also boasts a state-of-the-art fitness center and various outdoor activities, including hiking trails and a mini-golf course.
Families with children will find the Westgate Smoky Mountain Resort & Spa to be an ideal destination, thanks to the resort's Wild Bear Falls Water Park. This expansive indoor water park, with its thrilling slides, lazy river, and interactive play areas, provides endless entertainment for guests of all ages.
The resort's location serves as both a strength and a weakness. While situated near popular attractions such as Gatlinburg and Pigeon Forge, it is nestled high in the mountains, which can make the drive to the resort challenging for some guests. However, the stunning views and serene atmosphere more than compensate for the somewhat remote location.
Westgate Smoky Mountain Resort & Spa is a great family friendly resort option. It has a a waterpark, a lazy river, waterslide and  2 outdoor swimming pools. 
Westgate Smoky Mountain Resort & Spa, Gatlinburg

---
The Inn at Christmas Place: A Yuletide Wonderland in Pigeon Forge
In the charming town of Pigeon Forge., nestled at the foothills of the Great Smoky Mountains, lies a magical abode where the spirit of Christmas dwells all year round. The Inn at Christmas Place, with its Bavarian-style architecture and festive decorations, transports guests to a whimsical world of yuletide enchantment, offering a unique and delightful experience for travelers of all ages.

The Inn at Christmas Place: A Celebration of Festive Cheer (8.4/10)
Upon entering The Inn at Christmas Place, one is greeted by a symphony of carols and the warm glow of twinkling lights, creating an atmosphere of merriment that permeates every corner of the hotel. Each of the 145 guest rooms and suites is lovingly adorned with festive décor, from wreaths and garlands to delicate ornaments. Plush bedding, spacious bathrooms, and thoughtful amenities ensure that guests enjoy a comfortable and cozy stay.
One of the most enchanting aspects of The Inn at Christmas Place is its commitment to fostering a sense of wonder and joy. Every morning, guests can look forward to a delightful breakfast buffet, complete with an omelet station and decadent pastries. In the evenings, the hotel's resident pianist and Santa Claus himself regale visitors with heartwarming stories and songs in the grand lobby, where a magnificent, towering Christmas tree serves as the centerpiece.
The Inn's prime location in Pigeon Forge is a significant advantage, as it is within walking distance to numerous attractions, including the famous Christmas Place shopping village, Dollywood, and various dinner theaters. Moreover, the hotel's friendly staff is always eager to provide recommendations and assist with booking tickets for local shows and events.
The only conceivable drawback of The Inn at Christmas Place is that its holiday theme might not be to everyone's taste, particularly for those seeking a more traditional or serene mountain retreat. However, for travelers who revel in the magic of Christmas and appreciate the warmth and hospitality that the season embodies, The Inn at Christmas Place is an unparalleled choice.
---
Dancing Bear Lodge
Dancing Bear Lodge: A Rustic Haven of Comfort and Serenity
Dancing Bear Lodge: A Mountain Retreat for the Soul (9.2/10)
As one enters Dancing Bear Lodge, the warmth of the wooden interiors and the soft glow of the fireplace evoke a sense of comfort and serenity. The lodge's accommodations, comprising cozy cabins and luxurious guest rooms, are designed with an emphasis on simplicity and warmth. Rustic furnishings, plush bedding, and thoughtful amenities come together to create an atmosphere of understated elegance, ensuring that guests feel at home in their mountain sanctuary.
Dancing Bear Lodge prides itself on its commitment to providing a truly immersive experience for guests. The on-site restaurant, aptly named Dancing Bear Appalachian Bistro, serves a delightful array of dishes inspired by the culinary traditions of the Smoky Mountains. With a focus on locally sourced ingredients and exquisite flavors, the Bistro offers a dining experience that is both delectable and authentic.
The true charm of Dancing Bear Lodge lies in its connection to nature. Guests are encouraged to explore the beauty of the surrounding wilderness through various outdoor activities such as hiking, biking, and fishing. The lodge's location in the heart of the Smoky Mountains, near the entrance to the Great Smoky Mountains National Park, ensures that visitors have ample opportunity to immerse themselves in the breathtaking splendor of the mountains.
The main drawback of Dancing Bear Lodge is its limited on-site amenities compared to some larger resorts. For example, there is no spa or indoor pool available. However, the lodge's emphasis on simplicity and its focus on providing a genuine, nature-centered experience more than compensates for this minor shortcoming.
In the smoke of the mountain's backyard. This resort hotel offers quality accommodation to couples and families alike. A huge three-bedroom log cabin featuring an all wood interior. Enjoy a hot tub in your own private setting only minutes away from Dollywood.
Dancing Bear Lodge is a captivating haven for those seeking solace in the embrace of the Great Smoky Mountains. With its charming accommodations, exquisite dining, and unparalleled access to the natural wonders of the area, Dancing Bear Lodge offers guests an experience that is both rejuvenating and unforgettable.
More information and reviews on Dancing Bear Lodge, Townsend, TN

---
A: The Smoky Mountains offer a unique experience for visitors throughout the year. Spring (April-May) and fall (September-October) are popular times to visit, as the weather is pleasant and the foliage is particularly stunning. Summer (June-August) is ideal for outdoor activities, while winter (December-February) offers a cozy, snow-covered retreat. Ultimately, the best time to visit depends on your personal preferences and the activities you're interested in.
A: Yes, many resorts and cabins in the Smoky Mountains are pet-friendly, with specific accommodations designated for guests with pets. It's important to verify the pet policy of your chosen resort or cabin before booking to ensure that it meets your needs.
A: Absolutely! The Smoky Mountains offer a wide range of accommodations to suit various budgets, from affordable cabins and chalets to more luxurious resorts. To find the best deals, consider booking your stay during the off-peak season or exploring last-minute discounts.
A: The Smoky Mountains offer a plethora of activities for visitors, including hiking, biking, fishing, horseback riding, and wildlife viewing in the Great Smoky Mountains National Park. Additionally, nearby towns such as Gatlinburg, Pigeon Forge, and Sevierville offer a variety of attractions, including amusement parks, shopping, dining, and entertainment options.
A: Amenities in Smoky Mountains resorts and cabins vary depending on the specific accommodation. Common amenities include fully equipped kitchens, fireplaces, hot tubs, Wi-Fi, and outdoor grills. Some luxury resorts and cabins may also offer additional features such as home theaters, game rooms, and on-site spas or pools.
A: While there aren't many all-inclusive resorts in the traditional sense, several Smoky Mountains resorts offer packages that include accommodations, dining, and activities, providing a convenient and hassle-free vacation experience.
A: It is recommended to book your Smoky Mountains vacation at least 2-3 months in advance, particularly if you plan to visit during peak seasons or holidays. Booking early will ensure that you have a wider selection of accommodations to choose from and may also help secure better rates.
For more in the area, towns and cities close by, here are some more options:
Holiday Inn Club Vacations Gatlinburg-Smoky Mountain

Gatlinburg Town Square Resort By Exploria Resorts
Park Vista - DoubleTree by Hilton Hotel - Gatlinburg

---
Couples Only All Inclusive Resorts
Kalahari Resort Sandusky Ohio: An LRB Featured Resort
Kalahari Resort: Wisconsin and Poconos Mountain
Smoky Mountains Luxury Resort and Cabins
---
Share Your All-Inclusive Adventures and Questions! 🌴 Have a memorable experience from a luxury all-inclusive vacation? We'd love to hear it at Luxury Resort Bliss. We're on the lookout for top-quality, insightful tales that'll inspire our community. Dive in and be a part of our sun-soaked stories! 🌊🍹✨
The story is a fictionalized account founded on travel expertise, research, and experience. Always refer to recent guest reviews and perform due diligence before booking.
💼 We cherish our independence! ✈️ Our travel recommendations are carefully researched, bias-free, and powered by human expertise by April and Ricky of LRB (we have personally researched and travelled to many of these destinations and researched others thoroughly through first-hand accounts). We also have put in the hard miles, and Ricky has worked for decades for resort and hotel chains  Hyatt, Hilton, Shangri-La and Radisson before starting Luxury Resort Bliss in 2007. 🌍✨ Unlike some other resort review websites we are concerned on the guest experience rather than mere corporate interest.