Treehouse Vacation 
Looking for a treehouse vacation resort hotel or lodge.  Our collection of treehouses in this list are all livable and make for viable vacation options. Some are more rustic than others, but they are all places that you can go and book accommodation in. We will review some best treehouse hotels and resorts in the world as well as some of the destinations which have a lot of treehouses to rent.  While there are also some off beat treehouses on places like Airbnb, we prefer to focus on the resort treehouses and some that you can book privately.
Treehouses go back a long way before our own childhoods and people who know about such things date them to more than, 40000 years ago.  Wherever there have been trees, in fact civilizations have constructed treehouses to get away from animals that might eat their food or floods etc. Some treehouses like the bird's nest treehouse resort in Thailand had celebrated a culture which saw treehouses as a means to spiritual awakening far above the hum drum of everyday life. 
Bird's Nest Treehouse in Thailand
Many are parts of full resorts and wedding centers dedicated to treehouse style vacations. The desire to stay in a treehouse is understandable part of human nature. This doesn't always stem from a desire to go back in time to an earlier time but sometimes to simply live in harmony, close to the natural environment from which we came. 

The Treehouse Hotel
Nobody takes treehouse vacations more seriously than the Treehouse Hotel in Sweden. Because of the landscape of Sweden, many of the local are nature lovers to begin with, but these treehouses take the concept to a whole new level. These treehouses are not rustic, but rather recognize the value of modern designs while maintaining ecological values. 
The Treehouse hotel provides a joyful sense of adventure and exploration. You can also enjoy a wondrous sense of seclusion in these treehouses, far away from the hustle and bustle of even the larger cities in Sweden. You are actually far enough north to enjoy the Northern Lights in the colder months and the endless daylight in summer.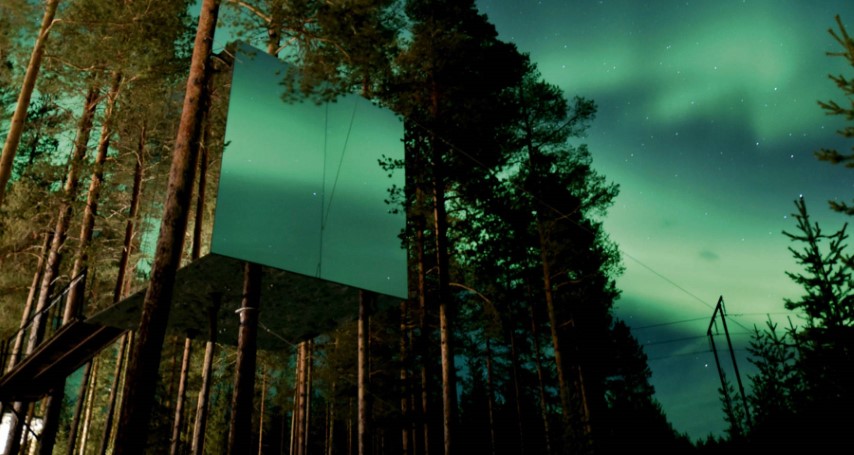 The days are never boring here and when you are not in your treehouse you can enjoy horse riding, dog sledding to ice fishing. There are a whole host of activities here which reflect the recreational pursuits and pastimes followed by many of the locals. Take a  forest SPA, ice dining or enjoy a  river hot tub.
More on The Tree Hotel on the Green Travel List (our companion site)
VIDEO: Stay in a Treehouse Hotel in Sweden | Travel Channel

Keemala treehouse

The Keemala Treehouse in Thailand is a means to find your creativity.

The We-ha (Sky) Clan in Phuket, Thailand had the idea that by elevating their home into the trees they would come to have a heightened and elevated spiritual  understanding. The idea was that this could enhance understandings of liberty and freedom in ways not too dissimilar to ways to thinking many of today's religions rationalize. 
The Keemala Pool houses in Thailand have taken these beliefs and turned into a modern resort  while maintaining some of their essential characteristics.  

These Bird's nest is ideal for honeymooners and couples. The treehouse villas are these multi level pods. These are equally luxuriant and comprised of things like king  beds with Egyptian cotton sheets and great air conditioning.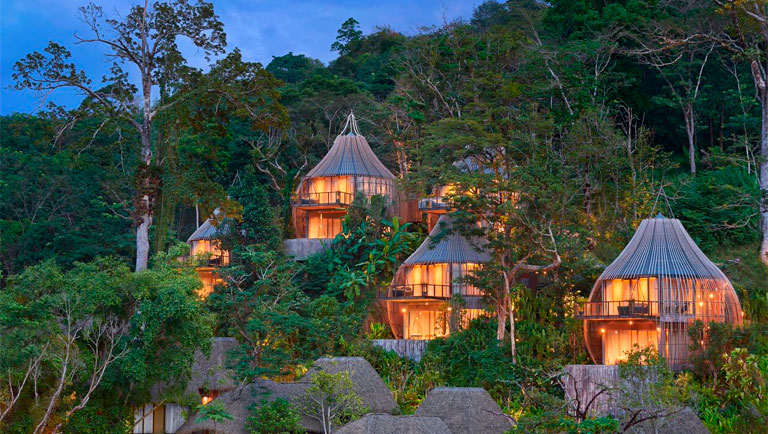 Keemala Treehouse in Thailand
This is a full scale treehouse resort, and you will find things like Mediation session, a full spa complete with eight treatment rooms with therapists, and a variety of cuisines and dining options. 
VIDEO: Keemala Phuket Resort & Spa: a fabulous jungle hotel (full tour)
Treehouse Vacations in the United States
Arguably, there is not much more American than vacationing in a treehouse in the red ceders of California, gazing out the window and spotting wildlife. 
But that is exactly what you can experience at the Pine Grove Resort, on the Green Travel List (our companion site)
 Cobb Creek, California 
the mohicans treehouses
VIDEO: Tour of The View at The Mohicans Treehouses
The Mohicans is a treehouse resort and wedding venue in Ohio. Not only can your have your wedding planned here, but you have the ready-made romantic honeymoon destination in one of multiple treehouses, all in different styles.  
The Mohicans Treehouse Resort has always been a family owned business. The name of the resort is derived from the valley in which the treehouses and a variety of other accommodation styles sit: The Mohican Valley. 
The Mohicans Treehouses on Hotels.com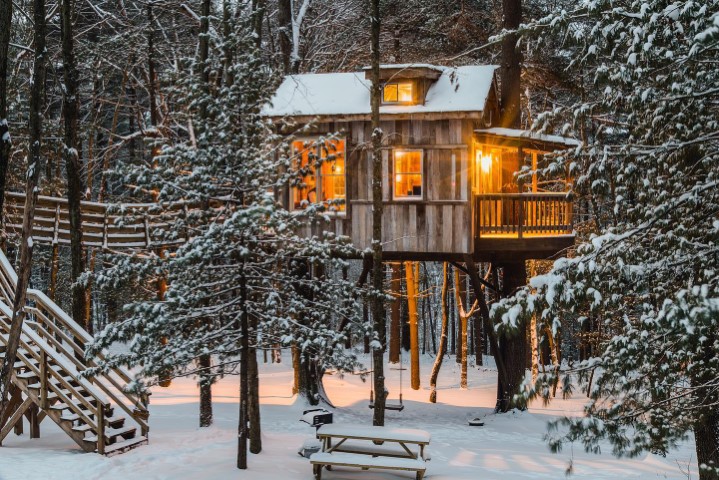 Treehouse Vacations in Costa Rica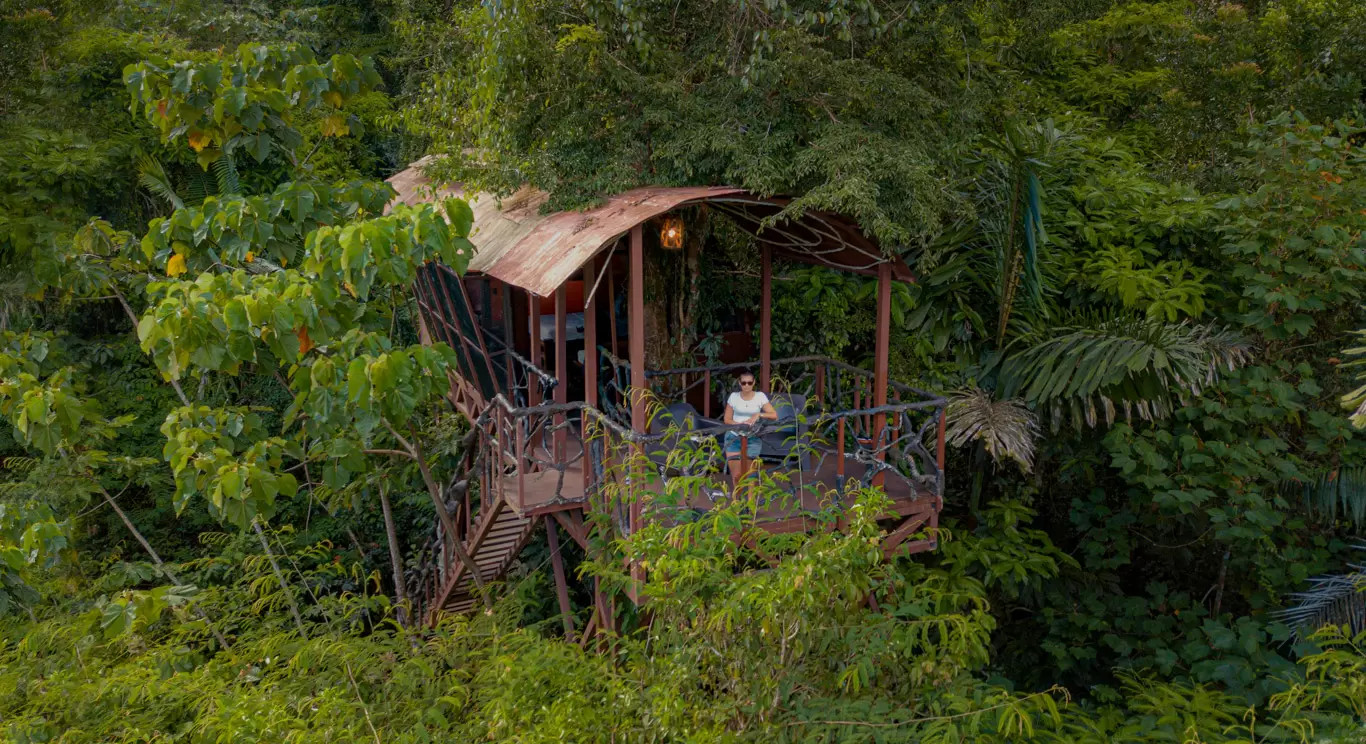 Maquenque Eco Lodge (on our companion site) is surrounded by rainforest, which is of course the perfect excuse to build treehouses. Because Costa Rica has been active in resorting its rainforests, which were once on their way to destruction, treehouses have made a comeback. Along with the habitat, the treehouses of Costa Rica offer a refuge of the relentless destruction of habitat seen in other parts of the world and the country.  At this treehouse lodge, you can take trails alone or with one of the guides and explore acres and acres of wilderness and waterfalls.
Situated in Provincia de Alajuela, Boca Tapada, Costa Rica this treehouse lodge is a good representative of many you see in this ecol overs paradise.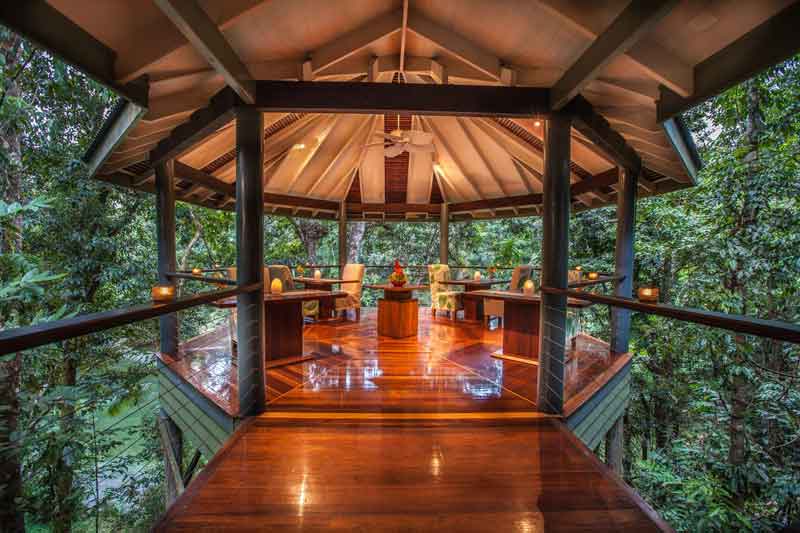 ilky Oaks treehouse resort in the Daintree offers an immersive ecological experience in the heart of the Rainforest.
Treehouse accommodation is also quite plentiful in the tropical rainforest parts of Australia. Particularly in the Daintree and the Wet Tropics parts in the Far North of the State of Queensland, Treehouses (on our companion site). This area is also quite close to the Great Barrier Reef, then you get the best of both worlds when you find a treehouse in this area. 
Australia has quite a strong ecotourism ethos in parts of the market, and many of the treehouses are quite intentional in the way they work with nature.  
Canopy Treehouses

The Canopy in Treehouses in Australia are located deep in the rainforest but provide for quite a modern style vacation with many luxury additions. While you can get glimpses of rare and exotic animals like Cassowaries and Tree Kangaroos, you can also enjoy a hot tub and gaze out over the deep jungle like landscape of the Ithaca River.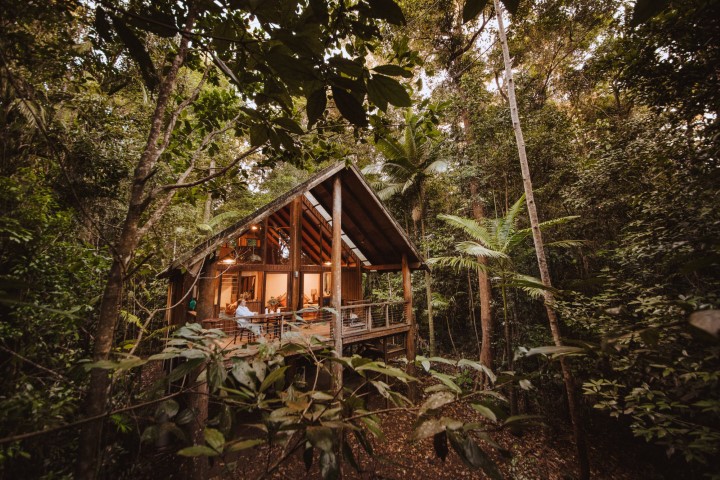 Canopy Treehouse Accommodation In Queensland
More information on the Canopy Treehouses from our companion site.
Find treehouses on Green Travel List
Authors Unleashed: Unveiling the Ultimate Travel Experience through Expert Reviews, Ratings, and Research
💼 We cherish our independence! ✈️ Our travel recommendations are carefully researched, bias-free, and powered by human expertise. We use AI sparingly for editing purposes, ensuring an authentic and reliable experience. Join us on our unbiased journey! 🌍✨
Always do your own research! 🧐📚⚠️