Places to Visit in Iceland
While the quirky land of fire and ice has done a good job putting itself out there in an appealing manner, knowing exactly what are the top attractions and which places in Iceland to visit does require a little more research and effort. Here are a few ideas to get you started on your Iceland family adventure.
We will also update you with some of the latest travel packages to Iceland. 

Places to visit in Iceland, itineraries and travel packages
Iceland certainly is different, and the old adage that people on islands grow up a little out of the ordinary certainly holds true here. In a land where you don't throw rocks for fear of hitting the little goblins that hide under rocks, holds surprises around every corner. You could certainly say the same about the landscape and unusual history.

Iceland Gullfoss Waterfall Landscape
The settlement began in the eight hundreds which, at the time took advantage of the warm Gulf Stream. If any country seems like of flavor of the month right now, it's Iceland.  It seems you can hardly open a travel magazine or newspaper without hearing more about Iceland.  Iceland's music is everywhere as other wonderful pictures you see of glaciers and the  spectacular scenery. But what's the best way to approach a visit?

Places in Iceland to visit Starting  along the Ring Road

Many people take the ring  road right around Iceland. This is a 1300 km trip, and while you can only travel at 50 kilometers an hour and 80 kilometers an hour out of town there is too much to see, and you would not want to travel faster. 

Iceland Roads
 The roads are not in great condition, and you need to take care especially in the Highlands, however, this remains one of the best ways to see the country. 

Video: This 6 day Iceland Itinerary takes you through many of the best places to visit in Iceland.
Many people take the ring  road right around Iceland. This is a 1300 km trip, and while you can only travel at 50 kilometers an hour and 80 kilometers an hour out of town there is too much to see, and you would not want to travel faster.  The roads are not in great condition, and you need to take care especially in the Highlands, however, this remains one of the best ways to see the country. 

Reykjavík is a great place to start a journey which will take you to the black sand beaches of the ring road.  There are scores of thermal pools complete with slides and kids' activities here in the capital and hundreds more across the country to look forward to. 

Amazingly, Iceland has only a population of about 300,000 with most being in Reykjavík.  This is also where most flights will fly into.  (Worth noting is the current special from North America where you can get a free stopover here if you are traveling to Europe).  
Many folk then like to travel in a counterclockwise direction, travelling to the town of Selfoss and the Geyser of Gullfoss.  And continue on past the volcanoes and the black sand beaches.
The Blue Lagoon of Iceland
An interesting perspective on the Blue Lagoon. Thanks Youtube.
The climate in Iceland
In January as you can expect temperatures from -3 to 2°C while in midsummer temperatures can rise as high as 13° C and temperatures below zero don't happen often.  The weather can change quickly depending on the Gulf Stream and make sure you pack warm, rainproof clothes and a sweater. 
Where to stay in Iceland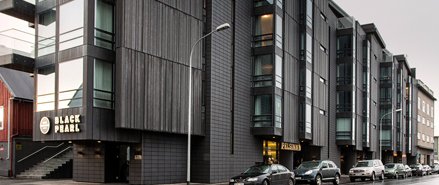 The Black Pearl Iceland Family Accommodation
The Black Pearl is a good choice for families if you want to live it up a little.  The hotel opened in 2013 and has become the top performer in Iceland.  It continues to win the TripAdvisor travelers choice award for the country.  You can enjoy a penthouse, deluxe two-bedroom suite, or standard suite which can easily take two children with two single beds or a sofa bed.


It's worth checking out your accommodation in advance because summer is quite a hectic and accommodation can book out fast.
Seal the top accommodation choices for Iceland on TripAdvisor to get reviews.
Iceland visa you

As part of the European Union Iceland enjoys the same benefits as the other member countries in regard to travel and vases. 

The culture of Iceland
Iceland celebrates its traditions, which hail from the late Middle Ages.  Separation from the rest of the world has meant Iceland has kept a lot of its culture.  The locals speak a language of their own which comes from the Old Norse tradition.  Separation has also meant that the locals take a lot of pride in doing things their own way and not depending on others.  There is also a rich tradition in literature and many of the locals are familiar with the old stories and classical works.  Epic sagas and prose which celebrate old feuds and the settlement of the island.
Travel to Ireland from the US

 Are you looking to travel to Ireland from the US? Thankfully, conditions have improved since this video was made in 2021. Visit our discount flights page to find cheap airfares to Iceland. 
Video FLYING to ICELAND from the USA in 2021 ✈️ Top Travel Tips for Iceland
Food in Iceland
A taste test of some of the more traditional foods in Iceland.
Iceland itineraries

Thanks to all the travel vloggers who contributed to this review of Iceland travel itineraries. 
South Iceland Itinerary
This Iceland itinerary explores why the South Iceland attracts tourists. The  black sand beach and big waterfalls are only part of the story. This trip includes seven stops along an enthralling Iceland South coast itinerary!

VIDEO: South Iceland Itinerary | 7 MUST SEE places

Iceland 8 day Itinerary 
This 8 day Iceland Itinerary takes you around the Ring Road and uncovering the best places to visit! This is a budget  itinerary to allow you to do Iceland on a budget.  
Video: A Full Iceland Itinerary Around The Ring Road (On A Budget Too!)

Iceland 7 day Itinerary 
This seven day Itinerary follows the Ring Road of Iceland. The Itinerary covers some of the best places to visit from   Reykjavik, to Kirkjufell, and a ton of other destinations. 
Iceland with Rick Steves 
I have included these travel videos: Iceland with Rick Steves. As one of the most familiar, and dependable  voices in travel commentary, Rick Steves does not disappoint in these videos and lives up to his reputation.
In this video Cameron Hewitt shares an itinerary for  traveling in Iceland — whether for 24 hours or 2 weeks. From  Reykjavík, 

Iceland with Rick Steves Itinerary
Iceland Ring Road with Rick Steves Itinerary
Cameron Hewitt circles Iceland on the 800-mile highway 1, and gives practical advice on creating a Ring Road itinerary.

Iceland all-inclusive resorts
While Iceland does not do the kind of All inclusive resorts you see in many tropical destinations, there are a number of companies that do.
The Kakslauttanen Arctic Resort in wintertime is a different kink of All Inclusive Resort in Iceland. While it may not offer the kind of inclusions  available in other destinations it does offer something unique and different. This is a Iceland destination resort located in Finnish Lapland, which is 155 miles north of the Arctic Circle. All-inclusive here more refers to the  world-famous glass igloos and the million stars of the night
Check out G Adventures for all-inclusive Iceland adventures.

Iceland Vacation Packages
Many people like to get a discount when they book a flight and accommodation together, get last minute travel deals, book early travel deals or even discounts when you stay a certain number of nights. That is where these travel deals come in. We list everything from all-inclusive resorts to adult only resorts here. Although they are not all set in Iceland there are a number of deals that will apply.  



Up to 40% off worldwide

Last-minute all-inclusive deals

Free Atlantis Activities


Save 50% on Vacation Packages

60% off Hotels

75% off Cruise Deals

Car rentals From $4.95

Caribbean & Mexico Beach Getaways 50% off

Riviera Maya Vacations from $499

Jamaica Vacations - Up to 60% Off

"when to buy flights tool" to see when fare's will be the lowest.

Lots of Roundtrip Flights under $199

Save Up To 25% Off Contiki Trips 

Last-Minute Hotel Deals

Top Travel Package Deals - Save up to $500.

Daily Deals! Score up to 40% Off Hotels and Flight + Hotel Packages

Save Up to 50% on Hotels and Get Special Insider #TravelHacks on Expedia!

 Kids stay and eat free at Holiday Inn hotels.

Save up to 40% Off Domestic (U.S.) Hotel Destinations.

Orlando Hotels starting at $39 per night

Find the Best Deals on Flights with KAYAK

Up to 25% Off Adventure Travel Deals

Roundtrip Flights to Hawaii from $317

Save 50% on the Hotel Deal of the Day!


Quarantine Free Travel Destinations


New York for as low as $90

Save up to 40% Off Hotel Bookings

IHG InterContinental Hotels and Resorts

Book Early and Save up to 20%

Comparison price engine

40% off Savings at Palace Resorts


Save up to $500 with a Vacation Package at priceline.com

Last-Minute Deals Up to 60% off: Flights, Hotels, Cars, Packages!

Round-Trip Flights Under $150! Hotel Bids from $28 per night!

Priceline Last-Minute Cruises from $60/ night!

Spa Credit of up to $175

Free Catamaran Cruise when you book 5 nights

Save up to 65% plus 1 night Free and your Companion Flies Free

Receive An Instant Savings of $350 Towards Your Beaches Resorts Vacation!
Iceland Travel Blog

I spent a bit of time looking at some top travel blogs for Iceland. Here are some of the best:

Published in Iceland, this blog has it all.
National Geographic article About Iceland
http://travel.nationalgeographic.com.au/travel/best-family-trips/iceland-ring-road/
Lonely Planet Travel Blog - Iceland
Iceland Travel blog about travelling with 4 children 
TRAVEL SAVVY MOM takes a dad perspective about traveling to Iceland with kids. 
Share Your All-Inclusive Adventures and Questions! 🌴 Have a memorable experience from a luxury all-inclusive vacation? We'd love to hear it at Luxury Resort Bliss. We're on the lookout for top-quality, insightful tales that'll inspire our community. Dive in and be a part of our sun-soaked stories! 🌊🍹✨
The story is a fictionalized account founded on travel expertise, research, and experience. Always refer to recent guest reviews and perform due diligence before booking.
💼 We cherish our independence! ✈️ Our travel recommendations are carefully researched, bias-free, and powered by human expertise by April and Ricky of LRB (we have personally researched and travelled to many of these destinations and researched others thoroughly through first-hand accounts). We also have put in the hard miles, and Ricky has worked for decades for resort and hotel chains  Hyatt, Hilton, Shangri-La and Radisson before starting Luxury Resort Bliss in 2007. 🌍✨ Unlike some other resort review websites we are concerned on the guest experience rather than mere corporate interest.