Top Florida Key Luxury Resort options for (2022) You Must Try
Looking for a great Florida Key luxury resort? Taking the trip down to the warm aqua calm waters extreme south is one of the most exhilarating experiences you can have without going far beyond the United States mainland. You don't need to venture further afield to the Caribbean. Key West and some of the state parks some of the best beaches in this part of the world, and also a few resorts in our reviews also have great beaches of their own.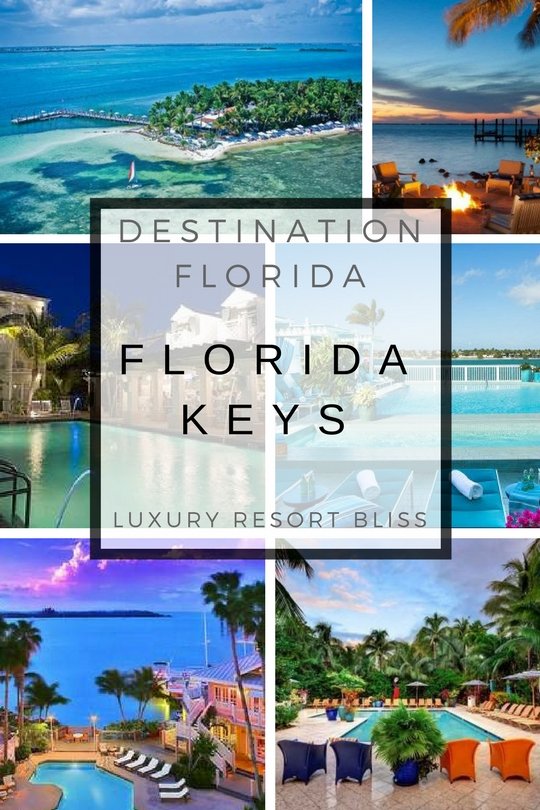 When to go to the Florida Keys?
Like the Caribbean, Key West is at its busiest and most expensive in the winter, when it is cold elsewhere. However temperatures don't vary too much over the year. If you can come after winter and enjoy the great conditions until May. 
Average Temperatures in the Florida Keys:
---
Florida Key Travel Video
Let's start with Key West. Key West is where you'll find most of the luxury resorts but there are great resorts and wonderful experiences to have on each. 

(We've listed the top Key West luxury resort here, the rest you'll find on the Key West specific page.) We also have listed some of the top resorts from other Florida Key locations. 
Top 25 Florida Keys Resort Deals from TA.

---
Florida Key Luxury Resort List:
A resort close to a lot of attractions and a neat little beach location check out Hyatt Key West.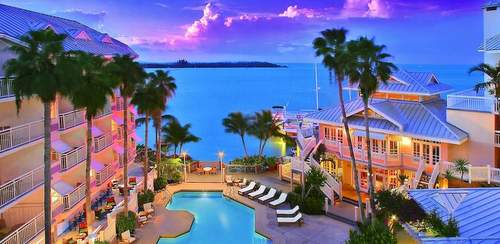 Hyatt Key West Resort and Spa
---
Southernmost on the Beach Florida Keys
If you are looking for a bit of class by vibrant Duval Street this stylish resort may fit the bill. And the good part is they don't take your money and forget about you which is part of the attraction. The treats keep coming from bedtime snacks on your pillow to little ice creams by the pool. Another of staying in a small resort with about 40 rooms is the sense of personal service which is reached through an attentive and customer focused staff.
With the full kitchens the need for a larger resort is somewhat negotiated and you will find a couple of well laid out and attractive and inviting swimming pools.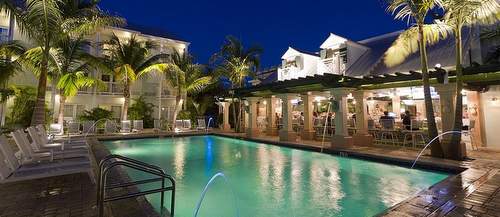 A relaxed but luxurious resort set in a remarkable location in Key West and only a few minutes to the top sites. Lots of space in the outdoor pools, and beach towels always available on the sandy white private beach. Cocktails at the bar are garnished with a perfect Florida Keys vibe. And the beach is not too far to walk.
More information and reviews on Southernmost on the Beach Florida Keys

---
Ocean Key Resort
This 4 star resort is located between Key West Harbor and Mallory Square. The perfect place to watch a sunset.

There are 100 rooms overlooking the Gulf of Mexico decorated with hand-painted furniture and bright colors. You'll find over sized bathrooms and whirlpool tubs

Charter a fishing boat, go swimming in the pool, visit the spa, and check out the water sports center.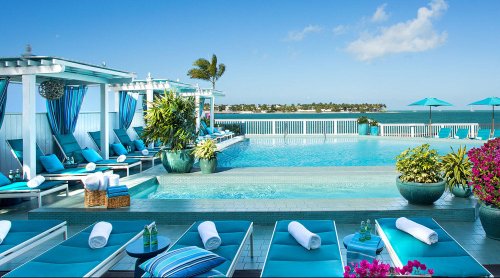 Reviewers say there are fantastic views, you can sun bathe on the long pier, great location on the end of Duval street, pool location is fantastic (but a little small).

More information and special offers on Ocean Key Resort.
For more luxury resorts only in Key West, go to Key West luxury resorts.

---
Florida Keys Honeymoon Resorts
The Florida Keys is an island chain which stretches for more than 100 km and is the only living wreath on the mainland United States of this type.  It is also a lot more romantic way down south away from a lot of the hustle and bustle.  Climb to the top of the lighthouse or snorkel with brightly colored fish in almost pristine marine parks. Definitely consider some of the resorts we list in the Florida Keys as honeymoon resorts. Especially the one below:

Little Palm Island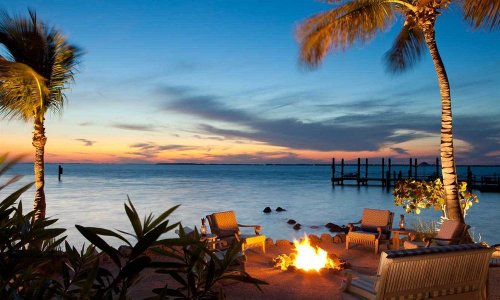 Little Palm Island
Located on a private island in Little Torch Key and 28 miles from Key West. You'll stay in one of the 30 spacious suites in thatch-wood bungalows. They have private verandas and ocean views. This resort is adults only and technology free.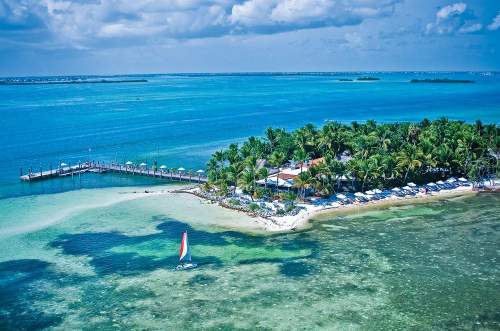 Little Palm Island
You'll find a spa, lagoon style pool, meditative Zen garden, private outdoor showers, a cozy library and complimentary water gear.

Reviewers say: best 5 star resort ever for relaxation, great service, very romantic and secluded, swim in the pool rather than beach, pricey but worth every penny. 

More information on Little Palm Island Resort & Spa - A Noble House Resort.

---
Galleon Resort And Marina Florida Key resort

Located in Marathon, Florida, this 4 star resort is on six landscaped acres on the waterfront.


This small resort has only 18 rooms in 2 and 3-bedroom cottages and marina homes.
Decorated in classic Florida Keys style.

There is a private marina from which you can go boating, fishing, and do watersports. There are a number of dining options and a children's program nearby.
Reviewers say: everything is like new - clean and crisp, very spacious house, great kitchen with everything, beautiful property, hidden gem.
Overall, this resort gets fantastic reviews.
More information on Coral Lagoon Resort and Marina.
---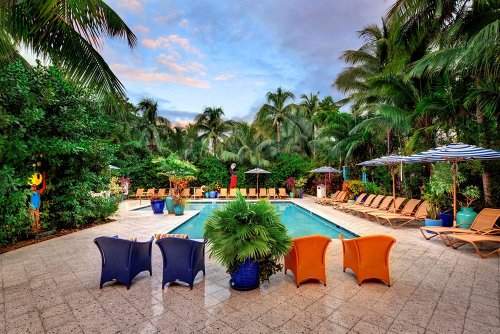 Top Key West Resorts
---
Banana Bay Key West Resort & Marina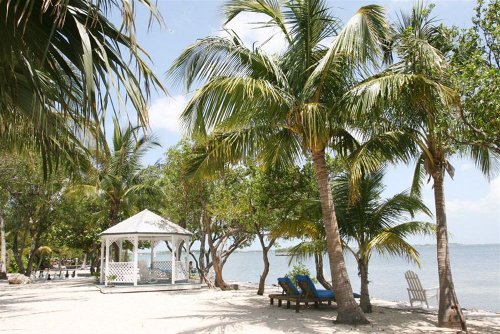 Guests seem to like this Resort on a private beach. While only 2.5 star this resort features a poolside bar and lounge and an outdoor pool and a spa tub.  Adults only, 60 rooms.

More on Banana Bay Resort & Marina - Marathon @ expedia
---
For more resorts, visit Key West Resorts or Florida luxury resorts. 
---