All Inclusive Nicaragua Resorts
All Inclusive Nicaragua Resorts
What they say is true, heaven on earth is a place, and it can be found in Nicaragua. With both a Pacific and Caribbean coastline, this Central American nation is teeming with life and excitement.

Palm-tree-lined surf beaches, coral reefs, active volcanoes, dense jungles, and colorful port cities with Spanish colonial architecture – it's safe to say that a holiday to Nicaragua is whatever you want it to be. 
To make sure you're checking into the resort that caters to your life and style, we've featured a purposefully eclectic mix of Nicaraguan all-inclusive resorts.
Including a 5-star private island getaway, an eco jungle lodge, and an action sports resort, to name but a few, whatever your idea of heaven is, it can be checked-in to below.
Are there All Inclusive Resorts in Nicaragua 
TripAdvisor lists a handful of all-inclusive resorts in Nicaragua, from exclusive islands to those with eco credentials. Expedia also lists 10 all-inclusive resorts. Realistically the answer is somewhere in between and the resorts on the second list many would only score a 4 or 5 on the all-inclusive scale.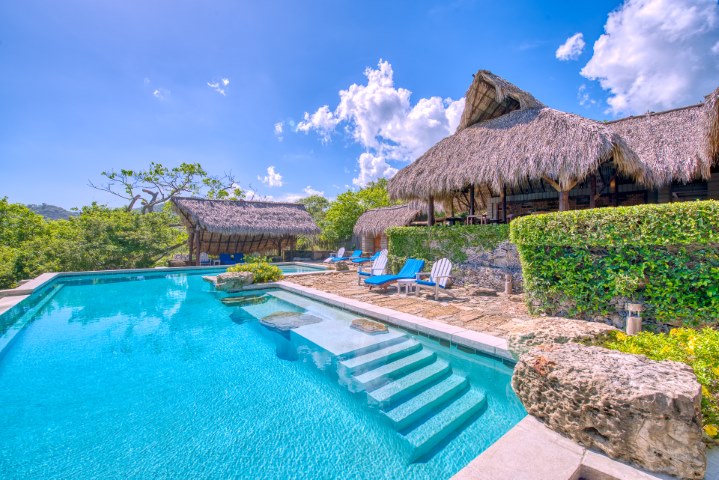 All Inclusive Nicaragua Resorts
Nearby to the energetic beach town of San Juan del Sur on Nicaragua's Pacific side is a resort that does all-inclusive a little differently.
Situated on a 4,000-acre private jungle reserve, Morgan's Rock is a luxury Hacienda and Eco lodge that decides to tread lightly on the earth.
Sure, they have private pools and luxury spa baths for guests to take it easy in, but Morgan's Rock is about so much more than just taking it easy. 
The on-site, low-impact organic farm provides much of the produce that gets served to guests – breakfast, lunch, and dinner.
The weeklong "Wellness Experience" is Morgan's Rock's take on an all-inclusive, with a high-end eating experience included. On top of eating and sleeping well, the wellness experience looks to reinvigorate the senses through a thoughtful week that puts your health first.
Think private yoga lessons, guided meditations, a 190-minute full-body sunset massage, scenic boat tours, ceremonial beach bonfires, plus an all-access pass to everything that the resort offers.
Conveniently positioned right opposite a tranquil stretch of tropical beach, if you simply want to kick back and soak in the sounds, smells, and sights of paradise, Morgan's Rock can offer you that too. 
With a choice between ocean and forest view bungalows, each with its own private plunge pool, Morgan's Rock has managed to create luxury, paradise, and with a sustainable story that runs through all that they do.
If you'd like to immerse yourself in the wild Nicaraguan nature and learn a thing or two about yourself along the way, Morgan's Rock is where you should be headed.
Morgan's Rock Hacienda and Eco lodge on TripAdvisor

Barcélo Montelimar
Just up the coast from Morgan's Rock, you will find a traditional all-inclusive resort that's also impressively positioned between ocean and jungle.
Unlike Morgan's Rock's boutique-style resort that intentionally keeps guest numbers low, Barcélo Montelimar is a large expanse of resort, comprising over 200 rooms.
The accommodation is split between its hotel and a vast array of bungalows, with a choice of standard or superior for each. 
There are four on-site restaurants that serve up a dazzling display of international cuisines and fresh local seafood between them.
If you aren't averse to a little tipple while on holiday (and let's face it, who isn't?) then you'll be pleased to know of the five resort bars that can take you from the lobby to the pool, to the beachfront, and finish up at La Casona with a drink in hand the whole time (did someone say in-resort bar crawl?).
What is La Casona you ask? La Casona is the resort's evening venue, with nightly entertainment to be revealed (so remember to pack your dancing shoes). 
If you like the sound of all this food and drink, but can't see your kids in the picture, then take note of Barcélo's children's club.
The resort's children's club is run by a team of highly trained childminders that endeavor to give you peace of mind and a child-free time.
If you like to remain active on holiday, then do not despair as Barcélo is also equipped with two tennis courts, a basketball court, a football pitch, table tennis tables, a pétanque pitch, a mini-golf course, and a giant chessboard.
For the avid golfers, there's a world-class golf course a short 20-minute drive out of the resort too.
Being conveniently positioned 300 meters from the Pacific Ocean, if you'd like to try your luck at surfing, Barcélo Montelimar can organize comprehensive surf lessons as well.
Knowing that every drink under the setting Pacific sun is included in the all-inclusive package (and yes, that includes cocktails), it's easy to see why this resort is the go-to all-inclusive of Nicaragua.
Share Your All-Inclusive Adventures and Questions! 🌴 Have a memorable experience from a luxury all-inclusive vacation? We'd love to hear it at Luxury Resort Bliss. We're on the lookout for top-quality, insightful tales that'll inspire our community. Dive in and be a part of our sun-soaked stories! 🌊🍹✨
The story is a fictionalized account founded on travel expertise, research, and experience. Always refer to recent guest reviews and perform due diligence before booking.
💼 We cherish our independence! ✈️ Our travel recommendations are carefully researched, bias-free, and powered by human expertise by April and Ricky of LRB (we have personally researched and travelled to many of these destinations and researched others thoroughly through first-hand accounts). We also have put in the hard miles, and Ricky has worked for decades for resort and hotel chains  Hyatt, Hilton, Shangri-La and Radisson before starting Luxury Resort Bliss in 2007. 🌍✨ Unlike some other resort review websites we are concerned on the guest experience rather than mere corporate interest.
Jicaro Island Lodge
We know in everyone's wildest dreams there's a reservation for "private island holiday" and Jicaro Island Lodge is that dream.
Compared to other "private island" resorts that come with unfathomably high price points, Jicaro Island Lodge could be considered "affordable luxury".
Located on Lake Nicaragua, this chic eco-resort features a total of seven casitas to accommodate a maximum of 21 guests. 
Each casita is a private, two-story dwelling that has been designed with an eco mind through modern wood furnishings that create a warm and welcoming space.
Gaining shade by the tall, tropical trees that surround them, you'll be able to swing yourself to sleep on your casita's private hammock while soaking in the beauty that surrounds you.
If you really want to take the "beauty surrounding you" ethos to the next level, then hold onto your seat because Jicaro has a few exclusive private floating decks that create a very serene on-water experience.
On top of having a pristine lake and all that it represents right in front of you, Jicaro is also ready to whisk you away to the picturesque Spanish Colonial city of Granada.
Which is located on the shores of the same lake you'll be staying on. With uninterrupted views looking out over the mighty Mombacho Volcano, you'll want to make sure you've packed your camera for this holiday.
Bicaro's menu is built upon the idea that locally sourced is best, offering up a nutritious selection of fresh foods for breakfast, lunch, and dinner from the island's boutique restaurant.
A stunning private island where beauty surrounds and peace of mind can be found, Jicaro Island Lodge is another eco-minded resort that dares to do luxury differently,
Jicaro Island Lodge Granada on TripAdvisor

Calling all thrill-seekers, adrenaline-junkies, adventurists, surfers, skaters, and families with extra-active kids, the Surf Ranch is here for you.
Less than two miles from the lively vibes of downtown San Juan del Sur, Surf Ranch has a riverside location that is surrounded by jungle.
Featuring Nicaragua's largest skate park, water slide, splash pad water park, rock climbing wall, private gym, volleyball court, swimming pool & swim-up bar, it's obvious that Surf Ranch likes to keep its guests stimulated. 
Having fun all day forms a certain kind of hunger that only big and delicious food will cure, which is exactly why Surf Ranch has a world-class restaurant/ bar that serves up all the classics.
Although they don't have an all-inclusive package per se, guests are entitled to daily breakfast, pool towels, WiFi, access to every in-resort amenity, and a choice to participate in daily activities.
Choose to stay in the resort's standard rooms, or consider upgrading to a deluxe condo or villa if you'd prefer more luxury and space.
If sailing tickles your ocean-fairing fancy, then Surf Ranch is ready to whisk you away for a day of exploring, snorkeling, fishing, chilling, and partying.
As their namesake gives away, Surf Ranch runs a comprehensive surf program that employs professional instructors with first-hand local surf knowledge to put you in the spot for the waves of your life.
Shred the waves and skatepark by day, sip margaritas poolside on sunset and see where the night into San Juan takes you - Surf Ranch is a thriving mecca for traveling surfers and people who like to live life, on the edge, to the full, every chance they get.
Situated just off the Nicaraguan coast in the Caribbean Sea, Calala Island is a supremely unique and inspiring 5-star resort.
Astonishingly, the island has a cap of just eight guests spaciously staying over four beachfront suites. Don't be alarmed if you happen to spot a celebrity or two on Calala, it's just that kind of place.
With 25 dedicated staff ready to cater to your every need, it's easy to see why the world's rich and famous choose to stay in Calala. 
Knowing the resort has a string of awards to its name, including "America's Best New Hotel" of 2017, you needn't worry about Calala's credentials.
Their "Ultra All-inclusive" program is as high-end as high-end gets, serving you with the best chefs, cocktail makers, bar staff, and spa professionals that money can buy.
Whether you want to start your day with a mimosa (or three) or an offshore fishing trip, you won't pay a single cent more on the Ultra All-Inclusive. 
On top of having your appetite and thirst for adventure covered, this first-rate package handles all the boring sides of travel as well, with transfers, taxes, and other formalities sorted.
Allowing you to step foot into paradise and let go of the rest, this is a particularly popular destination for honeymooners and long-time lovers alike.
This uber-exclusive tropical island paradise can be all yours and all yours alone, with the option to "book the island" right there, right now, at your fingertips.
If you've got the funds, and diligently look for the most exclusive option when holidaying, there's simply no other choice but Calala in Nicaragua.
Summary



Nicaragua is a vibrant country with many inspiring sides. But, there's one running theme between every side, and that theme is beauty.
The country's versatility can be evidenced by the varied nature of the all-inclusive resorts listed above.
Whether you feel at home on exclusive private islands, eco-resorts set in dense jungle, action-packed sporty resorts, or checking into a classic all-inclusive package with ample chances to drink and feast, you are in capable hands in Nicaragua.
We hope this article has been a helping hand in getting you to the Central American tropical paradise of Nicaragua, all-inclusive style.