Airlie Beach Accommodation & Holidays
Airlie Beach Accommodation & Holidays
Here are the findings for our research on the best Airlie Beach accommodation options on different budgets.  Airlie Beach is the perfect size to retain it's district North Queensland charm and is more than a jumping off point to the Whitsundays.
Because it does have a problem with stingers we advise visitors to use the massive man made pool downtown or the pool in your resort.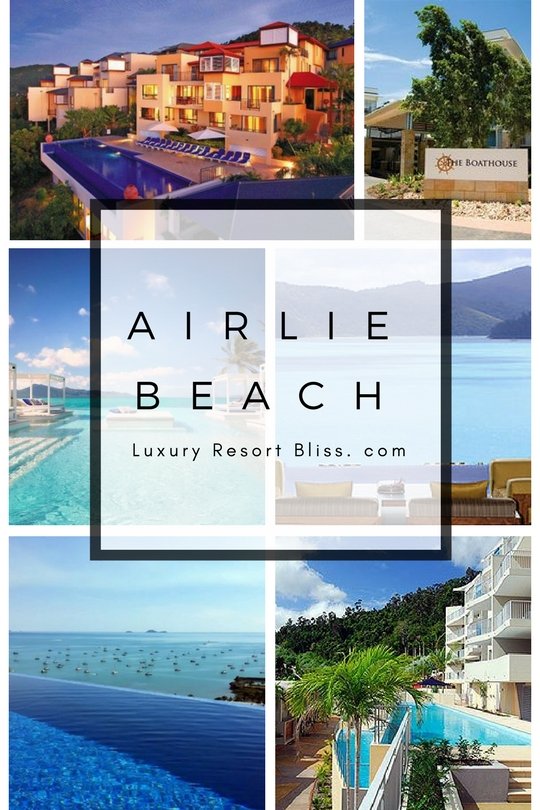 We went to Airlie beach recently on vacation and found it a great place for a holiday. Although it is a bit of a backpacker town, it makes for a wonderful holiday destination. You don't even need to stay on the nearby Whitsunday island to have a good time, but I would advise that you at least visit them on a day trip or two.

Airlie Beach Accommodation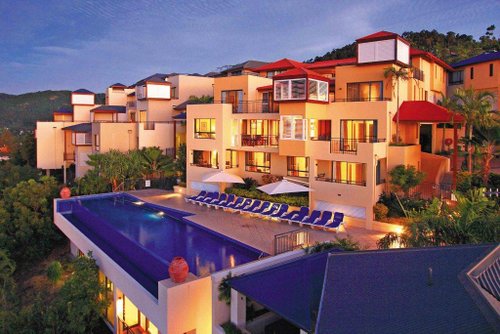 Pinnacles Resort and Spa Airlie Beach
Airlie Beach - Tourism Whitsundays Official Site
---
Top Resorts in Airlie Beach
Top 25 Airlie Beach Resort Deals with Reviews

Use this link to get the best deals on the resorts or to search more Airlie beach accommodation options.
1. Mirage Whitsundays
Type: Apartment
Highlights: Luxury stay with breakfast included. Refurbished pool area in December 2019.
Suitable For: Families looking for luxury and relaxation.
2. Coral Sea Resort Hotel
Type: Resort
Highlights: Located on the water's edge with a pool and spa overlooking the ocean. Plenty of outdoor seating.
Suitable For: Couples or individuals seeking ocean views and relaxation.
3. Mantra Club Croc Airlie Beach
Type: Resort
Highlights: Good value accommodation in a quiet area, close to the main street and beach. Well-maintained resort with beach towels provided. Great pool and dining area.
Suitable For: Budget travelers wanting proximity to main attractions.
4. Mango House Resort
Type: Apartment
Highlights: Accommodation suitable for boating. Features a great pool and kid's pool. Spacious and well-facilitated rooms.
Suitable For: Families with kids and boating enthusiasts.
5. Martinique Whitsunday Resort
Type: Apartment
Highlights: Tastefully decorated lounge with air conditioning. Features an infinity pool with views of the Whitsundays.
Suitable For: Couples seeking luxury and scenic views.
6. at Water's Edge Resort
Type: Speciality Resort
Highlights: Walking distance to Airlie town. Conveniently located near a Woolworths.
Suitable For: Travelers who prefer being close to town amenities.
7. Sea Star Apartments
Type: Apartment
Highlights: Immaculate penthouse suitable for both couples and families. Great location with incredible service.
Suitable For: Families and couples looking for premium accommodations.
8. Portside Whitsunday
Type: Apartment
Highlights: Spacious rooms with sea views. Equipped open-plan kitchen. Features thoughtful shutters for heat and noise control.
Suitable For: Families and groups preferring self-catering options.
9. Azure Sea Whitsunday
Type: Villa
Highlights: Offers lovely views, comfortable and clean rooms. Convenient location with easy parking.
Suitable For: Weekend getaways and budget travelers.
10. Shingley Beach Resort
Type: Apartment
Highlights: Renovated modern rooms with comfortable beds.
Suitable For: Couples and travelers looking for modern and comfortable stays.
Pinnacles Resort and Spa Airlie Beach Holiday Accommodation
At the top of the tree when it comes to holiday accommodation in Airlie Beach. This is a five star luxury self-contained gateway featuring 30 great self contained  apartments all with spa or jacuzzi.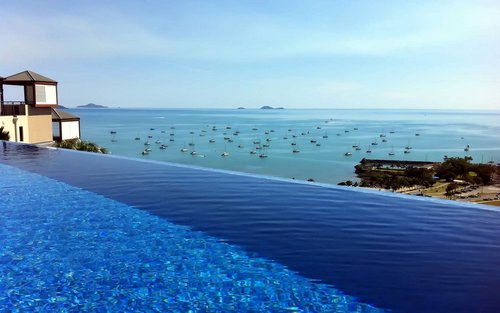 More information on Pinnacles Resort and Spa Airlie Beach
---
A great thing about any trip to Airlie Beach is the ability to cruise out to the Whitsunday Islands and places like Whitehaven Beach.

There are plenty of good cruises and you can easily book your passage while you are there.

---
Mercure Airlie Beach Resort
Infinity pools and 180 degree views. Airlie Beach is built near magnificent hills which overlook the blue seas and the bay.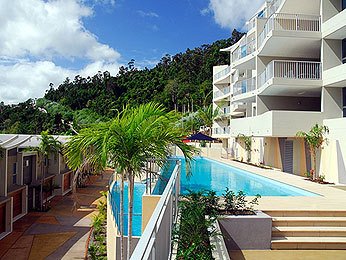 Mercure Airlie Beach Resort
This outlook is a great way to enjoy the unique atmosphere of a great town and you can wonder down and explore the restaurants. 
Boat operators will also pick up from here.
More information on GRAND MERCURE AZURE SEA @ Accor

---
Boathouse Airlie Beach Resort
For a quick morning getaway from your apartment to the Marina and out to the Whitsunday islands than this is a good luxury resort option.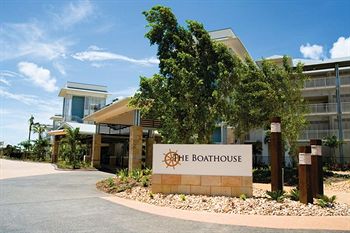 Boathouse Airlie Beach Resort
The resort has a spa, tennis courts, air con and all the luxury options you could expect from one of the top accommodation houses in the Whitsundays.
See Airlie Beach Accommodation
---
---
Airlie Beach and the Whitsundays Travel Ideas
This travel video highlights 10 top things to do in Airlie Beach and the Whitsundays:
Spend a night on the Great Barrier Reef.
Set sail for iconic Hill Inlet and Whitehaven Beach.
Taste some local brews at Ballistic Beer Co.
Shop at the Airlie Beach Community Markets.
Cool off at Cedar Creek Falls.
Explore the town with a tuk-tuk tour.
Visit Into the Blue Gallery and get photography tips.
Experience Reefsleep with Cruise Whitsundays.
Discover the history at Proserpine Historical Museum.
Take a dip at Cedar Creek Falls.
While Airlie Beach is a great destination in its own right, the reality is without the Whitsunday Islands, Airlie Beach would lose a lot of it's charm. Here are some links to some great accommodation options nearby. Enjoy your Airlie Beach Whitsunday vacation!
---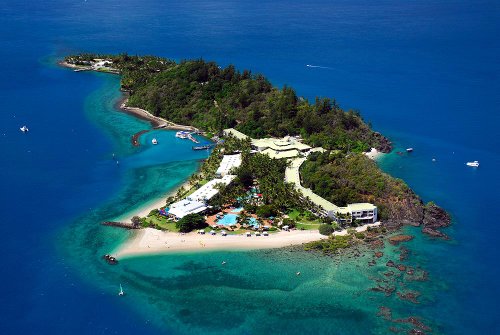 Daydream Island Resort
Daydream is either experienced as a day trip from Airlie Beach, part of a bigger cruise to Whitehaven Beach or as a destination island where you can enjoy 4.5 star luxury and some pretty good amenities. The mini golf is one of the best I have seen in Australia.
Another attraction is the artificial reefs created from real coral in acres of aquariums pools around. Have your lunch gazing down at sharks and rays, the the marine show or have your kid do an internship with the reef program.

---
You can also check out resort accommodation on the islands around Airlie on or Whitsunday Islands page and our Hamilton Island page.

---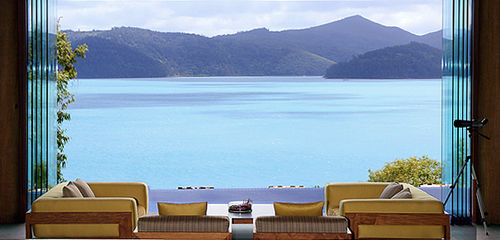 Hamilton Island Resorts
---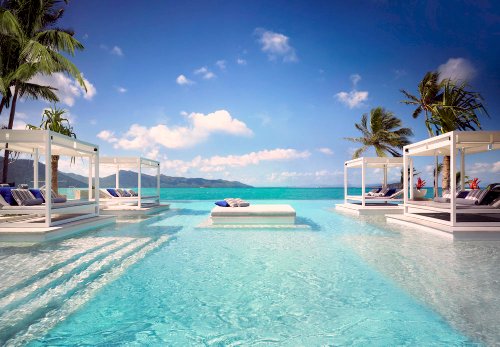 Haymen Island
Share Your All-Inclusive Adventures and Questions! 🌴 Have a memorable experience from a luxury all-inclusive vacation? We'd love to hear it at Luxury Resort Bliss. We're on the lookout for top-quality, insightful tales that'll inspire our community. Dive in and be a part of our sun-soaked stories! 🌊🍹✨
The story is a fictionalized account founded on travel expertise, research, and experience. Always refer to recent guest reviews and perform due diligence before booking.
💼 We cherish our independence! ✈️ Our travel recommendations are carefully researched, bias-free, and powered by human expertise by April and Ricky of LRB (we have personally researched and travelled to many of these destinations and researched others thoroughly through first-hand accounts). We also have put in the hard miles, and Ricky has worked for decades for resort and hotel chains  Hyatt, Hilton, Shangri-La and Radisson before starting Luxury Resort Bliss in 2007. 🌍✨ Unlike some other resort review websites we are concerned on the guest experience rather than mere corporate interest.