Cuba Resorts
Looking for some great Cuba resorts? The resorts listed here are the best of the best. We've also included a great eco resort and a list of some of the other great resorts in Cuba. If you're looking for an all inclusive resort, also check the top Cuba all inclusive resorts.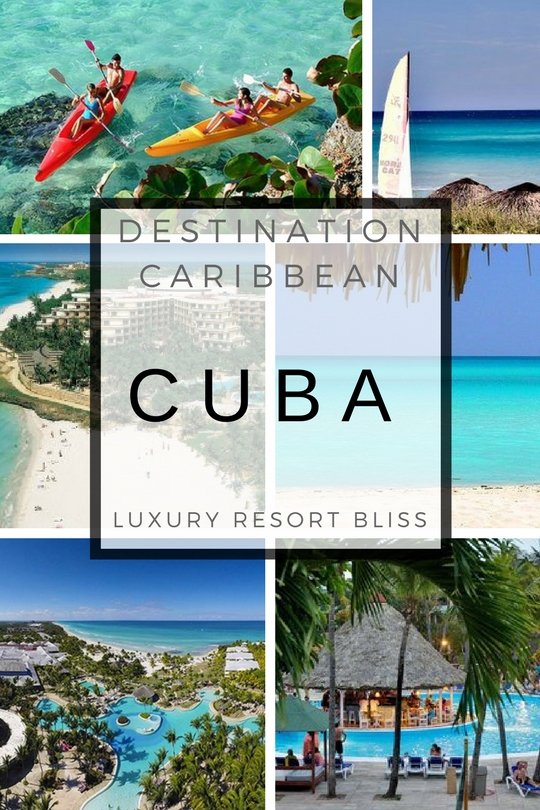 As an Australian traveling with my Canadian wife and family, I did not have any problems traveling and staying at a Cuban all inclusive resort. 

However, for Americans there are some restrictions. Check with the consulate before you book. 
Video: Travel Cuba - Cuba Vacation Travel Guide
---
Varadero Resorts

Varadero is positioned on the Hicacos Peninsula, a little more than an hours drive from Havana to the east and is the prime resort vacation spot in Cuba. This really is a spectacular looking beach full of resort activities and festivity. Varadero als has an international airport.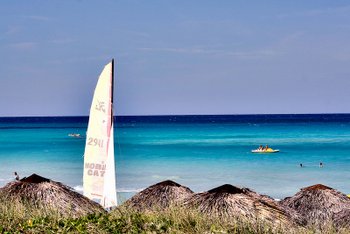 Varadero Cuba
Varadero is the most famous part of the Cuban coastline known for it's fine white sands and blue waters. On a peninsula (Hicacos), the area is strewn by many of the best resorts on the island. The Juan Gualberto Gomez International Airport is about a 15 minute ride away and receives flights from all over. 

---
Royalton Hicacos Varadero Resort & Spa
Adults Only All Inclusive
Royalton Hicacos Varadero Resort & Spa is ideally situated on the snow coloured sandy beach and promotes itself on its position as a top adults-only resort, great grounds full of bridges, waterfalls and a swim-up bars. 
With over 400 rooms and five restaurants a buffet restaurant and 4 à la carte restaurants.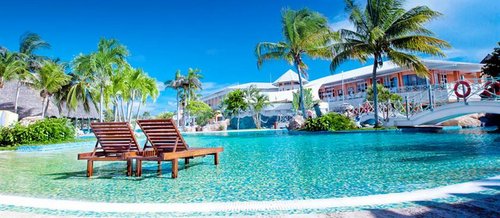 Royalton Hicacos Varadero Resort
Royalton Hicacos Varadero Resort is arguably one of the best Varadero, Cuba resorts. Reviews are excellent and have been for years. This is an adults only all inclusive resort. 
Beachfront in Varadero, it has a full-service spa and excellent diving program.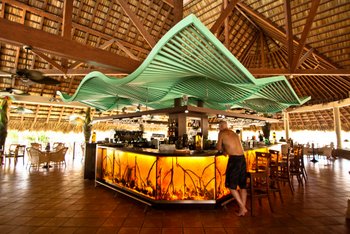 There is a good choice of restaurants with local or international cuisine with a joyful atmosphere. The Spa has quality restorative treatments and a professional massage team available.

More information and latest reviews for Royalton Hicacos Varadero Resort & Spa.
---
---
Iberostar Varadero Cuba Resort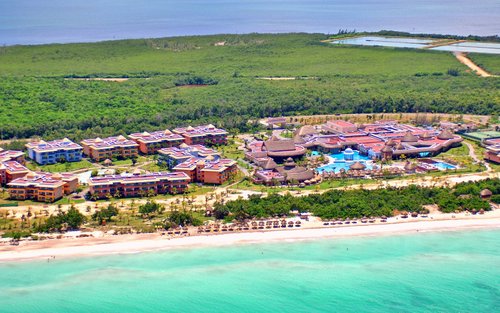 Iberostar Varadero
The Iberostar is a consistent award award winner, even making the list for the best all inclusive resorts in the world. The 5 star all inclusive resort is located on a secluded beach in Varadero about 20 minutes from downtown. There are 4 pools, 5 restaurants, spa facilities, kid's club, entertainment and land and water sports.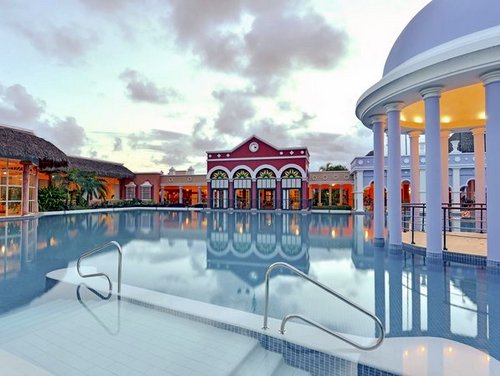 Iberostar Varadero Cuba Resort
There are 386 guest rooms spread throughout 11 3-story buildings. They are surrounded by gardens and have a balcony or terrace.

Reviewers say: amazing evening shows, great for a wedding, staff extremely helpful, immaculate rooms, fantastic beach.
More information of the Iberostar Varadero Resort. Latest reviews here.

---
Hotel Melia Varadero Cuba All Inclusive Resort
The pyramid shaped Melia is set in the heart of Varadero Beach near Varadero Golf Club with great beach views and access in almost any direction.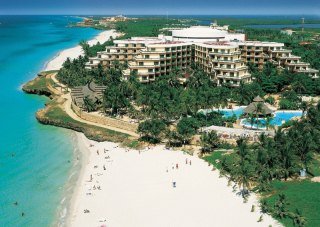 Melia Varadero Cuba All Inclusive Resort
Families can find especially good inclusive packages which include an activities program for children.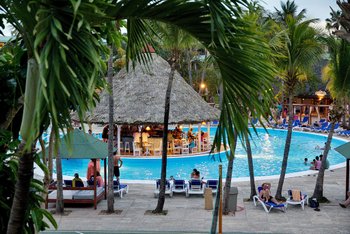 We are finding this is a resort on the improve especially with their entertainment and food options. Many happy and satisfied families prompted the inclusion in our best Cuban Resorts list. The Melia also picked up a Certificate of Excellence in 2014 from TripAdvisor for continued good service.
More information, booking and deals for Hotel Melia.
---
Paradisus Varadero Resort & Spa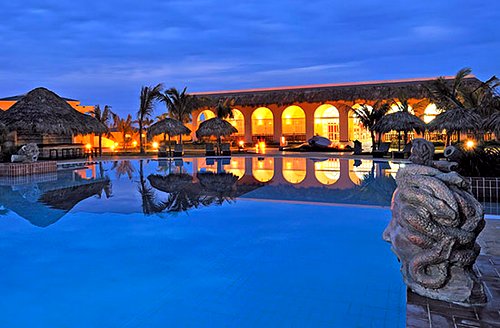 This 5 star resort is on the beach and a half hour from the airport. It's in Varadero and all inclusive. There's a huge pool (with children's section), 4 restaurants, entertainment, diving school, water sports, tennis, horseback riding, land sports, fitness and health center and more.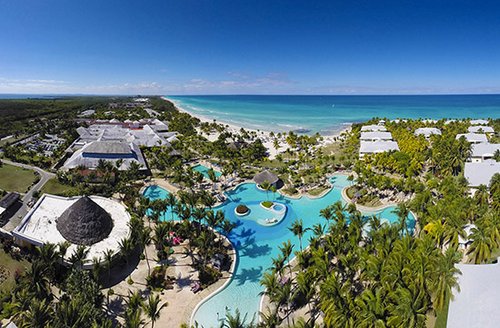 View of the hotel - Hotel Paradisus Varadero
There are 421 rooms, suites and villas. They overlook the tropical gardens and have a balcony or terrace.

Reviewers say: excellent service and attentive staff, long beaches, great pool, rooms need updating, great kid's club. Latest reviews here.
More information or booking for Paradisus Varadero.
Another great Paradisus Resort is the Paradisus Princesa del Mar Resort & Spa. It also gets great reviews and is a luxury 5 star resort. 
---
---
Holguin Cuba Resorts
Video: Top Things to do in Holguin, Cuba
Paradisus Rio De Oro Cuba Holguin Resort
This 5 star all inclusive resort is in Holguin on the beach. It's one hour from the airport.There's an international diving school, water sports, 3 tennis courts, gym and health center, 5 restaurants, karaoke and a swimming pool with a children's area.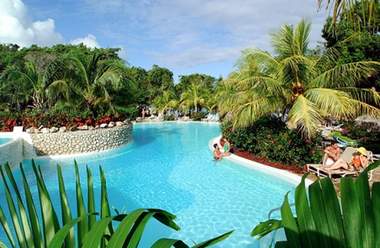 Rio De Oro Cuba Holguin Resort
There are 300 guestrooms and suites. They have balconies or terraces. Reviewers say: efficient and friendly staff, great food, spacious rooms, ask for a room on the top floor on a corner, great for couples.

More information, bookings and latest reviews for Paradisus Rio de Oro. 

---
Cameleon Villas Jibacoa Cuba Eco Resort
If you're interested in an environmentally friendly resort, this 3 star resort is in Jibacoa. It's all inclusive and right on the beach.
There's nightly entertainment, land sports, pool, dance lessons, scuba clinic and more. There are 110 rooms.
Reviews on TA of Cameleon Villas Jibacoa
---
Cuba Family Vacations
There are a number of other 4 star resorts you can check out for family vacations in Cuba. They also get pretty good reviews. But remember to check out our reviews also as Cuba is a developing country and star ratings are not always accurate.

Cuba Top 20 All Inclusive Resorts Reviews

Did you like the look of these Cuba resorts? If so, great! There are also more Cuba resort listings you can choose from on the right menu.
Want to change location? Try resorts in the Dominican Republic.

Stay in a Havana Hotel or Guest House
While this is an idea that is a little easier for non United States citizens it is possible and getting easier all the time. And while there are plenty of fancy resorts that replicate others on other Caribbean islands, Havana provides a travel opportunity distinctly different and fascination for families. 
While a hotel provides a safe and predictable stay, staying with a family in a B & B guest house allows you to see life how the Cubans see it every day.  This is a sure way to open up lines of conversation about lots of interesting and stimulating conversations about modern life. And you sure won't have any problems with kids only wanting to eat junk food and hang out at the mall. If they do want to you are sure to enjoy the adventure as well. Cruise the streets and enjoy the treats and music as the Cuban children do.

Check out the wiki on Cuban tourism here. 

Sarah loves to check out all-inclusive resorts and find great packages and report about what real travelers are saying, Sarah is an indicative character created for the purpose of providing insights uncovered during our research.  These reviews are indicative of others first-hand experiences using our research methodology designed to uncover the best  (as opposed to those that are simply marketed as the best).

While our reviews are founded on real accounts and stories and thoroughly researched do your own research and exercise your best judgment when making travel decisions. And keep in mind all-inclusive packages are always changing.