South Africa All Inclusive Resorts
South Africa All Inclusive Resorts
At the southernmost tip of the African continent lies one of the most impressive countries in the world.
Boasting more than 1,500 miles of wild coastline that spans both the Southern Atlantic and Indian oceans, South Africa is a country of extreme.
Head inland and you've got the chance to see the grand savannah animals on protected reserves where elephants, lions, leopards, rhinos, and giraffes are free to roam, breed, and be seen.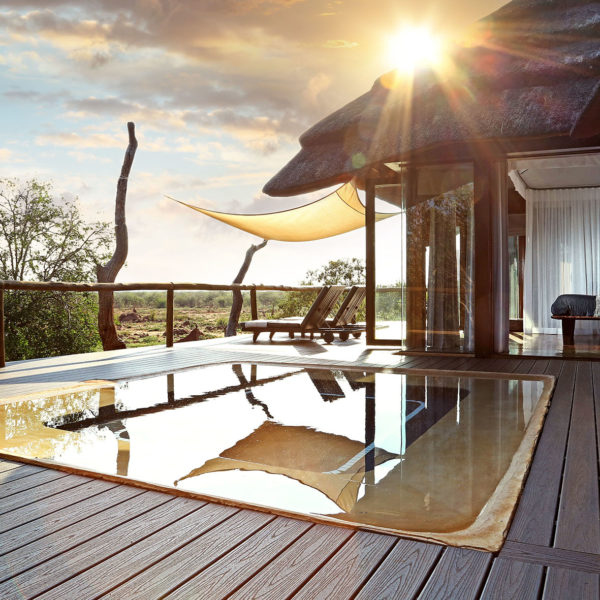 Madikwe Hills Private Game Lodge
Whether you're looking to explore South Africa's majestic coastlines and the pristine natural beauty that surround them. Or, stay in high-end luxury on the African savannah surrounded by nothing but wildlife and nature.
Whichever way you sway, the all-inclusive resorts featured in this article are ready to sweep you off your feet and provide you with an adventurous experience that you will never forget.
A wild country in every sense of the word - South Africa is known for being a little unsafe in places. This is why a stay at an all-inclusive resort is such a bright idea as guest safety is paramount.
It's true, South Africa isn't the easiest (or closest) country to get to from the States. But do you know what else is true?
Nothing good in life comes easy. And once you check into one of the resorts below, the journey will pale in comparison to the sheer beauty you are about to experience.
Madikwe Game reserve of South Africa's North West Province is a breathtaking sight to behold and Madikwe Hills is one of the most impressive lodges in all of South Africa.
Why? Unlike other lodges that border the Madikwe Game Reserve, Madikwe Hills is purposefully set amongst the unique boulders and age-old Tamboti trees right in the heart of the 75,000-hectare reserve.
This close proximity to the reserve's game animals gives you the upper hand to experience them with no one else around. Madikwe Game Reserve is home to the iconic Big 5 of Africa - lion, buffalo, elephant, rhino, and leopard.
As well as seeing these bucket list animals up close but not too personal, there are 66 other mammals species in Madikwe including cheetahs, giraffes, and the rare and endangered African wild dog.
Keeping guest numbers low is an essential part of a high-end experience, and Madikwe Hills keeps it nice and considered with a maximum of 24.
The grounds are made up of ten spacious designed suites that use traditional building techniques like thatched roofs to offer an authentic stay in a luxurious way.
Termed "Bush Cuisine" the menu is the perfect balance between traditional African and well-known international classics.
You will notice there is an emphasis on surroundings at Madikwe Hills, and this is felt through every meal and moment of the day.
If you would like to sip something cold and talk story with other guests after a big day on the reserve, then the lodge bar and dining deck are the places to be.
With private suite swimming pools in addition to the main swimming pool, you will have no trouble cooling down after the day is done.
All in all, Madikwe Hills is a truly iconic lodge that gives its guests an all-inclusive experience to remember, well, forever.
Madikwe Hills Private Game Lodge on Hotels.com and TripAdvisor

Adjacent to the world-famous Kruger National Park is the private Sabi Sands Game Reserve, and yes, there are no fences to be seen.
This means that the wildlife is free to roam between both and you'll be in prime real estate to see the Big African 5 plus so much more.
Lion Sands Ivory Lodge is an award-winning 5-star lodge that spares no expense to serve you the best. Dubbed "one of the best hotels in the world" by Tatler Magazine, a stay at Lion Sands is like no other.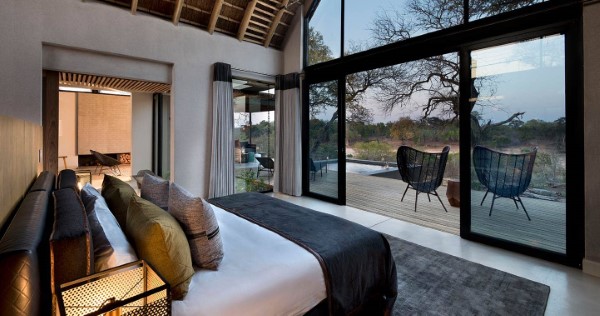 Lion Sands Ivory Lodge
Each of the uber-exclusive villas is set twenty meters apart (at a minimum), to give guests the utmost privacy at all times of the day.

To give you some idea of the dramatic aspects of these design-led villas.
Expect an open fireplace, large freestanding bath, floor-to-ceiling window walls, both indoor and outdoor showers, and a private sun deck to soak in the final rays of savannah light.
At the pinnacle of service, it's always the little things that help set an experience apart and Lion Sands knows the little things mean a big deal.
When on safari, you'll be led by a two-man team who knows every nook that the reserve's iconic animals tend to hang.
Hot water bottles, blankets, binoculars, bird books, snacks, and drinks are loaded into the 4x4 each day, ready for your early morning game-spotting adventure.
Included in the all-inclusive package is every meal, an in-room maxi bar, soft drinks, local brand beers, spirits, wine, tea, coffee, two game drives each day, and laundry service to keep you smelling and looking your freshest.
Other activities that can be experienced in the area include a trip to the local Shangaan Village where you can learn about traditional medicines and buy local crafts.
An in-house spa is ready to rejuvenate and invigorate the senses at the hands of expert therapists with ethical and naturally sourced Africology products.
A supreme lodge in a supreme location that is ready to offer its guests an experience like no other - Lion Sands Ivory Lodge is one of the special ones. 
Lion Sands Ivory Lodge on Hotels.com and TripAdvisor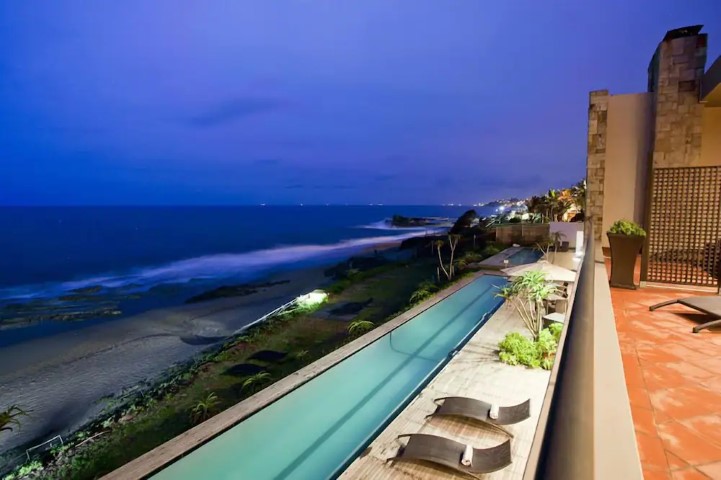 Canelands Beach Club
After you've finished experiencing savannah life and being awe-struck by game animals, taking a trip down to the coast is the best way to cool down and reset.
Canelands Beach Club & Spa on South Africa's east coast is the perfect place to stay when you're in need of that fresh Indian ocean Seabreeze and some vitamin sea.
In a similar vein to the luxury lodges on the reserves, Canelands keeps guest numbers low to ensure an exclusive experience for the clever ones who make the journey down.
Sleeping just twenty guests across ten contemporary oceanfront rooms, it's easy to feel a sense of seclusion at Canelands.
As the name gives away, Canelands has an in-house spa that isn't just a side note to the resort, it's the main attraction.

Whether you're interested in their holistic Healing Earth range, the traditional Kalahari Range, or a simple massage and facial, this is a place to pamper your well-deserving self.
The Beach Club's Two Shrimps Restaurant has a team of talented in-house chefs that utilize their close proximity to the ocean to serve incredibly delicious seafood, with an emphasis on fresh is best.
Open from 7 am to 9:30 pm every day, Two Shrimps has got your appetite covered whenever you very well please to eat.
In case the waves are a little rough for your liking, you'll be pleased to know of the resort's private pool. Long enough to crush a few laps in, this is an ideal before-breakfast activity to work up an appetite and set your day straight.
Conferences, weddings, and other special moments in life are when Canelands truly shine, and you'd be silly not to consider them for your next big event.
For anyone looking to breathe in the salty ocean air after their safari, you can't go wrong with Canelands Beach Club.
Canelands Beach Club & Spa on Hotels.com and TripAdvisor
Nestled within the stunning Klaserie Private Nature Reserve, Baobab Ridge is ready to offer its guests an all-inclusive experience set within the wilderness.
Compared to the 5-star opulence of Madikwe Hills and Lion Sands, Baobab Ridge is a more affordable lodge and rated as a 4-star.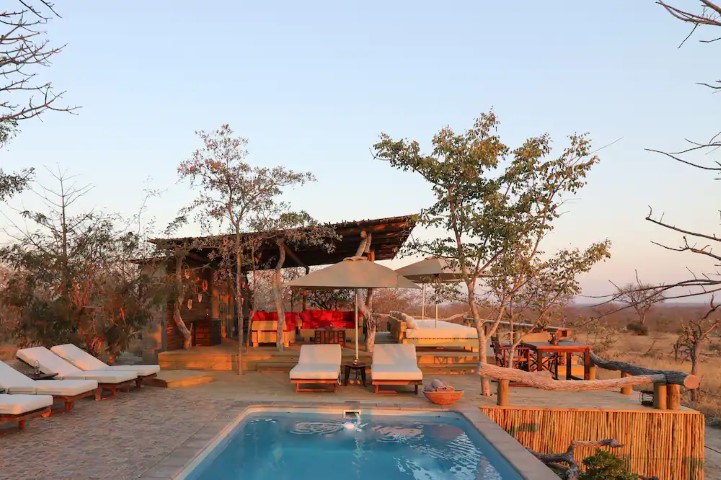 Baobab Ridge Private Lodge
However, don't think that its affordability will hinder your experience on the reserve. In fact, just like Sabi Sands, Klaserie is connected to Kruger National Park so expect a similar level of game spotting while on safari.

Exclusivity is a running trend across South Africa's all-inclusive industry, and sleeping a maximum of just 16 guests, Baobab Ridge does this as well as anywhere.
Allowing you to escape the masses and slip into a serene state of mind, Baobab organizes everything behind the scenes so that you can really soak in the nature that surrounds you.
This family-owned and operated lodge like to think of themselves as a home away from home. The relaxed atmosphere of the lodge is made obvious by the big smiles and friendly staff who put you at ease, instantly.
There are six uber-chic two-person suites that fuze traditional furnishing with modern amenities too, again, put you at ease.
For any families looking to live out their wild safari dreams, there is a family suite that sleeps two adults and two/ three kids comfortably.
Another area where Baobab Ridge shines is dinner time. Their talented chefs bring locally sourced ingredients to life in a tantalizing fashion that blends home-cooked feels with little twists to surprise and delight in.
There are muffins and rusks served with coffee and tea before the early morning safari. Upon arriving ravenous back into camp get ready to devour a hearty brunch like the lions of the pride.
High tea is served every afternoon before you bundle back into the 4x4s and set off for the evening safari, with sundowners and savory snacks brought along for the ride.
If you want to experience the savannah as one big family with friendly staff and guests then Baobab is for you. This place manages to offer high-end but in a very non-pompous manner, and we're all for it.
Baobab Ridge Private Lodge on Hotels.com and TripAdvisor
Last but far from least, we're finishing this all-inclusive list with a very special one. Umngazi Hotel & Spa is a 4-star retreat located just south of Port St Johns on South Africa's wild coast.
Luxurious thatched-roof villas are supremely positioned on the grassy hillsides of the Umngazi River, and, subsequently, boast spectacular views as a result.
There is a choice between double/ twin and family rooms and each has been similarly styled to feel authentic but with a contemporary edge.
Tucked away down by the river mouth, you will find an adults-only slice of paradise. Emlonyeni is a deluxe sea-facing villa that's perfect for newlyweds looking to shield themselves from the world and stare down endless beauty.
With the Umngazi river mouth at the fore and the rolling sand dunes and wild ocean just beyond it, this is one of the most unique locations we've ever witnessed.
Allow yourself time to unwind and dine on the alfresco dining deck while the kids bundle into the kid-specific dining room. A room that is manned by qualified nannies, filled with play toys, and other interactive things to keep the kids busy.
Other notable facilities include Basil's Bar, an in-resort spa, swimming pool area, games room, tennis court, fitness gym, tv lounge, shop, and, just in case you forget your reading material, a resort library.
Signing up for a kayaking river tour or a guided hiking tour is heavily recommended on a stay at Umngazi.
There is also the possibility to book a "fly-in" package that allows you to board a comfortable 12-seater at Durban's Virginia Airport and touch down shortly after a breathtaking journey over the wild coastline.
From borrowing a book to flying in, it's safe to say that Umngazi Hotel & Spa has already thought of everything so that you don't have to. 
Umngazi Hotel & Spa on TripAdvisor
Conclusion

As we pointed out and now you can see - South Africa is a country of extremes.
Luckily, nowadays, the wild side of South Africa is fiercely protected so that travelers like yourself can fly in and experience it in all its flawless glory. 
South Africa is a very unique and inspiring place. A place that every intrepid traveler should strive to experience at least once in their lives.
Whether you've got your sights set on the game safaris of the endless savannahs or the wild and rugged coasts, the all-inclusive resorts listed above are ready for you. The question is, are you ready for South Africa?
If you like these resorts, you can also check out our Africa Vacation packages. 
💼 We cherish our independence! ✈️ Our travel recommendations are carefully researched, bias-free, and powered by human expertise by April and Ricky of LRB (we have personally researched and travelled to many of these destinations and researched others thoroughly through first-hand accounts). 🌍✨
We try to keep everything up to date, but please always do your own research and contact us if you know any issues for us to help others as best we can as a small but professionally focused team! 🧐📚⚠️