Hawaii Family Resort Vacations
Best Hawaii All Inclusive Family Resorts
Looking for the best Hawaii All Inclusive Family Resorts? There are quite a few good ones we have come across over our years exploring the Hawaiian islands. These days resorts are going all out making themselves havens for kids of all ages in the attempt to lure families with dedicated programs and facilities.

Here are our top All Inclusive Family Resort vacation options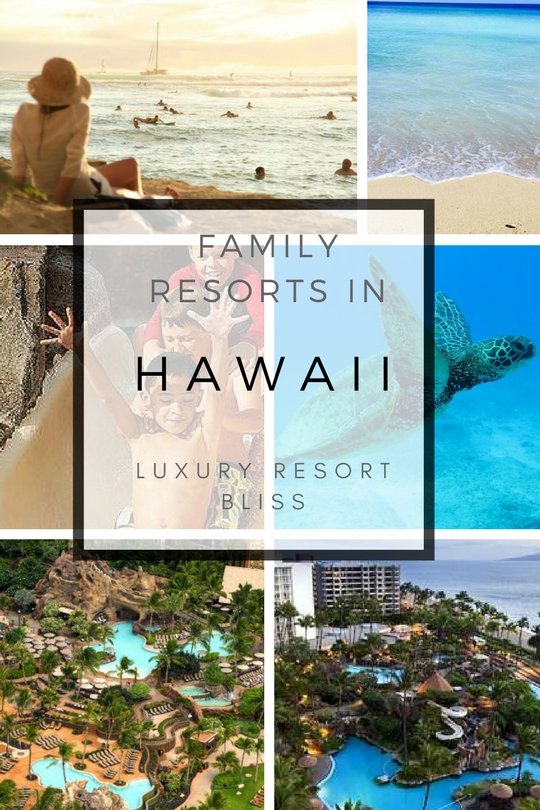 Some have great pools and acres of waterpark complexes, cultural activities and programs for kids, and more. So if your kids like this kind of thing, they'll be in for a treat. Note that not all beaches a good for swimming (especially for kids). We will do our best to share the good ones for children.
Not all these resorts are completely authentically all-inclusive in a traditional sense. Their regular tariffs do not automatically include all the food and drinks as would a Mexican all-inclusive resort for example. 
Video: Top 10 Best Luxury Hotels & All inclusive Resorts In Hawaii For Families
Skip to Kauai Family Resorts, Maui Family Resorts, read the review on the best Hawaii Family Vacation Packages or read on for the top Hawaii family resort vacations.

Where to Stay on Oahu Hawaii with Kids: The 7 Best Family Hotels in Oahau
Oahu, the gathering place, beckoned with its promise of family fun, adventure, and relaxation. I found myself entranced by the turquoise waters of Waikiki Beach, the vibrant city life, and the island's rich history. As I marveled at the swaying palm trees and indulged in the aroma of blooming plumerias, I knew that Oahu offered a perfect blend of excitement and tranquility for families.
Aulani, Disney Hawaii Family Resort & Spa

This is one family resort in Hawaii almost everyone seems to have an opinion about. Set 40 minutes out of in Waikiki at Ko Olina where there is lots of room to spread out and enjoy the Hawaiian lifestyle and calm swimming waters for the kids.

Aulani Hawaii Family Resort
Personally we found Aulani a little more tasteful and up to speed compared to some of their mainland USA resorts. Work has been put into making the resort fit the Hawaiian context and this actually shines through a little more than you might expect of Disney.
Hawaiian culture, history and traditions is visible in Hawaiian art and some of the  recreational activities and entertainment for the purpose of creating an enchanted vacation experience.

Kid's Activities
The resort is obviously also designed around kids enjoyment. Water slides squirrel through the grounds. A reef that has been constructed gives the impression of the real thing and is a terrific way for kids to learn to snorkel in a safe environment. Then there are the kids clubs, character breakfasts and games rooms you might expect of a dedicated family resort.
All in all, it's all done well and this is reflected in exceptional satisfaction ratings from guests. They enjoy spotting characters around the resort and the joyful vibe of kids having a dance party or enjoying one of myriads of other distractions - many of whom have tried Disney for the first time.
See reviews and special offers for Aulani, a Disney Resort & Spa
---
The Sheraton Waikiki Hawaii Family Vacations
This super-sized resort with thousands of rooms has lots of kids features. The resort also lets kids stay for free (at the time of writing) and has an kids club. Although the size of this resort can make for a bit of a crowded environment down by the pool / waterslide complex, the overall experience and level of service is excellent.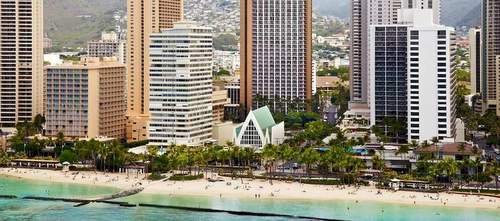 The Sheraton Waikiki Hawaii Family Vacations
One of the special kid friendly features is the Helumoa Playground complete with fresh water swimming pools, water slides and inflatable flotation devices and toys. 

The main attraction for this as a family resort however is it's location which is really a preference for those who would like to stay close to all the action down at Waikiki Beach in Honolulu.
More information and special offers on the The Sheraton Waikiki.

---
Great for families looking for a condo style resort close to the beach with easy access across from Kuhio Beach Park's saltwater lagoon on eastern Waikiki Beach district of Honolulu, The Big Island of Hawaii. This is a good option if you are looking to take care of your own activities, with snorkeling only a short walk from the resort.
Find a more complete review on our Hawaii family vacation packages review.
---
See more of the best Oahu Family Vacation Resorts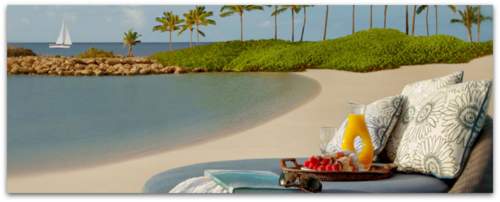 Ihilani Oahu Family Vacation Resort & Spa at Ko Olina
---
While Oahu dazzled with its cosmopolitan flair, Maui enticed with its laid-back ambiance and lush landscapes. Families seeking a more serene, nature-focused vacation would find their haven in Maui, while those craving the pulse of city life would thrive on Oahu's shores. The island you choose ultimately depends on your family's preferences and the type of experience you yearn for.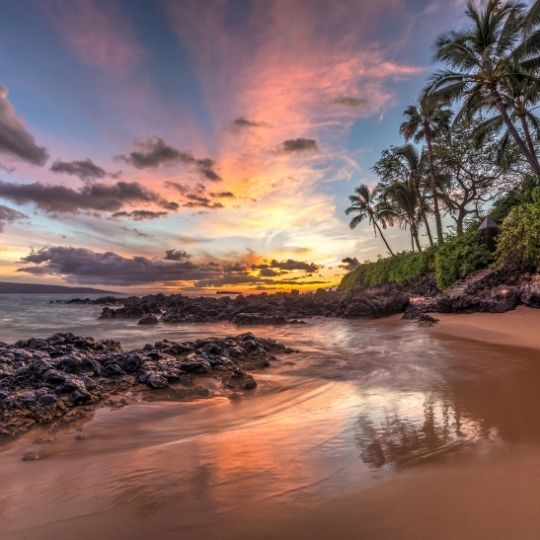 Maui Hawaii
Maui is an island in the Pacific Ocean with a population of about 160,000. The Island of Maui is the second-largest of the Hawaiian Islands, after Oahu.
The Island has many beaches, waterfalls, and other natural wonders that are worth visiting.
Maui offers a wide range of activities and attractions for kids and adults such as snorkeling, hiking, surfing and whale watching.
There are many hotels on Maui to choose from but if you are looking for a unique experience there are also vacation rentals like condos or houses that you can stay in during your visit to Maui.
Some popular resorts on Maui include Grand Wailea and Four Seasons Resort Maui at Wailea which offer all-inclusive family vacations packages.
The Westin Marriott is one of our top rated Hawaii Family Resort Vacation options in Maui - an island that really excels in kid friendly vacations.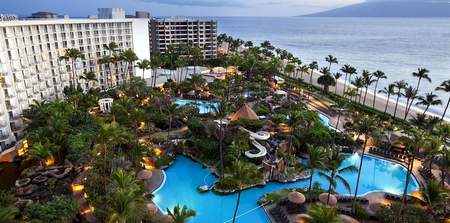 Westin Marriott Hawaii Family Vacation Resort
Here are some more great options for a family vacation in Maui Hawaii.
Grand Wailea -The Waldorf Astoria Collection
Located on Wailea Beach, on Maui, this outstanding resort is perfect for families and kids, learning to scuba-dive, and it has been voted as having the best pool in the USA.


The "Water Canyon" has 9 pools, spa tubs, waterfalls and slides, rope swings, water elevators and water volcano. And then there is always Camp Grande kid's club for 5- 12-year-olds (and a teens club in season). The huge kids club with Foosball, ping pong, PlayStations, and movie theater is well recognized as one of the best in Hawaii and we certainly found it impressive.

While there are a waves on the beach, these are possibly more suited to the teens who like to explore bodyboarding rather than for toddlers. There are some areas that are also good for snorkeling.
See the latest reviews and special offers on Grand Wailea -The Waldorf Astoria Collection
---
Wailea Beach Villas Hawaii Condo
Location: On the Oceanfront, Wailea, Maui, Hawaii. This resort is perfect for family vacations and swimming. With many restaurants, pools, live music nightly, snorkeling, a beach concierge, sports and exercise classes, this pet friendly resort with a kid's program is a winner with families.
From the outside it's not easy to see why this is such a good resort for families as it's without some big water parks and kids facilities of some of the other resorts above. This is simply a super exceptional condo style resort for families and this is reflected in perfect guest satisfaction ratings from TA and our experiences.
Find out more on Wailea Beach Villas, special offers and the latest reviews.
More great Luxury Maui Family Resorts

---
Hyatt Regency Maui Hawaii Family Resort with Spa
This sizable (800 rooms) Hawaiian luxury resort caters quite well for families. Loads of beach activities, a huge water playground, with two waterfalls and lava tube, golf and access to nearby Lahaina. Here you can enjoy hula lessons, free wildlife tours and an amazing stargazing program.

The Hyatt lets you experience the natural environment with penguins included - that's right penguins. As well as a host of other bird life like cranes and flamingos which adorn the grounds. While all this wildlife is going on this family friendly resort is also at the same time providing opportunities for kids to enjoy the waterside, kids club and family sized rooms. On the beach, there is lots of activities to round of a quality vacation experience. A great Hawaii family resort!
More information and special offers on the Hyatt Regency Maui Hawaii Family Resort with Spa
---
---
Ka'Anapali Hawaii Family Beach Hotel
Located in Maui, this 3 star resort is known as a top spot for families and its great kid's program.
This resort does offer an all inclusive kids program ( at the time of writing). It's usually difficult to find resorts with meals included that are family friendly in Hawaii but here you can get packages here that include them.
It's a great place for sightseeing, snorkeling, golf and more. Reviewers say: stay in the remodeled wing, great cultural activities, genuinely kind staff, beautiful and nice and an exceptinal place for families..

More information and special offers on Ka'Anapali Hawaii Family Hotel

---
Four Seasons Maui
While the Four Seasons Maui is a little more popular and comfortable with couples it has made significant efforts lately to shape itself into a family friendly Hawaii destination resort.  This makes it a great place for parents to indulge a little as children enjoy the free kids club, high chars, cribs and the like. While kids under three years of age also eat for free (at the time of writing).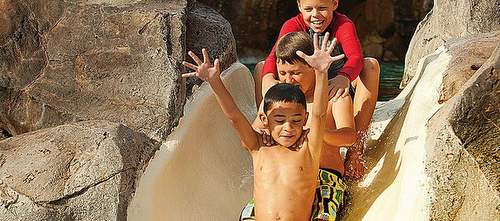 Four Seasons Maui
The resort itself is extremely well rated in reviews achieving a near perfect status across most sites and we also have enjoyed the quality of facilities and service. Weather hitting the basketball court, golf course, games room, any one of the numerous pools, or raked beach teaming with activities, everything is in tip top condition with friendly staff more than ready to help out.
More information on the Four Seasons Maui
---
Kauai is the oldest of the Hawaiian Islands. It has a rich culture and history, and is home to many diverse plant and animal species. Kauaii offers visitors an abundance of outdoor activities, from hiking to kayaking, as well as a variety of historic sites to explore.
Visitors will find many all-inclusive family resort options on Kauai that offer accommodations with kitchens, free Wi-Fi, pools with slides and other amenities. There are also plenty of restaurants on the island that offer fresh local cuisine at affordable prices.
The top Kauai All Inclusive Hawaii family resorts:
Grand Hyatt Kauai Family Resort And Spa

Grand Hyatt Kauai Family Resort And Spa
At South Kauai, this luxury resort is good for families because of it's many activities options and the water park. There is also an 18-hole golf, world-renowned spa, Camp Hyatt kid's club and much more of course.
See more on the Grand Hyatt Kauai Resort And Spa

See more Kauai luxury resorts for families.
---
Marriott Kauai Resort
On quiet and peaceful Kalapaki Beach, complete with lagoons this is a top choice for a Hawaii beach vacation for families.


Marriott Kauai Resort
Location: Beach front, Lihue, Hawaii with a children's pool, a top children's program, different adult activities available daily, and with water sports nearby this is also a good Hawaii family resort choice.
Surf lessons, snorkeling, body surfing,  a massive pool with more than a couple of waterfalls spilling into it. Great for families Mariott will supply many of the extra high chairs, roll aways, and cribs if needed without inuring extra costs.
More information on Marriott Kauai Resort
---
Waipouli Beach Resort
Location: Beach front, east shore of Kauai, between Kapaa and Wailua, Hawaii. Close to shopping and restaurants.
Accommodations: 118 condos, kitchens, garden, and mountain or ocean view.

Resort highlights: heated soft-water river pool, water slide, 3 sand-bottom whirlpools, full-service spa with body care and massages, fitness center, kid's "Island Explorer Program", kid's pool, poolside bar.

What reviewers say: easy to find, "Wow", front desk friendly and efficient, top of the line condos, great views, noisy road, great bar, great for kids, good size kid's pool, family hot tub, beach is not really a swimming beach – rough with currents.
More information on the Waipouli Beach Resort
---
For more, see Hawaii Luxury Resorts or take a look at the menu on the right. 
---
---
The hotels in Hawaii are not all the same. In order to help you choose the best hotel for your family, we have compiled a list of all-inclusive family resort options.
Best Family Resorts
Orlando Family Vacation Resorts
Hawaii Family Vacation Packages
Cozumel Family Resort Vacations
Los Cabos Family Resort Vacation
San Diego Family Resort Vacation

Authors Unleashed: Unveiling the Ultimate Travel Experience through Expert Reviews, Ratings, and Research
💼 We cherish our independence! ✈️ Our travel recommendations are carefully researched, bias-free, and powered by human expertise. We use AI sparingly for editing purposes, ensuring an authentic and reliable experience. Join us on our unbiased journey! 🌍✨
Always do your own research! 🧐📚⚠️