A-Z Guide: Top Luxury Family Resorts Worldwide
Looking for an excellent luxury family resort? Well, we have found a few that will really deliver. In reality, we have luxury family resorts all around the world and it's not easy to squeeze the best onto one page.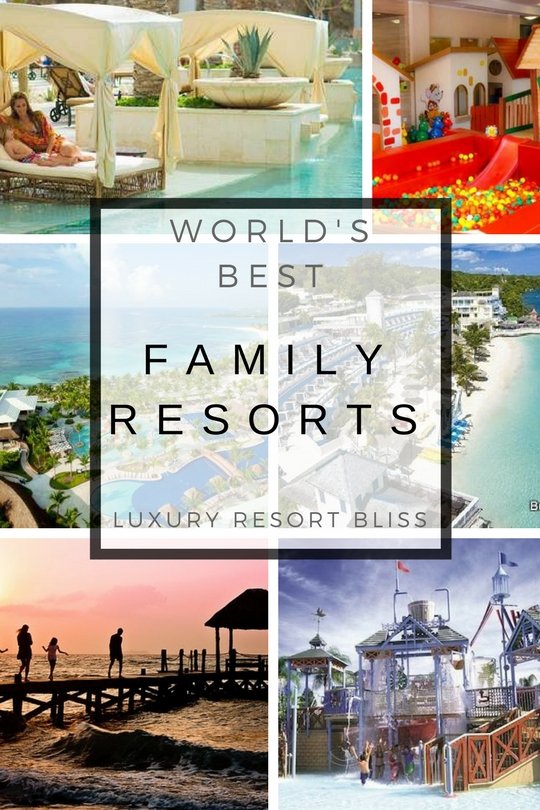 A to Z list of top destinations for family resort vacations
Here's an A to Z list of top destinations for family resort vacations, providing a bit more detail on each:
A - Algarve, Portugal: Sun-drenched coastline with golden beaches, limestone caves, and family-friendly resorts. Albufeira, a major holiday destination here, has numerous water parks and family attractions.
B - Bali, Indonesia: A tropical paradise blending culture, nature, and beach. Ubud for cultural experiences, Seminyak and Nusa Dua for resorts and beaches, and various water temples and monkey forests for exploration.
C - Cancun, Mexico: Known for its stunning beaches, turquoise waters, and a plethora of family-friendly all-inclusive resorts. Nearby, explore ancient Mayan ruins at Tulum.
D - Dubai, UAE: Home to Atlantis The Palm's Aquaventure waterpark, desert safari adventures, the towering Burj Khalifa, and countless luxury resorts.
E - Elounda, Crete, Greece: A picturesque coastal town with luxurious resorts, beautiful beaches, and historic sites such as the island fortress of Spinalonga.
F - Florida Keys, USA: A coral cay archipelago with family-friendly fishing, snorkeling, and diverse marine life. Key West, the southernmost point, offers a laid-back vibe and rich history.
G - Gold Coast, Australia: Famous for its surf beaches, theme parks like Dreamworld and Sea World, wildlife sanctuaries, and hinterland treks.
H - Hua Hin, Thailand: A royal beach resort town with night markets, water parks, golf courses, and a plethora of family-friendly resorts.
I - Istria, Croatia: A peninsula offering a blend of beaches, historical towns, and family resorts. Poreč and Rovinj are notable destinations with their Venetian influence.
J - Jamaica: Home to all-inclusive resorts, reggae rhythms, and activities like Dunn's River Falls in Ocho Rios or the Bob Marley Museum in Kingston.
K - Koh Samui, Thailand: An island paradise with stunning beaches, family-friendly resorts, and attractions such as the Big Buddha and Na Muang Waterfalls.
L - Lake Tahoe, USA: A year-round destination offering skiing and snowboarding in winter, and hiking, camping, and water activities in summer.
M - Maui, Hawaii, USA: Renowned for its beaches, the Road to Hana, Haleakalā National Park, and family-friendly resorts in Wailea and Ka'anapali.
N - Negril, Jamaica: Known for its miles of sandy beaches, shallow bays, and family resorts. Don't miss the sunsets at Rick's Cafe.
O - Orlando, Florida, USA: The theme park capital with Walt Disney World, Universal Studios, and SeaWorld, complemented by numerous family resorts.
P - Phuket, Thailand: The country's largest island, known for its beaches, water sports, the lively town of Patong, and countless family resorts.
Q - Queensland, Australia: From the Great Barrier Reef and tropical rainforests to theme parks on the Gold Coast, it's a diverse state for family adventures.
R - Riviera Maya, Mexico: Stretch of Caribbean coastline with all-inclusive resorts, the ancient ruins of Tulum, eco-parks like Xcaret, and the underground rivers of Rio Secreto.
S - Sardinia, Italy: Mediterranean island with white-sand beaches, crystal-clear waters, and family resorts, with a rich history and Nuragic complexes to explore.
T - Tenerife, Canary Islands, Spain: A diverse island with beaches, the volcano Mount Teide, water parks like Siam Park, and numerous family resorts.
U - Udaipur, India: Known as the "City of Lakes," this romantic destination offers boat rides, historic palaces, and luxury resorts suitable for families.
V - Vancouver, Canada: A mix of natural beauty and urban sophistication, families can explore Stanley Park, Granville Island, go whale watching, and ski in nearby mountains.
W - Whitsunday Islands, Australia: A group of 74 islands in the heart of the Great Barrier Reef, perfect for family sailing, snorkeling, and beachcombing.
X - Xiamen, China: A coastal city known for its beaches, parks, and the pedestrian-only island of Gulangyu with its colonial architecture and family attractions.
Y - Yucatan Peninsula, Mexico: Apart from its coastal resorts, families can explore ancient Mayan cities like Chichen Itza and Uxmal, and refreshing cenotes.
Z - Zakynthos, Greece: Famous for the Navagio (Shipwreck) Beach, the island also offers turtle spotting, family-friendly resorts, and picturesque coastal towns.
This list captures major destinations, but the world is vast, and there are many hidden gems to explore. Always ensure thorough research based on your family's interests before choosing a destination.
Top Luxury Family Vacation Destinations from TripAdvisor.

Top 40 Family Vacation Ideas

Top 10 Family Friendly Europe Vacations

Top 10  USA and Canada Family  Vacations

Top 10 Caribbean Family Vacations

All-Inclusive family vacation resorts are a great way to spend time with your family while escaping the drudgery of everyday life. There are many at resorts to choose from.
We're not just talking about food here, but also activities, entertainment, and more. The all-inclusive concept is often based on a fixed price for everything, which makes it easy for families to plan their budget and find the perfect resort for them.
A to Z list of the top family resorts in every major resort tourist destination worldwide
Creating an A to Z list of the top family resorts in every major resort tourist destination worldwide is a massive undertaking. I'll provide a brief A to Z list covering various major tourist destinations across different continents. Remember, this is just a sampling, and there are countless beautiful resorts around the world. Always do thorough research before making travel plans, especially based on recent reviews and personal preferences.
A - Atlantis The Palm, Dubai: A mega-resort in Dubai, known for its water park, marine habitats, and luxury accommodations.

B - Bora Bora Pearl Beach Resort & Spa, French Polynesia: Offers overwater bungalows and beachfront villas, ideal for families seeking luxury.
C - Club Med Punta Cana, Dominican Republic: Popular all-inclusive family resort with activities for all ages.
D - Disney's Grand Floridian Resort & Spa, Florida, USA: Luxury resort with easy access to Walt Disney World.
E - Eden Roc at Cap Cana, Dominican Republic: A luxurious family-friendly spot with private villas and kid-friendly amenities.
F - Fairmont Mayakoba, Riviera Maya, Mexico: A luxurious resort known for its eco-friendly initiatives and family-friendly activities.
G - Grand Wailea, Maui, Hawaii, USA: Features the world's only water elevator and a sprawling pool complex.
H - Hard Rock Hotel, Cancun, Mexico: Offers family-friendly entertainment, music-inspired themes, and beachfront access.
I - InterContinental Bali Resort, Indonesia: Boasts a blend of Balinese culture and modern luxury, with family-friendly amenities.
J - Jade Mountain, St. Lucia: Offers breathtaking views, with family-friendly accommodations and activities.
K - Kempinski Hotel Ishtar Dead Sea, Jordan: Families can float in the salty Dead Sea and enjoy luxurious amenities.
L - LUX Belle Mare, Mauritius*: A tropical paradise with a focus on family and a sprawling pool.
M - Montage Kapalua Bay, Maui, Hawaii, USA: A luxurious resort with a cultural program and family-friendly amenities.
N - Niyama Private Islands, Maldives: Features family villas and an underwater restaurant.
O - One&Only Cape Town, South Africa: Luxury in the heart of the city with dedicated kids' club facilities.
P - Porto Elounda Golf & Spa Resort, Crete, Greece: Offers kids' clubs, a private beach, and family suites.
Q - Qasr Al Sarab Desert Resort by Anantara, Abu Dhabi, UAE: A desert oasis with family villas and cultural experiences.
R - Rome Cavalieri, A Waldorf Astoria Resort, Italy: Features kids' programs and luxury accommodations with views of Rome.
S - Shangri-La's Mactan Resort and Spa, Cebu, Philippines: Coastal resort with family-friendly amenities and activities.
T - The Ritz-Carlton, Grand Cayman, Cayman Islands: Beachfront luxury with a comprehensive kids' program.
U - Ulagalla by Uga Escapes, Sri Lanka: A tranquil getaway with family-friendly villas and nature activities.
V - Vila Vita Parc Resort & Spa, Algarve, Portugal: Offers family suites, a yacht, and kid-friendly activities.
W - Waldorf Astoria Maldives Ithaafushi, Maldives: Tropical paradise with family villas and dedicated kids' programs.
X - Xanadu Island Resort, Belize: A boutique family-friendly resort on Ambergris Caye.
Y - Yas Viceroy Abu Dhabi, UAE: Overlooks the Formula 1 circuit and offers family amenities.
Z - Zoëtry Agua Punta Cana, Dominican Republic: An all-inclusive wellness resort with family-friendly suites.
This list just scratches the surface, as the definition of "major resort tourist destinations" can vary widely. It's also subjective – the "best" resort will vary based on family preferences, needs, and desires. Always cross-reference with recent reviews, travel advisories, and other resources before booking.
When it comes to a family vacation, the best resorts in Mexico can provide that getaway you need. From an adventure-filled agenda to a relaxing stay on the beach, there are tons of activities and destinations for the whole family.
The best resorts are those with plenty of room for kids to run around and play with their friends as well as parents who want some time to themselves.
The best hotels in Mexico offer an array of amenities like, spas for mum and dad, and water parks. They have all the amenities that you would expect from a luxury hotel but at a fraction of the cost.

Mexico also offers a rich culture with interesting museums and historical sites to explore. You can visit Mayan ruins while you are there as well on the Caribbean Coast!

Dreams Puerto Aventuras Mexico Family Resort
We really were compelled to start this list with the Mexico family resorts which seem to improve year upon year. Check out:
Barcelo Maya Mexico Family Vacation Resort
The Barceló Maya Beach & Caribe Resort located on the Riviera Maya in Mexico. The resort offers a kids club, fantastic pools, an outdoor theater, and much more.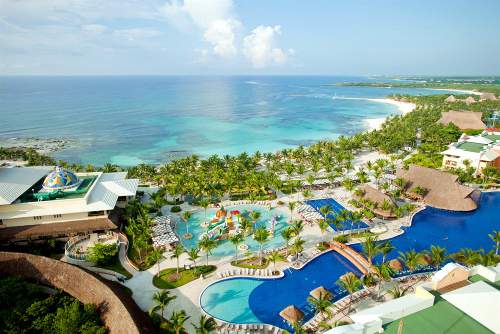 Luxury Family Resort, Mexico
One of the best family resorts in Mexico with an interactive Dolphinaris. The well-run Barcy Kids Club and seemingly limitless water-park areas and activities around the resort. Teens get their own space separate from the other kids clubs and there is much more to discover..
More information and offers on Barcelo Maya Palace Deluxe.
Cancún, on Mexico's Caribbean coast, has always been a top family vacation destination. Now there are even more reasons to enjoy this beautiful resort town. There are plenty of kid-friendly activities in Cancún and the surrounding area, from the famous Chichen Itza ruins and Sian Ka'an Biosphere Reserve.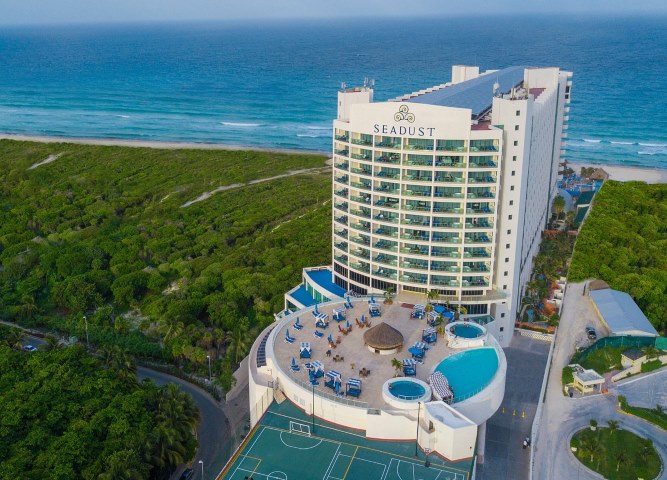 Seadust All Inclusive Family Resort in Cancun with waterpark
Cancun is a popular resort destination for families. It's a great place to relax on the beach, spend time in the waterparks, and enjoy delicious Mexican food.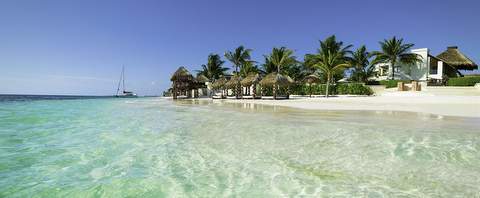 Azul Cancun All Inclusive Family Resorts
In a country with such a lot of great all inclusive family resorts, the Cancun area including the riviera area to the south of Cancun probably has the highest concentration of quality family all inclusive resorts anywhere in the world.  
The Azul here for example, has ample kids clubs for different ages, baby amenities, and receives some of the highest guest satisfaction ratings of any resorts worldwide.
See the latest Azul Beach Hotel Reviews here

---
The culture in Europe is rich and diverse, which can make for an interesting and educational experience for children. Europe offers many different languages, which can be a great way to introduce your children to new languages at a young age. There are many different types of food that you can try when you visit Europe, depending on the country you visit
The best of bliss list reviews the best Europe Family Resorts and also has some great European family vacation ideas and the best all inclusive resorts in Europe for families. Perhaps you will think like we do after viewing these that Europe is closer than you thought.
If you are looking for something a little more sophisticated than the regular razzle dazzle all inclusive for kids typical of the Caribbean and Mexico than perhaps the European destinations will interest you. The Alder is an Italian all inclusive Spa resort which caters for children and allows for them to have many of the full treatments (which are safe to do) the adults enjoy.
Cavallino Bianco Family Spa Resort
This Italian resort recently topped the TripAdvisor list as the worlds best family resorts. Ski Schools which are top notch along with outstanding acres kid friendly "wellness activities" and water parks all wrapped up in a surreal and authentic European village environment. This is a resort that really does seem dedicated to children and their vacation needs.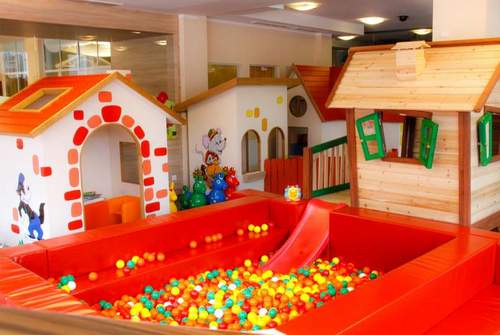 Luxury Family Resort, Europe
More information and special offers on Cavallino Bianco Family Spa Grand Hotel from TripAdvisor.
---
Many families are looking for a family resort vacation that is both affordable and fun.
Disney Resorts are a great option because they offer many activities and events to keep everyone entertained.
There is something for the little ones, teenagers, and adults alike.
One of the reasons why people stay at Disney Resorts for their family vacations is because of the variety of activities that Disney has to offer. There are many activities that are available for both kids and adults alike. There are also a lot of dining options, so you can always find something to eat no matter what your tastes might be.
Video: Walt Disney World Resorts Overview - All Disney Hotels - 2022 - Orlando, Florida
Disney Resorts also have a lot of different accommodations. You can choose from staying in a hotel room, renting a villa, or even staying in one of the many campsites that Disney has available. If you want to get away from it all and enjoy nature, then camping is definitely something worth considering.

Some popular attractions include: The Magic Kingdom, Animal Kingdom, Epcot, Hollywood Studios, and Disney's Blizzard Beach Water Park.
Video: Staying On The Disney Private Island - Disney's Hilton Head DVC Resort & Room Tour in South Carolina
Disney's Hilton Head Resort is a family resort that offers a wide range of amenities and activities for all age groups. I
The resort has many different types of accommodations for guests to choose from, including family suites and villas. There are also 2 pools, both with water slides and kiddie areas. Guests can enjoy activities such as tennis, golf, biking, fishing, kayaking, paddle boarding and more on property or nearby.
This is a clasic Disney's family resort that has all the amenities that you will need for a relaxing and fun vacation. The resort has many amenities, including:
A pool with a water slide,
A sandy beach with lifeguards on duty,
Outdoor pools,
A lazy river and kiddie pool.
Restaurants and lounges,
-The Treehouses of Hilton Head Island at Disney's Hilton Head Resort are perfect for families who want to be close to the water.
Florida has some of the best family resorts in the world. There are many factors that make Florida a great place to have a family resort vacation. Florida's natural beauty and climate, the proximity to other popular tourist destinations make it easy for visitors to do more than one thing on their trip. Why stay at Family Resorts in Florida:
Florida's weather is also perfect for year-round vacations because it never gets too hot or too cold.
Florida has a lot of family resorts. It is a great place to spend time with your family and have fun. It is also a great place to get away from the hustle and bustle of everyday life. T
Florida has the most beautiful beaches, it is home to Disney World, Universal Studios, SeaWorld and many more attractions for families.
There are many family resorts in Florida that offer the perfect family resort vacation.
Family resorts in Florida also provide many different types of activities for guests to enjoy together as a family. These activities range from arts and crafts classes to cooking classes and much more!
Florida is also home to many family resorts that offer all-inclusive vacation packages for families with children of any age.
Florida's family resorts offer water sports, spa treatments, and live entertainment. Many also have on-site restaurants and bars where you can enjoy local cuisine and drinks.
Most Florida family resorts have their own water parks or other attractions that are perfect for kids of all ages.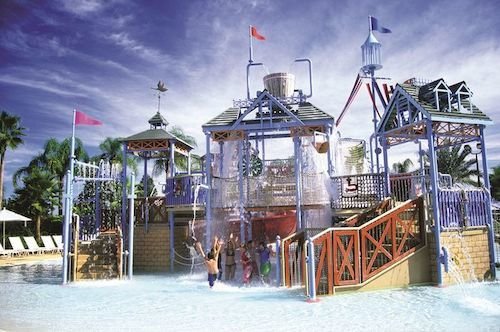 Luxury Family Resort in Florida
Orlando of course! A family friendly location if ever there was one. This resort is located close to Walt Disneyland and other theme parks. Here you'll find 3 golf courses, a spa, supervised activities for kids, a tropical water park and a number of restaurants (groceries can also be delivered). Accommodations are 1,2 and 3-bedroom villas and multiroom houses.


More on Reunion Resort, Orlando, Florida
---
Hawaii Family Vacation Resorts are an opportunity to have some fun and make memories that will last a lifetime. They offer plenty of amenities and activities that are geared towards kids, from surfing lessons to swimming.
The first thing that you need to consider is the age of your kids. If they are under 5 years old, then you should choose a family resort with a lot of activities and entertainment. If they are older than 5 years old, then you should choose a resort where they can enjoy themselves in water parks or on the beach.
Video Review: Where to Stay on Oahu Hawaii with Kids: The 7 Best Family Hotels
You should also consider how much time do you want to spend at the beach and other activities. If you want to spend more time at the beach, then it would be better if you stay at a hotel near Waikiki Beach or another popular area with great beaches.

It's not just relaxing on the beach that's great for kids; there are plenty of other things to do in Hawaii with kids. One example is visiting Pearl Harbor in Honolulu, which offers a history lesson with an emotional story attached - plus plenty of hands-on exhibits and interactive displays.
Hawaii is another United States location with more than it's share of top Family Resorts. While Disney on the main island is well regarded by families it is not by any means the only one. Read more on our Oahu Family Resort Vacations review. We have also put together a list of places to find Hawaii Family Vacation Packages as well.
Review by Guest: My First Time Visiting Disney's Aulani in Hawaii | Checking Into a Ocean View 1 Bedroom Villa
Aulani is a Disney Resort & Spa in Ko Olina, Hawai'i. It was one of the first Disney Resort built outside of the United States mainland and it offers acres of lush tropical landscape with white sand beaches and a lagoon.
The resort has been designed to make families feel right at home. The resort contains three themed villages with accommodations for every budget and family size, two championship golf courses, a variety of dining options, and plenty of recreation opportunities.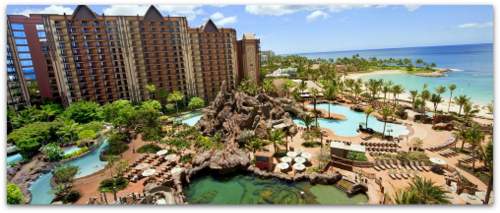 Disney Aulani. Luxury Family Resort
This family-friendly resort that has all the amenities of a five-star hotel like restaurants, spa services, luaus and more.
It was designed to be an adult's escape with its luxurious accommodations and upscale restaurants but also offer an environment for families to enjoy their vacation.
Aulani offers multiple pools with water slides and a beach area that includes snorkeling and other water activities. The resort also provides complimentary bike rentals for guests to explore the area throughout their stay at the resort.
Family Friendly Wailea Beach Villas in Kihei
A fantastic resort in Maui, Hawaii, which has the distinction of getting perfect scores by all past guests (so far). There are lots of activities, championship golf, a spa and a great beach. Accommodations are in villas or a penthouse and families love it! 
More on Wailea Beach Villas, Kihei

More family resorts in Hawaii.

---
There are many reasons to stay in a ski resort for a family resort vacation. One of the main reasons is that ski resorts often have more activities that are appropriate for children. These resorts are also usually more affordable than a traditional family resort.
Stay at a ski resort: -
More activities appropriate for children
Often cheaper than traditional family resorts
Family friendly restaurants and shops
Plenty of activities for a family to do together
Skiing is a great way to get exercise
Skiing is the best way to cool off in the summer
Stay at a traditional family resort:
More activities appropriate for adults
Younger children in tow will have more activities on their own
Rocksresort, Laax, Switzerland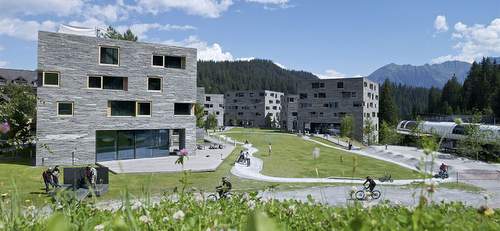 A neat little village and ski in and out facilities are a good find for many families seeking a good vacation on the slopes both in summer or winter. This is a top class car-less resort with lots of family friendly restaurants and a quality ski school. 
See our top Family Ski Resorts.
---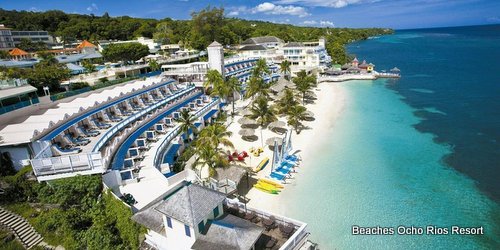 Beaches have a number of especially family friendly resorts scattered across the Caribbean. These are characterized by their full inclusive luxury experiences complete with water-parks, loads of kid friendly activities and and supervised clubs and Sesame Street characters which cruise the grounds.
More information and special offers from Beaches including up to 65% off.
This resort has a lot of activities available, as well as many different types of accommodations, so there is something for everyone. One thing that makes this resort special is its eco-friendly nature and sustainable practices. They are committed to preserving the environment and have multiple initiatives in place to reduce their carbon footprint.
This resort is easily the most popular resort in the Dominican republic for people with families. For ages 4 to 10, Mini Club Med has planned a full and extensive program. For ages 11 and 17, there are creative activities, sports and artistic activities.

It's all inclusive and includes all meals, accommodations, drinks, unlimited snacks, entertainment, children and junior activities, and an extensive range of outdoor recreational activities.
---
Round Hill Hotel And Villas, Jamaica
Located in Montego Bay, Jamaica, this all-villas resort was designed to catch the sunsets. They have a kid's club (3-11), an all-inclusive dine-around program, a large variety of water sports, a spa by the sea and a secluded beach. Also gets great reviews.

More on Round Hill Hotel And Villas with expedia

More luxury family villas in Jamaica.

Carlisle Bay, Antigua Luxury Family Resort
This 5 star resort is one of the most exclusive on the island and located on the south coast of Antigua. There's a spa, golf nearby, game room, water sports, 2 restaurants, tennis and more. There are 80 sophisticated rooms that are spacious and comfortable.
More on Carlisle Bay, Antigua

More family resorts in the Caribbean.

FAQs on Family Resort Destinations
A: Seek resorts that offer kid-friendly amenities like swimming pools, kids' clubs, babysitting services, and family-oriented activities. Room configurations catering to families and on-site dining options are also beneficial.
A: Check for recent reviews focusing on family stays. Research the resort's safety measures, such as lifeguards at pools, gated properties, and 24/7 security. It's also wise to ask about childproofing options for rooms.
A: All-inclusive resorts can offer value, as they often bundle accommodations, meals, drinks, and activities into one price. This can be especially economical for families who plan to spend most of their time at the resort.
A: Absolutely! Many resorts have adults-only areas like spas, bars, and pools while still offering extensive kid-friendly amenities. This allows for a balanced vacation experience.
A: Family resorts often provide beach games, water sports, movie nights, craft sessions, nature walks, and even cultural activities. Some resorts may have theme nights or shows tailored for younger audiences.
A: Most family resorts offer kid menus or buffet sections. Check online reviews or the resort's dining pages for specifics. It's also helpful to see if there's flexibility in meal times for younger kids.
A: Kids' clubs offer structured activities, giving parents some downtime. Ensure the staff is trained and certified, and that the activities are age-appropriate and engaging.
A: Travel during off-peak times, book well in advance, and monitor deal websites. Joining resort loyalty programs can also yield discounts and perks.
A: Many resorts nowadays cater to diverse needs. Contact the resort in advance to discuss accommodations, and check if they have specialty dining options or support staff. 
A: Booking through the resort ensures a level of safety and convenience. However, independent bookings might offer more flexibility and might be cheaper. Research thoroughly and choose based on your comfort level. 
Orlando Family Vacation Resorts
Hawaii Family Vacation Packages
Cozumel Family Resort Vacations
Los Cabos Family Resort Vacation
San Diego Family Resort Vacation

Share Your All-Inclusive Adventures and Questions! 🌴 Have a memorable experience from a luxury all-inclusive vacation? We'd love to hear it at Luxury Resort Bliss. We're on the lookout for top-quality, insightful tales that'll inspire our community. Dive in and be a part of our sun-soaked stories! 🌊🍹✨
The story is a fictionalized account founded on travel expertise, research, and experience. Always refer to recent guest reviews and perform due diligence before booking.
💼 We cherish our independence! ✈️ Our travel recommendations are carefully researched, bias-free, and powered by human expertise by April and Ricky of LRB (we have personally researched and travelled to many of these destinations and researched others thoroughly through first-hand accounts). We also have put in the hard miles, and Ricky has worked for decades for resort and hotel chains  Hyatt, Hilton, Shangri-La and Radisson before starting Luxury Resort Bliss in 2007. 🌍✨ Unlike some other resort review websites we are concerned on the guest experience rather than mere corporate interest.