All-Inclusive Trips Perfect for Moms and Teenage Daughters
All-Inclusive Trips Perfect for Moms and Teenage Daughters
Girls trip, anyone? Planning a getaway with your teenage daughter can be both exciting and—let's keep it real—a little challenging. You're juggling different interests, after all. One moment she's into beach vibes, and the next, she's begging for a city tour. And don't even get me started on finding a place where you can both chill and have fun. Well, rest easy, Super Mom, because we've got the ultimate list of all-inclusive trips that are perfect for that special mother-daughter bonding.
Top Destinations
When it comes to spending quality time with your teenage daughter, some destinations offer the perfect blend of relaxation, adventure, and pampering suitable for both generations. Here are some all-inclusive destinations that can provide a memorable experience for moms and their teenage daughters:
We had landed at the Hotel Xcaret Mexico, where "all-inclusive" wasn't just a phrase; it was a promise, a vivid tapestry woven with laughter, discovery, and those ephemeral moments that only occur when you're paying attention.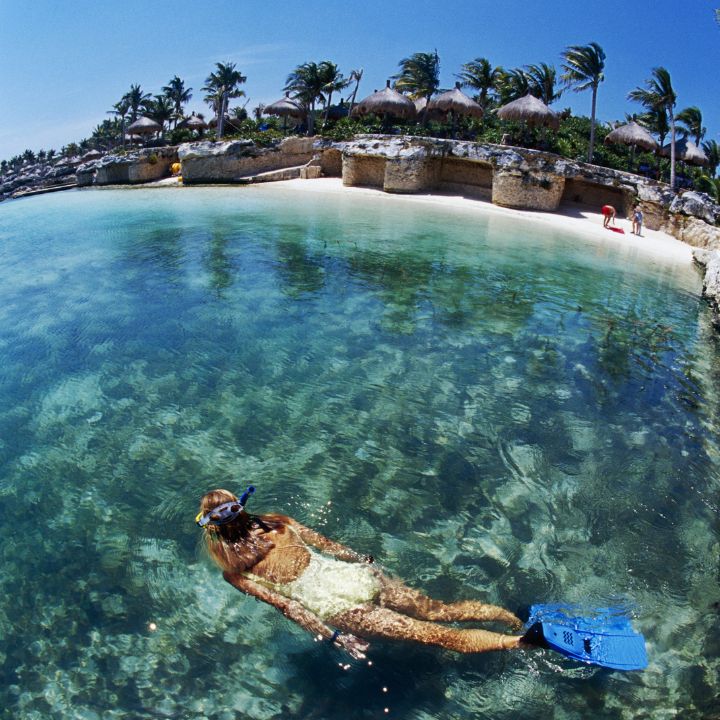 Xcaret-Mexico-Snorkelling
The unique mix of Mexican culture and eco-friendly adventure had me at "Hola," but watching my teenage daughter Lily plunge fearlessly into the teal labyrinth of an underground river had me hooked. "Mom, you have to try this!" she hollered, her voice echoing off the stone walls, invisible in the dim light but oh-so-present in spirit.
Cancun: With a multitude of resorts offering spa services and shopping plazas, Cancún is a haven for those seeking a balance between leisure and excitement. Teens will love the array of water sports, while moms can enjoy fine dining and spa services.
Cancún, Mexico Resorts for Moms & Teenage Daughters
Dreams Playa Mujeres Golf & Spa Resort: With a lazy river, water park, and teen club, it offers a balanced experience for both mom and teen.
Hyatt Ziva Cancún: With a teen club featuring virtual-reality gaming and a lavish spa, this resort brings the best of both worlds.
Punta Cana, Dominican Republic:
Punta Cana, Dominican Republic: This Caribbean gem offers stunning beaches and resorts like Hard Rock Punta Cana, where teens can engage in fun activities and moms can unwind in luxury. The choice of restaurants and pools ensures you won't get bored.
Club Med Punta Cana: Offers a variety of sports activities and even circus workshops for teens, while mom can indulge in the adult-exclusive Zen Oasis. Why It's All the Heart Eyes: 
L'Occitane Spa: Because let's be honest, spa days are always a win.
Cirque du Soleil-inspired activities for the performer in both of you.
Zen Oasis area for when you both need some quiet time.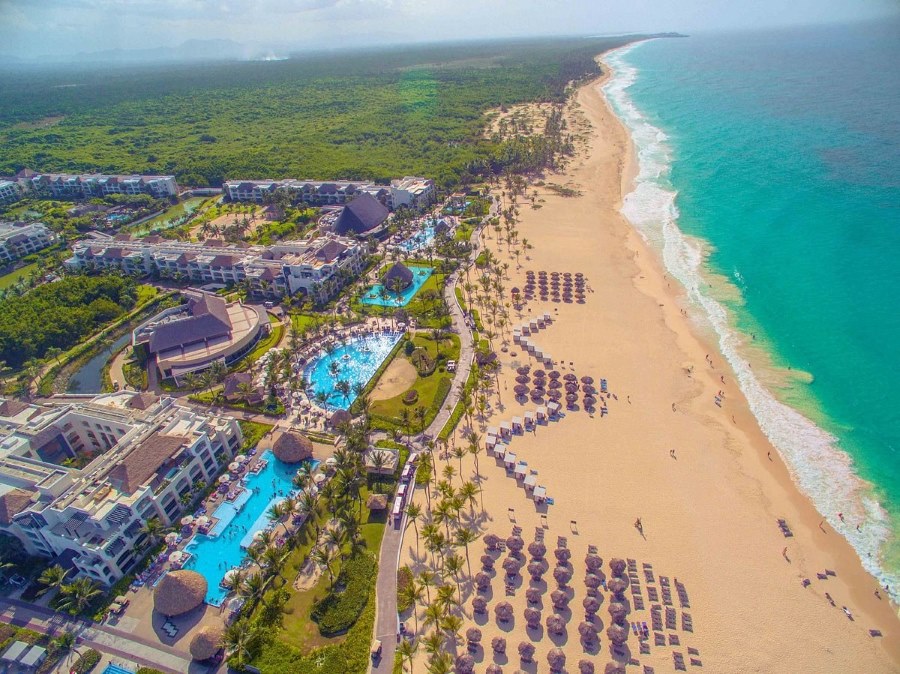 Hard Rock Punta Cana
Review: It was the splash of sunlight, spilling over the horizon like molten gold, that greeted me and my travel-weary soul as the cab pulled up to the Hard Rock Hotel & Casino in Punta Cana. Having navigated the labyrinth of Manhattan's skyscrapers for years, I felt like a wanderer who'd stumbled into El Dorado. Only, this treasure trove had electric guitars mounted on the walls and a cocktail menu that paid homage to rock 'n' roll legends.
The doorman, Luis, met us with a grin as vivid as the cerulean waves cresting in the distance. "Buenos días," he said, offering my first authentic taste of Dominican warmth.
"Good morning! It's my mom's 60th birthday trip," I replied, my eyes scouring the lobby's alchemy of opulence and bohemian spirit. A chandelier made from recycled drum cymbals? Check. Vintage posters and palm fronds in an unexpected harmony? Double check.
Who Would Love It Here:
Now, let me clear the static off the track: this place isn't for the minimalist, nor for those seeking a serene escape into Dominican wilderness. No, this rock palace is for the wild at heart. Families with teenagers who've outgrown the kids' club and who'd rather Instagram next to a Fender Stratocaster than a serene waterfall will feel right at home.
The Pulse of the Place:
The real showstopper was the array of eateries and their culinary concerts. Picture this: a sushi bar where each roll is more like a piece of art, sprinkled with flashes of tropical color and a touch of Dominican flair. "Try the Panko shrimp, you won't regret it," advised Antonio, the chef who recognized the wanderlust in my eyes and foodie inclination in my demeanor.
Why It's a Hit:
The allure isn't just the novelties or the gastronomic headliners—it's the freedom it offers. The 'all-inclusive' tag here is not a mere marketing spiel; it's a ticket to uninhibited exploration. From the teen lounge with VR gaming to the spa where Mom and I harmonized with the universe via a deep-tissue massage—it's an orchestrated symphony, fine-tuned to the chords of our wishes.
The Grand Finale:
As the Dominican sun dipped into the ocean on our last night, casting its golden farewell, I felt it—elation, nostalgia, a climax of senses. And then, as if on cue, a live band at the Eclipse Terrace broke into an acoustic rendition of "Stairway to Heaven."
Santorini, Greece: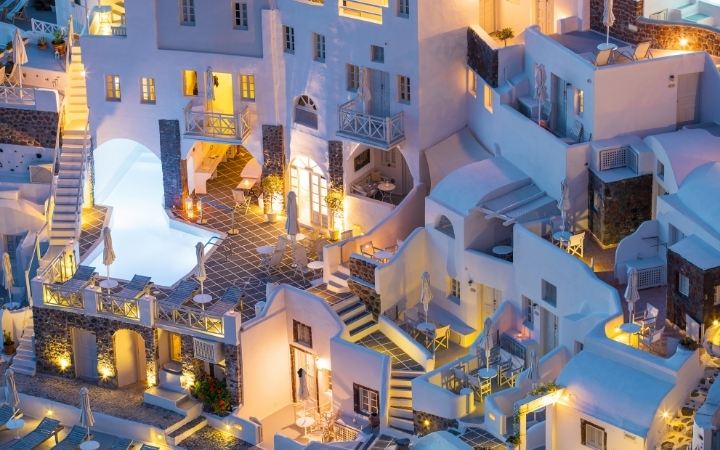 Santorini, Greece:
Santorini, Greece: Known for its beautiful sunsets and charming architecture, Santorini offers all-inclusive options that cater to both adventure seekers and relaxation lovers. Moms can enjoy the world-class wines and beautiful views, while teens can explore the island or try water sports.
Maui, Hawaii: From luaus to snorkeling, this island offers a myriad of activities. The all-inclusive resorts often feature a variety of dining options and activities that allow for both shared experiences and 'me time'.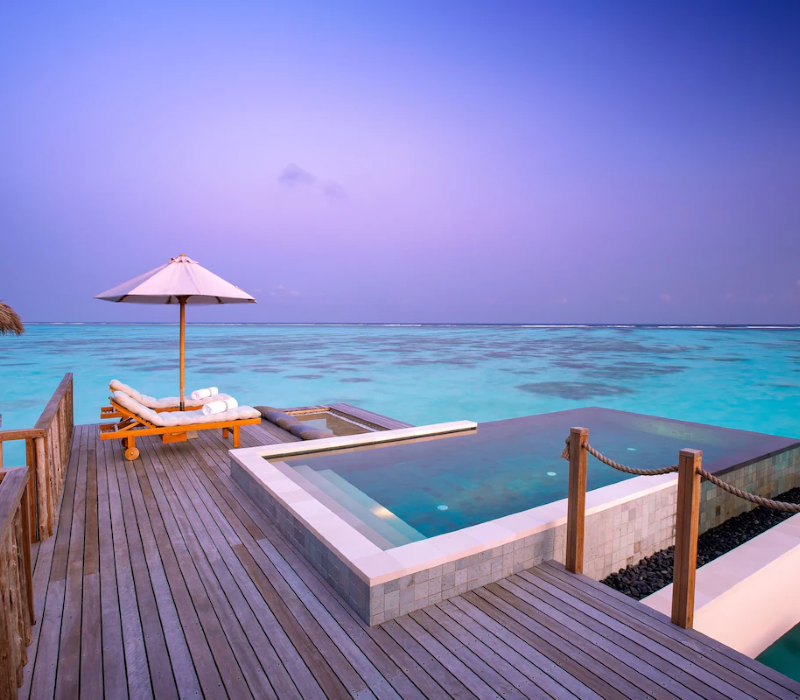 Gili Lankanfushi Maldives
Maldives: If diving into crystal-clear blue waters and swimming with the marine life sounds appealing, then this is the destination for you. Resorts here offer snorkeling, diving, and spa services, offering something for both adventure seekers and those looking to relax.
Como Shambhala Bali
Bali, Indonesia: Known for its lush landscapes and beautiful beaches, Bali offers all-inclusive resorts that feature unique activities like Balinese cooking classes and traditional dance shows.
Queenstown, New Zealand: For the adrenaline junkies, Queenstown has it all from bungee jumping to jet boating. The all-inclusive packages usually include adventure activities, making it easier to plan your trip.
Sugar Beach St. Lucia
St. Lucia, Caribbean: With its lush landscapes and relaxing beaches, St. Lucia offers a mix of adventure and relaxation that can appeal to both moms and teens. Many resorts offer hiking tours, diving courses, and wellness retreats as part of their all-inclusive packages.
Dubai, UAE: For a taste of luxury and adventure rolled into one, Dubai offers sprawling malls for shopping, indoor skiing, and desert safaris. All-inclusive resorts in Dubai pull out all the stops when it comes to food, service, and in-house activities.
Costa Rica: For nature-loving families, Costa Rica offers all-inclusive options that include eco-tours, wildlife viewing, and water activities like kayaking and snorkeling.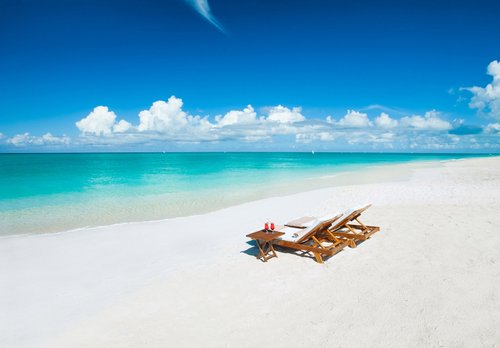 Beaches Turks & Caicos
Beaches Turks & Caicos
Why It's Goals:
Red Lane Spa: Treat yourselves to mother-daughter spa days.
Snorkeling and windsurfing for adventurous duos.
Fancy afternoon teas and beachfront dinners.
The Ultimate Guide to a Kick-Ass Mother-Daughter All-Inclusive Getaway: Sarah's Top Tips
Ah, the dreamy concept of an all-inclusive resort! Imagine: you and your mom—or your daughter—sipping on piña coladas, without a care in the world, your toughest decision being pool or beach? But, wait a sec. Before you get swept away in this idyllic fantasy, let's get real for a moment. Planning this sucker takes some finesse. But don't sweat it—I got you.
1. The "Real Talk" Session:
First thing's first: spill the tea. What do you guys want to do? Mom, I know a full week of sunbathing might sound like paradise to you, but your teenager might just die of boredom. Find that sweet spot where your interests flirt with each other. Got it? Great. Let's roll.
2. Show Me the Money:
Let's talk dough. Remember, 'all-inclusive' isn't a synonym for 'cheap.' If you can splurge for the room with the ocean view or the package with the extra spa days, do it. I promise, you won't regret splashing out for those IG-worthy sunrises.
3. Sift Through the Nitty-Gritty:
Dive deep into the annals of TripAdvisor and beyond. Yes, do message that random mom from Ohio who posted a three-paragraph review about her stay. Those obscure reviews might reveal the hidden secrets that the brochures conveniently forgot to mention.
4. Amenities or Bust:
Look, you need more than just a pool and free Wi-Fi. Does the resort have a killer spa for Mom and jet skiing for the kiddo? Balance, people, balance!
5. Rooming Together or Nah?
Privacy. It's not just a setting on your social media. Consider a suite with separate bedrooms because, let's be real, you might adore each other, but you also adore your own space.
6. Itinerary FOMO:
While 'Wingin' it' has its merits, jot down some must-dos. Trust me, a snorkeling trip or a local food-tasting tour could be the memorable adventure that spices up your trip. But also, please chill. Don't schedule every minute. That's how meltdowns happen.
7. Snaps and Scribbles:
Capture the moments but don't live through your lens. That perfect selfie won't replace the real connection you get from simply enjoying the experience.
8. Reality Check:
Talk about your ideal 'downtime.' If Mom pictures lounging by the pool with a book, but the daughter imagines zip-lining through the forest, y'all need to get on the same page.
9. The Lifesaver: Travel Insurance:
Look, things happen. Luggage gets lost, flights get canceled, and sometimes you eat something that really didn't agree with you. Just get the insurance, okay?
10. Me Time is Key Time:
You'll be spending a lot of time together, but a solo morning run or an individual spa session can add a refreshing solo chapter to your shared narrative.
11. Passport Drama:
Check, double-check, and triple-check your travel documents. Missing a flight because your passport expired is the sort of drama no one needs.
12. When In Rome...:
Or wherever. Point is, be a good global citizen. Respect local customs, and try not to be 'that tourist.'
Buckle up for the ride of a lifetime, packed with laughs, potential bloopers, and moments you'll treasure forever. This is your trip, your story—so make it epic.
Cheers to making memories!
—Sarah, your go-to guide for all things travel and adventure!
Frequently Asked Questions: All-Inclusive Resorts for Mom & Daughter Getaways
A: All-inclusive generally means lodging, meals, drinks, and activities are included in the upfront price. Think of it as a one-stop-shop for your vacation needs, freeing you and your mom to focus on bonding rather than budgets.
A: While the basics are covered, specialty services like spa treatments, wellness activities, and private yoga sessions usually cost extra. Always check the inclusions to avoid unpleasant surprises.
A: Consider both your interests. If you're wellness junkies, go for a place with a robust spa menu and meditation sessions. If you're foodies, look for resorts boasting gourmet dining experiences. The goal is to pick a locale where shared interests bloom.
A: Nope! From mountain lodges to urban hotels, all-inclusive options are sprinkled worldwide. Your dream backdrop might be an ocean sunset or a snow-capped peak; both are possible.
A: Resorts can be as diverse as a multi-generational family gathering. Some are tailored for younger crowds, some for adults, and others span the age spectrum. It's essential to select one where both of you will feel comfortable.
A: Activities vary but often include water sports, cultural tours, cooking classes, and more. It's like a sampler platter of fun—perfect for mother-daughter duos with different tastes but a shared appetite for adventure.
A: Most high-end resorts are more than happy to accommodate dietary restrictions or preferences. However, it's best to confirm in advance.
A: If the budget allows, a touch of luxury—think private cabanas, exclusive dinners, or butler services—can elevate the getaway from memorable to unforgettable.
A: Be present. This is time carved out to revel in each other's company. Try new activities, relish shared meals, and cherish the unhurried conversations that only seem to happen when you're away from the grindstone of daily life.
A: Apart from essentials, pack versatile clothing to suit both lounging by the pool and a night out. Also, don't forget an open heart and a camera—because some moments will be too precious not to capture.
This isn't just a vacation; it's a slice of time where generational gaps can close, mutual respect can flourish, and the intricate bond between mother and daughter can deepen. So, dive in. Your oasis awaits.
💼 We cherish our independence! ✈️ Our travel recommendations are carefully researched, bias-free, and powered by human expertise by April and Ricky of LRB (we have personally researched and travelled to many of these destinations and researched others thoroughly through first-hand accounts). 🌍✨
We try to keep everything up to date, but please always do your own research and contact us if you know any issues for us to help others as best we can as a small but professionally focused team! 🧐📚⚠️