Hyatt Ziva Rose Hall All Inclusive
Hyatt Ziva Rose Hall All-Inclusive
Welcome to our extensive review of Hyatt Ziva Rose Hall All-Inclusive, your ultimate guide to this family-friendly oasis in Montego Bay. Uncover the unparalleled luxury, diverse culinary experiences, and endless activities awaiting you at this stunning Jamaican retreat, where unforgettable memories are made.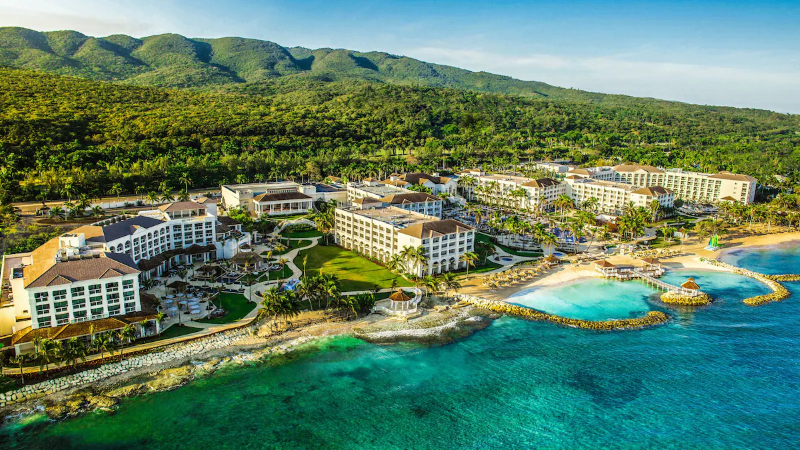 | Category | Details |
| --- | --- |
| Accommodations | Elegant and intimate rooms with private balconies, swim-up suites, spacious rooms |
| Dining Options | 12 diverse restaurants and bars, locally sourced ingredients, Moroccan-themed rooftop lounge |
| Activities & Amenities | Private beach, multiple pools, KidZ Club, on-site spa, golf courses nearby, fitness classes, beach volleyball |
| Location | Montego Bay, Jamaica; close to shopping, dining, and cultural highlights |
| Staff & Service | Highly praised staff, concierge services, 24-hour room service |
| Overall Experience | All-inclusive family resort with a variety of accommodations, dining options, and activities |
| Score | 54/60 |
Sarah's Review: The all-inclusive Hyatt Ziva Rose Hall in Montego Bay, Jamaica, offers recreation and relaxation for the entire family. Nestled along the shores of the sparkling Caribbean Sea, blue skies and the scenic mountains of Jamaica serve as the perfect luxury vacation backdrop.
Accommodations at Hyatt Ziva Rose Hall range from elegant, intimate rooms for two to large suites with ample room for families. All accommodations include private balconies with gorgeous views. Exclusive swim-up suites provide direct access to a semi-private pool from your terrace, and the resort features two other sparkling pools as well. The resort offers 12 restaurants and bars that cater to every taste, including the best jerk chicken and the only Moroccan-themed rooftop lounge in Jamaica. Younger guests will love the KidZ Club, while adults can enjoy a day at the spa or a round of golf at the White Witch or Cinnamon Hill courses.
At Hyatt Ziva Rose Hall, locally sourced ingredients take center stage in the 12 restaurants, bars, and lounges. Guests can savor authentic jerk flavors, sample gourmet dishes inspired by global cuisine, and reconnect over perfectly crafted cocktails near a roaring fire. From invigorating Jamaican coffee to captivating interiors and divine open-air spaces, the resort guarantees an incredible sensory experience from morning to night.

The property is situated next to a golf course and on a private beach, making it the perfect place to soak up some sun with beach massages and sun loungers. Indulge in a Swedish massage, a manicure/pedicure, and a body scrub at Zen Spa, the on-site spa. There are also yoga classes and aerobics classes offered at the gym, along with other activities like beach volleyball.
Guests at the Hyatt Ziva Rose Hall have praised the helpful staff, spacious rooms, and overall condition of the property. With a wide range of amenities and activities, this luxurious all-inclusive resort is the perfect destination for a memorable family vacation in Montego Bay.
Angie's Review (Summary):
Hey there, fellow traveler! Are you curious about the differences between Hyatt Ziva Rose Hall and Hyatt Zilara Rose Hall, both situated near Montego Bay, Jamaica? Well, let's break it down in a fun way. Essentially, Ziva is family-friendly, while Zilara is adults-only. Still not sure which one to choose? Let's explore the details.
Upon arrival at the chic Hyatt Ziva lobby, you'll find a piano lounge with live music and a coffee shop perfect for satisfying your caffeine and pastry needs. Stroll towards the Zen Spa, and you'll encounter a stunning veranda for those breezy evenings. Keep in mind that the resort has undergone some changes, so you might notice differences between the original and new buildings.
Hyatt Ziva offers a club lounge with upgraded privileges, while Zilara doesn't. You can find ocean view rooms at Ziva, complete with balconies and inviting bathtubs. Make sure to try the French restaurant, which welcomes guests from both Ziva and Zilara. Don't miss the delicious jerk chicken and pork from the famous jerk hut on the Ziva beach.
You'll love the buffet and evening shows at the outdoor lounge. For kids, there's a game room and supervised activities. Union Jacks, a sports lounge, is the ideal air-conditioned space to relax. Over at Zilara, the beach is wider with more waves and lawn beds. Give the oxtail at Jamaican Roots a go – it's scrumptious!
To sum it up, both Hyatt Ziva and Zilara deliver exceptional experiences, but your choice will depend on whether you're after a family-friendly or an adults-only retreat. Enjoy your travels!
Pros:
All-inclusive family resort
Variety of accommodations, including swim-up suites
12 diverse restaurants and bars
KidZ Club for younger guests
On-site spa and golf courses nearby
Private beach and multiple pools
Activities such as yoga, aerobics, and beach volleyball
Highly praised staff and spacious rooms
Cons:
Some guests may find the resort too large and busy
Potential for long waits at popular restaurants during peak times
Limited nightlife options on-site
Features:
Elegant and intimate rooms with private balconies and gorgeous views
Moroccan-themed rooftop lounge
Locally sourced ingredients in all dining options
Beach massages and sun loungers
Zen Spa with a variety of treatments
Fitness classes, including yoga and aerobics
Beach volleyball and other activities
Scorecard:
Accommodations: 9/10
Dining Options: 9/10
Activities and Amenities: 9/10
Location: 9/10
Staff and Service: 9/10
Overall Experience: 9/10
Overall Score: 54/60
FAQ: Hyatt Ziva Rose Hall All-Inclusive
A: As your personal travel buddy, I can confidently say that Hyatt Ziva Rose Hall excels in offering a luxurious and diverse experience. With its world-class amenities, exceptional dining options, and stunning beachfront location, this resort truly raises the bar for all-inclusive vacations.
A: Absolutely! The resort is designed to cater to guests of all ages. With a fantastic kids' club, thrilling water sports, and family-friendly entertainment, there's something to keep everyone happy and engaged.
A: Get ready for a culinary adventure, my friend! Hyatt Ziva Rose Hall boasts a wide range of dining options, including international buffets, gourmet à la carte restaurants, and casual eateries. You'll find everything from Italian and Jamaican specialties to sushi and decadent desserts.
A: There's never a dull moment at this resort, trust me. From water sports like kayaking and snorkeling to live entertainment and beach volleyball, you'll find plenty of activities to fill your days. And, if you're in the mood for relaxation, the Zen Spa offers an extensive menu of rejuvenating treatments.
A: Oh, absolutely! Jamaica is a treasure trove of fascinating experiences. Don't miss out on exploring the famous Dunn's River Falls, rafting down the Martha Brae River, or visiting the nearby Rose Hall Great House. The resort's concierge team can help you arrange any off-resort excursions you desire.
A: You're in for a treat! The resort offers a wide range of luxurious accommodations, including standard rooms, swim-up suites, and lavish oceanfront suites. No matter which room type you choose, you can expect stylish and comfortable interiors, as well as breathtaking views of the Caribbean Sea or lush Jamaican landscapes.
💼 We cherish our independence! ✈️ Our travel recommendations are carefully researched, bias-free, and powered by human expertise by April and Ricky of LRB (we have personally researched and travelled to many of these destinations and researched others thoroughly through first-hand accounts). 🌍✨
We try to keep everything up to date, but please always do your own research and contact us if you know any issues for us to help others as best we can as a small but professionally focused team! 🧐📚⚠️