Moon Palace Jamaica Grande
The first breath I took in Ocho Rios was laden with the saltiness of the Caribbean and the wild tang of adventure.

As my eyes scanned the horizon, the resort, previously known as Sunset Jamaica Grande, stood in all its revamped glory, a testament to the transformation ushered in by Palace Resorts. Enter Moon Palace Jamaica Grande.
My heels clicked on the polished marble of the Moon Palace Jamaica's foyer as a gentle, melodic voice greeted me, "Welcome, Sarah. You're home."
Moon Palace Jamaica's foyer (moonpalace.com/)
The oceanfront view from my room was nothing short of a Caribbean dream. Every morning, the horizon painted a picture that no NYC skyline could match. The complimentary WiFi was a boon, keeping me connected to my life back home.  The value of this establishment, both in terms of luxury and economic impact (standing at a whopping US$200 million), was evident everywhere.

Sophistication Awaits
Strolling through the grand entrance, the soft grains of the powder-sand beach slipped through my fingers like fragments of forgotten memories. "You're a long way from the Big Apple," chuckled Jerome, the resort's charismatic concierge. With his dreadlocks bouncing to the rhythm of his laughter and the tales of his childhood spent climbing the island's lush peaks, Jerome epitomized the spirit of the land.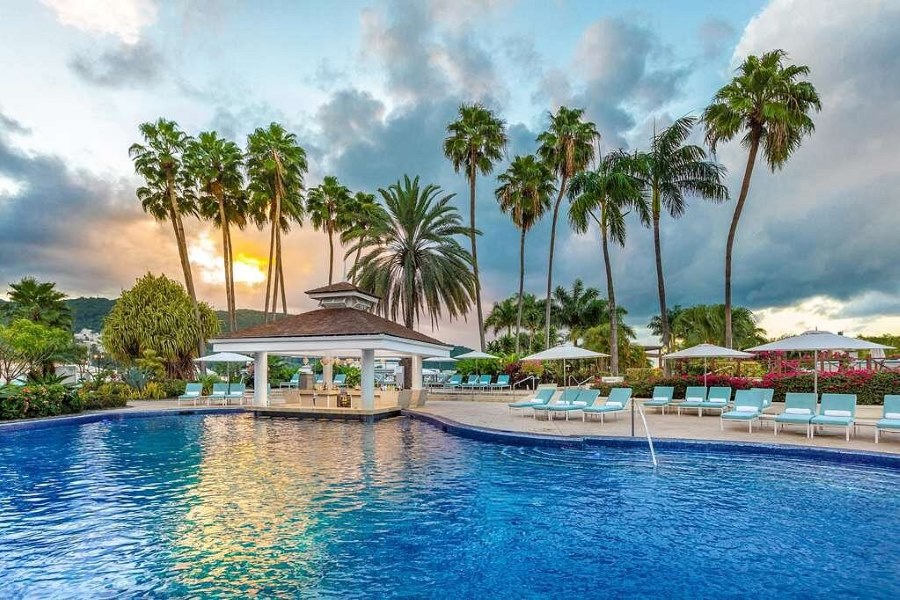 Moon Palace Jamaica Pool (moonpalace.com)
Moon Palace Jamaica Grande Review
Location: 4.5/5
Moon Palace Jamaica Grande is ideally situated in the scenic Ocho Rios, granting visitors spectacular oceanfront and partial views of the Caribbean Sea. Its proximity to world-famous attractions ensures guests are never far from the best Jamaica has to offer. The location is a reimagined version of the erstwhile Sunset Jamaica Grande, enhancing the heritage with modern luxe. However, potential travelers should note that transport might take approximately 90 minutes from Montego Bay. Alternatively, a shorter route from Kingston is available via the new toll road.
Find the best deal, compare prices, and read what other travelers have to say at Tripadvisor
Accommodation: 5/5

Offering over 700 luxurious accommodations, guests are treated to 24-hour room service, complimentary WiFi, CHI-branded amenities, and free calls to the Continental US and Canada. Following its transformation from the Jamaica Grande, all rooms have been updated, ensuring guests experience unparalleled comfort and modern luxury.
Amenities: 5/5
Moon Palace is renowned for its extravagant all-inclusive amenities. From unlimited gourmet dining, top-shelf drinks, to the FlowRider® Double Wave Simulator and the Playroom for kids, there's no shortage of activities. The resort also boasts the Awe Spa, Jamaica's largest, offering treatments like the unique Wood Therapy modeling massage. This vast array of amenities caters to both families and couples, ensuring there's something for every type of traveler.
Service: 
The resort's offering of 24-hour room service and complimentary benefits hint at a commitment to premium guest experience. This is backed up through guest experince. 
Value for Money: 4.5/5
With the current offers, including up to 50% savings, a 500 USD resort credit, complimentary stays for kids and teens, and included round-trip airport transfers, guests are receiving significant value. The extensive amenities and luxurious accommodations certainly justify the pricing, making it a worthy consideration for travelers seeking an all-inclusive experience.
Recommendation:
Moon Palace Jamaica Grande is an excellent choice for both families and couples. Families will appreciate the dedicated kids' areas and activities, while couples can indulge in the spa, gourmet dining experiences, and world-class entertainment. Those who appreciate a mix of cultural heritage and modern luxury will find the resort's history as the former Jamaica Grande an added allure.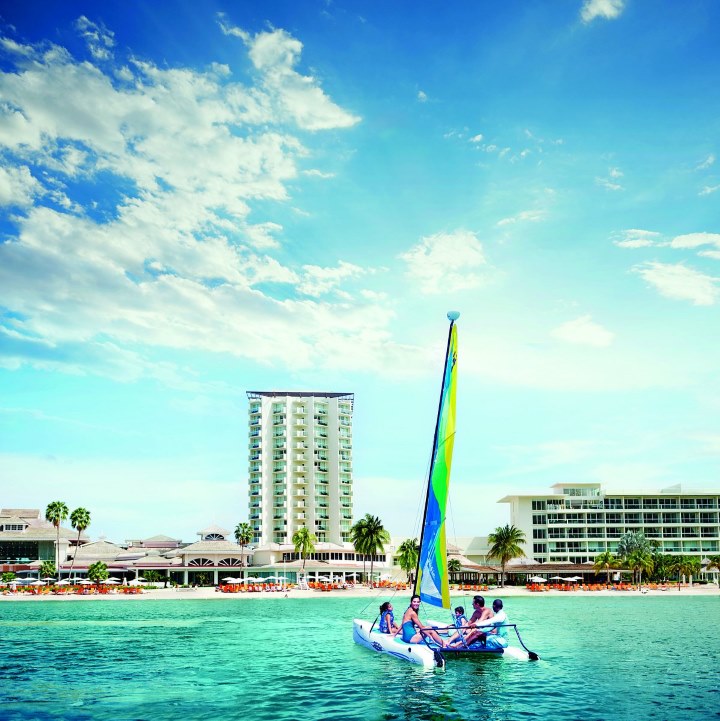 (moonpalace.com)
This isn't the garish grandeur of many high-end resorts, but a sophisticated luxury that permeates every detail. The meticulously designed rooms echo this sentiment, each offering a sanctuary of opulence that resonates with discerning travelers.
Pros Cons Features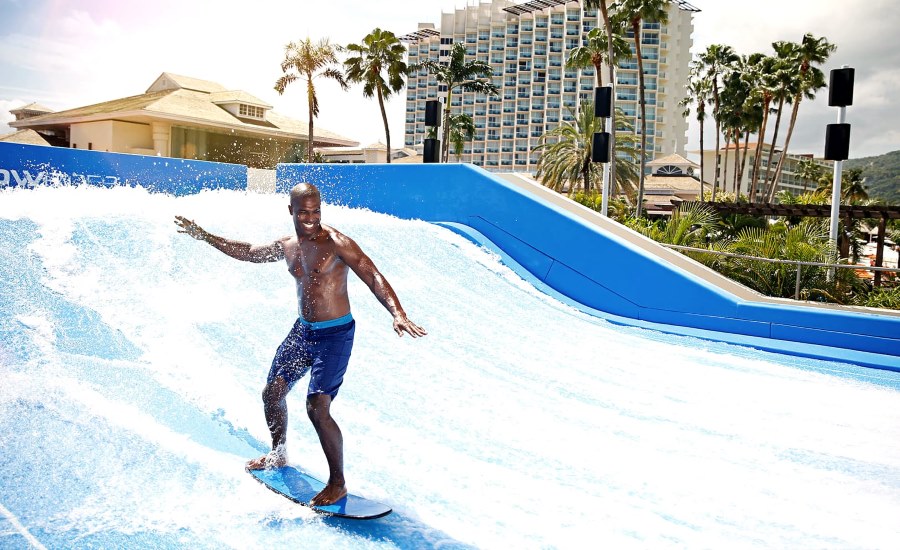 Flowrider (moonpalace.com)
Features:
FlowRider® Double Wave Simulator for adventurous guests.
Dedicated kids' Playroom and a specific lounge for teens.
Unique treatments at Awe Spa, such as the Wood Therapy modeling massage.
Proximity to world-famous attractions in Jamaica.
An array of dining options, from French haute cuisine to global steakhouse offerings.
24-hour room service, complimentary WiFi, and CHI-branded amenities in rooms.
Gastronomic Delights:Unlimited gourmet dining and snacks.A journey through world cuisines:Experience French haute cuisine at Le Château.
Diverse global offerings at the resort's steakhouses.
Handcrafted, premium cocktails at multiple bars across the resort.
Entertainment & Activities:
A FlowRider® Double Wave Simulator for thrill-seekers.A dedicated Playroom for children and a specialized lounge for teens.World-class evening entertainment and nightlife.Proximity to downtown Ochos Rios for local exploration.
.Savings & Offers Current promotions at time of writingand which are available from time to time include:Up to 50% off with the Flight & Fun Fall Package. 500 USD Resort Credit. Complimentary stay perks for kids and teens .Free round-trip airport transfers.N
Environmental & Economic Impact:Resort value stands at a significant US$200 million.Commitment to sustainable practices, evident in initiatives like on-site water desalination.
Pros:
Prime location in Ocho Rios with oceanfront views.
Over 700 luxurious accommodations with modern amenities.
Comprehensive all-inclusive offerings, including gourmet dining and top-shelf drinks.
Home to Jamaica's largest spa, Awe Spa.
Wide range of amenities catering to both families and couples.
Significant current promotions offering great value.
Cons:
Approximately 90-minute transport time from Montego Bay.
Potential for overcrowding given the size and scale of the resort.
A blend of heritage and luxe might not cater to purists from either spectrum.
Bar at Moon Palace (moonpalace.com)
Dining at Moon Palace: An Epicurean Odyssey
(moonpalace.com)
Embark on a Gastronomic Voyage
At Moon Palace, every dining experience is akin to a well-composed ballad, with each meal presenting a new verse. The day begins with the gentle rhythm of breakfast, setting the tone. As mid-morning emerges, snacks punctuate the day like delightful choruses. By the time lunch rolls around, you're deep into the groove, and as the evening sets, dinner rises to a climactic finale.
Taste Tales from Distant Shores
At M AGRA, allow the symphony of spices to whisk you away to the vibrant streets of India. Over at MOMO, witness the Far East's culinary magic, as flavors fuse with flair. For an amorous European rendezvous, LA TRATTORIA waits with Italian dishes crafted from tales of old Verona.
And there's the enchanting RIVIERA MAYA. A culinary homage to the Yucatan Peninsula, it invites you to bite into stories from Mexico's gastronomic annals.
A Culinary World to Discover
From hearty steaks and ocean-fresh seafood to the zest and zeal of traditional Mexican gastronomy, Moon Palace serves up a world on a plate. The intrepid can also venture into a tapestry of pan-Asian, Italian, and global flavors.
If your taste buds yearn for more, the gourmet offerings at Moon Palace Cancun await, presenting 16 additional chapters in your epicurean saga.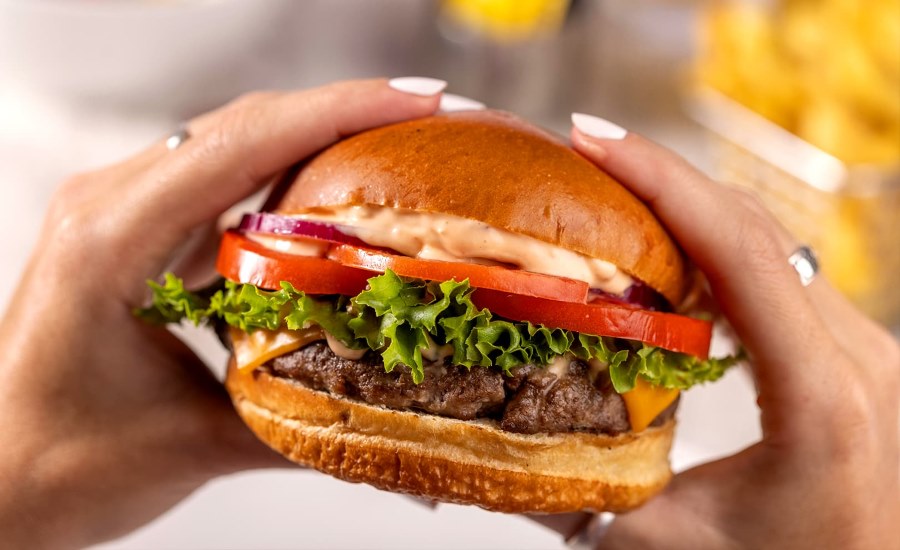 Burger at Moon Palace Jamaica (moonpalace.com)
Between Moments, Relish Delights
In the interludes between your grand feasts, find solace in small treats: The Spanish nuances of TAPAS Y VINO, the authentic essence of LOS TACOS, or perhaps the relaxed vibe of the BEACH CLUB. And for those moments of indulgence, anytime, day or night, the 24-HOUR ROOM SERVICE promises to deliver.
And then, the crowning jewel: THE GRAND JOURNEY($). An immersive six-course spectacle that takes fine dining into uncharted territories.
Nourishing the Future Gourmands
Who says gourmet is just for grown-ups? Our BABY PUREE MENU ensures our littlest guests dine in style. Made with pure, fresh ingredients, each serving is a promise of nutrition and love.
At Moon Palace, dining isn't just about food. It's a journey, a story, an adventure on a plate. Join us, and let the culinary tales unfold.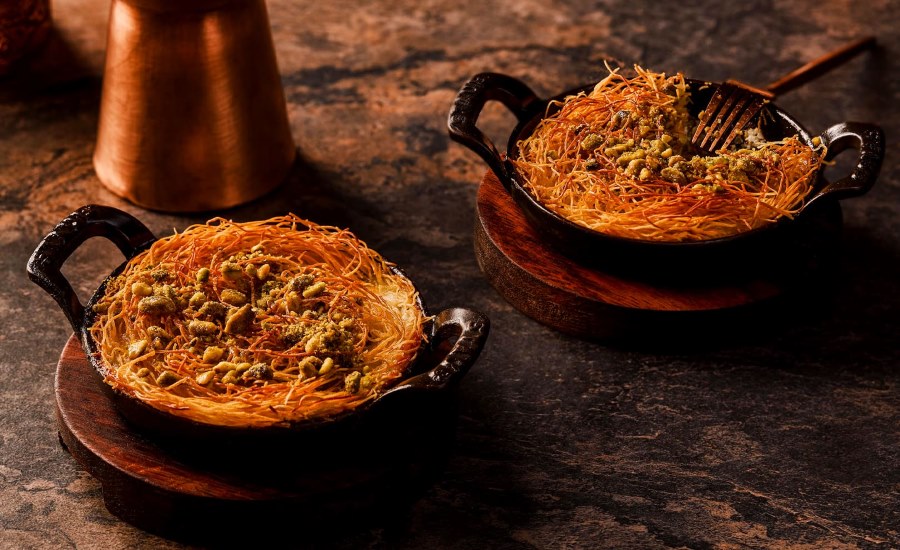 (moonpalace.com)
7 Day Review
A Contrasting Arrival
Leaving behind the structured grid of New York City, Ocho Rios greeted me with its unexpected nooks and bends. My cab driver, Lionel, took me through Fern Gully, a winding road enveloped in a tunnel of lush green ferns – a result of an earthquake in the late 1800s that rerouted the river.
Moon Palace's Own Fabric
Every morning, as the sun painted the sky in hues of amber and gold, I'd take a solitary walk along the pristine beaches. One day, Dwayne, the resort's head concierge and a lifelong Ocho Rios resident, joined me. He shared whispered tales of the land - stories of love, of festivals, of the rhythms that made Jamaica pulse. By the water's edge, where the waves softly kissed the sands, he pointed out a spot where he once found a message in a bottle. Moon Palace, he mused, was much like that mysterious bottle: full of stories waiting to be discovered.
Dining at the resort was an epicurean journey through the heart of Jamaica. I indulged in rich, aromatic Blue Mountain coffee paired with traditional ackee and saltfish. And, when evening descended, I'd often find myself at the steakhouse, a place where global culinary crafts met local flair.
It's worth noting the singular experience at the Awe Spa. One afternoon there felt like an eternity of bliss. Immersed in an all-natural wood therapy session, I was cradled by crafted wooden tools designed to rejuvenate and relax. It was therapy, luxury, and a deep dive into Jamaican spa traditions all at once.
Moon Palace is undoubtedly luxury redefined. Yet, it's not just for those seeking indulgence. It's for those yearning to truly understand the heartbeat of Ocho Rios. However, if you're someone who craves the unabashed party vibes of the Caribbean, consider exploring the livelier Montego Bay options.
Upon arrival, I was struck by how seamlessly Moon Palace blends with Ocho Rios' terrain. The architecture is informed by the island's own topography: think rooms with expansive terraces facing the coves of the Caribbean, not just a uniform beachfront.

Day 2: The Taste of Jamaica's Spanish Legacy
Breakfast had an unexpected discovery. I bit into the subtly sweet 'escoveitch' fish – reminiscent of the Spanish escabeche, hinting at Jamaica's colonial past. The resort's chef, Marva, was keen on preserving these ancestral recipes, with a touch of contemporary flair.
Historical Meanderings
While the resort boasted its modern luxuries, Ocho Rios town, a brief shuttle ride away, told a different story. Ruins of Spanish settlements, the legacies of plantations, and plaques marking visits by figures like Sir Winston Churchill.
Day 4: Reimagining Local Crafts
At the resort's craft center, traditional Jamaican artworks got a twist. Shelia, a local artist, was teaching guests to make 'lignum vitae' wood carvings. The wood, native to Jamaica, is also the national flower, symbolizing the country's resilience.
Exploring a Working Fishermen's Village
A trip to Oracabessa, a few miles east, revealed a working fishermen's village. Watching fishers mend their nets and negotiate their catch's price with local restaurateurs was enlightening. It was a scene untouched by the commercial lens.
Day 6: Moon Palace's Environmental Footprint
I discovered the resort's sustainable side. They had an on-site desalination plant, converting seawater into fresh water for guests, while also supporting local reforestation projects. Their commitment was not just to luxury but to Ocho Rios' ecological well-being.
Before the Farewell
On my final evening, a group of elders performed at the resort's amphitheater, sharing tales from the Taino, Jamaica's indigenous people. It was a poignant reminder of the land's history, far preceding any resort or visitor.
Sarah
One evening, as the sun painted the sky with hues of amber and magenta, I found myself in the company of a local couple, Lila and Donovan. Their intertwined fingers mirrored the entwined tales they shared about growing up in Ocho Rios. They spoke of secret lagoons and the symphonies of late-night reggae that serenaded moonlit dances.
"You must try our Blue Mountain Coffee," Lila insisted one morning. And as I sipped on the aromatic brew, the rich flavors told tales of misty peaks and dedicated farmers. Donovan, with a mischievous glint in his eyes, regaled us with stories of his daredevil cliff-diving adventures.
Moon Palace, with its fusion of sophisticated luxury and rustic authenticity, is perfect for those who seek both comfort and adventure. Its lavish rooms offer panoramic views of the Caribbean, but it's the resort's soul that truly stands out. Here, the vibrant culture of Jamaica doesn't just greet you; it envelops you.
For a traveler like me, hungry for authentic experiences, this resort was a treasure trove. However, if you're seeking an isolated, ultra-modern bubble, perhaps a retreat in the Maldives would be more your speed.
On my last night, as I lay in my suite, the distant rhythms of a steel drum band lullabying me, I realized that Moon Palace Jamaica Grande was not just a resort; it was a narrative, woven with tales of love, laughter, and longing.
With a heavy heart, I bid adieu to Jerome, promising to return. As the plane took off, I glimpsed the shimmering expanse of the resort, a gem in the heart of Ocho Rios, forever etched in my memories.
Would Moon Palace resonate with everyone? Its amalgamation of luxury with the raw essence of Jamaica might not be for those seeking a serene, meditative retreat. But for souls like mine, hungry for stories, flavors, and rhythms, it was a treasure trove. If seclusion calls you, perhaps the tranquil shores of the Maldives await. But for now, as my flight took to the skies, Ocho Rios below seemed to wink, promising more tales on my next sojourn.
Share Your All-Inclusive Adventures and Questions! 🌴 Have a memorable experience from a luxury all-inclusive vacation? We'd love to hear it at Luxury Resort Bliss. We're on the lookout for top-quality, insightful tales that'll inspire our community. Dive in and be a part of our sun-soaked stories! 🌊🍹✨
The story is a fictionalized account founded on travel expertise, research, and experience. Always refer to recent guest reviews and perform due diligence before booking.
💼 We cherish our independence! ✈️ Our travel recommendations are carefully researched, bias-free, and powered by human expertise by April and Ricky of LRB (we have personally researched and travelled to many of these destinations and researched others thoroughly through first-hand accounts). We also have put in the hard miles, and Ricky has worked for decades for resort and hotel chains  Hyatt, Hilton, Shangri-La and Radisson before starting Luxury Resort Bliss in 2007. 🌍✨ Unlike some other resort review websites we are concerned on the guest experience rather than mere corporate interest.