Resorts on the Gold Coast
Looking for great resorts on the Gold Coast in Queensland, Australia? With more than 50 km of beaches and enough theme parks and attractions to keep you entertained for months it's not any surprise that the Gold Coast is Australia's most popular holiday destination. 
Sure the Gold Coast has a reputation for over-development, but you can't fault the warm weather, glorious beaches and intriguing rainforest mountain backdrop.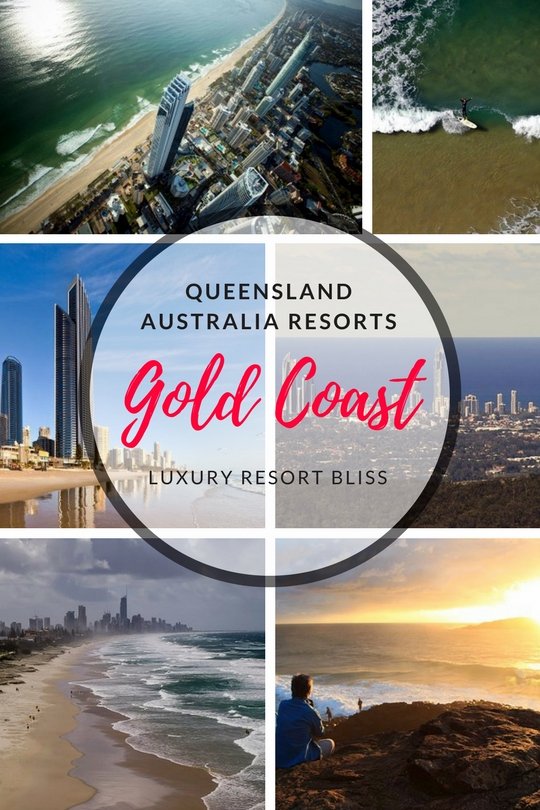 Gold Coast, Australia Resorts
Here we will list the top Gold Coast resorts, apartments, lodges, or retreats and help you plan you Gold Coast holiday.

---
Getting To Resorts on the Gold Coast
Flights arrive on the Gold Coast Airport (located at the southern end of the coast) from around Australia as well as internationally. You could also fly into Brisbane airport and catch a airport bus or train to Narang from there.
There are more than 20 trips made each day by coach and you don't need to book, but simply rock up to the Coachtrans outlet at the airport.  This will usually set you back about $30 per adult and take about 90 minutes.
Gold Coast travel is sometimes a little daunting with all the options that are available to you. Although the theme parks are not at the same standard as Florida as a holiday destination the Gold Coast leaves Florida in the dust and there is an endless list of things to do. 
VIDEO: Gold Coast Vacation Travel Guide
---
Related Deals:
Find special offers and more reviews on the Top 25 Gold Coast Resorts on TripAdvisor including 20% off and resort credits.
Special Hotel Deals in Gold Coast, Australia
Last Minute Hotel Deals in Gold Coast, Australia
---
Top Surfers Paradise Resorts
VIDEO:  Surfers Paradise Holiday Travel Video Guide, Gold Coast, Australia
Surfers Paradise is as good a place as any to begin our search for the great Gold Coast resort. The Towers that house the great views, nightlife and shopping give way to golden beaches.
Top 25 Surfers Paradise Resort Deals with Reviews TripAdvisor
Surfers Paradise, Queensland Hotel Deals Finder on Hotels.com

---
Peppers Soul Surfers Paradise
Peppers Soul Surfers Paradise is unlike some of the other spectacular high rise complexes actually gets big ratings in terms of satisfaction recommendations from guests.
Standing on the beach at Surfers Paradise this resort looks as modern and shiny as they come, and a step above the other resorts nearby. Entering the resort the treat continues right down to the attentive service.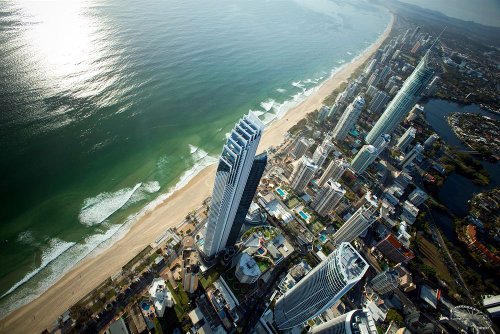 Resorts on the Gold Coast
Standing at an impressive 77 levels above the shoreline your luxury 1, 2 or 3 bedroom apartment is sure to provide good views and beach access.
They really are large enough for a family holiday and some of the Penthouses have full kitchens.
Downstairs find a spa, gym, pools and the award winning Seaduction Restaurant and Bar.
Facilities are geared to help out families and couples alike with full kitchens, a great spa, gym, swimming podium and a two-hatted restaurant on site. (Hats are Australia's answer to Michelin stars). 

Click here for more information on Peppers Soul Surfers Paradise, Surfers Paradise

---
Q1 Gold Coast Holiday Resort
Right in the heart of Surfers Paradise is the 500 room Q1 Gold Coast Holiday Resort.
The apartments here have modern clean lines and make the most of the spectacular views but are independently owned and are variable in style and quality. Around the complex enjoy a 360 degree observation platform, international restaurants, pools, hot tubs and the spa.

Q1 Gold Coast
When Q1 opened as the tallest building in Queensland not long ago, not many expected they would have the opportunity to stay there.
 In our books, this impressive looking building, is yet to fully deliver it's potential.


Q1, Resorts on the Gold Coast
Q1 Resort & Spa offers different sized apartments. There are great amenities to help you enjoy your vacation with three swimming pools, a serviced spa and a complimentary car park (don't discount this on the Gold Coast).
Click here for more information and the reviews on Q1 Resort.

---
Surfers Paradise Marriott Resort & Spa
Surfers Paradise Marriott Resort & Spa has attempted to make an ideal atmosphere within the resort, which makes sense if you are a bit of a walk from the beach.
They have created their own beach and waterfalls.
You will find a good selection restaurants, attractions and a spa.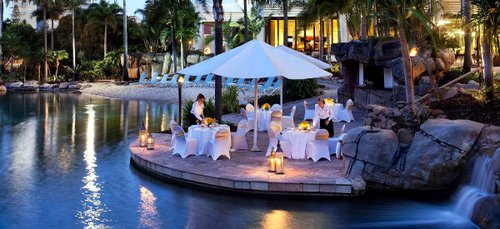 Surfers Paradise Marriott Resort
Marriott Resort has it's own aquarium. And although it is not right on the beach like some of the other resorts it does get good reviews.

Click here for more information and special offers for Surfers Paradise Marriott Resort.

---
Hilton Surfers Paradise
The Hilton at Surfers is only a few minutes walk to the Esplanade and all the action of Cavill Avenue. Although quite a large upscale resort with 420 rooms, attention to detail exists. 
Enjoy the Salt Grill restaurant, poolside bars, a spa, and plenty of facilities.
Click here for more information Hilton Surfers Paradise
---
Gold Coast Family Holidays
Can you imagine that only a few decades ago the Gold Coast was nothing more than a beach haven at the end of a dirt track from Brisbane? Hard to imagine given the amount of development (or over-development) and glitz on the coast today. Opportunities for family fun continue to grow each year.
Gold Coast, Famous For Fun - Official Gold Coast Tourism Video

Sea World Resort
The obvious attraction of staying out at Sea World on the spit at Main Beach is the easy early access into Sea World and the Dolphin Discovery on longer stays. For family vacations where you intend to visit the parks anyway it's a good option to stay at the 400 room resort.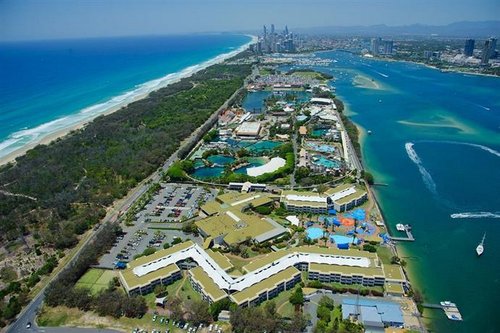 Resorts on the Gold Coast: Sea World
While some of the rooms have kitchenettes and all are modern and comfortable. Around the resort you can catch the Nickelodeon characters. The SpongeBob Water Park has shows and is especially popular. Enjoy the lagoon pool, games rooms, and good restaurants.
Sea World Resort on the Gold Coast special offers and reviews.

---
Gold Coast Family Holiday Resort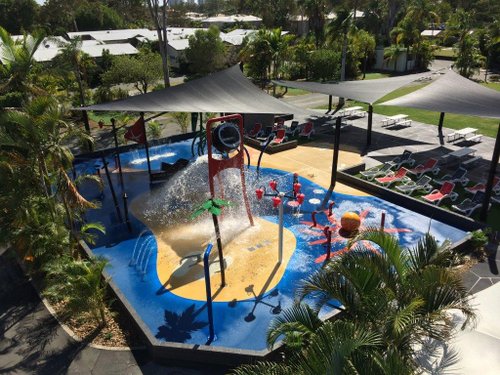 Treasure Island - Resorts on the Gold Coast
This is our top choice for Families on a budget looking for a little luxury on the Gold Coast.

Click here for more on Treasure Island Resort & Holiday Park

---
Palazzo Versace Gold Coast Luxury Resort
This resort is situated along a 30 km coastline and showcases Italian architecture and craftsmanship.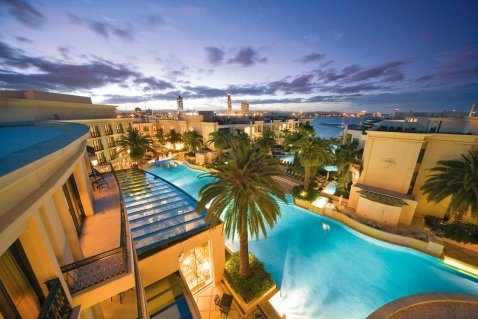 Palazzo Versace
The hotel features fine detailed marbles and mosaics that they say is "pure Versace".

Here you'll find world-class golf and tennis, private yacht cruises, deep-sea fishing, surf schools, 4-wheel drive trekking and outback adventures all within easy reach.
Guestrooms are elegant and comfortable. They have warm timber tones and rich fabric colours. There are many dining options from casual elegant to classic gourmet.

Reviewers generally give this resort a great review. Some say it exceeded their high expectations and they had a great time. Others did not feel the same saying it was overpriced and overrated. The Gold Coast is a glitzy place and if that's not your style, this resort (and area) may not suit you.

Click here for more information on Palazzo Versace.

---
Peppers Broadbeach Gold Coast Holidays
Great choice for families willing to splash out on luxury accommodation on the Gold Coast. The resort offers 5 Star luxury accommodation in Broadbeach in a top beach location.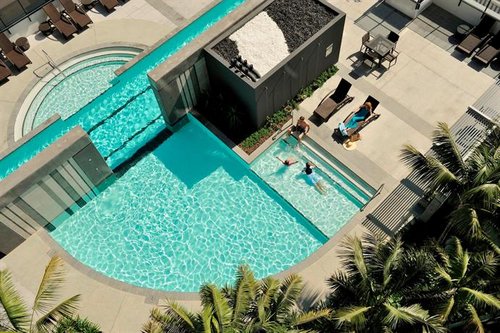 Peppers Broadbeach Gold Coast Holidays
More information and special offers for Peppers Broadbeach, Gold Coast

---
Gold Cost Holiday Rentals
The nature of development on the Gold Coast has meant there are a huge number of holiday home and apartment rentals in prime beachfront locations in Surfers Paradise and along the beaches. Check out the Gold Coast holiday vacation rentals here. 
Marina Mirage Gold Coast
The Mirage is all about the style but it also does occupy a good site on the beach close to Sea World.

More information and special offers for Marina Mirage Gold Coast

More on the Gold Coast
The Gold coast is more than the developed areas and their remains miles of unspoiled beaches.

Top 25 Gold Coast Destinations

Back to Australia Luxury Resorts Page

We help make that job finding the right accommodation for you a little easier. A good place to start with is to check out the weekly special package deals that are available. Here you will find anything from great flight specials to package deals that can make your stay a whole lot easier.

Australia Package Deals Airfares & Specials

Next you may like to compare all the top resorts on the Gold Coast by price or facilities. Use the search functions to control not only price but also what facilities you require. You will find it amazing how many ways their are to search. See Australia Packages.

Transparency Disclosure: We are an independent professional review site and we receive compensation from affiliate links to only the highest quality resorts, properties and destinations. See More