All Inclusive Resorts on the Gold Coast
Looking for great all-inclusive resorts on the Gold Coast in Queensland, Australia?
The Gold Coast is one of the most popular destinations in Australia, but it can be difficult to find the best all-inclusive or beach resort in this area.
Finding the perfect beach resort is no easy task, especially when there are so many options but are all-inclusive resorts legit?
Let's compare the best Gold Coast Beach resorts to the all-inclusive resorts!
Awards: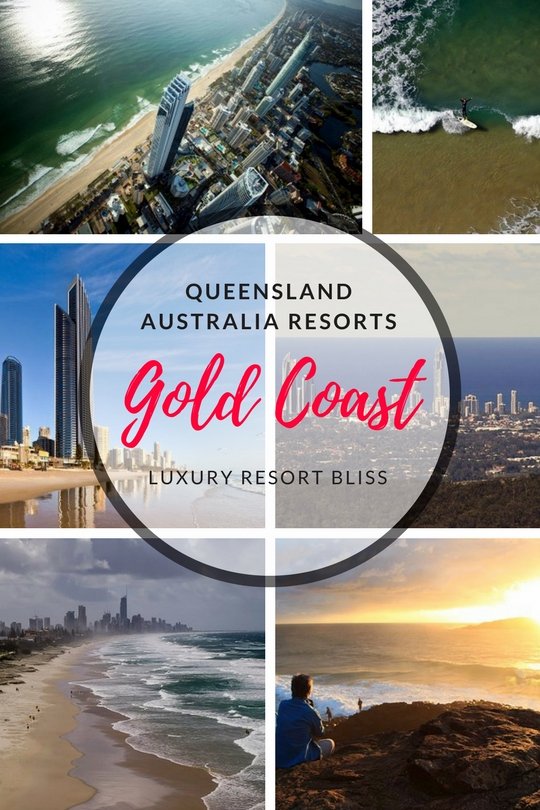 Gold Coast, Australia Resorts
The Gold Coast is a beautiful city with a lot to offer. It's the perfect destination for tourists and locals alike. 
---
Getting To Resorts on the Gold Coast
Flights arrive on the Gold Coast Airport (located at the southern end of the coast) from around Australia as well as internationally. You could also fly into Brisbane airport and catch a airport bus or train to Narang from there.
There are more than 20 trips made each day by coach and you don't need to book, but simply rock up to the Coachtrans outlet at the airport.  This will usually set you back about $30 per adult and take about 90 minutes.
Gold Coast travel is sometimes a little daunting with all the options that are available to you. Although the theme parks are not at the same standard as Florida as a holiday destination the Gold Coast leaves Florida in the dust and there is an endless list of things to do. 
VIDEO: Gold Coast Vacation Travel Guide
---
Related Deals:
Find special offers and more reviews on the Top 25 Gold Coast Resorts on TripAdvisor including 20% off and resort credits.
Special Hotel Deals in Gold Coast, Australia
Last Minute Hotel Deals in Gold Coast, Australia
---
Top Surfers Paradise Resorts
VIDEO:  Surfers Paradise Holiday Travel Video Guide, Gold Coast, Australia
Surfers Paradise is as good a place as any to begin our search for the great Gold Coast resort. The Towers that house the great views, nightlife and shopping give way to golden beaches.
Top 25 Surfers Paradise Resort Deals with Reviews TripAdvisor
Surfers Paradise, Queensland Hotel Deals Finder on Hotels.com

---
Peppers Soul Surfers Paradise
Award: Best High-rise Resort on the Gold Coast
Peppers Soul Surfers Paradise is unlike some of the other spectacular high rise complexes actually gets big ratings in terms of satisfaction recommendations from guests.
Standing on the beach at Surfers Paradise this resort looks as modern and shiny as they come, and a step above the other resorts nearby. Entering the resort the treat continues right down to the attentive service.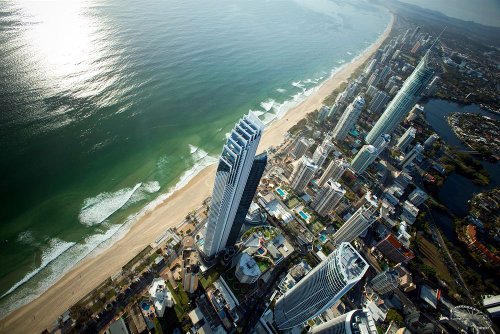 Resorts on the Gold Coast
Standing at an impressive 77 levels above the shoreline your luxury 1, 2 or 3 bedroom apartment is sure to provide good views and beach access.
They really are large enough for a family holiday and some of the Penthouses have full kitchens.
Downstairs find a spa, gym, pools and the award winning Seaduction Restaurant and Bar.
Facilities are geared to help out families and couples alike with full kitchens, a great spa, gym, swimming podium and a two-hatted restaurant on site. (Hats are Australia's answer to Michelin stars). 

Click here for more information on Peppers Soul Surfers Paradise, Surfers Paradise

---
Q1 Gold Coast Holiday Resort
Right in the heart of Surfers Paradise is the 500 room Q1 Gold Coast Holiday Resort.
The apartments here have modern clean lines and make the most of the spectacular views but are independently owned and are variable in style and quality. Around the complex enjoy a 360 degree observation platform, international restaurants, pools, hot tubs and the spa.

Q1 Gold Coast
When Q1 opened as the tallest building in Queensland not long ago, not many expected they would have the opportunity to stay there.
 In our books, this impressive looking building, is yet to fully deliver it's potential.


Q1, Resorts on the Gold Coast
Q1 Resort & Spa offers different sized apartments. There are great amenities to help you enjoy your vacation with three swimming pools, a serviced spa and a complimentary car park (don't discount this on the Gold Coast).
Click here for more information and the reviews on Q1 Resort.

---
Surfers Paradise Marriott Resort & Spa
Surfers Paradise Marriott Resort & Spa has attempted to make an ideal atmosphere within the resort, which makes sense if you are a bit of a walk from the beach.
They have created their own beach and waterfalls.
You will find a good selection restaurants, attractions and a spa.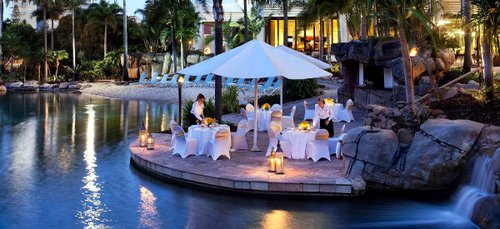 Surfers Paradise Marriott Resort
Marriott Resort has it's own aquarium. And although it is not right on the beach like some of the other resorts it does get good reviews.

Click here for more information and special offers for Surfers Paradise Marriott Resort.

---
Hilton Surfers Paradise
The Hilton at Surfers is only a few minutes walk to the Esplanade and all the action of Cavill Avenue. Although quite a large upscale resort with 420 rooms, attention to detail exists. 
Enjoy the Salt Grill restaurant, poolside bars, a spa, and plenty of facilities.
Click here for more information Hilton Surfers Paradise
---
Gold Coast Family Holidays
Can you imagine that only a few decades ago the Gold Coast was nothing more than a beach haven at the end of a dirt track from Brisbane? Hard to imagine given the amount of development (or over-development) and glitz on the coast today. Opportunities for family fun continue to grow each year.
Gold Coast, Famous For Fun - Official Gold Coast Tourism Video

Family Friendly Gold Coast All Inclusive Resort Alternatives
An all-inclusive resort is a type of resort that offers all-inclusive accommodation, food and drink, and entertainment. In reality the offerings for all-inclusive resorts on the Gold Coast that would satisfy guests familiar with staying at these type of resorts are quite slim. But here a few resorts that do offer a host of activities that get you at least part of the way there. At least the kids will have lots of things to do around these resorts, which means you won't have to leave the resort as often or reach into your pocket to pay.
If you are looking specifically for an all-inclusive resort in Queensland the Whitsunday all Inclusive resorts are a good option. 
Turtle Beach Resort
Turtle Beach Resort: The only resort listed on Tripadvisor as All inclusive
Turtle Beach Resort is an Australian beach resort located on the Gold Coast Highway, Mermaid Beach, in Queensland.
This resort is a perfect getaway for those who want to relax and enjoy the beach as well as for those who want to enjoy a full-service resort experience. The resort features a restaurant and bar, indoor pool and spa, outdoor pool with water slide, free parking, and free WiFi.
Turtle Beach Resort features a restaurant and bar, indoor pool, spa, outdoor pool with water slide, free parking and free WiFi. The resort also has a fitness center."The Gold Coast Bulletin" gives 5 stars to Turtle Beach Resort and calls it "an oasis for the weary traveller in a sea of kids clubs." They say that "Ind oors, the resort really shines.
Video Review: Turtle Beach Resort Mermaid Beach, Accor Vacation Club
Pros: Only official all-inclusive resort on the Gold Coast
Several three-bedroom apartments are available in a three-story walk-up complex.
All apartments have balconies outfitted with outdoor furniture to sit and enjoy views of scenic gardens.
There are four swimming areas that have a mix of pool styles. There is lagon and lap pools, waterslides and spas. Depending on your needs there is one area just for adults or one with a spa
There is a putt-putt course or lay out in the sun by the pool!
The outdoor saunas are great for a break from winter, and the kids area has loads of fun activities for youngsters of all ages.
The park offers 4 water slides, 2 toddler slides and a dumping bucket with 4 water cannons for play.
Cons: All inclusive program is not complete
Treasure Island Resort & Holiday Park
Best Affordable family friendly all-inclusive Gold Coast resort alternative.
Video review by Guest: NRMA Treasure Island Caravan Holiday Park Gold Coast Australia - full tour - plus review!
This family friendly resort is great for camping, cabins or more luxury options. You will always find things to do with three resort pools, tennis, challenge, mini golf, family restaurants, go karts, acres of jumping pillow and kids activities running all year. This is our top option despite that it is about 10 minutes from Surfers Paradise beach. There are also great connections to all the popular attractions from here. Not hard to see why this was named on the top TripAdvisor accommodations for families.

While the Gold Coast might not have affordable all-inclusive resorts which include food, drinks and activities there is lots of family entertainment included here.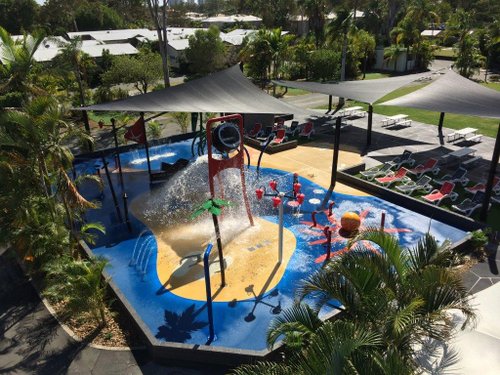 Treasure Island - Resorts on the Gold Coast
This is our top choice for Families on a budget looking for a little luxury on the Gold Coast.

Click here for more on Treasure Island Resort & Holiday Park

---
Paradise Resort Gold Coast
Award: All Inclusive Family Vacation Activities: Paradise Resort Gold Coast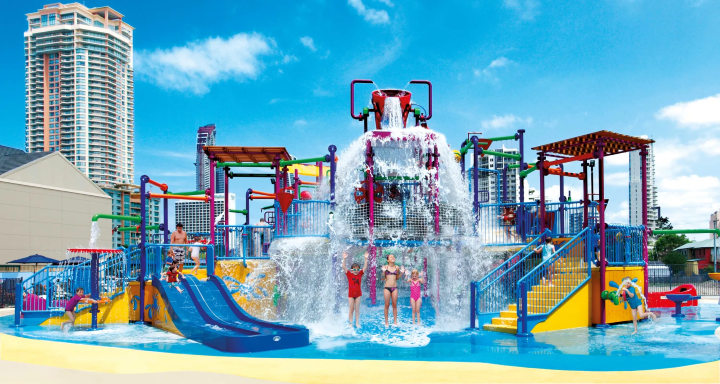 Paradise Resort Gold Coast: All Inclusive Gold Coast Family Resort Alternative
Paradise Resort Gold Coast was voted Australia's Best Resort for Families, and it proved to be an exciting addition to the 2019 Queensland Tourism Awards. It offers lots of interesting activities, with a resort that never sleeps.
The new Pamper Parlour at Paradise Resort offers you and your friends a fully-packed destination spa days! Experience innovative activity sessions, soothing massages, and more. Care to book?
Paradise Resort Gold Coast offers a variety of accommodation options, with the resort's well-appointed suites and villas giving guests unparalleled space for their family. 
Sea World Resort
Award: Best Theme Park Resort on the Gold Coast
The obvious attraction of staying out at Sea World on the spit at Main Beach is the easy early access into Sea World and the Dolphin Discovery on longer stays. For family vacations where you intend to visit the parks anyway it's a good option to stay at the 400 room resort.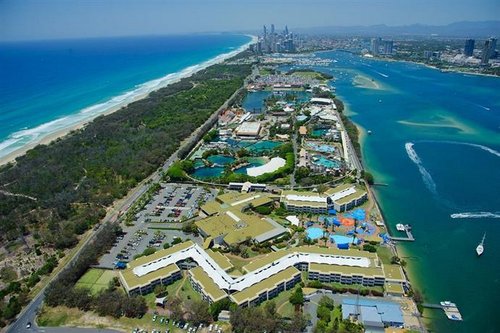 Resorts on the Gold Coast: Sea World
While some of the rooms have kitchenettes and all are modern and comfortable. Around the resort you can catch the Nickelodeon characters. The SpongeBob Water Park has shows and is especially popular. Enjoy the lagoon pool, games rooms, and good restaurants.
Pros: See World has is an all-inclusive resort in regard to entry to the theme park with certain packages which allow early entry. 
Sea World Resort on the Gold Coast special offers and reviews.
---
Palazzo Versace Gold Coast Luxury Resort
This resort is situated along a 30 km coastline and showcases Italian architecture and craftsmanship.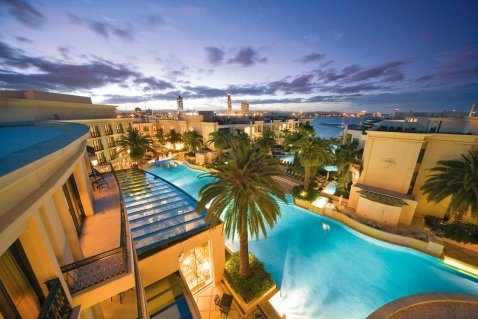 Palazzo Versace
The hotel features fine detailed marbles and mosaics that they say is "pure Versace".

Here you'll find world-class golf and tennis, private yacht cruises, deep-sea fishing, surf schools, 4-wheel drive trekking and outback adventures all within easy reach.
Guestrooms are elegant and comfortable. They have warm timber tones and rich fabric colours. There are many dining options from casual elegant to classic gourmet.

Reviewers generally give this resort a great review. Some say it exceeded their high expectations and they had a great time. Others did not feel the same saying it was overpriced and overrated. The Gold Coast is a glitzy place and if that's not your style, this resort (and area) may not suit you.

Click here for more information on Palazzo Versace.

---
Peppers Broadbeach Gold Coast Holidays
Peppers Broadbeach: Best Broadbeach Resort
Great choice for families willing to splash out on luxury accommodation on the Gold Coast. The resort offers 5 Star luxury accommodation in Broadbeach in a top beach location.  
It consists of two architecturally impressive towers each designed to reflect its beach and surf side surroundings.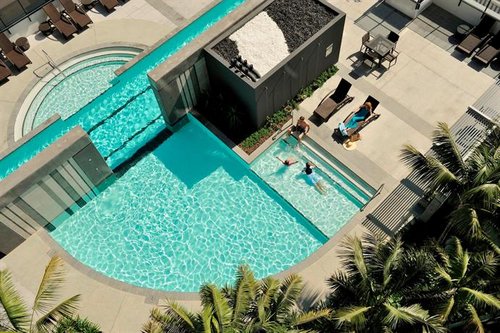 Peppers Broadbeach Gold Coast Holidays
Broadbeach is an amazing place to visit in Australia. It is a popular holiday destination with a lot of attractions, from the Gold Coast's famous theme parks to the Gold Coast's beaches and its bustling nightlife.
The hotel's backyard has a pool, BBQ and gazebo area that overlooks the ocean. A further deck with loungers, chairs and sofas offers guests breathtaking views of the ocean as they relax at their leisure- perfect for an afternoon nap or a romantic dinner with someone special.
The Broadbeach Hotel offers One and Two Bedroom Suites, Three Bedroom Skyhomes and Three Bedroom Sub-Penthouse all featuring generous living spaces, premium European appliances, and exceptional interior design.
Take a dip in the outdoor pool where the Gold Coast weather is always warm and perfect for a leisurely swim. It's also worth checking out if you're looking to get some relief from the heat.
More information and special offers for Peppers Broadbeach, Gold Coast

Sheraton Marina Mirage Gold Coast
The Marina Mirage Gold Coast is a luxury 5-star hotel, located on the Gold Coast. It is all about style and has a wonderful beachfront location close to Sea World. The Mirage is all about the style, but it also does occupy a good site on the beach close to Sea World.
This property is a 1-minute walk from the beach and features a pool bar & direct access to the beach. The luxurious property is located on the beachfront and is 10 minutes away by car from Surfers Paradise.
Experience luxury at the Sheraton's Gold Coast resort, suitable for locals and travelers alike.
We're a resort with convenient access to all the most popular attractions nearby. If you want to explore, share experiences, and discover Gold Coast, this is a great place for you.
After your travels, it's time to relax and enjoy the amenities at our Sheraton Bed. They are proud to offer an effortless stay with internet access, the signature Sheraton Bed, and the most relaxing spa services.
More information and special offers for Marina Mirage Gold Coast

Gold Cost Holiday Rentals
The nature of development on the Gold Coast has meant there are a huge number of holiday home and apartment rentals in prime beachfront locations in Surfers Paradise and along the beaches. Check out the Gold Coast holiday vacation rentals here. 
Gold Coast Theme Parks

Let's start by getting the ever popular and well promoted theme parks dealt with and then move onto some more unusual and intriguing options. Love them or hate them Gold Coast theme parks are sure to make the agenda of most families visiting the Gold Coast at some stage. Many will in fact will center their entire vacation around these attractions which bring obvious comparisons with Orlando Florida. 
While you can get individual and family theme park tickets Multi Day and Multi Pass tickets usually offer the best value for most families. The major parks of Movie World, Sea World, and Wet and Wild in the first major alliance.  You can usually get an adult 3 days consecutive visiting to each of these parks for about $90.  Dreamworld combines tickets with White Water world. If you are on the gold Coast a little longer you may also like to check out offers like the 30 day open passes which offer greater savings further.
There are also more than 20 other theme park and amusement activities on the Gold Coast some of which sometimes are included on multi pass tickets.
The Rockpools
These water fueled kids playgrounds are on the Southport Broadwater and offer a number of pools and squirting pop jets for children to play in. The pools simulate a coastal creek with in and out flows.  The opening hours can change from the following:
7am to 7pm from December to January
February - April: 8am - 6pm.
May - November: 9am to 5pm
Closed Tuesday morning for maintenance.
The Southport Broadwater is also home to a jumping castle, barbecues, strolling, and swimming, and midday sports on the Great Lawn.
Gold Coast Family Friendly Activities
One of the reasons the Gold Coast is limited with all-inclusive resorts is that there are such a lot of activities to do. After looking at the resorts available you may well do better to do what the locals do and get out and explore Australia's beach holiday playground and construct your own fun filled adventure. Create your own an all-inclusive itinerary or alternatively visit one of the Australian All inclusive Resorts which do include food drinks and activities. 
Currumbin Wildlife Sanctuary

Apart from providing a great day out for the family, Currumbin Wildlife Sanctuary is a not for profit organisation which filters it's profits back into the environment and animal welfare. The 27 hectares of natural bushland and rainforest offers great displays including a bird show, a high ropes course for a little extra koalas. Segway safaris are an interesting alternative for exploring the park.
Gold Coast Family Accommodation

Main Beach Beachfront Tourist Park

If you would like a family tourist park to stay at close to the beach than try the Main Beach park. Surrounded by high rise buildings it's hard to believe you could find a quality camping place right by the main strip. 
More on the Gold Coast
People often ask, what is the best Gold Coast beach for a family vacation. This is a little difficult to answer because some families prefer a quiet pool of water for their toddler to play near 
Currumbin  or Southport Broadwater, others will like good walking trails and parks of Burleigh Heads. Others prefer to get close to the action central at Surfers Paradise and Broadbeach with good access to the theme parks and high octane environment. I also think Main Beach a little north or Surfers and close to Sea World on the spit offers a little of the best of both worlds and has good family accommodation options. 
This video playlist below provides guidance on some of the best options. Included is an aboriginal perspective of Burleigh taking in some of the traditional natural features and their traditional perspective. Jellurgal Aboriginal Cultural Centre is a great way to go beyond the surface and really get to know and interact with the local beach environment.
Currumbin Rock Pool 
One of the highlights of any Gold Coast vacation for us is to experience the hinterland. Natural Arch and the Glow worms, fantastic views over looking the coast and cooler temperatures make for an amazing and easily accessible day trip. If you have even more time then head to Lamington National Park. Really, you will appreciate this amazing part of the world. Here is a video of a little family entertainment at the Currumbin Rock Pool.
The Gold coast is more than the developed areas and their remains miles of unspoiled beaches.

Top 25 Gold Coast Destinations

Back to Australia Luxury Resorts Page

We help make that job finding the right accommodation for you a little easier. A good place to start with is to check out the weekly special package deals that are available. Here you will find anything from great flight specials to package deals that can make your stay a whole lot easier.

Australia Package Deals Airfares & Specials

Next you may like to compare all the top resorts on the Gold Coast by price or facilities. Use the search functions to control not only price but also what facilities you require. You will find it amazing how many ways their are to search. See Australia Packages.

💼 We cherish our independence! ✈️ Our travel recommendations are carefully researched, bias-free, and powered by human expertise by April and Ricky of LRB (we have personally researched and travelled to many of these destinations and researched others thoroughly through first-hand accounts). 🌍✨
We try to keep everything up to date, but please always do your own research and contact us if you know any issues for us to help others as best we can as a small but professionally focused team! 🧐📚⚠️