Samal Island Resorts
Looking for reviews of the top Samal Island Resorts? We cover all the top resorts on this Philippines tropical paradise, located within a couple of hours of Manilla.

---
Coral fringed with a spectacularly tropical mountain backdrop, Samal Island is quickly becoming the new buzz resort destination in this part of Asia and is now one of the top resort destinations in the Philippines. Samal Island is really the beachside resort of Davao City accessible by a 10 minute ferry ride from the well frequented airport ther. See "How to Get to Samal". While Boracay to the north is getting continually busier, Samal has maintained traces of it's country charm where visitors are ferried around to motorcycle taxis to their resorts and cottage houses. 

---
The larger resorts are around the western side of the island closer to Davao City. While there are a few international level resorts the vast majority of resorts offer extremely affordable holidays, mostly on lush tropical settings by the beach. Backpackers mingle with the rich, and the contrast in the standard of resorts is as extreme as you will find in any location. We will cover options at different price points. 
Also see the Boracay Beach Resorts.

---
Pearl Farm Beach Resort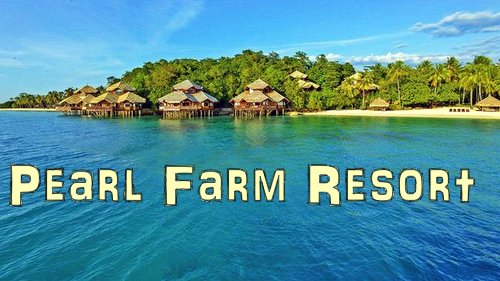 Pearl Farm Samal Beach Resort
At the luxurious end of the Samal Island resorts market is the splendid Pearl Farm Beach Resort. This is an international standard, quality, five star resort, which is run to an excellent standard, by anyone's reckoning. The outstanding reviews across review sites, and numerous awards given by the philippines tourism authorities (including resort of the year *2) reflects this. Before the resort was here there was a Pearl farm which simply adds to the allure of what is already a stunningly pretty natural location, with clear waters and especially white sands, leading into a tropical wonderland.

The resort's sandy beach setting lined by coconut palms, embraces the best of what Samal Island is all about - Paradise. Truly 5-star accommodation and amenities blend into the Eden like landscape with infinity pools, outdoor tennis courts and private beaches never too far away. Coffee bars, lounge bars, the international restaurant, and the beauty centre all fit in seamlessly into the tropical garden setting.

If you are into scuba or windsurfing you will love this place even more. 
The 70 well appointed rooms which are in the form of villas, cottages and luxurious suites are built along the crests of the beaches, and offer the maximum exposure to the quiet beaches and paths which wind around, and outstanding views to the blue oceans beyond.  
While this resort is clearly a step up from the other resorts on the island, it will need to work hard to keep up it's great reputation as it starts to age.
On the bright side guests that really love the resort are often blown away by the quality of the food and service. 
---
Hof Gorei Beach Resort
Hof Gorei Samal Beach Resort is located to the South of Pearl Farm Beach Resort in a quieter part of the western side of Samal Island. This part of the island is offers splendidly attractive coral beaches and magnificent tropical gardens. If you want to get up close and personal to a tropical paradise than this is the location for you. The traditional bamboo and cogon grass used in the construction compliment the setting well, and the modern, well appointed Bungalows are well rated by guests.

While only this Samal beach resort is only officially three stars the quality of service and facilities suggest a higher standard. This is definitely one of the better Samal Island Resorts resort which boasts a quality  "Butler Service", which we found neither to in your face or absent - but completely personalized to guests particular needs. 

Then there is the lovely private beach and a swimming pools, traditional style accommodations with modern amenities. Rooms with your own spa bath, kitchenettes, mini bars, and mod cons, quality and tasty meals,  drinks in the lounge bar are some of the features.
---
Chema's By The Sea Resort
Another quality three star Samal Island Resort on a private beach is is Chema's By The Sea. It is conveniently located further up the western side of the island closer to where the ferries land. This location makes it within easy reach of Davao International Airport.

The modern rooms come equipped with a refrigerator Cable TV, DVD players and the like. These are styled with a myriad of nearby and international cultural influences. Somehow Balinese, Filipino and Spanish styles seem to come together to create an attractive decor. 

Around the resort you will find a sprinkling or facilities including  a restaurant with all day seating, and a lounge bar, All-day Dining Restaurant, Al-Fresco, Infinity Pool, and water sports.
---
How to Get to Samal
To get to Samal Island catch a domestic or international flight to Davao City. Domestically there are a handful of airlines which fly direct from Manila and there are scores of flights each day. There are a few good options from other areas as well with Cebu Pacific Airlines and SilkAir from Singapore making regular flights. 
Once you arrive in  Davao City, its simply a case of taking a motorboat from downtown Magsaysay Park direct to Kaputian or Talikud. From there it's on to Babak Wharf. Alternatively you can catch a ferry bus. You can always check with the hotel on the best ways to get to their resort and some will offer a transfer service.
This video shows the journey to Samal Island from the ferry terminal in Davao City (Philippines).
💼 We cherish our independence! ✈️ Our travel recommendations are carefully researched, bias-free, and powered by human expertise by April and Ricky of LRB (we have personally researched and travelled to many of these destinations and researched others thoroughly through first-hand accounts). 🌍✨
We try to keep everything up to date, but please always do your own research and contact us if you know any issues for us to help others as best we can as a small but professionally focused team! 🧐📚⚠️