The best St Maarten all inclusive resorts
St Maarten all-inclusive resort
These are our awards for the best St Martin/ St Maarten All-Inclusive Resort options in each category from our first-hand research. Each resort obviously merits its place in this list given that there are only five genuine all-inclusive resorts!
St Maarten continues to be an overlooked Caribbean vacation destination. While this island remains tiny, it packs a serious holiday heavy-weight punch. St Maarten is a slice of the Caribbean oasis with white-sand beaches and culture wrapped around every corner. Check out:
Complete with fine dining, creativity, and historic architecture, you'll find endless ways to pass the time. Escape to secluded beaches or hike paths to stunning lookouts for a dip in the ocean. The time is now to book your St Maarten all-inclusive resort experience.

travel to st maarten
St Maarten Award: The Friendliest Caribbean Island
St. Maarten is equally split between France and the Netherlands which is perhaps what makes it such a friendly island. Each side has been given a nickname for clarity and to feel like locals; guests can adopt the following. The French half is Saint Martin, while the Dutch nationality prefers to say Sint Maarten. While this tiny island is only 37 square miles, it is one of the smallest landmasses to be shared harmoniously by two sovereign states.
While the two residents of the island are comfortable with the dual nationality, they encourage a friendly sibling rivalry. Regardless of where you stay on the island, you will hear that is the "best part" of the island. The pressure and standards remain high. Try to keep your jaw off the ground with these picturesque beaches and culinary experiences that will blow you out of the northeastern Caribbean Sea.
Video Review: Why St. Maarten & St. Martin are must visit 2022 destinations | 2 Countries share 1 island!!
Best St. Maarten All Inclusive Resorts
Be prepared to be blown away by the unique beauty of these St. Maarten all-inclusive resorts. 
St Martin / St Maarten lists 9 All Inclusive out of a total of 200 places to stay and scores well on the all-inclusive scale 7 out of 10. All-inclusive resorts start out at about $150 per night which is about 30% more than other resorts but are arguably worth the spend. 
Find the best deal, compare prices, and read what other travelers have to say at Tripadvisor
Adults-Only St Maarten all-inclusive resort
There are few Adults only all-inclusive resorts in St Maarten making this a fairly easy choice. 
Adults-Only St Maarten All-Inclusive Resort
Best Adult Only All Inclusive Resort Award: Sonesta Ocean Point Resort
This Adults-Only St Maarten all-inclusive resort is located in the Dutch district, easily accessible from the airport. For mature St Maarten visitors, privacy is an exclusive privilege, and the resort has been tailored to fulfilling all exotic all-inclusive resort vacation dreams.
Slip into relaxation and sleep on the island's prestigious comfort. With no detail spared, guests will feel rejuvenated and exhilarated during their entire stay. The Sonesta Ocean Point all-inclusive resort features three pools, four bars for refreshing and diverse cocktails, and three restaurants to feed every single one of your cravings. The Sonesta Ocean Point Resort is internationally recognized for its signature Azul restaurant with Mediterranean cuisine on top of its 24-hour room service.
There is only one all-inclusive adult only resort in St Maertin then this was an easy decision
Check out our adults only all-inclusive resorts review if you would like to see a wider range of these offerings.  
Guest Video Review: Sonesta Ocean Point Resort Tour 2020 | Adults Only Resort St. Maarten
St Maarten Family All Inclusive Resort
Best St Maarten Family All Inclusive Resort Award: Maho Beach Resort, Casino & Spa

Wholesome Fun-For-All-Ages
Resort Introduction
The sibling in the Sonesta resort family, Sonesta Maho Beach Resort, Casino, and Spa, is open to bookings of families of all groups and sizes. With 130 rooms to keep guests comfortable during their stay, each staff member goes above and beyond with hospitality. Try a day packed with activities, including feeling lucky at the on-site emporium Casino Royale or tailored wellness packages; once you step foot onto a Sonesta property - you'll never view all-inclusive resorts the same.
Guests can access the infamous Casino Royale, Maho Bay and Beach, Mullet Bay Golf Course, and Topper's Rhum Distillery five miles from the all-inclusive resort property. Visit the concierge to book guided tours and let your tastebuds tingle with the freshest rhum and local cuisine offerings.
Like to see a full range of all-inclusive family resorts? 
Video Review by Guest: Sonesta Maho Beach Resort, St. Maarten
Divi Little Bay Beach Resort
Resort Award: Big Energy In A Little Package

Resort Introduction
Another Dutch neighborhood contender, the Divi Little Bay Beach resort, has an all-inclusive package designed for travelers to maximize their Caribbean vacation. A family-friendly resort, booking this property guarantees your vacation can stay within your control. You can book a car at the concierge desk to explore the island from coast to coast or stay at the resort and bask in three pools, a hot tub, and a whirlpool. This property is also parallel to a shopping mall guaranteeing friends and family back home will get cute souvenirs of a memorable vacation.
Schedule your days with your pleasure and rent jet skis, kayaks, or snorkel gear to explore the vast and beautiful underwater world of Little Bay. The all-inclusive resort packages include children under 5 staying for free and poolside food and beverage service.
Video Review by Guest: 4K Walk of Divi Little Bay Beach Resort - St. Maarten (Binaural Sound)
Secrets St. Martin Resort & Spa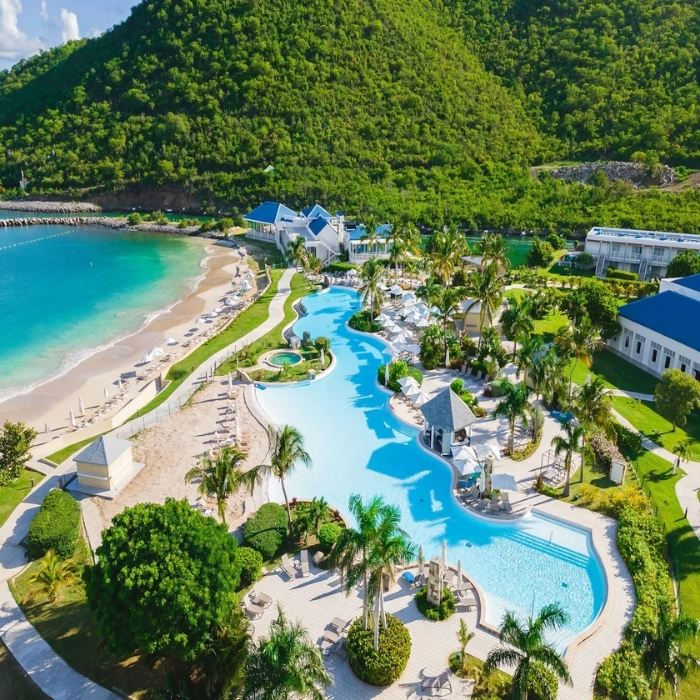 Secrets St. Martin Resort & Spa
Resort Award: A Hyatt Property Seal Of Approval

Resort Introduction
Secrets St Maarten is an all-inclusive resort that is equally luxurious and private. An experience unlike any other for its elite visitors, the entire vacation will take your breath away. Situated on the remote Anse Marcel bay, guests will have unlimited food, beverages, and WiFi during their stay.
The Hyatt guarantee of Unlimited-Luxury® makes this an easy choice for couples or families to book for their next st Maarten all-inclusive resort experience. Days are packed with activities on land and water, plus evening entertainment includes local musicians and singers, giving guests a private concert they'll never forget.
Secrets St. Martin Resort & Spa
See more romantic all-inclusive honeymoon resorts.
Video: Secrets Resorts - Secrets St Martin All Inclusive Resort
Find the best deal, compare prices, and read what other travelers have to say at Tripadvisor
Feel the St Maarten celebrity resort experience
This St Maarten property is a preferred vacation accommodation for the rich and famous. While it is not all-inclusive, it provides a location to make memories you'll treasure for decades.
La Samanna, A Belmond Hotel, St Martin
La Samanna, A Belmond Hotel, St Martin
Resort Award: An Elite E-Ticket To Paradise

Resort Introduction
Indulge in a St Maarten experience you'll never forget. La Samanna, St Maarten has hosted guests including Oprah and Salma Hayek in their illustrious halls. It might be out of pocket to treat yourself to A-list decadence but take advantage of booking one of their vacations offers to get the biggest bang for your buck!
You can book multiple experiences even if you aren't staying at La Samanna. Options include 'A Taste Of St Maarten,' where guests can receive breakfast vouchers plus a wine and cheese tasting for two at the internationally recognized 'La Cave' restaurant between 4:30-6pm.
La Samanna, A Belmond Hotel, St Martin
Find the best deal, compare prices, and read what other travelers have to say at Tripadvisor
Video Review: Belmond La Samanna: best luxury resort on the Caribbean island of St Maarten (full tour)
Sea Palace Resort
Dive Into The St Maarten Resort Experience
St Maarten might not have many all-inclusive resort properties, but these accommodation options are the next best.
Resort Award: The Crown Jewel of St Maarten

Resort Introduction
The reputation of Sea Palace Resort is well known across the island. Situated with a view that will make your Caribbean vacation feel priceless, guests stay in a studio and one or two-bedroom suites. It gives you a chance to nest and become one with your surroundings. The helpful Sea Palace Resort team will provide you with maps to explore the island and will never fail to recommend the trendiest place for dinner.
Booking directly through this resort's website includes the perks of zero booking fees and access to the Sea Palace Resort live webcam. Guests enjoy seeing exactly where they are going and the value of the economic St Maarten accommodation.
Hotel Esmeralda Resort
Resort Award: Runner Up For All Inclusive Amenities And Comfort

Resort Introduction
The Hotel Esmeralda looks like a St Maarten all-inclusive resort, but without the budget. Located in the French Quarter of the island, guests have six different suite options, or you can splash out on the Presidential Suite, which includes a private terrace and private pool.
The Hotel Esmeralda does have one restaurant on site. L'Astrolabe is a self-titled gastronomic creative culinary menu. Guests can try specialties like creamy crayfish soup with foie gras ravioli before walking under the stars before bed. While Gastronomy is a treat for families, the resort is a ten-minute walk from five other main St Maarten restaurants.
Find the best deal, compare prices, and read what other travelers have to say at Tripadvisor
Video Review: Hotel Esmeralda Resort
Princess Heights Luxury Boutique Condo Hotel
Resort Award: Perfect For The Early Bird

Resort Introduction
This St Maarten resort is not all-inclusive but might have one of the best vantage points from your balcony. Located on Dawn Beach, which lives up to its name for its breathtaking sunrises, guests can also access a rooftop pool. However, we would be remiss not to mention that while this boutique hotel comes with expansive suites, it doesn't have an on-site restaurant and is located a few ways from downtown. While everything on the island is accessible due to its small size, guests will experience more local culture and civilization for meals.
The team at Princess Heights comes prepared with a list of restaurants and experiences guests can book independently or with their assistance. While this might not include all the bells and whistles of an all-inclusive St Maarten property, the Instagram and creative content you'll create is worth it!
Princess Heights Luxury Boutique Condo Hotel
Video: Princess Heights Hotel St. Martin
Orient Beach Hotel
Resort Award: Easiest Walk From Bed To Beach

Resort Introduction
Orient Beach Hotel is succinctly named in honor of Orient Bay Beach, which remains popular with locals and tourists alike for the expansive sandy beachfront and turquoise waters. If you have saved a picture of Caribbean channel waters, prepare for your jaw to drop. The water color and clarity will exceed your expectations, and it is also situated between two famous hiking trails. Treat yourself to a dip before returning to Orient Hotel and relaxing in your junior suite.
The Orient Beach Hotel only has junior suite-style accommodation, but each includes a private terrace, air-conditioning, and high-speed WiFi. Booking at the Orient Beach Hotel includes breakfast, room cleaning services, and preferred access to KKÔ Beach, Bikini Beach, Kontiki, Waï Plage, and Coco Beach.
Find the best deal, compare prices, and read what other travelers have to say at Tripadvisor
The Morgan Resort Spa & Village
The Morgan Resort Spa & Village
Resort Award: Accessible Vacation Accommodation
Resort Introduction
Rounding out our almost St Maarten all-inclusive resort options, The Morgan is one of the only properties to include accessible rooms with walk-in showers and handrails. For all guests to feel comfortable while traveling abroad, The Morgan highlights accessible accommodation available at two different price point options: King Suite or Junior.
The Morgan is not St Maarten's all-inclusive resort; however, guests can book a resort pass with access to pools, jacuzzi, towels, fitness centers, and valet parking. The Morgan also has a Luxury Escape Package if you are looking for a food-focused offer. Guests will receive a two-night stay with complimentary breakfast and a $50 food and beverage voucher redeemable at the on-site SALT restaurant.
The Morgan Resort Spa & Village
Video: St. Maarten's Newest and Trendiest Resort - The Morgan Resort & Spa
💼 We cherish our independence! ✈️ Our travel recommendations are carefully researched, bias-free, and powered by human expertise by April and Ricky of LRB (we have personally researched and travelled to many of these destinations and researched others thoroughly through first-hand accounts). 🌍✨
We try to keep everything up to date, but please always do your own research and contact us if you know any issues for us to help others as best we can as a small but professionally focused team! 🧐📚⚠️