Overwater Bungalows in Belize: Luxury vs. Budget
Get ready to experience the ultimate tropical paradise on a budget or indulge in the lap of luxury with overwater bungalows in Belize. Tobacco Caye Paradise Cabins and Lina Point Belize Overwater Resort offer two unique ways to enjoy the stunning turquoise waters of the Caribbean Sea. From charmingly rustic to high-end luxury, both resorts offer private overwater cabanas with breathtaking views of the Belize Barrier Reef. Whether you're a backpacker on a shoestring budget or seeking a luxury escape, these two resorts have got you covered.
World's Cheapest Overwater Bungalow 
In this vlog, travel vloggers Izzie and Dale take us on a journey to a tiny island in Belize where they stayed at the world's cheapest overwater bungalow. They talk about their excitement for the trip, their initial coffee-fueled wait at the harbor, and their dolphin sighting during the boat ride to the island. They show us their affordable but comfortable overwater bungalow, which they've chosen to splurge on, and take us on a tour of the island resort, complete with picnic tables, hammocks, and kayaks. They share their thoughts on making the decision to splurge on this trip and how happy they are with the experience. Finally, they promise to show us more of the island and their activities in future videos
Sarah's Review of Tobacco Caye
The Journey to Tobacco Caye

As I stepped off the boat and onto the wooden dock, I felt an immediate sense of excitement and anticipation. After all, I had been dreaming of visiting Tobacco Caye for years, ever since I first heard about the tiny island paradise in Belize. And now, finally, I was here - ready to experience everything this magical place had to offer.
Checking into Tobacco Caye Paradise Cabins
As I made my way down the narrow path towards Tobacco Caye Paradise Cabins, I couldn't help but feel a sense of wonder and awe. The lush greenery, the crystal clear waters, and the gentle breeze all combined to create a serene and peaceful atmosphere that was simply breathtaking.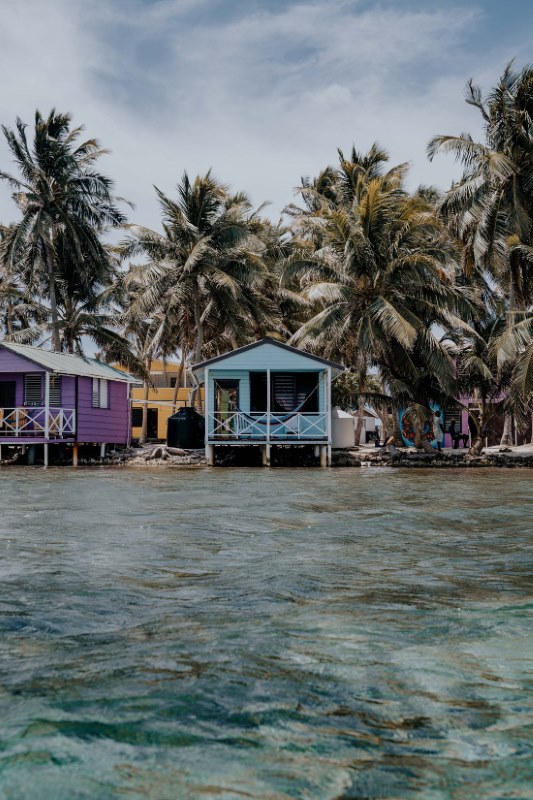 World's Cheapest Overwater Bungalow - Maybe
When I arrived at the lodge, I was greeted by a friendly Belizean staff member who welcomed me with a warm smile and a cold drink. After a quick check-in process, I was shown to my private overwater cabana - a charmingly rustic yet comfortable accommodation that was perched over the Caribbean Sea.

Exploring Tobacco Caye
As I settled into my cabana, I couldn't wait to start exploring the island. The staff had told me about all sorts of activities, from snorkeling and scuba diving to kayaking and fishing. And since Tobacco Caye is just a short boat ride away from the Belize Barrier Reef - one of the most biodiverse and beautiful marine ecosystems in the world - I knew I was in for an adventure.
Over the next few days, I went on guided snorkeling tours, swam with colorful fish and sea turtles, and even had a close encounter with a friendly dolphin. I also took the time to relax on the beach, read a book in my hammock, and enjoy the local cuisine at the lodge's dining hall.
The Benefits of Staying at Tobacco Caye Paradise Cabins
Overall, my stay at Tobacco Caye Paradise Cabins was an unforgettable experience that I will cherish for a lifetime. Not only did I get to explore a beautiful and remote part of the world, but I also got to do it in comfort and style thanks to the lodge's charming cabanas and friendly staff.
And perhaps best of all, I got to do it all while supporting a small, locally-owned business that is committed to sustainable and eco-friendly practices. From the rainwater-fed showers to the solar and generator-powered electricity, Tobacco Caye Paradise Cabins is a true model of responsible tourism.
So if you're looking for a unique and unforgettable travel experience, I highly recommend booking a stay at Tobacco Caye Paradise Cabins. Whether you're a backpacker on a budget or a luxury traveler looking for something different, this small slice of paradise is sure to exceed your expectations.
Find the best deal, compare prices, and read what other travelers have to say at Tripadvisor
Lina Point Overwater Bungalows
For luxury look no further than Lina Point Belize Overwater Resort as one of very few Over Water Bungalows in the Country. This is an extraordinary gem nestled on the picturesque island of Ambergris Caye in Belize.
With its captivating overwater accommodations, world-class activities, and exceptional service, this resort promises an unforgettable experience for travelers seeking the ultimate island escape. In this article, we will take you on a virtual journey through the resort's stunning accommodations, delightful dining options, thrilling activities, and more, all set against the backdrop of Belize's natural beauty.

Find the best deal, compare prices, and read what other travelers have to say at Tripadvisor
Overwater Bungalows in Belize: Luxury vs. Budget
Pros:
Unique overwater accommodations: The resort offers private overwater cabanas with glass-bottom floors, providing a one-of-a-kind experience.
Abundant activities: The close proximity to the Belize Barrier Reef and access to water sports equipment make it an ideal destination for adventure seekers.
Convenient location: Located near the airport in San Pedro, the resort is easily accessible and close to several local attractions.
Beautiful surroundings: The resort's beachfront location and stunning views create a picturesque and tranquil atmosphere.
Excellent service: The friendly and attentive staff make guests feel welcome and well-cared for throughout their stay.
Cons:
Breakfast surcharge: While the cooked-to-order breakfast is enjoyable, it is available at an additional cost.
Limited dining options: Though the rooftop restaurant offers delicious dishes, some guests may desire more on-site dining variety.
No spa on-site: Although spa services are available, the resort does not have a dedicated spa facility.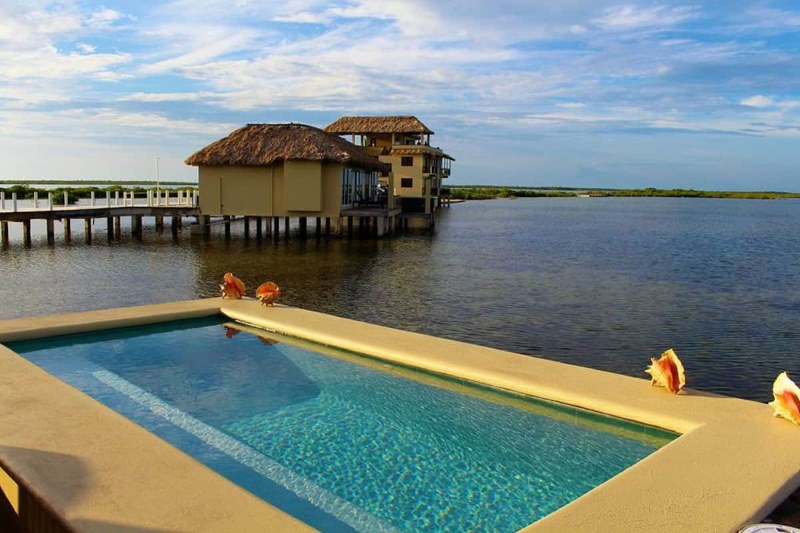 Upbeat Review
During my recent getaway to the beautiful island of Ambergris Caye in Belize, I had the pleasure of staying at the breathtaking Lina Point Belize Overwater Resort. This enchanting retreat offers an incredible overwater experience, complete with stunning views and world-class fishing and diving opportunities.

Overall Experience: 5 stars From the moment I arrived, the resort's serene atmosphere and friendly staff welcomed me with open arms. The resort's unique blend of modern amenities and island charm made my stay truly memorable. I felt as if I had discovered my own personal paradise.
Accommodations: 5 stars My stay in one of the resort's private overwater cabanas was nothing short of magical. The room was immaculate and featured a glass-bottom floor, offering a mesmerizing view of the aquatic world below. The air conditioning and refrigerator ensured that I was comfortable and well-provisioned throughout my stay.
Dining: 4.5 stars The resort's 3rd-floor rooftop restaurant offered a delightful dining experience, complete with a 360-degree panoramic view of the ocean and island. The menu provided a variety of delicious options, with fresh seafood taking center stage. The cooked-to-order breakfast (for an additional surcharge) was a delightful way to start each day.
Activities & Leisure: 5 stars Lina Point Belize Overwater Resort offers an abundance of activities and leisure options. I spent my days lounging by the overwater infinity pool, sipping on tropical drinks from the poolside tiki bar, and exploring the surrounding Belize Barrier Reef. The resort also offers a range of water sports and equipment, including kayaks, paddleboards, snorkeling gear, and fishing equipment.
Location & Surroundings: 5 stars The resort's location in San Pedro, near the airport and right on the beach, made it a convenient and picturesque destination. The proximity to the Belize Barrier Reef, San Pedro Beach, and various water sports providers allowed for a multitude of adventures.
During my stay at Lina Point Belize Overwater Resort, I had the opportunity to partake in several exciting tours that showcased the natural beauty and rich history of Belize. Here are my thoughts on each of the tours:
Altun Ha / Jungle River Tour: 4.5 stars This fascinating 8-hour tour, priced at $75.00, took me through the lush jungles of Belize and to the ancient Mayan ruins of Altun Ha. The knowledgeable guides provided captivating insights into the history and culture of the Mayan civilization. The river cruise portion of the tour offered breathtaking views of the jungle's flora and fauna, making it an unforgettable experience.
Cave Tubing & Belize Zoo Adventure: 4 stars Priced at $150.00, this 10-hour and 30-minute tour provided a thrilling combination of outdoor adventure and wildlife encounters. The cave tubing adventure allowed me to float through a series of stunning underground caves, marveling at the beautiful formations and learning about the geological history of the area. The visit to the Belize Zoo offered a chance to observe native animals up close, including jaguars, tapirs, and toucans, and learn about local conservation efforts.
Snorkeling Adventure: 5 stars This featured snorkeling adventure allowed me to discover the vibrant underwater world of the Belize Barrier Reef. As a UNESCO World Heritage site, the reef boasts an incredible array of marine life, including colorful coral gardens and diverse fish species. The knowledgeable guides ensured a safe and enjoyable experience for snorkelers of all levels. This unforgettable tour showcased the natural beauty of Belize's marine ecosystem and provided memories to last a lifetime.
The resort's unique blend of modern amenities and island charm made my stay truly memorable. I felt as if I had discovered my own personal paradise.
Share Your All-Inclusive Adventures and Questions! 🌴 Have a memorable experience from a luxury all-inclusive vacation? We'd love to hear it at Luxury Resort Bliss. We're on the lookout for top-quality, insightful tales that'll inspire our community. Dive in and be a part of our sun-soaked stories! 🌊🍹✨
The story is a fictionalized account founded on travel expertise, research, and experience. Always refer to recent guest reviews and perform due diligence before booking.
💼 We cherish our independence! ✈️ Our travel recommendations are carefully researched, bias-free, and powered by human expertise by April and Ricky of LRB (we have personally researched and travelled to many of these destinations and researched others thoroughly through first-hand accounts). We also have put in the hard miles, and Ricky has worked for decades for resort and hotel chains  Hyatt, Hilton, Shangri-La and Radisson before starting Luxury Resort Bliss in 2007. 🌍✨ Unlike some other resort review websites we are concerned on the guest experience rather than mere corporate interest.