Top Sunshine Coast Resorts
Top Sunshine Coast Resorts (2023)
Looking for the best Sunshine Coast resorts and packages? We have listed the best in each gorgeous beach location. Some beaches like Sunshine Beach are smaller and some like Noosa, Mooloolabah and Caloundra are mega. But if you want to make the most of them a great resort will help you do that in style.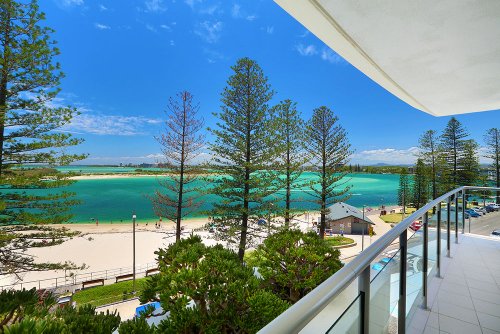 Rumba Beach Resort
The Sunshine Coast with its miles of beaches and hinterland is often contrasted to the heavily developed Gold Coast. It's a great spot with unique markets, zoos, great food and lots to do.

Some top locations:

Top 25 Sunshine Coast Resort Deals with Reviews

VIDEO: Sunshine Coast Vacation Travel Guide |

Noosa Sunshine Coast Holidays
Noosa really is a classy act with a host of international festivals for music, food and film and a distinctly international visitor list. Much of the action takes place on Hastings Street which is the area has the best access to the national park with it's wonderful bays and beaches.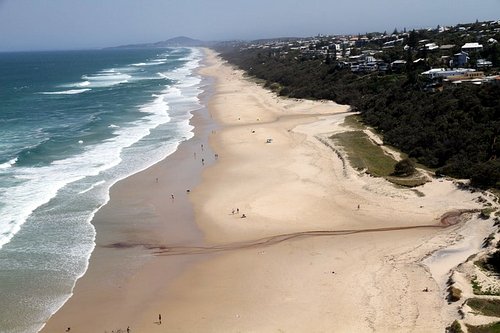 Beaches at Noosa
Along Hastings Street dining, shopping, and socializing provides for an excellent family or couples holiday destination.

Netanya Noosa Beach Resort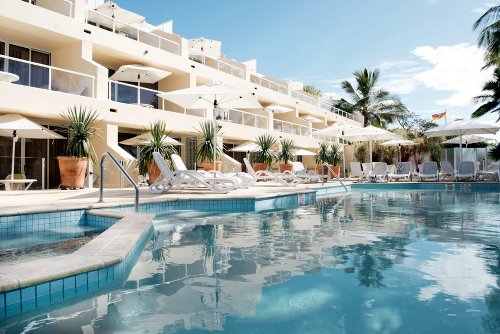 While not the most expensive resort in Noosa, this resort has the advantage that you can skip out to the white sandy beach from your room and the pool. Something that some of its more pricey rivals don't offer. And with less than 40 rooms you are sure to find a nice place by the pool. 

One great advantage of the Hastings Street strip is that wherever you stay you have access to all the restaurants and resort activities the local area has to offer including the national park

Special offers and information for Netanya Noosa

Pepper's noosa
The great attraction of Staying at Noosa is having the beach and Hastings street right at your doorstep. This great resort provides both and dishes it up with luxury, l and lifestyle.
Pepper's Noosa
More information on Peppers Noosa Resort and Villas
---
Caloundra Resorts and Holidays
Caloundra is not really the hub of excessive accommodation options on the Sunshine Coast but is a restful beautiful place none the less. It is a great choice if you are looking to get away from it all and relax. This is especially true for families who especially enjoy this location.

With Australia Zoo, Aussie World, and the Big Kart Track within easy reach. There is also a great kids splash playground at Kings Beach.

Somehow it has managed to maintain a local flavour in an otherwise developing resort area. A good place to spend a family vacation and this is one of the top resorts there.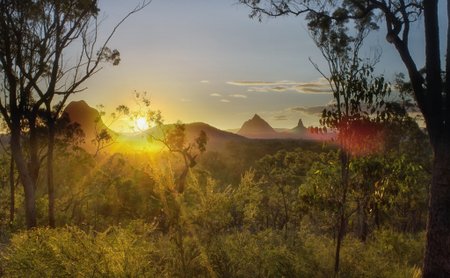 Glass house mountains on the Sunshine Coast
Rumba Sunshine Coast Beach Resort
One of our top pics for a beach resort in Caloundra is the Rumba Beach Resort.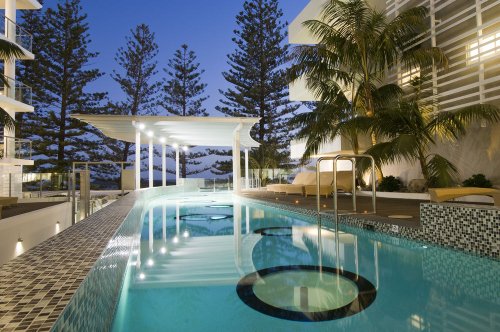 Rumba Beach Resort
Special Hotel Deals in Caloundra, Australia

See the top Caloundra resort reviews and special offers.

---
Mooloolaba Sunshine Coast Holiday Resorts
Special Hotel Deals in Mooloolaba, Australia

Mooloolaba is in the central location of the Sunshine Coast resort beaches and popular with families and couples. The beach really is idyllic although a little well developed these days. There is a good mix of family takeaway restaurants and fancy restaurants and cafes along the strip.

See reviews and special offers for Mooloolaba resorts

Mantra Mooloolaba Sunshine Coast Resort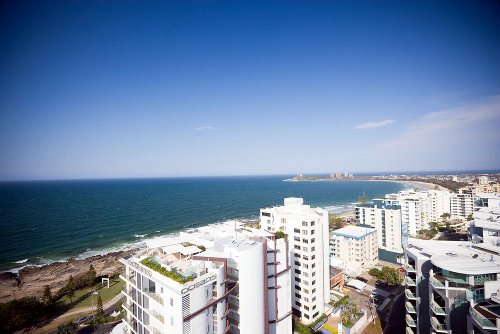 Mantra Mooloolaba
This 16-story beach resort has been chosen for its value, excellent location and excellent facilities.

It's right on the beach and great for swimming. You can also repel down mountain, hike through national parks and canoe or kayak through the everglades. It's close to shopping and restaurants as well. It features modern decor in bright shades of gold, ivory, blue and peach. Large bay windows offer fantastic views of the ocean.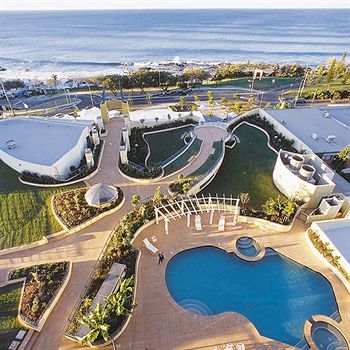 Mantra Mooloolaba
Guests are also invited to a cook out on the barbecue grills while relaxing in the rooftop spa tub.

Other amenities include pools, tennis, a fitness centre, babysitting and more.

Reviewers say it's well maintained and well staffed, in a great location, a reasonable price, has spacious apartments of lots of other great things. It gets fantastic ratings overall.

Special offers and reviews for the Mantra.

---
Coolum Sunshine Coast Holiday Resorts
Coolum remains one of the few places to experience the classic Queensland family beach vacation. Relatively undeveloped beach with pristine beaches surround the town centre. Some beaches  you can have mostly to yourself for much of the year and there are lots of little beach coves to explore.

See the top Coolum resort reviews and information.

---
The Point Coolum Beach Resort
The Point is one of those great beach resorts that offer easy access to both the small coves and the main patrolled beach. This is also regularly polled as the top Beach resort in Coolum by guests.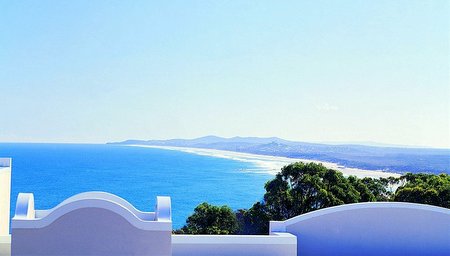 Point Coolum Beach Resort
More information and special offers for the The Point Coolum Beach

---
twin waters resorts
Novotel Sunshine Coast Resort, formerly known as Twin Waters Resort
This is one of the largest and most complete 4-star beachfront resorts on the Sunshine Coast. The former name Twin Waters was derived because of the setting between ocean and river. The resort has enjoyed numerous upgrades like an old Queenslander over the years  and was most recently upgraded in 2019 with a new lobby and restaurants. It is a pretty big place with bungalows, and also a choice for larger functions and weddings. 
More information special offers for Novotel Sunshine Coast Resort
Video: Novotel Sunshine Coast Resort (Twin Waters) | Virtual Site Inspection
Supplied By Tourism Sunshine Coast Australia

Sunshine beach resorts
Sunshine Beach on the Sunshine Coast 
The stunning location of Sunshine Coast around the corner from Noosa is not at all known for its resorts, but there are some great apartments.
La Mer Sunshine Beachfront looks out over beautiful Sunshine Beach. Rooms have a private balcony and there are nice features like a heated swimming pool, free in-room Wi-Fi and a poolside BBQ area which do provide somewhat of a beach resort vibe and there is a tour desk 
 Sunshine Coast Airport is 30 km away.
Video: La Mer Sunshine Beachfront - Sunshine Beach Hotels, Australia

sunshine coast spa resorts
Once upon a time the Hyatt Coolum was the place to go if you were looking for a spa resort on the Sunshine Coast.
Noosa Springs Spa
Nestled between Noosa National Park and Lake Weyba is both the Noosa Springs Golf Club and  Noosa Springs Spa Resort - our top Sunshine Coast spa resort.  The destination resort is a mere 3kms from Hastings Street and also has an 18-hole championship golf course. You will find this place is a world -class spa,and as a benefit you can splash around in the pools, have a hit of tennis or a round of golf. Everything the Hyatt Coolum was once famed for has relocated. 
More information and special offers for Noosa Springs Golf & Spa Resort
Video: Noosa Springs Golf & Spa Resort
Coolum Hyatt
Palmer Coolum Resort - This Resort Is Now In A State Of Disrepair - You Can't Even Stay Here
I actually used to work at this resort. It's well known for it's miles of bicycle paths and immaculate grounds. This is one of the best resort beaches you will find on the Sunshine Coast but the beach is on the other side of the golf course. You will need a bicycle, good shoes or the shuttle to get there.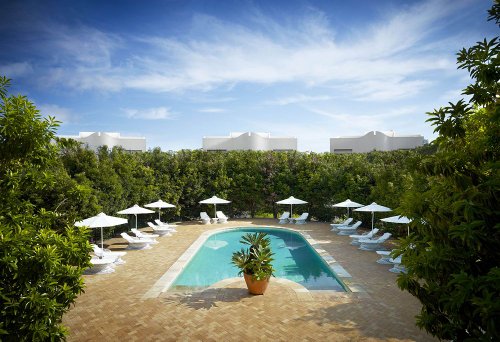 Palmer Coolum Resort
One good and bad thing is that the resort has everything and you get what you pay for. So expect to pay five star prices for the top quality service. Guests like how the rooms are separated from each other villa style.

Click here for more on Palmer Coolum Resort

---
Sunshine Coast Resort Deals
For all the best deals of a resort vacation to the Sunshine Coast see our travel deals page. 
We also have a review of vacation packages in Australia with special offers in each location. 
For more ideas check out:
Share Your All-Inclusive Adventures and Questions! 🌴 Have a memorable experience from a luxury all-inclusive vacation? We'd love to hear it at Luxury Resort Bliss. We're on the lookout for top-quality, insightful tales that'll inspire our community. Dive in and be a part of our sun-soaked stories! 🌊🍹✨
The story is a fictionalized account founded on travel expertise, research, and experience. Always refer to recent guest reviews and perform due diligence before booking.
💼 We cherish our independence! ✈️ Our travel recommendations are carefully researched, bias-free, and powered by human expertise by April and Ricky of LRB (we have personally researched and travelled to many of these destinations and researched others thoroughly through first-hand accounts). We also have put in the hard miles, and Ricky has worked for decades for resort and hotel chains  Hyatt, Hilton, Shangri-La and Radisson before starting Luxury Resort Bliss in 2007. 🌍✨ Unlike some other resort review websites we are concerned on the guest experience rather than mere corporate interest.