Must-Visit Turks and Caicos All Inclusive Resorts
Ready for some time away at one of the beautiful Turks and Caicos all inclusive resorts? It's a beautiful destination with clear water, white sand and as food can be quite pricey on the island, all inclusive is a great way to go!

There are two well-known all inclusive resorts in the Turks and Caicos. But what do we think about them? We've reviewed them below.
Turks & Caicos Resorts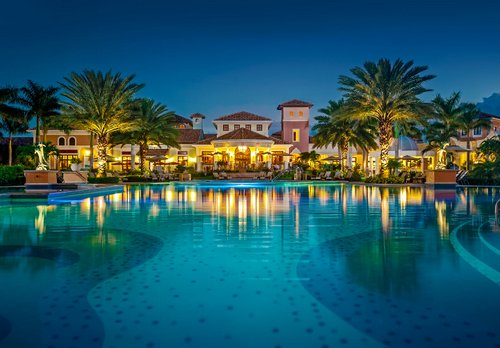 ---
Turks & Caicos Island Overview
Escape to Turks and Caicos, the conch capital of the world, where you'll be dazzled by the vivid Cub Med Turkoise hues of the surrounding waters. Indulge in the island's unique blend of luxury and laid-back charm, as you explore the pristine nature reserves teeming with vibrant flora and fauna. With locals as warm as the sun-kissed sands, Turks and Caicos will steal your heart and etch memories that will last a lifetime.
Best Turks and Caicos All Inclusive Resorts:
Resorts Overview:
An all-inclusive resort vacation is a pretty cool way to make the most of the ideal beach location that is the Turks and Caicos.
There are two main all inclusive resorts on Turks and Caicos and they are The Club Med Turks and Caicos which is an adult all-inclusive while Beaches Turks and Caicos is a family friendly option.
Turks and Caicos, an archipelago of pristine islands in the Atlantic Ocean, is a sought-after destination for sun-seekers and luxury travelers alike. With powdery white sand beaches, crystal-clear turquoise waters, and a variety of all-inclusive resorts, it's the perfect getaway.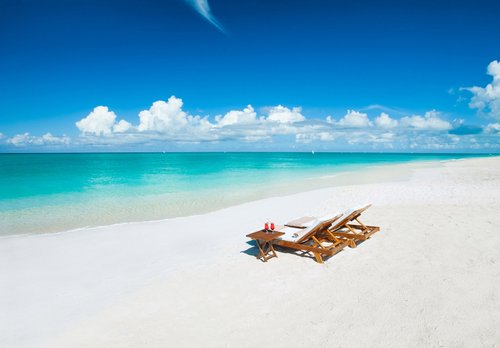 Beaches Turks and Caicos All Inclusive Resort
---
Beaches Turks & Caicos All Inclusive Resort
Best for Families: Beaches Turks & Caicos Resort Villages & Spa
From a user's perspective, Beaches Turks & Caicos Resort Villages & Spa stands out as the ultimate family-friendly resort. With a 45,000 square-foot waterpark, Kids Camp, and a variety of family suites, there's no shortage of fun and entertainment for all ages.
Comparatively, Beaches Turks & Caicos offers more comprehensive family amenities than competitors like Club Med Turkoise and Alexandra Resort.
The resort's benefits include numerous dining options, a wide range of water sports, and entertainment options for all age groups. However, the drawback is that it can be more expensive than other family-friendly resorts in the area.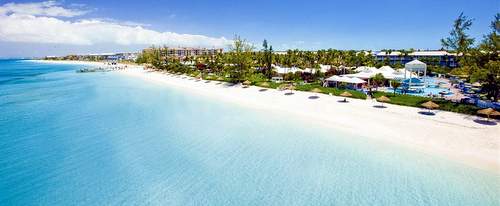 Beaches is one of the premier all inclusive family resorts in the Caribbean and is situated on incredibly pretty and idyllic Grace Bay.  
The packages from Beaches are some of the most complete as well with  all-inclusive meals, drinks in scores and tons of outlets, water sports, unlimited scuba diving, heaps of activities around the resort, pools, and thousands of acres of water park.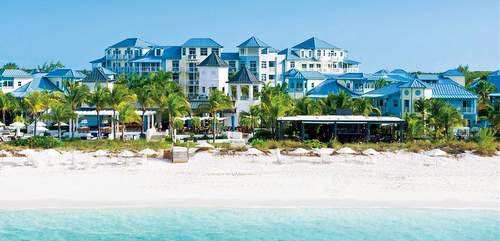 Beaches Turks Caicos All Inclusive Resorts
Location: this Turks and Caicos all inclusive resort is on three-miles of soft-sand beach at White House Reef. The International Airport is five miles away.
Amenities: 10 restaurants and bars, swim-up bars, child and teens pools, 24-hour Internet café, health and beauty spa with cold plunge pools, fitness center and exercise classes.
Video Overview
Welcome to Beaches Turks & Caicos, a captivating tropical oasis that combines luxury, adventure, and a dash of humor to create the ultimate family vacation. In this mesmerizing video, you'll discover:
Four enchanting villages: Caribbean, French, Italian, and Key West, each with its unique charm and experiences.
A jaw-dropping array of accommodations: From spacious family suites to luxurious oceanfront villas, there's something for everyone.
Sesame Street adventures: Meet your favorite furry friends and enjoy the fun-filled stage shows, parades, and even accredited nanny services for the little ones.
Pirate Island Waterpark: Dive into four-story water slides, a not-so-lazy river, and a thrilling surf simulator that'll keep you entertained all day long.
21 all-inclusive gourmet restaurants: Savor culinary delights from around the world, including freshly baked pastries, brick oven pizzas, mouthwatering steaks, and more.
Unlimited premium drinks: Quench your thirst with a wide selection of sodas, juices, shakes, and premium spirits, all included in your stay.
Kids: Pirate's Island features a pool with water slides, a huge spa tub, a wooden pirate ship and a kids' club. There's also a nursery for infants and toddlers with pool games, arts and crafts, and outdoor playground equipment.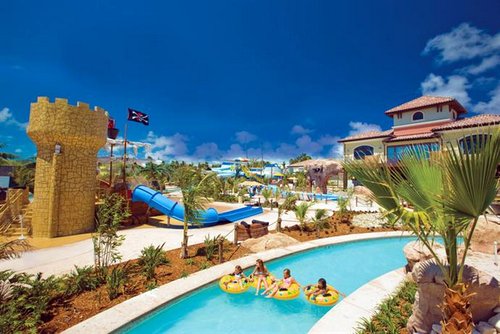 Rooms: There are 453 beach section rooms. The French Village rooms have carved four-poster king beds, marble vanities, step-out balconies on upper floors, air-conditioned and ceiling fans.
Reviews: 
Past guests have said:
An all inclusive where even the celebrities will go. 
Guests loved the spa, the great grounds 
The food was rated as much better in comparison to the Sandals Resorts
 All needs were taken care of quickly without fuss and with a smile 
A good sized resort that has everything you need in luxury
We definitely rate this as one of the best Turks and Caicos all inclusive resorts. 
Remember: they are not taking bookings past January 2021 (apparently they've got to work out tax issues on the island and are closing until that's done).
Experience the Ultimate Family Vacation in Paradise (Beaches Website)! Learn More about Beaches!

Vlogger Resort Review
Join travel vlogger Tyler Cocci as he explores the breathtaking Beaches Turks & Caicos resort in his captivating two-part video series, "Traveling to Beaches Turks & Caicos | DO NOT MISS THIS!!" From securing the perfect poolside seats and snorkeling adventures to lively beach parties and unique shopping experiences, Tyler shares insider tips and personal experiences to help you make the most of your trip to this tropical paradise.
Beaches Resort deals are considered some of the best family all inclusive options in the Caribbean and has been voted a worlds best with a 45,000 square-foot water park and dozens of family friendly restaurants.



Use the Beaches link below to find the latest Turks and Caicos deals:
Experience the Ultimate Family Vacation in Paradise! (Beaches Website)

---
Club Med Turkoise is an all-inclusive adults-only haven that sits on the world-famous Grace Bay Beach, offering breathtaking views and unlimited sunshine. At Club Med Turkoise, you'll find yourself immersed in an atmosphere of endless fun and relaxation. From mouthwatering international cuisine to exhilarating water sports and lively nightlife, there's never a dull moment. And with their friendly G.O.s (Gentil Organisateurs) always ready to entertain, you'll soon become part of the Club Med family. 
---
East Bay Resort South Caicos
All inclusive packages available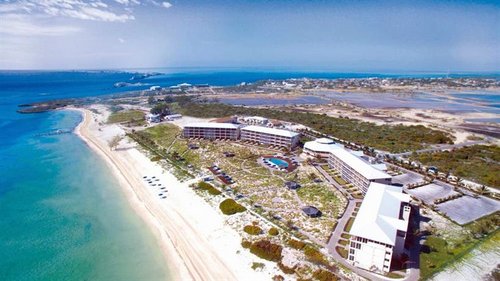 East Bay Resort South Caicos
East Bay is located on beautiful long beach location on South Caicos and has some excellent all inclusive packages available. (The resorts all inclusive page.)
This resort will get you enjoying the Turks and Caicos Islands, with meals included at a very desirable price point. Definitely one to consider if you are on a budget (but you won't miss out here).
East Bay Resort has lots of great activities and amenities like kayaking, snorkeling, diving and fishing. It also has mostly beachfront rooms (as you can see above).
This one gets great reviews and is definitely worth a look if you'd like to have a bit more cash left in your wallet.
Click here for more information, latest reviews and to compare prices on East Bay Resort South Caicos from Tripadvisor. 
Cockburn Harbour, Turks and Caicos Hotel Deals from Hotels.com

Video: East Bay Resort, South Caicos (by East Bay Resort)
---
Amanyara
Best for Wellness Seekers: Amanyara
Amanyara is a tranquil oasis, ideal for wellness enthusiasts. Its holistic approach to wellbeing includes yoga, pilates, meditation sessions, and a serene spa.
When comparing Amanyara to other wellness-focused resorts like The Palms and The Shore Club, Amanyara stands out due to its peaceful setting and unique wellness offerings.
The benefits of Amanyara include its focus on mental and physical wellbeing, beautifully designed villas, and attentive service. The only drawback is the higher price tag compared to other wellness resorts in the area.
Find the best deal, compare prices, and read what other travelers have to say at Tripadvisor
Parrot Cay by COMO
Review by Sarah
My recent stay at Parrot Cay by COMO in the Turks and Caicos was nothing short of magical. This enchanting private island seamlessly blends the beauty of 1000 pristine acres of nature with the epitome of relaxed luxury, making it the ultimate Caribbean retreat.
From the moment I set foot on the mile-long powdered beach, I knew I was in for a treat. The resort's accommodations are stunning - think whitewash interiors and chic teak finishing, with a choice of beachside houses and villas that exude sophistication and serenity.
One of the standout experiences during my stay was the multi-award-winning COMO Shambhala Retreat. This wellness sanctuary offers an array of holistic, Asian-inspired therapies that rejuvenate both mind and body. The world-class yoga and Pilates tuition made for invigorating sessions, leaving me feeling refreshed and revitalized.
The private residences on the island are the epitome of exclusivity and tranquility. These elegant abodes provide the perfect sanctuary for those looking to indulge in the ultimate Caribbean getaway.
Find the best deal, compare prices, and read what other travelers have to say at Tripadvisor
---
Those are the Turks and Caicos all-inclusive resorts that we fully recommend. There are definitely more resorts worth a look but they're not all inclusive.
To see more resorts in this area, visit the Turks and Caicos Resorts page.
If you'd like to keep looking for all-inclusive resorts in the Caribbean, visit our all-inclusive Caribbean resorts page. 
 Top 25 Turks and Caicos Resort Deals with Reviews (on Tripadvisor)

---
Turks and Caicos FAQ
Is Turks and Caicos safe?
Turks and Caicos is reported to be generally safe. It has a similar crime rate to New York City or Miami. 
As a tourist, it's important to take certain precautions like not leaving valuables in a car, not walking around on roads when it gets darker and staying in a resort is safer than a rented villa. 
Do you need a passport?
If you're from the USA, UK or  Canada, yes you do but you don't need a visa if you're staying less than 90 days. (Be sure to check the latest up to date info on this, don't just take our word for it. Things can change and it's better to know before you arrive at the airport!!!)
For other countries, check out the passport and visa page from the TCI website. 
Can you drink the water?
Yes you can drink the tap water but some say it doesn't taste so great. 
What language do they speak?
English is spoken on Turks and Caicos.
Which country owns Turks and Caicos?
They are a British territory so Britain / UK / England. 
What is the currency?
They use US dollars and you should exchange your currency before arriving on the island. 
Are there sharks?
There are a number of different species of sharks in the area but don't worry! There have been only 3 shark attacks there in recorded history and none resulted in death or severe injury. 
When should you go?
They have an average of 28C / 82F year round with not too  much rain. So it's pretty good all year round. They don't get many hurricanes but that is possible in later summer or hurricane season. 
If you're escaping winter, it'll be beautiful!
Set on Turks and Caicos or still looking?
See more of the top Caribbean or Turks and Caicos resorts.
💼 We cherish our independence! ✈️ Our travel recommendations are carefully researched, bias-free, and powered by human expertise by April and Ricky of LRB (we have personally researched and travelled to many of these destinations and researched others thoroughly through first-hand accounts). 🌍✨
We try to keep everything up to date, but please always do your own research and contact us if you know any issues for us to help others as best we can as a small but professionally focused team! 🧐📚⚠️