Turks And Caicos Adult Only All-Inclusive Resorts
Turks and Caicos Adult-Only All-Inclusive Resorts featuring Club Med
Oh, the heavenly Turks and Caicos! Get ready to be swept away by Turks And Caicos Adult Only All-Inclusive Resorts that know how to pamper you silly. Imagine kicking back on the dreamiest of beaches, sipping on a cocktail with your toes dipped in sugar-soft sand. These slice-of-paradise resorts, designed just for grown-ups, really have it all. 
Adult Only Turks And Couples
Oh, la la! Turks and Caicos isn't just for families, my friends. This slice of paradise knows how to cater to couples and adults who crave a more intimate and tranquil escape from the daily grind. Picture yourself at a dreamy adults-only or couples-only resort, sipping cocktails with your sweetheart while basking in the warm Caribbean sun.
Club Med Turkoise -  Turks and Caicos 

Best for Adult Adventure Seekers: Club Med Turquoise
Club Med Turkoise, located on the breathtaking Grace Bay of Providenciales, is a paradise for adults looking to disconnect and unwind. With a newly redesigned resort, guests can enjoy the stunning scenery of Turks and Caicos while indulging in world-class amenities and activities.
For travelers seeking an adrenaline-pumping vacation, Club Med Turquoise is the go-to all-inclusive resort. With a variety of water sports, fitness classes, and excursions, this resort ensures an action-packed stay.
In comparison to other adventure-focused resorts like Blue Haven Resort and Windsong Resort, Club Med Turquoise offers a more extensive range of activities and sports facilities.
The main benefits of Club Med Turquoise are its vibrant atmosphere, activity offerings, and beautiful beachfront location. However, a drawback is that the resort may not be suitable for those seeking a quiet and relaxing stay.
Vlogger Guest Review
In this vlog, Wanderlust Ismari takes us on a tour of Club Med Turks and Caicos, an all-inclusive resort in Providenciales.
Ismari loves the welcoming they gave her and her friend, checking their temperatures and serving them welcome drinks.
The superior room they stayed in was clean, classic and affordable, with the option of two twin beds or a king bed.
They have two restaurants and three bars, offering different food every day.
Inclusions at Club Med Turks and Caicos include circus activities and water sports like scuba diving, snorkeling, sailing school, kayaking, and stand-up paddle.
They have cool parties at night, which Ismari really enjoyed.
Overall, Club Med Turks and Caicos is a great vacation spot for adults looking for an all-inclusive experience with plenty of fun activities.
This is one of the original Turks and Caicos resorts and the first with an all inclusive format.  One of the biggest adults only parties on the island remains popular even today and the rooms have been maintained  and updated stylishly.
Some of the top attractions of this resort are the miles of beach and organized social activities.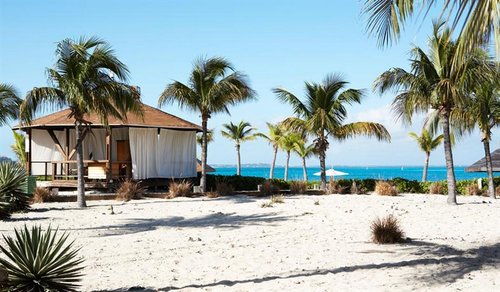 Club Med - One of the oldest and best known Turks and Caicos all inclusive resorts
This well known resort brand sports a quality adults and singles resort on Grace Bay.
Facilities are ample and include multiple restaurants, bars, a nightclub, trapeze, pools, watersports, and a complete wellness center.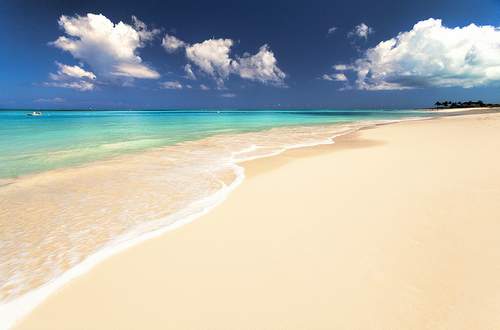 Grace Bay Turks and Caicos
Most meals are buffet, but there is also the inclusion of a grill restaurants as well as most of your drinks. As is the case with many all-inclusive resorts, you will pay more for top shelf drinks and specialties.
More information and special offers on Club Med Turks and Caicos Turkoise here on Tripadvisor.
Rooms and Amenities: Luxury and Comfort
The rooms at Club Med Turkoise are designed with the ultimate relaxation in mind. With options ranging from superior to suite, guests can choose the perfect room to fit their needs. Each room offers a stunning view of the turquoise waters and comes equipped with modern amenities such as air conditioning, Wi-Fi, and flat-screen TVs.
The resort offers a range of amenities, including an infinity pool overlooking the beach, a fitness center, and a world-class spa. Guests can also enjoy live music and fresh smoothies and cocktails right on the beach
Food and Drinks: Gourmet Cuisine and Open Bar
Activities: Endless Fun and Adventure
With over 60 sports and activities to choose from, guests at Club Med Turkoise will never be bored. The resort is located on one of the world's top wall-diving destinations, and guests can explore the ocean depths with expert guides. Sailing, kayaking, and paddleboarding are also popular activities, and the resort offers group lessons and rentals.
Pros and Cons: A Balanced View
Club Med Turkoise is an amazing all-inclusive resort that offers luxurious amenities, gourmet cuisine, and endless activities. However, there are a few drawbacks worth mentioning, such as the limited nightlife options and the occasional wait times for the restaurants.
The island's laid-back vibes are perfect for honeymooners, lovebirds, or even solo travelers looking for some much-needed me-time. Resorts like Club Med Turkoise and the uber-romantic Amanyara offer luxurious accommodations, scrumptious dining, and personalized experiences to ignite the spark between you and your beloved. How about a secluded beach picnic, a sunset cruise, or a couple's massage at an award-winning spa? Turks and Caicos has got you covered, lovebirds! So pack your bags, grab your significant other, and get ready to fall in love all over again in this island paradise. Wink, wink!
See more couples friendly resorts on our Turks and Caicos all-inclusive review.
COMO Parrot Cay
Nestled in the idyllic paradise of the Turks and Caicos Islands, COMO Parrot Cay offers a romantic escape for couples seeking a luxurious and unforgettable getaway. Although the resort is not adult-only, it does have exclusive areas reserved for adults, making it the perfect destination for couples looking to reconnect and unwind in a peaceful and intimate environment.
With a range of activities and experiences on offer, including private boat charters, diving, and meditative kayaking tours, guests can create lasting memories together. Whether you're celebrating a special occasion or simply seeking a romantic retreat, COMO Parrot Cay provides the perfect backdrop for a magical and unforgettable experience.
Pros:
Stunning location on a private island in the Turks and Caicos Islands, offering guests exclusive access to beautiful beaches and tropical forests
Range of experiences and activities available, including private boat charters, diving, and meditative kayaking tours
Exclusive adult-only areas for couples seeking a romantic and intimate atmosphere
Excellent dining options, with menus that draw from the Caribbean's seafood larder and a variety of international cuisines
Luxurious accommodation options, including beach houses, villas, and multi-room residences, with private pools and direct access to the beach
Cons:
The resort is not adult-only, so families with children may also be present in some areas
Given the resort's secluded location, getting to and from the island can be a bit of a journey, requiring a 50-minute transfer from Providenciales airport
As with many luxury resorts, prices can be on the higher end, making it a less accessible option for budget travelers.
Find the best deal, compare prices, and read what other travelers have to say at Tripadvisor
💼 We cherish our independence! ✈️ Our travel recommendations are carefully researched, bias-free, and powered by human expertise by April and Ricky of LRB (we have personally researched and travelled to many of these destinations and researched others thoroughly through first-hand accounts). 🌍✨
We try to keep everything up to date, but please always do your own research and contact us if you know any issues for us to help others as best we can as a small but professionally focused team! 🧐📚⚠️