Caribbean Adult Only All-Inclusive Resorts
Caribbean Adult Only All Inclusive Resorts
There are many Caribbean Islands that offer exclusive all-inclusive resorts for adults only. Punta Cana in the Dominican Republic, Barbados, Antigua, Curaçao, and Jamaica are some top-rated destinations for those looking to have a relaxing and rejuvenating escape.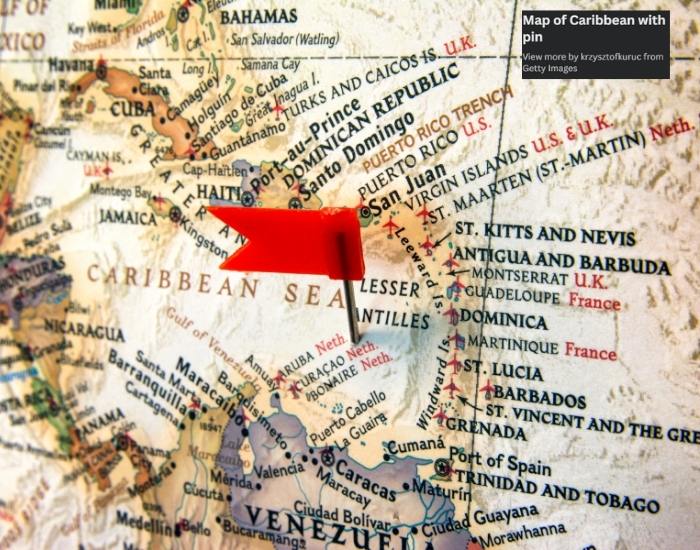 Map of the Caribbean
Best Caribbean Adult Only All-Inclusive Resorts
One of the most popular travel destinations in the world, the Caribbean boasts a variety of breathtaking landscapes, tropical weather and beautiful beaches.
Here are the best of the best adult only all-inclusive resorts in the Caribbean:
Dominican Republic Adult Only Resorts
Secrets Cap Cana Resort & Spa
Live Aqua Beach Resort Punta Cana
Casa de Campo Resort & Villas
Jamaica All-Inclusive Couples Resorts
Jewel Grande Montego Bay Resort & Spa
Grand Cayman Marriott Beach Resort
Aruba All Inclusive Adult Only Resorts
Hilton Aruba Caribbean Resort & Casino
Tripadvisor lists 110 of 3,038 properties (which are usually Adult only All-Inclusive Resorts or hotels in the Caribbean)
Adult only All-Inclusive: compare prices, and read what other travelers have to say at Tripadvisor
Read on for the best to find out more about the top adult only all-inclusive resorts accords all the best Caribbean islands. 
Video: Top 10 Best All Inclusive Resorts in Caribbean Adults Only
I don't agree with all the choices on this video but about two thirds are great options. We will get to the rest in this review. 
Antigua is home to some real quality adult only all-inclusive resorts including the multi award-winning Sandals (one of their best).
The Caribbean is a beautiful place to visit, and Antigua is one of the best places to stay if you are looking for an adult's only all-inclusive resort.
Antigua has plenty of resorts that are perfect for adults only vacations. One of the most popular resorts in Antigua is the St. James Club Resort, which offers a wide range of amenities and activities for its guests. The resort has two pools with swim up bars, two restaurants, a spa and fitness center, tennis courts, and more.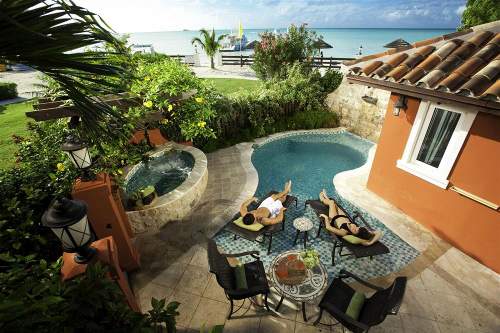 Sandals Antigua
Galley Bay Resort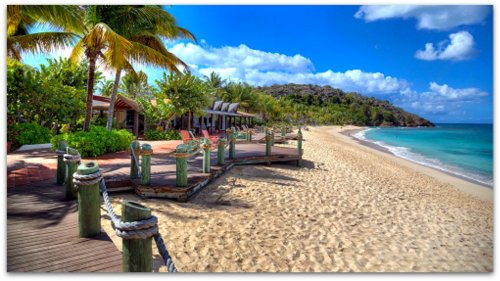 Galley Bay Resort
Located on a white sand beach, this luxury resort is know as one of the most romantic in the Caribbean. There are open-air restaurants by puffy white sand beaches, lounges, live entertainment, Caribbean barbecues, water sports, pools, jogging trails and tennis courts. Everything you could want for a romantic couple's time away from it all. 
Video Review by Guest: Galley Bay Antigua dos and don'ts
There are 98 guestrooms in suites or cottages. Many have a beachfront location. They have lowered living rooms and floor to ceiling doors that open to let in the ocean breeze.
More adult only all-inclusive resorts from Antigua
---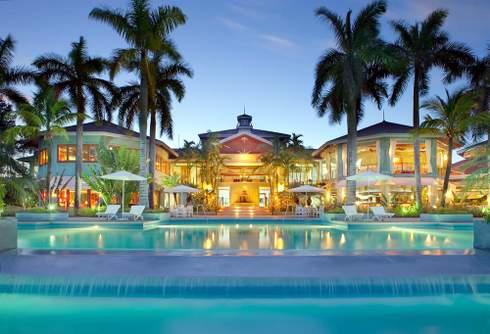 Couples adult's only AI in Negril
Jamaica is the center of the adults only all-inclusive resorts universe and only the 15 Top Cancun Adult All Inclusive list will you find a similar amount. We have put together some lists of the best with reviews of each resort on these pages below.
If you don't know much about Jamaica, check out the official tourism website here.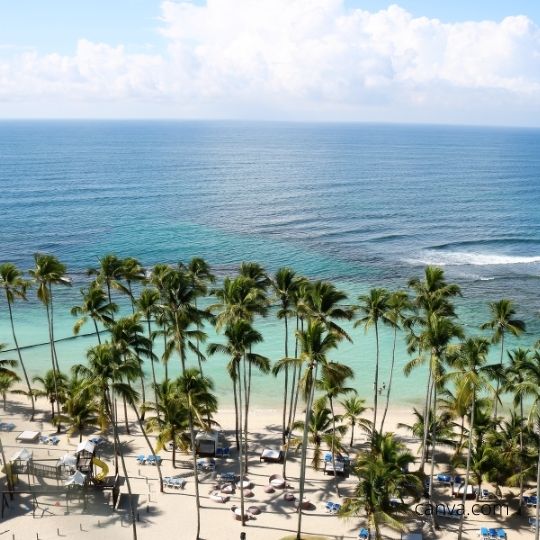 Best Jamaican Couples Resort Reviews
One of the most popular destinations for adults only vacations is Jamaica. This beautiful island country is known for its friendly people, delicious food, and active nightlife. The Jamaican culture has a lot to offer in terms of entertainment and relaxation, so it's no surprise that many adults are choosing to visit this destination.
These articles will explore some of the best adult only all-inclusive resorts in Jamaica. These resorts are perfect for adults who want to get away from it all and relax on a beautiful beach with the company of others who share their interests:
Video Review: The Top 10 All-Inclusive, Adults-Only Resorts In Jamaica For A Romantic Getaway
---
Negril Adult All Inclusive Resorts
Beautiful Negril is one of the top locations in the Caribbean or the world for an adult all-inclusive. There are a some fantastic resorts here—including Couples Resort. Check out Negril adult and couples inclusive resorts. 
Video Couples Negril by Travel & Leisure
Getting excellent reviews and with a delicious veggie bar. It's in a nice position for a day trip to Dunn's River Falls. This resort has also featured on the best all inclusive resorts lists frequently.
Negril, Jamaica is home to one of the best selection of all-inclusive resorts in the Caribbean. These resorts offer adults only trips with full access to pools, bars, and restaurants. 
Couples Negril All Inclusive
See Couples Negril reviews @ TA where you can often find a 7th night free offer. Located in Negril, Jamaica, right on the ocean. This 5 star resort is eco-friendly and adults only. There are water sports, land sports (tennis, basketball, etc), sports and other classes. There's also entertainment and nightlife, golf, weddings, free shuttles to Negril, nude section, infinity pool, spa tubs, spa, fitness centre, games room, 3 restaurants.
Reviewers say consistently great things about the staff, beach and it being worth the money. It's definitely one of the great adults only all inclusive resorts.

More Jamaica Couples Resorts
The Caves Jamaica Adult Only Resort
The Caves is a good example of what is available at the small and intimate end of the scale in Jamaica when it comes to adult resorts.
All about Caves Resort, Negril, Jamaica.
---
Sandals Love Nest Dream Suites

Looking for romance at adults only all-inclusive resorts? Below is a video of the exclusive Sandals "love nests". We have also reviewed more Sandals Resorts on our Couples Only All Inclusive Resorts.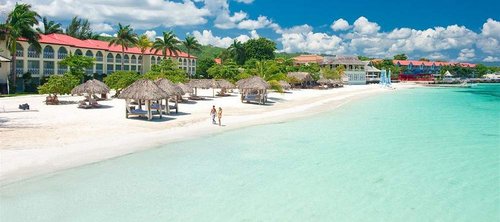 Sandals Negril Adult Only Resort Jamaica
An Adult Love Nest is defined by Sandals as a luxury suite having "exclusive amenities, seclusion, ultimate escape for love birds, luxurious bathrooms, plush terry robes and hand-embroidered Egyptian cotton duvets". Sounds luxurious!
Montego Bay Adult Only All Inclusive Vacation Resorts
Negril in not the only place in Jamaica that caters only to adults for their romantic getaway or honeymoon.
Sandals have a number of famously luxurious adult all-inclusive vacations. These resorts inevitably seem to appear on all our best of the best lists.
---
JAMAICA INN: We rate this Jamaican adult all inclusive resort at the top of vacation destinations in the Caribbean. A+!
Location: Premier private beach, Caribbean Sea, Ocho Rios, Jamaica.
Rooms: 47 suites, overlook the beach or ocean, no TV, no radio, no clock.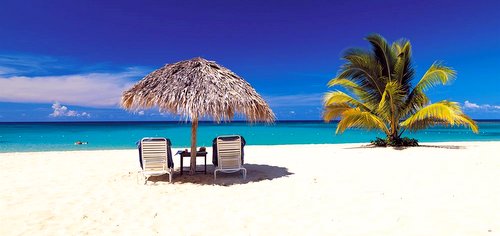 Highlights:
winner of a number of travel awards -
#1 in Jamaica and top 100 in the world
family owned, very experienced staff
spa - all natural approach, snorkeling, croquet lawn, library, fitness room, arrangements for airport pick-up, pre-electronics era feeling
2 restaurants
2 bars
no children under 13
pool
sailing
kayaking.
Almost everyone gives this resort a 5/5 rating. The general description for it is "perfect!" One of the great adults only all inclusive resorts.

Official website for Jamaica Inn
---
While the Bahamas does offer some Adult Only All Inclusive Resorts they are not as plentiful as in other areas. Yet some options by the likes of Sandals could potentially blow you away with the sheer scale of the all inclusive luxury experience they offer in places like Exuma. 
The Bahamas is a beautiful country that offers many kinds of resorts for people to choose from. Some resorts are family-friendly, while others are not so much. If you have been looking for an adult's only all-inclusive resort in the Bahamas, then this article will be very helpful to you.
See our all inclusive Exuma review. 
You can't have a review of the best Adult only resorts and not include the Dominican Republic. 
The Dominican Republic Top Couples Resorts
Along with the Mexican Riviera Punta Cana is the Adults Only all-inclusive capital of the world. 
Punta Cana in the Dominican Republic is one of the most popular destinations for adults only vacations in the Caribbean. It is a popular choice due to its beautiful beaches with turquoise water and white, powdery sands. They have several all inclusive resorts that offer activities like scuba diving, snorkeling, and parasailing as well as beachfront restaurants where you can enjoy a delicious meal at an affordable price.
Excellence Punta Cana Adult Resort

All Inclusive Resorts Caribbean

This 4 star, adults-only resort is in Punta Cana, Dominican Republic. Its all-inclusive package includes meals, accommodation, and activities.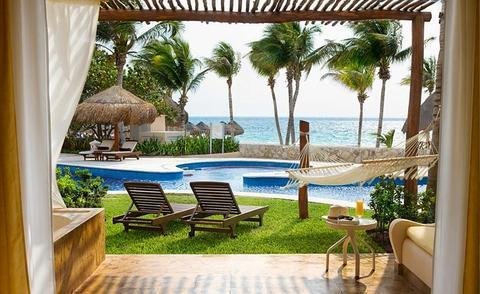 Dominican Republic Adult Only All Inclusive Resorts - Excellence Punta Cana
There's a secluded beach, 8 restaurants, 10 bars, 2 pools, a health club, golfing nearby, spa, land sports, horseback riding, water sports and a casino. Some of these activities do cost extra however.
There are 452 suites with balconies/patios and living space. They have jetted tubs.

Reviewers say: usually a great breeze here, beautiful rooms, beautiful pool, professional and friendly staff.

Go to Excellence Punta Cana Luxury Adults Only All Inclusive
Video of Excellence Punta Cana | Full Resort Tour | Dominican Republic
Website for Excellence Punta Cana

---
Puerto Rico adult only all-inclusive resorts are not as plentiful and the concept is not as catered for as Punta Cana and the Mexican Riviera. While we do offer some options on this list if you are really looking for a romanitic couples resort away from the kids you can find what you are looking for here.
See also our Puerto Rico All Inclusive Honeymoon Resorts Review
Top 25 Destinations in The Caribbean for Adult Only All Inclusive Resorts
An adult only all-inclusive resort is a resort that is geared towards adults who want to enjoy a vacation without children. Adults only resorts are great for couples and singles who want to have some alone time.
Some of the inclusions that these resorts provide are spa treatments, romantic dinners, parties, and romance. These resorts are also known for their expensive prices, which can range anywhere from $200- to thousands per night.
An all-inclusive resort is a great way to have unlimited access to food and drink. You don't have to worry about anything because everything is included in the price of your stay.
While some of the most expensive resorts in the Caribbean are adults only resorts that offer all-inclusive vacations at an extremely high price point, but there are also affordable options that offer the best of both worlds.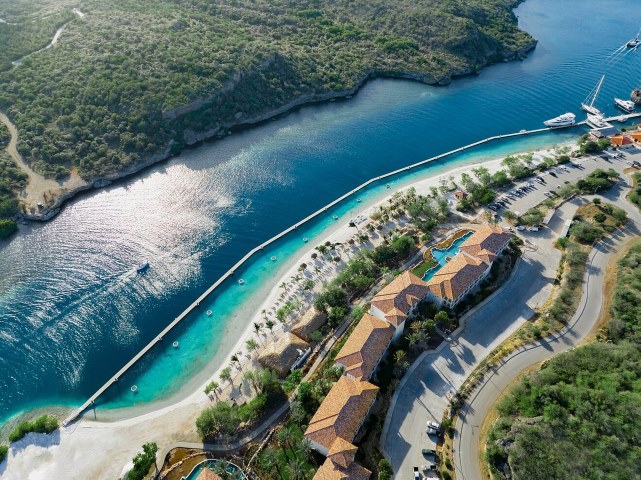 Sandals Curaçao
Sandals Royal Curaçao guests can enjoy the all-inclusive, adults-only resort with the Unlimited Luxury® package. They can indulge in a variety of gourmet restaurants, unlimited premium drinks, and daily activities.
The Sandals experience offers a variety of exciting excursions that are sure to please everyone from thrill seekers, to sun worshippers.
Everything Sandals Royal Curaçao, Resort Stay, Excursions, Food, & More!
The Cayman Islands also offer an all inclusive resort for adults who want to unwind and relax on their vacation and has been voted one of the safest destinations in the Caribbean. The Cayman Islands are known for their beautiful beaches, and the beach resort of Seven Mile Beach is just one of many places where you'll be able to enjoy the Caribbean sun.A great option for an all inclusive vacation experience, or a relaxing getaway in a paradise destination.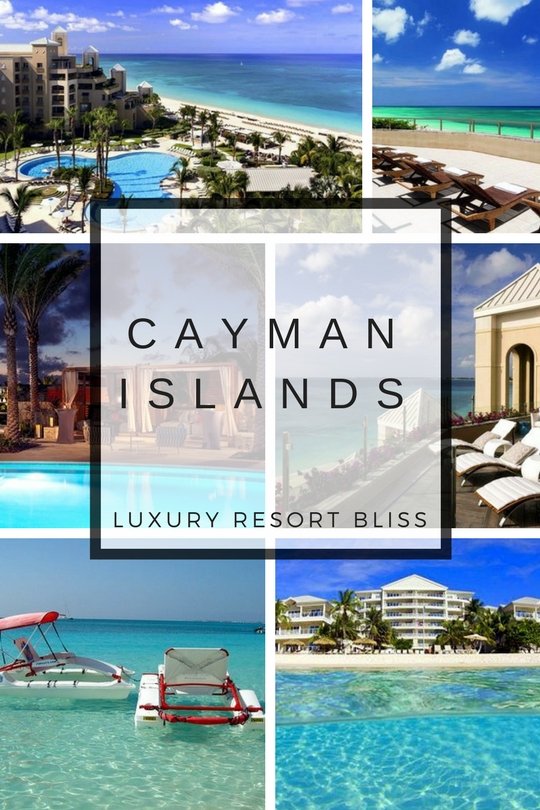 Belize in Central America, shares a Caribbean coastline and think jungles. You can find a few options here but not in the same density as other areas. 
When you are looking for an all-inclusive resort in the Caribbean, you should make sure that it has a variety of activities and amenities. These include water sports, golf courses and spas. You should also look at the food and drink options they offer as well as their accommodations. If you are looking for an adults only resort then make sure that it is centrally located so that you can easily explore the island on your own.
The first thing to consider is the type of resort. There are many resorts that cater to a specific need or interest. For example, some resorts will only allow adults to stay on their property, while others may be exclusively couples-only or geared towards singles and partying.
The second thing to consider is the location of the resort. Ideally, you want to find a resort that has a great beach and is close enough to other popular destinations, so you can enjoy all that your destination has to offer. The Caribbean offers many great options for all-inclusive resorts, with fantastic beaches and plenty of activities for everyone.
Share Your All-Inclusive Adventures and Questions! 🌴 Have a memorable experience from a luxury all-inclusive vacation? We'd love to hear it at Luxury Resort Bliss. We're on the lookout for top-quality, insightful tales that'll inspire our community. Dive in and be a part of our sun-soaked stories! 🌊🍹✨
The story is a fictionalized account founded on travel expertise, research, and experience. Always refer to recent guest reviews and perform due diligence before booking.
💼 We cherish our independence! ✈️ Our travel recommendations are carefully researched, bias-free, and powered by human expertise by April and Ricky of LRB (we have personally researched and travelled to many of these destinations and researched others thoroughly through first-hand accounts). We also have put in the hard miles, and Ricky has worked for decades for resort and hotel chains  Hyatt, Hilton, Shangri-La and Radisson before starting Luxury Resort Bliss in 2007. 🌍✨ Unlike some other resort review websites we are concerned on the guest experience rather than mere corporate interest.