Best Caribbean Island Destinations to Vacation in (2023) 
Destinations in the Caribbean are becoming popular tourist destinations for many people. The islands offer a range of activities, from relaxing on the beach to exploring the rainforest.
The Caribbean is home to many beautiful resorts that offer luxury and comfort for travelers.
Awards for the safest Caribbean islands of the year
So if you're looking for a Caribbean resort destination, We've listed the top ones here. 
With so many Caribbean resorts to choose from, it can be difficult to find the right one. Here is a list of the twelve best all-inclusive Caribbean vacation destinations, ranging from intimate family resorts to all-inclusive party islands.
Jamaica: Plenty of Awesome Resorts
Jamaica is one of the most popular tourist destinations in the world. It offers a lot to tourists, from breathtaking natural beauty to a vibrant culture. The country is also home to some of the most luxurious resorts in the world.
There are many resorts that offer luxury and comfort to their guests. One such resort is Sandals Royal Caribbean Resort, which offers guests with their own private island, two golf courses, and a spa and wellness center. Another excellent resort is Beaches Ocho Rios Resort & Golf Club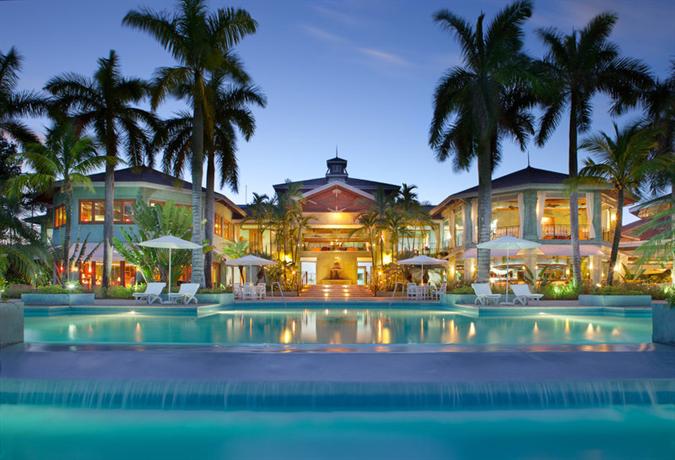 Couples Negril Adult Only Resort
Jamaica is probably our favorite resort destination at the moment.
Why?
There are so many good resorts here. 
It was not hit by any hurricanes in 2017 and so all resorts are fully operational. 
Negril, Ocho Rios and Montego Bay are the main spots for resorts of all types here. Jamaica has:
5 star luxury resorts
Adults only resorts
All inclusive resorts
Family resorts
Sandals has a number of really great all inclusive resorts here. 
Here are some of the best resorts in Jamaica. You can also see our Jamaica Luxury Resort page for more. 
Aruba: Great Pick for a Honeymoon
Aruba is a great pick for a honeymoon destination because it has a lot of things to offer. Some of these are the beautiful beaches, the amazing weather, and the many activities that you can do.
The first thing that people notice about Aruba is its beautiful beaches. They are some of the most pristine in the world and they have soft sand and clear water. This makes them perfect for lounging on or swimming in. You can also rent beach chairs and umbrellas to make your time on them even better. The other thing that people love about Aruba is its amazing weather which stays around 80 degrees Fahrenheit year round. This makes it very easy to enjoy all year long!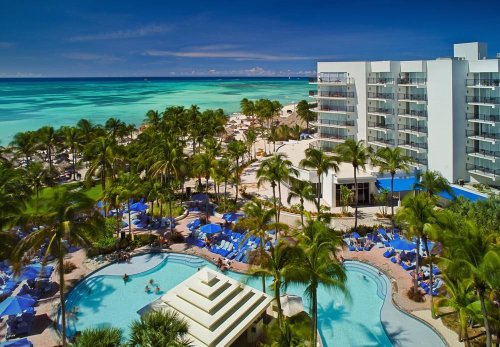 The Marriott in Aruba
Aruba was also untouched by the recent hurricanes and is a great resort destination. 
It is especially popular for honeymoons. 
It's a smaller island with interesting Dutch heritage.
Check out the best Aruba Luxury Resorts or Aruba All Inclusive Resorts. 
One of our favorites is the Marriott Aruba (pictured below).
Bermuda: Pink Sand Beach Resorts
The island of Bermuda is a popular tourist destination for many reasons. One of the main attractions on the island is its pink sand beaches.
The pink color of the sand comes from a type of algae called Dunaliella salina that thrives in salt water. The algae produces beta-carotene, which is what gives the sand its pink hue.
Bermuda's pink sand beaches are not only beautiful, but they are also safe to swim in as long as you stay out of the water at low tide because there could be some jellyfish in the water at that time.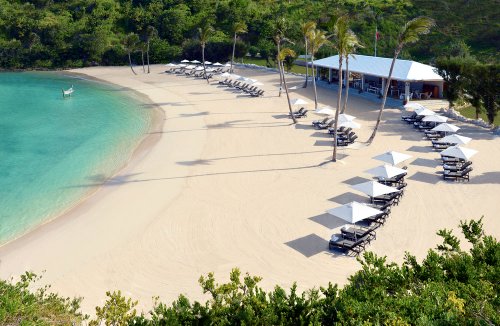 Fairmont Hamilton Princess, Bermuda
Bermuda is a beautiful spot with colorful buildings and pink beaches. It's modern and some resorts here are quite luxurious. 
Check out the best Bermuda Luxury Resorts or the Bermuda All Inclusive Resorts.
One of our absolute favorites is the Fairmont Hamilton Princess (pictured below).
Belize: Resorts To Dive At
Belize is a country that is known for its tropical climate and its beautiful beaches. The country has many different types of resorts to choose from, but the most popular resorts are those that offer diving.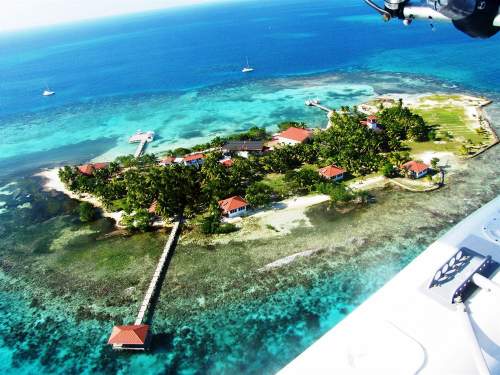 Hatchet Island Resort, Belize
Belize may be off your radar when it comes to Caribbean islands but it's an excellent spot to visit with resorts that may be less polished but great all the same.
Belize is a great choice for:
fishing
diving
snorkeling
swimming
You'll find both reef and jungle here. 
Check out the Best All Inclusive Belize Resorts here. 
Antigua: Great All Inclusive Spot
The Antigua is a great all inclusive spot for the whole family. It has everything you need to have an enjoyable time.
- Activities: The Antigua has a wide variety of activities that you can do while staying there. They range from water sports to horseback riding, and even scuba diving.
- Food: The food at the Antigua is also very diverse, with many different restaurants to choose from and a wide variety of cuisines to try.
- Rooms: All rooms at the Antigua are spacious, clean and comfortable for all guests. They also have balconies overlooking the ocean which are perfect for enjoying your morning coffee on or watching the sunset with a drink in hand.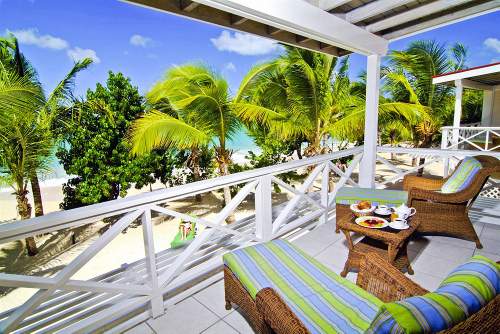 Galley Bay Resort & Spa Antigua All Inclusive - Adults Only
Antigua has great beaches and is a great all-round resort destination. It's another Caribbean resort destination unaffected by recent hurricanes as of writing.
The best time to visit Antigua (and also the most expensive) is from December to Easter.
Our favorite resort here is Galley Bay which has been on top of our best Antigua resorts list for years. 
Check out the top Antigua resorts and Antigua all inclusive resorts here.
Barbados: A Great All-Rounder
Barbados is an all-round vacation destination with many diverse attractions. Some of these are beaches, coral reefs, restaurants, and shopping . The island has great potential for travel and sightseeing, with a few small towns and numerous attractions. The nature of Barbados is also diverse.
Barbados is a destination you can chill out and relax in or go out, discover and do.
Great beaches, great vibe and great resorts here. 
Sandals has a great resort here (pictured below) with great ratings from past guests. 
But it's not the only one.
There are great resorts here.
Barbados links: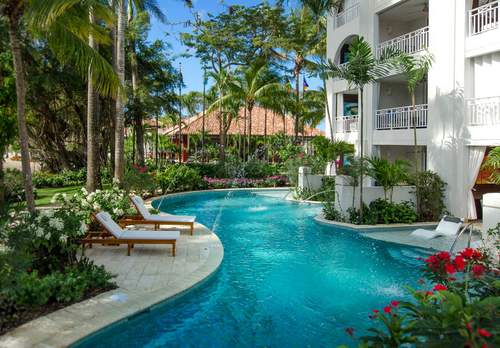 Sandals All Inclusive Barbados Luxury Resort
Safest Islands in the Caribbean
The Caribbean is a place of beauty and wonder, with an abundance of natural resources and opportunities for adventure. It has been a popular tourist destination for decades and continues to be one of the most sought-after travel destinations in the world.
However, with the increase in global terrorism, crime rates, and natural disasters, it can be hard to find peace of mind when traveling. To help you feel less anxious about your next trip to paradise, we have compiled a list of the safest islands in the Caribbean.
The following islands are ranked based on their safety from natural disasters:
1)  St. Barts
2) Martinique
4) Saint Lucia
6) St. Maarten
8) Roatán
There are many popular destinations throughout the Caribbean such as Jamaica, Barbados, Haiti and Trinidad. Safety measures should be taken when visiting the area due to instances of crime, natural disasters and disease outbreaks. A travel guide for the area should be researched before departure to ensure a safe visit.
The Caribbean is a region full of beautiful beaches. The Caribbean Sea has over 7,000 islands and cays that make up the area.
There are a number of other locations that will also work well this year for a resort vacation. 
St. Lucia was not hit by any hurricanes and is free from damage. It is further from the USA than other Caribbean Islands (but not too far). It's also on the small side and definitely a great spot for resorts.
Another small destination, the Cayman Islands is an additional great choice for a Caribbean resort vacation.
This mecca of resorts (for a great price) was grazed on the eastern side by Hurricane Maria.
If you've been considering going there, it's worth having a look at the resort you're thinking of (or check out which ones we thing are best). You may find it's completely fine and ready for visitors.  
That's our list for this year!
I hope you now have a great spot in mind for a vacation in the Caribbean this year.  Enjoy the beach, wherever you go!
More Great Resorts in These Caribbean Locations:
Puerto Rico, Puerto Rico Honeymoon